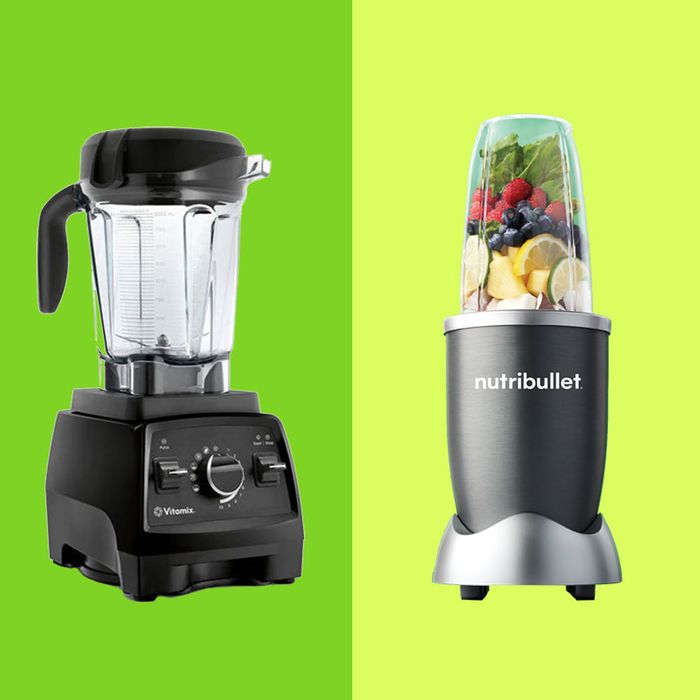 Photo-Illustration: The Strategist; Photos: Courtesy of retailers
Blenders can purée vegetables into soup, crush nuts into butter, whir dressings and sauces into silky emulsifications, chop ingredients into salsas, and, of course, make smoothies. They're truly so useful, as much of a staple for many people as a stove or microwave. But there are also a lot to choose from, and in an attempt to narrow down the wide and overwhelming field, I asked a bunch of pros and avid cooks about the ones they rely on in their own kitchens.
First things first: Vitamix reigns supreme in the blender universe. Many of the people I spoke with own various models — it is, hands down, the most lauded brand across the board, making the kinds of pieces that will last you an actual lifetime. That being said, if you don't use a blender with a ton of regularity, can't splurge on something so pricey, or are living in a small space that doesn't accommodate big appliances, there are plenty of other options with ringing endorsements to back them up.
Best overall | Best less expensive | Best manual | Best small | Best large Best for smoothies | Best quiet | Most stylish
What we're looking for
Capacity: For this category, I've listed the maximum capacity for each blender. The size you want will be determined by what you plan to use it for most (different if you primarily intend to emulsify salad dressings versus blend smoothies for a few people at a time, for example).
Automatic or manual: Some blenders on this list are automatic, meaning they have predetermined settings that allow you just to click and walk away. Others are manual, so you have to monitor the blending process the whole time.
Size: These machines can get bulky, so when choosing one, you want to make sure you're considering where you're going to store it and plug it in. Here, I've noted the exact dimensions of each model.
Best overall blender
64 ounces | Automatic | 8.5" x 8.5" x 17.25"
Like I said before, Vitamix has a lot of blender options. On the lowest end, there's the Vitamix One for $250 — a no-frills but still-powerful option if you don't need or want a bunch of settings, buttons, and attachments. On the highest end, there's this model. Despite the name, it is beloved by professionals and regular cooks alike. It's expensive, yes, but according to everyone who owns one, well worth the investment. It comes with five presets for smoothies, soups, frozen desserts, purées, and a self-cleaning option (you just drop a bit of soap in, whir the motor, and rinse). And unlike the One, it can easily handle tougher ingredients like nuts and grains (which means it's also extra-efficient at crushing ice). Plus, as with all Vitamix blenders, it comes with a great warranty — something noted by Green Kitchen Stories co-founder David Frenkiel and recipe developer Sophia Roe. "If any piece of it gets run down or stops functioning properly, they take care of it," Frenkiel says. Finally, it's got a lower profile than many, able to sit underneath most regular kitchen cabinets.
"This blender is industry-standard and used across most professional kitchens. When I was head of product at Daily Harvest, I used it every day for research and development," says Jessica Young, former fine-dining chef and current founder and CEO of Bubble. Moon Juice founder Amanda Chantal Bacon also employs the Vitamix at her shops but has one at home, as well. "I love using it because of its ability to whip air into ice cream or tonics or even coconut milk — it gives the fluffiest mouthfeel that no other blender can replicate," she says. Gaby Dalkin, cookbook author and blogger at What's Gaby Cooking likes that "it has a smoothie setting, so you can throw all your ingredients in, turn it on, and walk away." Nutritionist and wellness coach Molly Alliman told us she uses hers "every single day" and that "it works for blending frozen fruits, heartier vegetables like kale, whole nuts, and anything else that would leave chunks in other blenders." Finally, Jewish Food Society founder Naama Shefi turns to her 750 for pasta sauces, among other things. "It's a great way to sneak in protein like almonds for my kid because it blends right in," she says.
Best less expensive blender
36 ounces | Automatic | 8" x 7" x 15"
The Blendtec Classic comes enthusiastically endorsed by Christine Sahadi, owner of New York City's Middle Eastern market and restaurant, Sahadi's. She told me about it for this story a while back, noting in our interview that both Blendtec and Vitamix make very good quality units. "I just personally like the Blendtec," she says. She has owned hers for more than a decade and finds that its super-powerful blades, which operate at five preset speeds, emulsify sauces, dressings, and aioli handily. It also, perhaps most importantly for Sahadi, makes the perfect hummus. "If you don't have a really good blender, you have to add a lot of ice water or cooking liquid to help smooth things out," she explains. "By the time you get there, the hummus has become too drippy."
Best manual blender
48 ounces | Manual | 11" x 8" x 18"
A more affordable Vitamix model is this Explorian Series E310. If you don't care about the automatic settings on the 750 or the smaller container size of this one, Ksenia Avdulova, founder of Breakfast Criminals, thinks it's a sure bet, even with daily use. "I personally prefer the manual-switch experience versus touchscreen," she says. Chef Seamus Mullen — who has been using Vitamix blenders for 25 years — is also a fan, noting that even the smaller models have "a powerful motor."
Best small blender
24 ounces | Manual | 5" x 5" x 14"
If you're looking for something distinctly more affordable, or that will take up less counter or cabinet space, several experts raved about the NutriBullet. The machine comes with two cup sizes: 24 and 18 ounces. Both work for single-portion smoothies, of course (which, conveniently, you can detach from the bottom of the unit and take to go), as well as dressings and smaller-volume sauces. Bacon is a fan, calling it "the mightiest little blender." Caitlin Sullivan, co-founder of Los Angeles restaurant Honey Hi agrees, saying "it's affordable, so compact, and easy to clean — but it still has great blending ability."
Best large blender
72 ounces | Manual | 18" x 12" x 13"
On the opposite end of the spectrum, the Ninja is very big — not to mention the cheapest full-size option on this list. With 1,000 watts of power, it's particularly great for juice- and smoothie-making, with an extra-large 72-ounce plastic pitcher and blades that easily crush ice and liquefy frozen fruits and vegetables. New York deputy editor Alexis Swerdloff has one and loves it. "This thing is powerful," she says. "It's super-easy to use and to clean."
Best blender for smoothies
64 ounces | Manual | 20.5" x 8.75" x 7.25"
The First Mess's Laura Wright swears that the Vitamix 5200 model makes the best smoothies. And she should know — not only does the writer and recipe developer make the drink every single day, but she's tried a good handful of other machines before (Vitamixes and non-Vitamixes alike) for that job specifically. "They always come out thinner, or with foam or bubbles," she says. "It's almost like the blades are too powerful on some of the newer Vitamixes." Her 5200, on the other hand, creates the optimal thick-and-creamy texture — and has done so even after a decade of use.
Best quiet blender