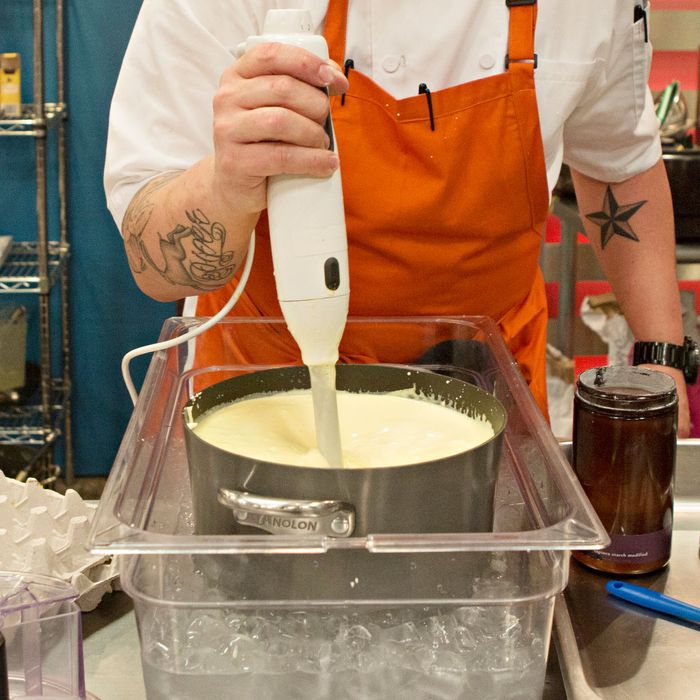 Photo: Isabella Vosmikova/Bravo/Getty Images
As the weather gets cooler, we're moving into stew season — and if you've been dreaming of making a butternut-squash soup or creamy mashed potatoes, you'll want a immersion blender, also known as a hand blender, in your kitchen arsenal. And while we've written about lots of gadgets for your mixing needs — including the best hand mixers, the best stand mixers, and the best blenders — here, we've rounded up the best immersion blenders, as praised by the most enthusiastic reviewers on Amazon.
Related Articles: Best Blenders for Smoothies | Best Gifts for Home Cooks

Best-rated (and least expensive) immersion blender
The consensus among reviewers is that this immersion blender is small but mighty, especially for the price. One reviewer says, "I looked at ones that were much more expensive and was worried that this would be cheaply made (because you often get what you pay for). However, I have been pleasantly surprised with this one. At 500 watts it has serious power and it is super easy to use. Super happy with my purchase!" Another reviewer commented, "It handled everything that we threw at it like a champ. It didn't overheat, over-vibrate/shake, struggle, smell like a cheap electric motor or anything like that." One reviewer even called this immersion blender "a powerhouse!" Though it comes with less attachments than other higher-priced options, the whisk seems to be enough for most reviewers. As one explains, "I used the whisk attachment to whip up some omelets in seconds. Way easier on the wrists than a traditional whisk. And I just made a batch of homemade mayo in a Mason jar. This was by far my favorite use for this stick blender. I can't believe how simple it was."
Best immersion blender with attachments
Reviewers agree that the Bella Speed Immersion Blender's attachments — including a whisk, food processor, and measuring beaker — differentiate it from other immersion blenders on the market, especially for the price. One customer was getting tired of using both a food processor and blender to make sauces and mixes, and now uses this blender "for small jobs where you want as little clean up as possible," adding that it's made guacamole, salsa verde, and Bulletproof coffee with ease. Over 200 other five-star reviewers describe this immersion blender as easy to use and clean, including one who appreciates that the attachments connect and disconnect without issue. "The blender is all steel, not plastic like so many others," they add, noting that their old immersion blender broke, but this one is durable and "almost replaces your regular blender." In fact, another customer actually got rid of their old blender, and now use this to make "satin smooth and tasty" desserts thanks to the "efficient" whisk.
Best immersion blender with removable blending arm
This immersion blender from Koios also comes with attachments, but what reviewers appreciate most about it is the easily removable arm. One customer, who's been using this blender for six months without any signs of wear, says that the removable arm is a "fabulous" feature that makes this blender "super easy to clean, since the dirty part removes from the motor and cord." Another customer with arthritis in their hands had a hard time adding and detaching the arm on their previous immersion blender, but finds that this is "ergonomically designed, so it's easy to use. It is also a smaller size than some, so it is easier to find a place in a drawer for storage," they add. Other reviewers note that this immersion blender is in fact smaller than others, but many appreciate that it takes up less space, and over 650 five-star customers still vouch for its "powerful" blending. One reviewer says that their array of kitchen gadgets usually take up a lot of space, but this blender "allows me to have multiple tools with just one set. I was impressed with how sturdy and heavy duty the handheld motor was. There is also a 'turbo' button that gives it an extra burst of power," they note, adding that they've used it for everything from dicing onions to making milkshakes.
Best immersion blender for soups
Though most immersion blenders can be used to make soup, most reviewers agree this Braun version is especially equipped for their soup-making needs. One reviewer writes, "I used the blade to coarsely puree soup in the pot. It is ideal for that task. No more need for pouring portions of soup into the processor. I had that soup to the desired texture in a few moments." Potato soup is a favorite recipe among reviewers, many of whom praise this immersion blender's ability to cut through potatoes in the pot with ease. As one happy cook says, "We use this for so many different purposes. During the fall we've been making a lot of potato soup and it creates a creamy texture without actually using any dairy products." And though this immersion blender doesn't have as many attachments as other options on this list, for some that's a selling point. One such reviewer, who used this immersion blender to make potato-leek soup, writes: "I just needed something that would blend hot food so I could make soup! (Because ladling hot, hot, hot liquid into my small food processor or NutriBullet made absolutely no sense to me.) This was the only brand of immersion blender that was priced well, got decent reviews, and didn't come with a load of extras that I didn't need."
Best professional-grade immersion blender