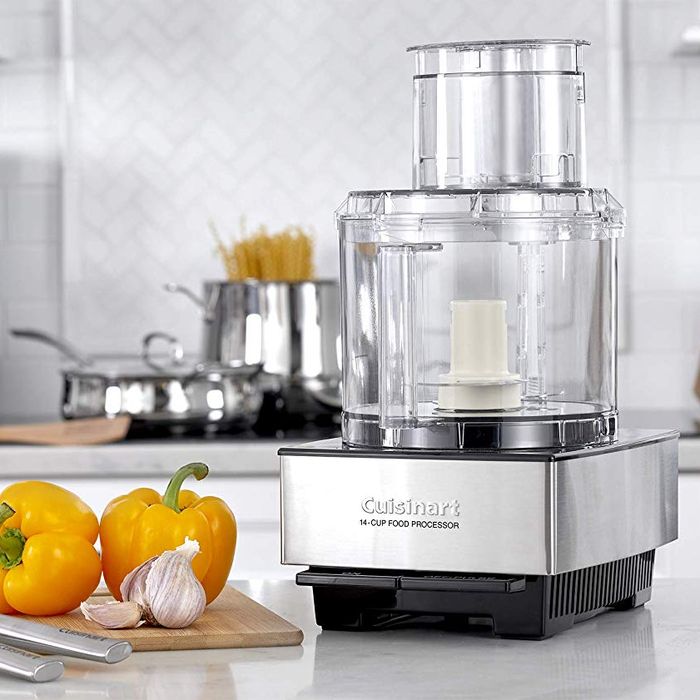 Photo: Courtesy of Retailer
If preparing food at home feels more like a chore than a relief, it might be time to consider an appliance that will save you time by chopping and dicing at the press of a button: a food processor. So, while we've already covered a variety of kitchen appliances — including the best microwave ovens, kitchen scales, and coffee makers — here, we've rounded up the best food processors as praised by the most enthusiastic reviewers on Amazon. We've sorted the processors by size from smallest to largest (so if you're looking for a hefty, almost-professional-size processor, skip down to the bottom).
Related Article: Best Blenders | Best Immersion Blenders
Best-rated food processor
This ten-cup food processor has gotten more than 21,000 five-star reviews, and customers have used it to make everything from gluten-free pasta dough to salads. One reviewer attests that it evenly chops garlic, crab meat, and chicken breasts, adding "the control options are pretty basic, but if you can handle your own around a kitchen then gadgets with crazy settings only get in the way." Dozens of other reviewers agree that this food processor's simplicity makes it easier and safer to use than most. "It chops, slices, and shreds well and easily," says one customer, who also describes it as easy to clean and "safe to use" since it "doesn't 'wander' on the counter when in use." Since all of the food processor's pieces are dishwasher-safe (except for the base), cleanup is easy, and many customers found themselves cooking more frequently after buying it, including one who was inspired to make sauces and hummus from scratch for the first time: "The motor is powerful, and the blades are sharp," describing the food processor as "a workhorse in my kitchen."
Best-rated (less expensive) food processor
This petite gadget is a favorite among reviewers who keep it on the countertop for easy access. One explains, "I wanted a little one so I did not have to drag out that big one to chop one onion or a few herbs or some nuts. I am thrilled … This little darling is going to be 'privileged' and live right on my countertop because it is nice to look at, stainless steel, and black and compact." The small size also makes it a favorite among people cooking just for themselves: "I am only [cooking] for one, so this size is great for me. Easy clean-up. Easy to use."
Best mini food processor
With a capacity of just 2.5 cups, this wireless Kocbelle processor is very small, making it easy to use and store in small apartments with limited access to electrical outlets. One reviewer with a small kitchen says, "This little guy might not hold a huge amount, but what it lacks in space it gains in power and ease of cleaning," adding that it's got enough power to make almond butter. It's so powerful, despite the fact it's powered by battery, that one reviewer permanently replaced his large food processor with this wireless one, since his home lacks outlets. He says it's easy to "move it to any counter space or table to use during food prep. It chops food quickly and finely," and "holds a charge for a long time," he adds. This food processor's wireless design is a big selling point for many other reviewers: "I can take it with me for picnics," explains one customer, who gave it a five-star rating and who especially appreciates the food processor's portability, size, and "durable" glass container.
Best mini–food processor with pour spout
Though at three and a half cups, this KitchenAid chopper is a bit larger than the four other mini-processors, it's still considered "mini" by reviewers — as well as powerful. One describes this food processor as "tiny but mighty" because it fits in her "very small apartment kitchen" and she can use it "in a pinch" to instantly chop veggies. Plus, "It has powered through everything I've put in it." She's not the only one who thinks this little processor gets the job done better than other options on the market. Another reviewer has "tried every chopper product I could get my hands on" and reports that she has "had mixed results at best." Then she bought this KitchenAid chopper because it looked good, and she ended up being "shocked at how great this works." As she explains, "I tried chopping toasted nuts for cookies, and they turned out consistently chopped, no huge pieces with lots of nut dust like I usually end up with. I chopped a single garlic clove with another perfect result. I am blown away at how well this works." A third reviewer makes mayonnaise from scratch quite often and recommends it for any mayo fanatics out there, because "there is a very convenient little pour spout on the lid where you can drizzle in olive oil, lemon juice, etc., while the food is being processed," which is ideal for making mayonnaise.
Best three-cup food processor
Reviewers are proud to display this unit on their countertops, not only because it comes in "cute vintage" colors like pink and red but also because it has "space where you can wind up and hide the cord … [so] you don't have to look at an ugly cord on your counter," says one customer. The small size is especially well suited to prepping aromatics and spices. "It usually takes me a while to prep garlic, ginger, and onions. This processor saved me a lot of time, since I can just throw the peeled ones in, press 'Grind,' and voilà," one reviewer says. It has two speeds, while the other mini-processors on this list have just one, and shoppers appreciate that the blades can spin in different directions. One reviewer thinks that function ensures that everything is chopped exactly as he wants it. He calls it a "truly functional unit that every kitchen needs," especially since it's not as bulky as most other processors.
Best seven-cup food processor
One reviewer calls this seven-cup food processor a "good compact size for a smaller family." Another explains, "I used to have an 11-cup Cuisinart that I loved, but it was too big for just the two of us and the size of this kitchen, and those little guys are cute, but not big enough for what I needed. This rocks!" Despite its compact size, it can still accomplish bigger jobs. One reviewer says, "When I first opened the box and saw how compact it was, I thought it might be too small for my needs, but I was wrong. It's the perfect size for making mashed cauliflower, which I frequently make. I tried half a head thinking that was all it would purée but discovered that there was plenty of room for a whole head."
Best eight-cup food processor
With more than 10,000 five-star reviews, this eight-cup food processor is "so FAST, ridiculously powerful (slices potatoes in seconds)," as one reviewer writes, adding, "You can do anything with this bad boy." That includes making nut butters, a process that's notoriously difficult — but as one reviewer writes, "Once washed and assembled, I had a jar of pecan and a jar of cashew nut butter in literally a few minutes! I'm beyond IMPRESSED with this machine." Another reviewer threw around lots of superlatives in describing the performance of this Hamilton Beach food processor: They are "ABSOLUTELY MESMERIZED at how well it slices and shreds your vegetables! … And it's so fast! It slices a whole onion, for example, in less than 15 seconds. I was really AMAZED. I actually hugged and kissed this little baby (LOL) because it cut my kitchen time down to do these things DRASTICALLY!"
Best stainless steel eight-cup food processor
"This machine makes all my favorites possible without a struggle," says one pleased reviewer, who reports that this eight-cup food processor shreds veggies, mixes pasta dough, and purees pie fillings with ease. Dozens of other reviewers agree that this food processor simplifies everyday cooking tasks, including one customer who even uses it to grind meat. They call it, "Well worth every penny. The size is perfect, it's not huge and bulky, very compact, yet can fit enough for prepping large amounts!" In fact, several customers say that the food processor is so useful, it's got to be readily accessed. "I finally realized that I need to keep it on my counter because I use it so often," explains one pleased customer who uses it for everything from shredding cheese to prepping veggies for soup.
Best twelve-cup food processor
Thousands of reviewers love this 12-cup food processor because it's the "perfect" size for families. One such reviewer writes, "This food processor has been used in my household for everything from chopping vegetables to making pizza dough and it has performed well every time. It's the perfect size for my family of five and has enough power to mix and gently knees dough for our homemade pizzas." And another reviewer, who "threw away my previous food processor because it would take me 10 to 20 minutes to get it to actually work" calls this model a "dream": "I can actually pull it out, plop in whatever I want processed, click it in place, and it actually WORKS! Takes me less than a minute and no frustration or tears." It's also powerful enough to take on any variety of prep work. "We have made salsa, quick chopped vegetables for stir-fry, grated cabbage for coleslaw, grated and sliced block cheese using the wide mouth opening, mixed pasta dough, and made the best hash browns by grating potatoes dropped through the large mouth opening at the top," another reviewer says. And at least one reviewer notes that this unit "just zips right through hard cheese too. Real easy to clean in the dishwasher."
Best quiet food processor
This Braun food processor is beloved by reviewers who wanted a quiet but effective machine. One reviewer, whose previous food processor was so loud that they "kept it in the attached garage," says this model is "a quiet, powerful, well-made machine worth every penny! It sits on my counter and quietly makes my butter even faster." Another reviewer "had a Nutribullet that was way too loud for the baby. It woke her and scared her when she was awake." They were thrilled to find this significantly quieter model and say "the major sound is just the food getting puréed — not the machine." In addition to being quiet, this model comes with seven attachment blades, including a citrus juicer. A third reviewer wanted "something strong enough to make nut butter" and discovered that "the machine does a fantastic job and has intrigued me into trying other experiments. It cuts cabbage into slaw superbly! Grapefruit juice anyone? How about the fluffiest eggs ever? There seems to be no limit to this small but mighty machine."
Best fourteen-cup food processor
Over 80 percent of reviewers give this 14-cup food processor five stars, finding it sturdy, stylish, and easy to clean. One customer says his mother had "an almost identical model that lasted her over 30 years." He waited to buy his own Cuisinart until he found a stainless-steel model with enough power, and this one turned out to be exactly what he wanted: "I get compliments all the time on the stainless-steel sleek look and power it puts out." Another reviewer was looking to replace his wife's ten-year-old, ten-cup processor and decided on this Cuisinart: "It's one of the most useful kitchen appliances we have (next to our coffee machine)." Unlike some of the other food processors on this list, this one has just one speed and setting, which one reviewer thought "would be a problem," but he came around and thinks "you really don't need more than one speed." He recommends this for any "experienced cook looking for a food processor without any frills that just works" and is easy to clean.
Best professional-grade food processor
Reviewers say this high-quality machine would be at home in any chef's kitchen, like one who writes, "I cook every day and have consulted casual and fine dining restaurants over the years. This has been to date only surpassed by the $1,900 commercial restaurant processor." Another satisfied customer says, "This was always rated as top of the line … If you like to cook, BUY THIS. It is worth twice what I spent for it … It shreds parmesan as if it were butter. It does a beautiful job of thin slicing vegetables, very thin, if that is what one wants. Let me tell you, I am in love."
Many refer to this 16-cup appliance as a "monster," like this reviewer who makes giant batches of frosting and replaced an 20-year-old food processor with this one: "It is far more than just a larger size capacity, it's like I have been driving a Honda Accord for 20 years and upgraded to a Mercedes Benz SUV. You put the ingredients in and press the on button and boom, it's done — it's a monster! Smooth, powerful, huge, and simply superior."
Best food processor with blender
This versatile combo is a favorite among reviewers with varied chopping and blending needs, like one who says, "I LOVE my Ninja. This speeds up prep time in the kitchen so much, and it is incredibly powerful. I wanted to make homemade frozen yogurt with frozen fruit and almond milk yogurt, and this does the job magnificently. Smoothies, soups, sauces, doughs, salsas, vegan cheesecake, vegan cheese, shredded chicken … I've made a ton in it already and have only had it for two weeks." Customers also praise its power, saying things like, "It is very POWERFUL. YOU WON'T BE DISAPPOINTED. IT'S WELL BUILT." Another fan warns, "The blades are deadly, so please be careful when handling and washing them!"
Best manual food processor
With over 4,500 five-star reviews, this manual food chopper is described by many as an unlikely favorite. One reviewer who doesn't like to clutter her kitchen with unnecessary gadgets was initially unconvinced of this manual chopper's efficacy. But she now says, "It's so easy! I cut an onion into quarters and put three quarters in. In about five pulls, it was almost pureed!" Another customer, whose husband was initially skeptical of this food chopper's pull string, says he now uses it constantly and that it's "still in as good shape as when it was purchased. It's easy to store, easy to use, and easy to clean." And many say that, even though this chopper is powered manually, it compares favorably to other electric mini food processors. One writes, "I have an electric KitchenAid mini chopper on the counter, but I prefer this because it chops onion as finely," adding that it's also easy to use and clean.
The Strategist is designed to surface the most useful, expert recommendations for things to buy across the vast e-commerce landscape. Some of our latest conquests include the best acne treatments, rolling luggage, pillows for side sleepers, natural anxiety remedies, and bath towels. We update links when possible, but note that deals can expire and all prices are subject to change.
Every editorial product is independently selected. If you buy something through our links, New York may earn an affiliate commission.