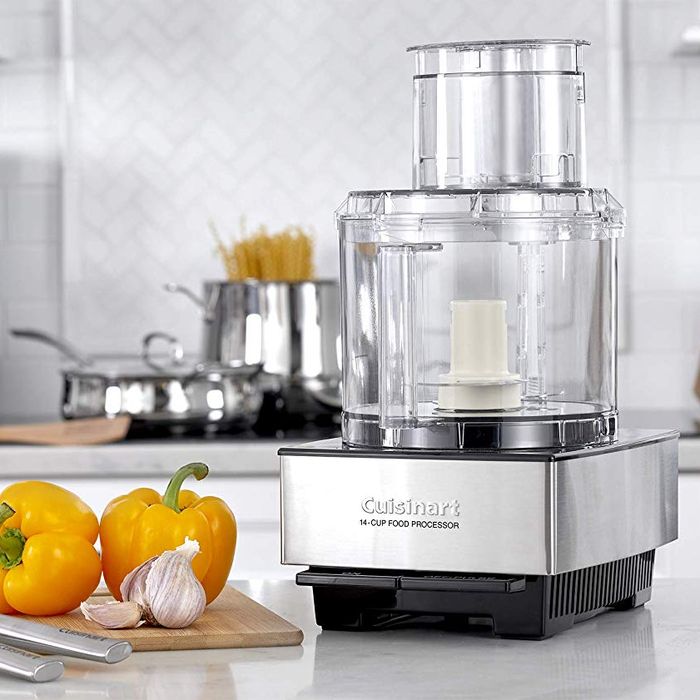 Photo: Courtesy of Retailer
Here at the Strategist, we like to think of ourselves as crazy (in the good way) about the stuff we buy, but as much as we'd like to, we can't try everything. Which is why we have People's Choice, in which we find the best-reviewed products and single out the most convincing ones. (You can learn more about our rating system and how we pick each item here.)
While we've covered a wealth of kitchen appliances — including the best microwave ovens, kitchen scales, and coffee makers — here, we've rounded up the best food processors as praised by the most enthusiastic reviewers on Amazon. We've sorted each processor from smallest to largest, so if you're looking for a hefty, almost professional-size processor, skip down to the bottom.
Best-rated food processor
With almost 5,500 five-star reviews, this food processor wins points from its fans for being "so FAST, ridiculously powerful (slices potatoes in seconds)," as one writes. "You can do anything with this bad boy." Many find that it has no problem standing up to difficult tasks, like churning nut butters. One reviewer explains, "I bought this food processor for the sole purpose of making nut butters. Once washed and assembled, I had a jar of pecan and a jar of cashew nut butter in literally a few minutes! I'm beyond IMPRESSED with this machine." Whatever users need, this appliance delivers. Another reviewer waxes poetic about this processor's many charms, explaining that they are "ABSOLUTELY MESMERIZED at how well it slices and shreds your vegetables! … And it's so fast! It slices a whole onion, for example, in less than 15 seconds! I was really AMAZED! I actually hugged and kissed this little baby (LOL) because it cut my kitchen time down to do these things DRASTICALLY!"
Best-rated (less expensive) food processor
This petite gadget is a favorite among reviewers who keep it on the countertop for easy access. One explains, "I wanted a little one so I did not have to drag out that big one to chop one onion or a few herbs or some nuts. I am thrilled … This little darling is going to be 'privileged' and live right on my countertop because it is nice to look at, stainless steel, and black and compact." The small size also makes it a favorite among people cooking just for themselves: "I am only [cooking] for one, so this size is great for me. Easy clean-up. Easy to use."
Best mini–food processor
While, yes, this one is less expensive than our best-rated less expensive pick, this Proctor Silex processor is very small (only 1.5 cups as opposed to the three-cup size of the Hamilton Beach processor) and is recommended mostly by single folks, so we didn't think it would be fair to compare it to our best-rated pick. But reviewers who don't need a lot of processing power seem to really love the petite size. "Since it is only me that I am cooking for, I didn't want a big food chopper. So the servings are great for one person, not a family," writes one shopper. He thinks this size is just right for a single serving, and though he estimates it probably would have taken him about 20 minutes to chop all his vegetables, this "mini-chopper did it in less than ten minutes." He does warn that, because it's so small, "you have to precut your veggies and fruits," but that's clearly written in the instructions. Many reviewers wonder if it's not especially durable because of its smaller size, but one customer confirms, "It's a great device. I have been using it for over three years. It's small, but that's not always a bad thing."
Best three-cup food processor
Reviewers are proud to display this unit on their countertops, not only because it comes in "cute vintage" colors like pink and red but also because it has "space where you can wind up and hide the cord … [so] you don't have to look at an ugly cord on your counter," says one customer. The small size is especially well suited to prepping aromatics and spices. "It usually takes me a while to prep garlic, ginger, and onions whenever I'm cooking Asian foods. This processor saved me a lot of time, since I can just throw the peeled ones in, press 'Grind,' and voilà," one reviewer says. It has two speeds, while the other mini-processors on this list have just one, and shoppers appreciate that the blades can spin in different directions. One reviewer thinks that function ensures that everything is chopped exactly as he wants it. He calls it a "truly functional unit that every kitchen needs," especially since it's not as bulky as most other processors.
Best mini push-down food processor
This two-cup chopper bowl is a favorite among reviewers who need help with "everyday cooking in a hurry," as one puts it. Another says, "I can't cook without this! I ordered this after my last one got pretty banged up. So yes, this is my second one. The first one lasted three years, with HEAVY use! I chop just about everything: onions, carrots, celery, tomatoes, garlic. This saves me so much time!" It has also become a kitchen essential for home cooks who don't want to lift huge appliances unnecessarily: "I used to waver between 'Should I dig out that (old) chopper or just chop these with my knife?' all the time, but not a second thought with the Ninja." And many more reviewers find the push-down mechanism easier and faster to use, including one who calls this "the best chopper" she has ever owned. "It is so easy to use and easy to clean, and it works incredible! If you need a chopper, this is the one. Literally, you push the top down two to three times, and it's done."
Best mini–food processor with pour spout