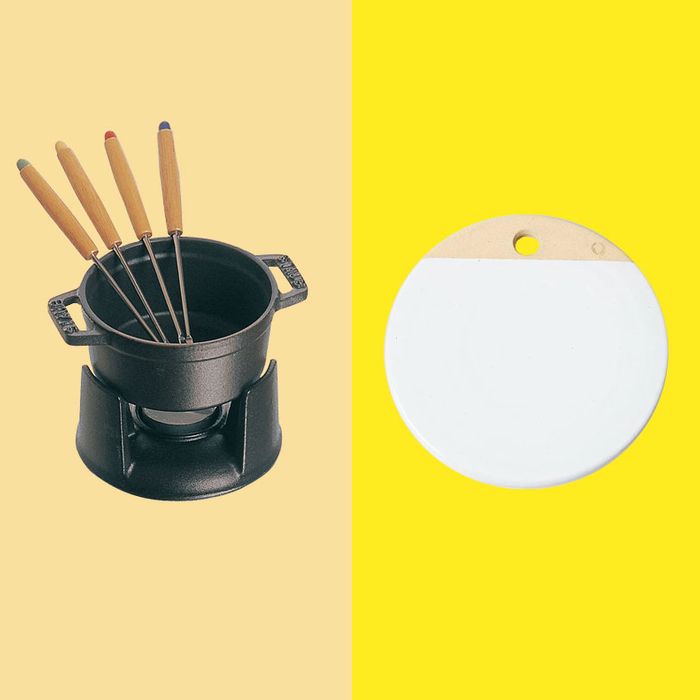 Photo: The Strategist. Photos: Retailers
Cheese is similar to coffee and wine — as in, the people who love it, really, really love it. It's hard to argue with the comforting pleasures of a golden grilled cheese, the allure of a creamy orb of burrata, the salty satisfaction of a pungent Pecorino. But if you're looking for something special to give the cheese lover in your life, you may want to go with more than just a chunk of the stuff. With that in mind, we asked more than a dozen cheese experts, from indie cheesemongers to shop owners to authors, for the best cheese-centric gifts to give this season. From practical (beautiful boards and knives they'll actually use) to educational (virtual tastings) to playful (a "Big Cheese" hat), there's something for every curd obsessive on your list.
Cheese subscriptions and tasting boxes
This assortment from Artifaqt, a family-run wood shop in Phoenixville, Pennsylvania, includes a keep-forever cheese board that's as appealing as the consumables it comes with. "I love the idea of giving someone a board that they can keep, along with some memorable pairings like chocolate and blue cheese," says Tenaya Darlington (aka Madame Fromage), author of Di Bruno Bros. House of Cheese and cheese director at Philadelphia wine bar Tria. She likes serving "handmade cheeses on boards that have been made by hand," whether for holiday, birthday, or wedding gifts.
"I'm lucky to count Saxelby Cheesemongers as my neighbor at Chelsea Market, and I am obsessed with nearly everything they do," says Matt Gallira, founder and CEO of Big Mozz. "Their monthly cheese club makes for a beautiful gift." Darlington is also a Saxelby fan, and she's currently eyeing its Butter Collection: "I can't imagine a better gift to receive in bed — on toast, of course," she says.
Amanda Parker, managing director of Bay Area cheesemaker Cowgirl Creamery, suggests this unique (albeit pricey) cheese-and-much-more option. "Lady & Larder is doing a lovely job with gift baskets, especially the mixed bushels of cheese, California produce, and seasonal flowers," she says.
Parker is also excited about this new release on Food52 of Cowgirl Creamery's own cheeses. "It includes almost everything we make," she says — well-known triple creams, fresh cheeses, a good melting cheese called Wagon Wheel, some smaller-production varieties that are generally harder to get your hands on, cottage cheese, and crème fraîche. This is especially nice, she notes, for people on the East Coast, since Cowgirl's products can be harder to find there.
Cheese boards and platters
"Slate provides a sharp visual contrast with cheese, and these boards come with chalk that makes it easy to label the cheeses you and your guests will be eating," says Mateo Kehler, co-owner of Vermont-based cheesemaker Jasper Hill Farm. Jessica Little, co-owner of Georgia-based cheesemaker Sweet Grass Dairy, also recommends Brooklyn Slate's boards: "I love presenting cheeses on a darker background for a more dramatic look," she says. Both Kehler and Little like that Brooklyn Slate uses stone from a third-generation family quarry in Vermont. In general, stone boards "are the easiest to clean up, especially if the person you're gifting it to likes soft cheeses like Bries and Camemberts, which tend to be messier," explains Molly Browne, education manager for Dairy Farmers of Wisconsin Cheese and an American Cheese Society–certified cheese professional.