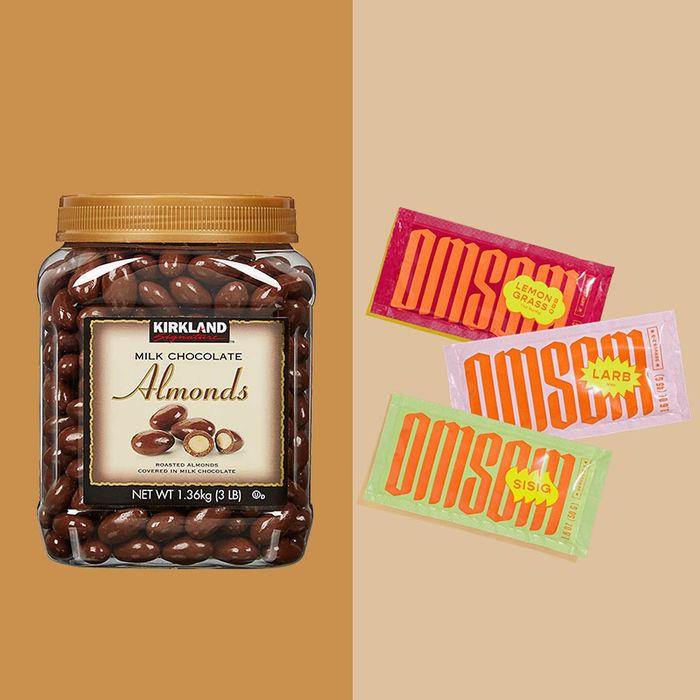 Photo-Illustration: retailers
These days, we're all cooking, baking, and dining at home more — and boy does that get boring. This holiday season, why not give your loved ones provisions that'll revive their home cooking routine (or better yet, give them a much-needed break in the kitchen)? From single-origin, fair-trade spices to pop-star-approved chocolate almonds to snack boxes curated from POC-owned companies, we've gathered the best edible presents around. (And if you're looking to give a nonperishable gift to give your favorite food lover, whether it's a top-of-the-line food processor or the cutting board of their dreams, we've got you covered there, too.)
For the food lover who had to cancel their trip to Thailand
Sisters Vanessa and Kim Pham launched their company Omsom in collaboration with some of the most accomplished Asian chefs in New York City. The result is this spice kit of six flavor packets (equivalent to 16-plus meals) that allow any cook to easily create authentically flavored Southeast Asian dishes, including Vietnamese Lemongrass BBQ, Thai Larb, and Filipino Sisig, in 30 minutes flat. (Omsom also recently launched an East Asian sampler for fans of Japanese, Korean, and Chinese cuisines.)
For the food lover with a sweet tooth
Last month, singer Bebe Rexha revealed her unexpected expertise on the topic of chocolate-covered almonds, and these are her favorites by far. "I've tried every type of chocolate-covered almonds out there, and I swear these ones are the best," she says. "They're so addicting, like it's really hard to stop."
For the food lover obsessed with fermented foods
Photo: retailer/Copyright 2020. All rights reserved.
Over the summer, I reported on the sudden onslaught of fancy vinegars — and then I happened upon this exceptionally fancy version during a coffee stop in Troy, New York. It's a single-origin kombucha vinegar made with yaupon (the North American equivalent of the yerba mate plant) and fermented in oak barrels in the Adirondacks. According to Yesfolk Tonics, you can "enjoy as a digestif, in a cocktail, as part of a special dish and whenever life calls for delicious vinegar."
For the food lover who puts olive oil on and in everything
Turns out Mike Piazza is not only a great at baseball, he also knows a thing or two about olive oil. "I think Italians live equally on water and olive oil," he told us. "I put it on everything except my cereal." One of his favorites is this olive oil from Lago di Garda in Northern Italy. "In Italy, olive oil from the North and Tuscany traditionally has more of a rich, pine-y, green-forest taste," he says.
For the food lover who puts hot sauce on everything
If your favorite food lover keeps a small bottle of hot sauce on them at all times, introduce them to the many wonders of chili crisp, which can be put on just about anything from supreme pizzas to ice cream. For purists, there's Lao Gan Ma, the original chili crisp and a favorite of Strategist contributor Mia Leimkuhler, or consider gifting Momofuku's new wave take, which subs three kinds of Mexican chilis for the usual Szechuan.
For the food lover with an activist spirit
If you'd rather leave the curating up to the professional, consider gifting this Curated EATS Box from Ethel's Club, the Black-owned social club geared toward people of color. Early in the pandemic, founder Naj Austin put together these curated EATS boxes (all from POC-owned businesses) for members that anyone can now buy. It includes Mango and Cayenne Spice Journey Bites and Strawberry and Chia Seed Journey Bites from Journey Foods, Steeped Vietnamese Coffee by Nguyen Coffee Supply, Crimson Oolong Tea by Athena Teas, Matcha Turmeric by Golde, and other delicious treats.
For the food lover who eats peanut butter by the spoonful
Back in June, I waxed poetic about the macadamia nut honey butter from Hawaiian company Banán, which had just begun shipping to the contiguous 48. This slightly sweet, incredibly fragrant nut butter is a game changer in the kitchen (I like to add a little to my homemade dark chocolate pudding) and will be appreciated by anyone who loves a nice nut butter. Just be sure to purchase at least two jars.
For the food lover who's obsessed with spices
Diaspora Co. has quickly distinguished itself as the place to go for high-quality single-origin Indian spices, and just in time for the holidays, the company has launched the Masala Dabba, a gorgeous brass container filled with jars of turmeric harvested by fourth-generation farmers, cardamom grown without pesticides in the woods of Kerala, and black mustard cultivated by a tribe near the Bay of Bengal, among others.
For the food lover who adds salt to everything
If they're the kind of person who puts flakes of sea salt on their steaks, chocolate chip cookies, and everything in between, you can't do better than an entire bucket of cult favorite Maldon salt. Vogue sustainability editor Tonne Goodman told us it "seems a bit extreme, but then again, salt fanatics do exist. I gave it to my brother-in-law, who is a wonderful cook, and he laughed and loved it."
For the food lover who's working on their night cheese
As Nobu 57 executive chef Matt Hoyle put it to us not too long ago, "I live in New York City, so no room for more pans, knives, or KitchenAids. I want something to eat." We couldn't agree more. That's why he recommends giving chefs (or people who just love to eat) the gift of the ultimate cheese platter. This one, from Murray's Cheese, features Roquefort, Comté Saint Antoine, goat bucheron, as well as Jambon De Bayonne (a.k.a. French prosciutto) and Castelvetrano olives.
For the food lover who needs to upgrade from Slim Jims
There was a time when beef jerky was considered a low-brow snack, but as with many things, it has received an artisanal upgrade. Nick's Sticks come recommended by New York literary critic Molly Young, who says they're "delicious beef sticks with no nitrates, no sugar, no hormones, nothing gross," and just 60 calories per stick. Meanwhile, writer Rima Suqi loves Kalahari biltong, an Africa-born take on jerky that she says has "the tender, thin texture of prosciutto (nothing like the jaw-tiring dryness of regular beef jerky), with tasty flavorings that are so much more interesting than 'teriyaki' or 'black pepper.'" Either option is sure to satisfy a meat lover with taste.