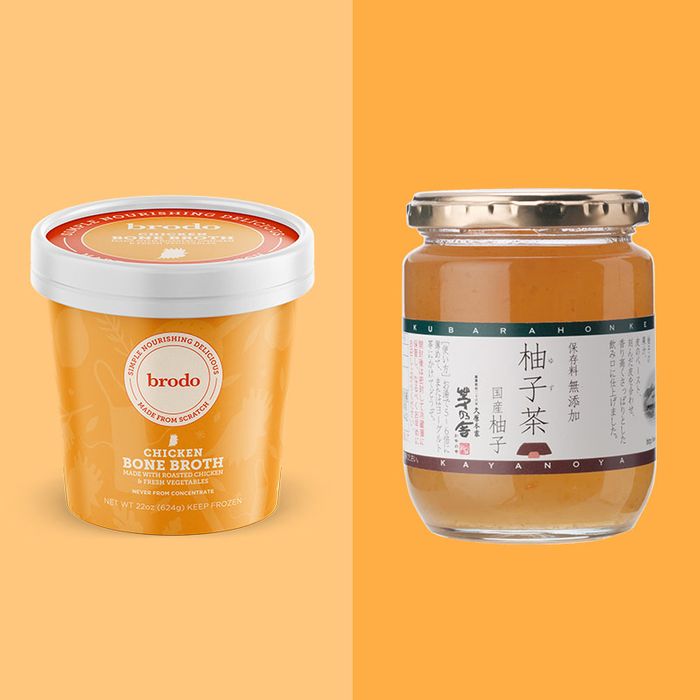 Photo-Illustration: retailers
After spending more than a year inside, the food lover in your life might be feeling particularly uninspired, but the items on this list might be just the kick they need to try something new. From single-origin, fair-trade spices to a yuzu concentrate you can put on anything to snackable canned peppers, we've gathered the best edible presents around. (And if you're looking to give a nonperishable gift to your favorite food lover, whether it's a top-of-the-line food processor or the cutting board of their dreams, we've got you covered there, too.)
For the food lover who enjoys a spicy snack
Surely the chef on your list will find a way to incorporate these traditional basque peppers into a meal. They'll add a nice bite to any dish, but according to chef and food artist Laila Gohar (who introduced us to them when we asked chefs about the best canned foods), they also make a pretty good snack. "I just like to nibble on them plain, too," she says.
For the food lover who loves a fancy snack
Lydia Richards, sommelier and founder of Vino Concierge, suggested these chips for our story on the best gifts for wine lovers. "I came across these amazing chips while I worked with a wide range of Spanish wine producers and attended multiple events focused on Spanish gastronomy," she says. The Torres line includes foie gras, Iberian ham, smoked paprika, and, of course, black truffle flavors. "In my mind, they are built to pair with wine, as flavors are elevated and amplified during the pairing experience."
For the food lover who wants their truffle fix in a more traditional way
According to the creative director of Catbird (who's also a mom), Leigh Plessner, the best gift to give new parents is a fancy condiment — something to enhance whatever quick meal they're squeezing in. However, we think anyone who appreciates food, new parent or not, would make use of a fancy truffle oil. If your giftee is stuck for ideas, you can always suggest Plessner's delicious-sounding recipe: "The summer my daughter was born I stood at the kitchen counter and one-handed ate bowls of avocado and peaches with truffle oil, hot peppers, and toast while rocking and nursing her."
For the food lover who likes an all-in-one kitchen staple
Annie Shi, owner and manager at King restaurant in New York City, describes this sweet-and-citrusy yuzu preserve as a "more versatile and delicious orange marmalade." She has made a gin spritz with it, but says you can also add it into baked goods. According to the description you can also try it as a glaze for poultry or stir it into your tea as a sweetener.
For the food lover who's also a honey snob
If they refuse to use honey from a squeezable bear, they'll love this more-refined (and tasty) option. Acacia honey is a "delicate, floral, and ultranuanced honey," says Lindsay Collins, host and creator of Effin B Radio. She learned about it while working at Per Se, where it was used "as an elegant way to finish desserts table-side or to garnish a decadent savory dish." Collins suggests drizzling it on fancy blue cheese or a bowl of fresh figs.
For the food lover who doesn't actually like to cook
Photo: retailer
It's perfectly fine to be a foodie who only wants food from a pro. This bone broth, a favorite of model Ashley Graham, comes from an NYC-based shop and ships nationwide, creating an easy meal for foodies across the country. The broths ship frozen, which means it can be used at the recipient's leisure. "I keep it in the freezer, pop it out whenever I need it, throw it on the stove, and that's it," Graham told us. "I do not cook — it's just not innately in me — so to know that I have bone broth in the freezer at all times is just a lifesaver for me because it requires no work."
For the food lover who had to cancel their trip to Thailand
Sisters Vanessa and Kim Pham launched their company Omsom in collaboration with some of the most accomplished Asian chefs in New York City. The result is this spice kit of six flavor packets (equivalent to 16-plus meals) that allow any cook to easily create authentically flavored Southeast Asian dishes, including Vietnamese Lemongrass BBQ, Thai Larb, and Filipino Sisig, in 30 minutes flat. (Omsom also recently launched an East Asian sampler for fans of Japanese, Korean, and Chinese cuisines.)
For the food lover with a sweet tooth
Last year, singer Bebe Rexha revealed her unexpected expertise on the topic of chocolate-covered almonds, and these are her favorites by far. "I've tried every type of chocolate-covered almonds out there, and I swear these ones are the best," she says. "They're so addicting, like it's really hard to stop."
For the food lover obsessed with fermented foods
Last summer, Nikita Richardson, former Strategist writer and one of the authors of this article, reported on the sudden onslaught of fancy vinegars — and then happened upon this exceptionally fancy version during a coffee stop in Troy, New York. It's a single-origin kombucha vinegar made with jasmine and fermented in oak barrels in the Adirondacks. According to Yesfolk Tonics, you can "enjoy as a digestif, in a cocktail, as part of a special dish and whenever life calls for delicious vinegar."
For the food lover who puts olive oil on and in everything
Turns out Mike Piazza is not only a great at baseball, he also knows a thing or two about olive oil. "I think Italians live equally on water and olive oil," he told us. "I put it on everything except my cereal." One of his favorites is this olive oil from Lago di Garda in Northern Italy. "In Italy, olive oil from the North and Tuscany traditionally has more of a rich, pine-y, green-forest taste," he says.
This is another primo olive-oil option. Astrologer Susan Miller discovered it on a trip to Milano Market when she asked for "a real brand, I want the best." It's made from three types of Sicilian olives and has an aftertaste of sweet almonds.
For the food lover who puts hot sauce on everything
If your favorite food lover keeps a small bottle of hot sauce on them at all times, introduce them to the many wonders of chili crisp, which can be put on just about anything from supreme pizzas to ice cream. For purists, there's Lao Gan Ma, the original chili crisp and a favorite of Strategist contributor Mia Leimkuhler.
… Or for nontraditionalists, opt for Fly by Jing's all-natural, non-GMO Sichuan chili crisp.
For the food lover who likes their hot sauce a little more mild
A favorite of podcaster Roman Mars, this hot sauce comes from a Puerto Rican restaurant in the Bay Area. Mars says it's light and vinegary and not too hot, perfect for the person on your list who is a little sensitive to spice. He uses it on anything that isn't sweet, which really improved his pandemic dining. "For me, it's the MVP of quarantine — it has made my home cooking so much better," he says. "I cook and eat a lot of rice, and I can just pour this hot sauce on rice and that's a meal."
For the food lover who just really, really, really loves pie