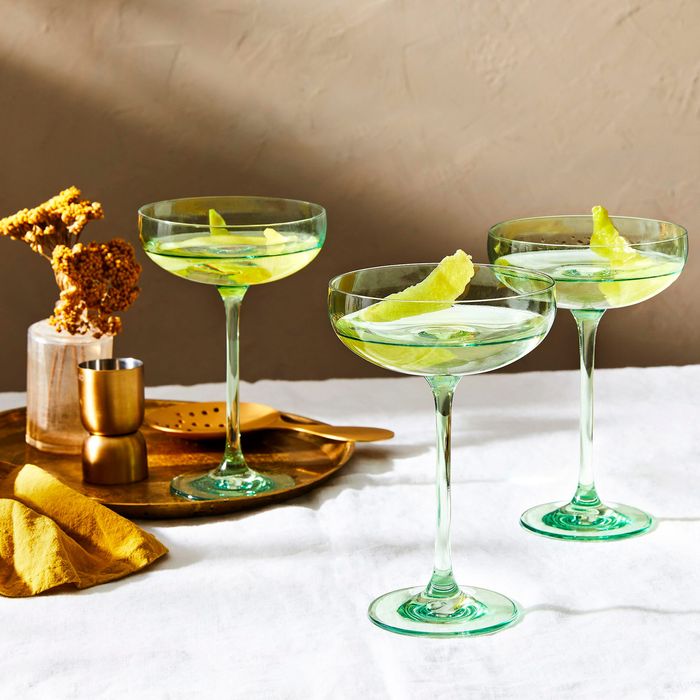 Stocking your home bar is actually a bit more complicated than just getting your booze selection squared away. If you need some help on the spirits front, Punch features editor Leslie Pariseau has this advice: "When I build a home bar from scratch, I always go back to the canon of classic cocktails and stock the spirits and modifiers that support their blueprints." She and Punch senior editor Chloe Frechette suggest keeping a whiskey, a London dry gin, a blanco tequila, a mezcal, a vodka, rum (both an aged and a white), a dry vermouth, a sweet vermouth, Campari, a sherry, Italian red bitters, and an amaro or two on hand to cover all your bases. Once you've gone to the liquor store and got your booze basics covered, you'll need more than just a cocktail shaker. Below, we've compiled a list of all the expert-recommended bar essentials we've written about on the Strategist — from tools, to bitters and syrups, to ice trays and swizzle sticks, to glasses, to cocktail books.
Tools
In our at-home bar-tools guide, we identified several basics every bartender should have: a shaker, a bar spoon, a jigger, a strainer, and a mixing glass. Instead of shopping for each item individually, Johnny Swet, the owner of Brooklyn's Grand Republic Cocktail Club and a bar consultant for Jimmy at the James and the Skylark, recommends Cocktail Kingdom's set, which includes just about everything you need.
If you're not totally comfortable using a Boston-style shaker set like the one included in the set above, a cobbler shaker may be the better choice because it's easier to hold and has a built-in strainer in the lid. Karen Lin, a certified sommelier, sake expert, and the executive general manager of Tsukimi, suggests this shaker from Japanese barware brand Yukiwa. "The steel is very sturdy, and the shape fits perfectly in my hands," she says. "It is also designed well, so you can take it apart easily to clean."
Any bartender worth their salt will tell you that freshly squeezed fruit juice is the only way to go when mixing drinks, which is why "having a fantastic juicer on hand is a must," says Ivy Mix, the owner of Leyenda in Brooklyn and bottle shop Fiasco! and the author of Spirits of Latin America. Grand Army's beverage director, Brendan Biggins, and head bartender, Robby Dow, call this one the "best of the best."
For garnish, Joaquín Simó, partner at Pouring Ribbons and Tales of the Cocktail's American Bartender of the Year in 2012, suggests Rösle peelers, which he says are "built like tanks" and will last a long time. "So if aesthetics matter, those are really, really spectacular," he says. If you don't intend on displaying your peeler, a regular vegetable peeler will get the job done.
Bitters
According to Lynnette Marrero, a co-founder of the all-female, high-speed bartending competition Speed Rack who works as the beverage director for New York City–based Llama Inn and Llama San, "bitters are the salt and pepper, the pinch of seasoning to your cocktail." In our roundup of the best bitters, three names were mentioned by our experts over and over again: Angostura, Peychaud's, and Regans'. Jarek Mountain, a co-owner and the beverage director of Boston's Yellow Door Taqueria, says that "when it comes to bitters, every mixologist should have two staples: Angostura and Peychaud's." Julia Momose, a partner and the creative director at the Chicago-based cocktail bar Kumiko, agrees: "Classic aromatic bitters, like Angostura and Peychaud's, are staples." The two can be used for most classic cocktails, like old-fashioneds, Manhattans, and Sazeracs. Regans' orange bitters add a bright, citrusy note to whiskey and gin-based drinks. This set from Amazon includes all three.
If you prefer adding some heat, Marrero also suggests Hella Cocktail Co.'s Smoked Chili Bitters, which has a spicy, smoky ancho flavor profile that she says is strong but subtle enough not to "overpower" your other ingredients.
If you already have the basics covered and want to experiment with other flavors, several of our bar experts recommended Dram Apothecary, a Colorado-based company that specializes in herbal bitters. Mix is especially fond of the palo-santo, which she uses to infuse everything from old-fashioneds to martinis with an incense-esque flavor. In addition to palo santo, the brand makes five other blends: citrus, lavender lemon, wild mountain sage, its "hair of the dog" blend (which includes notes of ginger, fennel, and cinnamon), and its "black" blend (which contains notes of black cardamom and black tea).
Syrups
Like bitters, syrups are another simple and affordable addition that can go a long way to adding complexity to your at-home drinks. According to Jeremy Mustakas, the director of restaurants for ABC, "Jack Rudy's small-batch tonic syrup has a hint of lemongrass and orange peel and is great for your at-home bar." Sam Thonis, co-owner of alcohol-free bar Getaway in Greenpoint, keeps Jack Rudy stocked behind the bar and uses both the classic tonic syrup and its elderflower-tonic syrup, which adds a subtle floral note.
If you'd rather add a little kick of spice to your drinks, Thonis recommends Pickett's ginger-beer syrup. And the fact that the handsome apothecary-esque glass bottles are display-worthy doesn't hurt.
Orgeat is an almond-based syrup that will add hints of orange and rosewater to your drinks and features prominently in tiki-style drinks like mai tais. This one, from popular bar-accessories brand Fee Brothers, was included on our list of tiki bar essentials.
Ice trays and swizzle sticks
For garnishing or stirring, Strategist contributor Randy Miller — who has perfected the art of the at-home Bloody Mary — loves these sleek toothpicks. "Some might say a toothpick is a toothpick is a toothpick," he notes, but these "really go the distance — and are reusable because they're stainless steel."