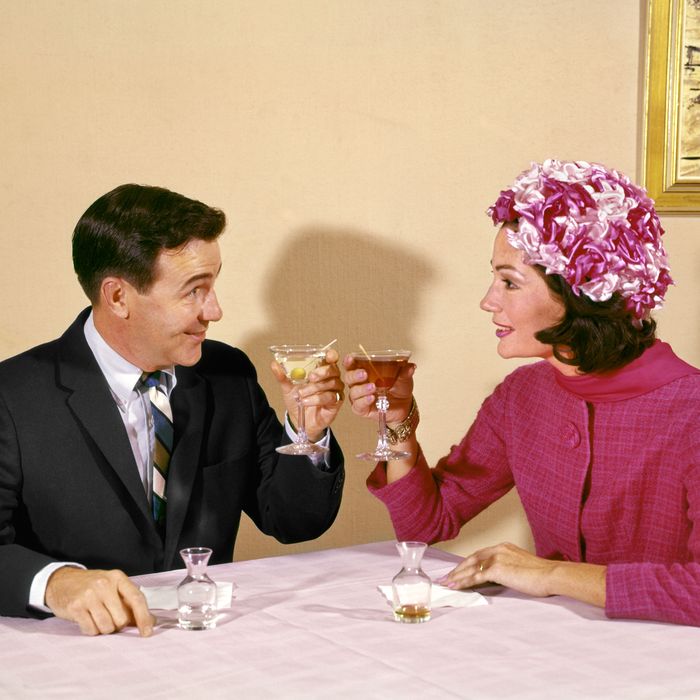 Photo: H. Armstrong Roberts/ClassicStock/Getty Images
So you finally found the bar cart of your dreams, and you've loaded it up with your favorite liquor. While those are two very important steps to curating an at-home bar, to really make your setup recall that of your favorite watering hole, you're going to want to add some barware and cocktail equipment. But that can be an intimidating task, especially if you've had more experience drinking cocktails than making them. The good news is that you don't have to spend a lot of money. "Most people in their home bar really don't need that many tools," advises Joaquín Simó, a partner at New York City's Pouring Ribbons who was named Tales of the Cocktail's American Bartender of the Year in 2012. "I say you start with the absolute basics and concentrate on the things that you like to use."
If you're in a pinch, Martin Hudak, a bartender at Maybe Sammy, says you can always use tools you may already have on hand: "For your shaken cocktails, you can use empty jam jars or a thermos flask. For measuring, spoons and cups, and for stirring, any spoon or back of a wooden ladle." But Stacey Swenson, the head bartender at Dante (which currently holds the No. 1 spot on the World's 50 Best Bars list), notes that if you're going to put stuff on display, you might want gear that's both practical and stylish. "You want something that's functional and also something that's pretty," she says. "If you're putting it on your bar cart, you kind of put on a show for your guests." With the help of Simó, Hudak, Swenson, and 28 other experts, we've put together the below list of essential gear for any cocktail-lover's home bar.
Editor's note: If you want to support service industry workers who have been impacted by the coronavirus closures, you can donate to the Restaurant Workers' Community Foundation, which has set up a COVID-19 Crisis Relief Fund, or One Fair Wage, which has set up an Emergency Coronavirus Tipped and Service Worker Support Fund. We've also linked to any initiatives the businesses mentioned in this story have set up to support themselves amid the coronavirus pandemic.
Best overall shaker
According to Simó, all shakers "technically do the same thing, and there are very cheap and very nice versions," so there's really no superior option when it comes to function. That said, many professional bartenders use Boston-style shakers, which are basically two cups that fit into each other and form a tight seal to keep liquid from splashing all over you. "If you want to look like a bartender at Death & Co. or PDT, and you want the same kit, then you're probably going to go metal-on-metal," or "tin-on-tin," Simó notes. Six of our experts recommend these weighted tin-on-tin shakers — which come in a range of finishes, including copper and silver — from Cocktail Kingdom, a brand that nearly every bartender we spoke to praised for its durable, well-designed barware. Grand Army's beverage director, Brendan Biggins, and head bartender, Robby Dow, call this "the gold standard" of shaking tins. "Behind the bar, there's almost nothing worse than shaker tins that don't seal well or don't separate easily," explains Krissy Harris, the beverage director and owner of Jungle Bird in Chelsea. "The Koriko Weighted Shaking tins seal perfectly every time and easily release," she says. And because they're weighted, they're less likely to fall over and spill.
Best shaker for beginners
While most bartenders use Cocktail Kingdom's Koriko tins, bartender Tim Cooper, who is also the head of brand advocacy for Fords Gin, says that the Leopold shaker is his favorite. "In my experience, the tins are easier to separate than the Koriko's and feel a touch lighter, as well," he says. "They're simply more efficient," adds Cooper, which is why he says this is a great option for the at-home bartender who's not well versed on using shaker tins.
Best shaker with a built-in strainer
For some people, a two-piece setup like the above shakers might be tricky to use comfortably. "Say you're a petite female — if you have very small hands, then maybe using a Boston-style shaker may be a little harder," explains Simó. In that case, a cobbler shaker may be the better choice, because it's smaller than a Boston-style shaker and thus easier to hold. The other convenient part of a cobbler-style shaker is that the strainer is already built into the lid, so you don't necessarily have to spring for an additional tool. Karen Lin, a certified sommelier, sake expert, and the executive general manager of Tsukimi, suggests this shaker from Japanese barware brand Yukiwa. "The steel is very sturdy, and the shape fits perfectly in my hands," she says. "It is also designed well so you can take it apart easily to clean."
Best overall mixing glass
You know how James Bond always ordered his martinis shaken, not stirred? Well, if you were to ignore Mr. Bond's order and make a stirred martini — or any other stirred cocktail, like a Negroni or a Manhattan — you'd set aside the shaker to use a mixing beaker instead. A mixing beaker is essentially a large vessel in which you dump your liquors and mix your drink. And though you can purchase handsome crystal ones for hundreds of dollars, both Simó and Swenson agree that they're kind of superfluous for a basic bar kit. "I don't think you should spend any more than $25 on a mixing glass," says Swenson. Harris agrees, saying that since they are the most broken item behind the bar, you should stick to a well-priced option like this mixing glass from Hiware that "doesn't have a seam, so it's stronger and very attractive."
Best nontraditional mixing glass
One of Simó's hacks to getting a glass mixing beaker for not that much money is to use the glass piece from a French press, which is something else you might already own. If you want a dedicated one for your bar cart (that could serve as a backup for your French press), he says you can buy a replacement glass like this one, which has a capacity that is particularly useful if you're making drinks for a lot of people. "I generally will take one or two of the big guys with me when I'm doing events, because then I can stir up five drinks in one, and it's really convenient," Simó explains.
Best pitcher
According to Paul McGee, a co-owner of Lost Lake in Chicago, "finding vintage martini pitchers is very easy, and they are perfect for making large batches of cocktails." Plus, they'll look more visually striking on your bar cart. This one is even pretty enough to use as a vase when it's not filled with punch. The photo shows the pitcher next to a strainer, but you're only getting the pitcher for the price shown.
Best Japanese-style bar spoon
If you're making a stirred drink, a mixing or bar spoon is also necessary. "Three basic styles exist: the American bar spoon has a twisted handle and, usually, a plastic cap on the end, the European bar spoon has a flat muddler/crusher, and the Japanese bar spoon is heavier, with a weighted teardrop shape opposite the bowl," explains Joe Palminteri, the director of food and beverage at Hamilton Hotel's Via Sophia and Society. None of our experts recommended specific American-style bar spoons, but Simó told us that one of his favorite Japanese-style spoons is this one made by bartender Tony Abou-Ganim's Modern Mixologist brand. "It's got a really nice, deep bowl to it, which means you're able to measure a nice, level teaspoon" without searching through your drawers, according to him. Simó continues, "The little top part of it has a nice little weight to it, but it's not too bulky. So it gives you a really nice balance as you're moving the mixing spoon around," making your job a little easier.
Best European-style bar spoon