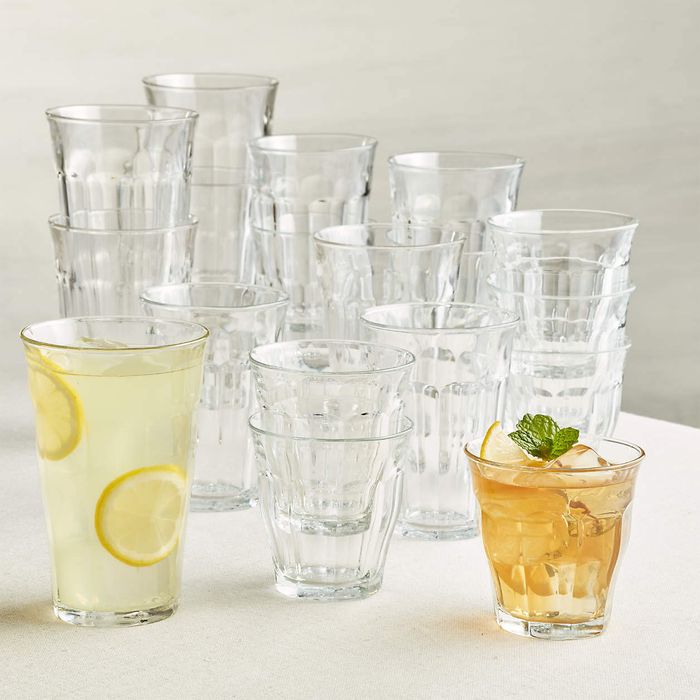 Photo: Courtesy of the retailer
When it comes to glassware, the sexier vessels — a coupe, a flute, a wineglass — seem to get all the glory. But a simple water glass (which can be just as appropriate for juice, wine, iced coffee, or, yes, a G&T) gets used more than any of those options — and is just as worthy of praise. Whether you're in the market for a basic, stackable matching set or for something bolder to spruce up your dinner table, the choices are many. To help you in your search, we asked 21 of our favorite restaurant, beverage, and interior-design experts how they take their H2O. I've also included a few affordable favorites of my own as the Strategist's unofficial home-bartending expert (if you want to know about the best barware to pair with your new drinking glasses or the bar cart to place them on, I've also got you covered).
Best overall | Best assorted sets | Best short | Best tall | Best decorative
What we're looking for
Material: Drinking glasses come in a variety of materials that will determine both the look and the durability of the vessels, as well as whether they are dishwasher or freezer safe. Our experts agree that while thin glass looks sophisticated, it is more fragile than tempered options. And if you have kids (or are clumsy), opting for practically indestructible acrylic is probably your best bet.
Volume: The amount of ounces each glass can hold will affect more than just how quickly it takes you to reach your daily hydration goal. Aside from aesthetics, the size and volume of the glass will influence what types of drinks you can make. If you plan to use your drinking glasses for highball cocktails, you'll probably want to stick to tall glasses that are 12 ounces and above, whereas short glasses under eight ounces will be best if you're partial to a glass of red wine or a neat whiskey at dinner.
Set number: Most of the glasses down below are sold in sets. Your entertaining needs, budget, and the amount of space you have will all determine how many glasses you should purchase. A set of two is great for just you and your roommate, whereas sets in larger increments are great if you're the entertaining type. We've even included a few restaurant-grade styles sold in bulk (that you may want to go in on with a friend or two, since you probably won't need all 72).
Best overall drinking glasses
Tempered glass | From 8 3/4 oz | Set of 18
Duralex's Picardie glasses are a favorite among our panelists. It's easy to see why: They are available in assorted sizes, so you'll always have the right one at hand if someone wants water, juice, or a stiffer drink. More important, as Tracie Battle, a senior designer at online interior-design service Havenly, says, their "classic look will never go out of style." She explains that they are made of thicker tempered glass, which "offers more durability and a more expensive look." Hudson Wilder founder Conway Liao and author (and former Lucky Peach executive editor) Rachel Khong also swear by these glasses, with Khong saying that her set is "still going strong after many many years." This 18-piece set includes three sizes and six glasses in each size.
Best assorted drinking-glass sets


Best overall assorted drinking-glass sets


Tempered glass | From 11.6 oz | Set of 16
This set of Dailyware Bodega glasses from Bormiolo Rocco — which includes eight shorter double old-fashioned glasses and eight taller highball glasses — is interior designer Katrina Hernandez's choice. She uses the glasses in both her house in the country and her Brooklyn apartment. "They're perfect for water or a cocktail. It's a set of two sizes, but both are relatively shorter and more modern," she says. Hernandez adds that they're thin, but not "scary thin where you feel they could break in your hand at any moment." She also appreciates the rounded edge of the lip as well. The Bodega is also a favorite style of Julie Mulligan, the owner and designer of cocktail lounge and restaurant Lot 15, because it's "versatile and low maintenance but still chic." She says that it's "great for all kinds of home drinking and serving" and can even be used for displaying flowers. "They have a great smooth lip to drink from and the price is just right," she adds.