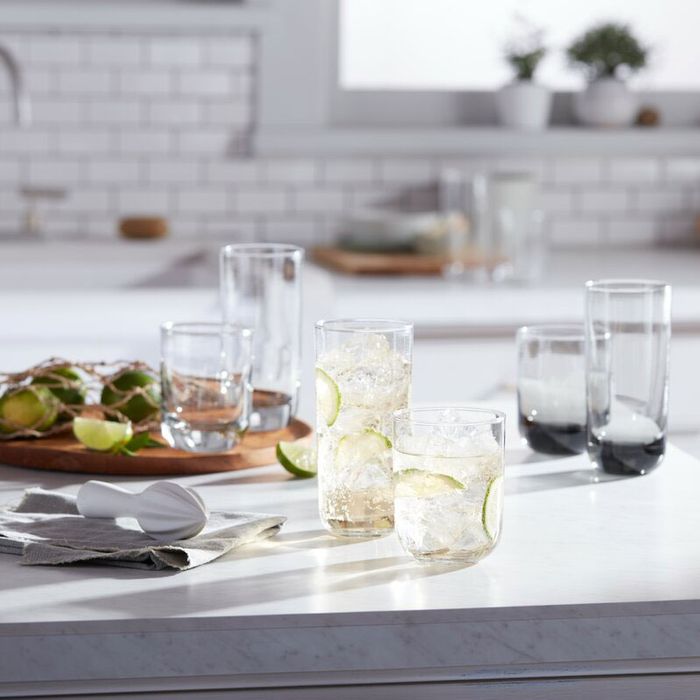 Tall, short, clear, and silver options for however you take your water.
Photo: Courtesy of the retailer
When it comes to glassware, the sexier vessels — a coupe, a flute, a wineglass — seem to get all the glory. Truth is, though, when it comes to drinking water or juice (or, yes, a G&T), what you really need most is a simple water glass. So we asked a few of our favorite restaurant, beverage, and interior design experts how they take their H2O. Below, our 19 panelists recommend their favorite water glasses, including a few restaurant-grade styles sold in bulk (that you might want to go in on with a friend or two — since you probably won't need all 72, and when split, each glass ends up being just a couple bucks). To help you find what you're looking for, we've categorized their picks by style and size.
Best drinking glasses sold in sets of assorted sizes
Duralex's Picardie glasses are a favorite among our panelists. It's easy to see why: They are available in assorted sizes, so you'll always have the right one at hand if someone wants water, juice, or a stiffer drink. More important, as Tracie Battle, a senior designer at online interior-design service Havenly, says, their "classic look will never go out of style." She explains that they are made of thicker tempered glass, which "offers more durability and a more expensive look." Hudson Wilder founder Conway Liao and author (and former Lucky Peach executive editor) Rachel Khong also swear by these glasses, with Khong saying that her set is "still going strong after many many years." This 18-piece set includes three sizes and six glasses in each size.
Battle also recommends Libbey's Polaris glasses for their "super-unique shape," which includes a rounded, weighted base that feels hefty while still being sleek. This set comes with eight drinking glasses and eight smaller rocks glasses, offering the best "bang for your buck, at just over $2 per glass," she says. They're BPA-free and dishwasher-safe, too.
This set of Dailyware Bodega glasses from Bormiolo Rocco — which includes eight shorter double old-fashioned glasses and eight taller highball glasses — is interior designer Katrina Hernandez's choice. She uses the glasses in both her house in the country and Brooklyn apartment. "They're perfect for water or a cocktail. It's a set of two sizes, but both are relatively shorter and more modern," she says. Hernandez adds that they're thin, but not "scary thin where you feel they could break in your hand at any moment." She also appreciates the rounded edge of the lip as well. The Bodega is also a favorite style of Julie Mulligan, the owner and designer of cocktail lounge and restaurant Lot 15, because it's "versatile and low maintenance but still chic." She says that it's "great for all kinds of home drinking and serving" and can even be used for displaying flowers. "They have a great smooth lip to drink from and the price is just right," she adds.
Best short drinking glasses
If you'd rather go for uniformity, opt for a single size. And if cabinet space is limited, shorter glasses may be the way to go. Both Liao and Amanda Spina, the general manager of Williamsburg's Four Horsemen restaurant and Nightmoves bar, swear by these shorter, stackable glasses by Japanese company Toyo-Sasaki. "I always want precious, delicate, thin Japanese glassware at the restaurant, but it's got to be strong enough to fall onto a rubber mat and not break," says Spina. "And it must be stackable." These glasses, which are each about four-inches high, tick all those boxes. "They're a little more unique and contemporary than the ubiquitous Duralex," she adds, "but just as practical." Liao agrees, noting their stackable design makes these "perfect for New York apartments."
Amazon sells Bormioli Rocco's 12-ounce Bodega tumbler — which is roughly the same height as the Bodega double old-fashioned glass in the brand's assorted set above — on its own in a 12-pack.
The CB2 Marta glass has a similar feel as the smaller Bodega glasses above, and comes recommended by Athena Calderone, the founder of lifestyle blog Eye Swoon. She likes that they have "clean, straight lines" and are "made of ultra-thin glass." She also says that "the price is deceiving — they look and feel far more expensive than they really are," adding that they're "definitely a crazy-good bang for your buck." Not to mention:"They look as good sitting around on the table as they do on open shelving, which is helpful because that's what I have at home," Calderone says. Interior and event designer Ken Fulk is also a fan.
Mullligan's go-to "for something clean and classic," are these tumblers from Duralex. She likes that these glasses are stackable, but more importantly, that "they've withstood the test of time in my home, which is no easy feat." Made in France of tempered glass, they're also dishwasher-, microwave-, and freezer-safe.
According to Mulligan, Libbey is "an industry standard for style and wearability in the design world." The petite Esquire side water glass is one of her all-time favorites, and she says that they're great for the home but also in a restaurant setting. The thin glass, slightly curved shape, and weighted base make it a little more interesting than your standard, straight-sided water glass. Intended for the service industry, these glasses come in a case of 72, which is more than an average household will ever need. But if these appeal to you, consider splitting a case with a family member or friend (or several family members or friends). The cost-per-glass comes out to just a tad over a dollar, which honestly can't be beat.
Instead of a glass with straight sides, maybe you'd prefer one that has a tapered V-shape. Paul Malvone, a co-founder of Boston Burger Company, says the style is better for stacking. "At the restaurant, we prefer a 9-ounce old fashioned Endeavor rocks glass," he says. "They're a little better-looking than a traditional drinking glass, and are versatile enough for water or a soft drink, or even a hard beverage."
These tapered glasses are similar in shape to the ones above, but have a bit more of a pedigree (hence their higher price). Originally created by Finnish designer Göran Hongell and now produced by Finnish glassware company Iittala, the glasses are blown by mouth and are a favorite of restaurateur Yann de Rochefort, the founder and CEO of tapas restaurant Boqueria. " Sleek, simple, and super-elegant," is how he describes them, adding that they're not too precious for everyday use and that the glasses have a heavier bottom so they "won't easily get knocked over in a busy kitchen." A fan of Scandinavian design, De Rochefort says these "remind me of antique glasses my family used for aquavit, a Swedish herbal-infused liquor they would drink (and occasionally let me taste) when I was a kid."
According to Spina, these roughly five-inch goblets "are billed as 'wineglasses,' but they're really not the best for wine because of their open shape." What that shape is great for, though, is good-old H2O. "They happen to be perfect for water with lemon." The shape and the fact that they're made in Italy make them even more distinguished. (Pictured as a set of four, the price shown is for one glass.)
Best tall drinking glasses
Libbey's highball Impressions glasses hold more fluid than the brand's shorter Esquire glasses in the section above, but they have a similar curved look and come in a more reasonable quantity (a set of four as opposed to a case of 72). They're recommended by Decorist interior designer Katy Byrne, who says they're her top pick for an everyday water glass. "It's the perfect weight with an elegant detail that not only looks nice but provides the perfect grip spot," she tells us.
"At home, I use these 12-ounce Collins glasses, which are tall and a handsome vessel for cocktails" says Nick Rancone, the owner of the Twin Cities–based Twist Davis Group of restaurants. While they're nice enough for serving drinks like a Tom Collins, gin fizz, or even a mojito, Rancone likes these because "they're multipurpose enough to use for just plain water, too. I like that it can do double or triple duty."
These highballs from Luigi Bormiolo come recommended by Battle: "This set is minimal in style and works well for several different drinks, whether a simple glass of water or a mint mojito," she says. Battle adds that they're a great option if you have kids as well: "They are a more durable option without having to sacrifice the look of glass."