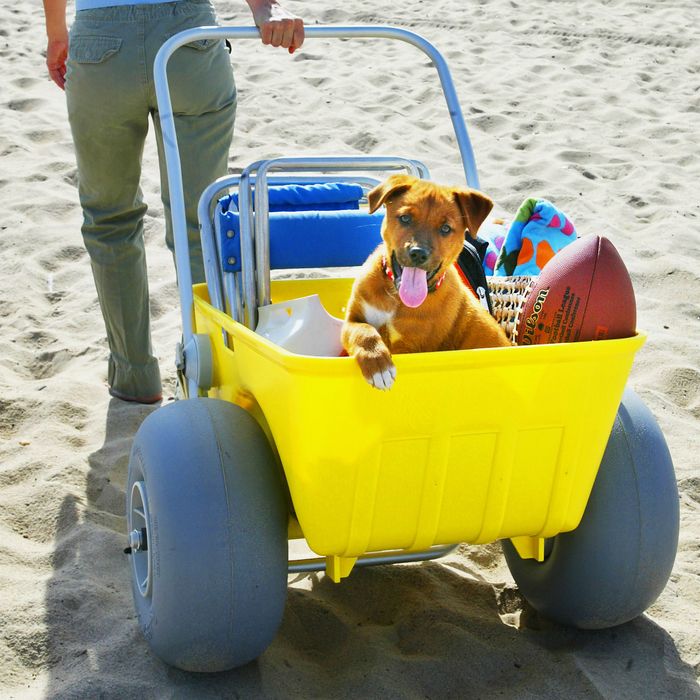 This WheelEEZ wagon made the list (sadly, it does not come with the dog).
Photo-Illustration: Getty/Los Angeles Times via Getty Imag
Here at the Strategist, we know that finding the "best" product really depends on exactly whom you ask — which is why we've devoted this series to squeezing in as many informed, trustworthy opinions as possible. And we've come up with dozens of ways to do this, among them: surfacing reader reviews from across the internet, taking quick polls of our most insane friends and fellow shopping-obsessed Strategist editors, and partaking in some advanced internet snooping.
With that, we're rounding up the best beach wagons that you can buy online. If you're unfamiliar with the category, a beach wagon is any wagon that has wheels big enough to be able to roll across sand smoothly, no matter the weight of its contents. "The bigger the wheel, the more traction the wagon can get to pull over the sand," says Perfect Picnic founder Wendy Weston, who uses beach wagons to set up her outdoor events. Our recommendations below include a beach wagon that becomes a beach chair, the most popular beach wagon among Strategist readers (and Strategist moms), a beach wagon that works as well in the garden as it does on the sand, and the status wagon at one New Jersey beach.
Expert-Recommended: Best beach wagon, according to a beach-picnic planner
Photo: retailer
MacSports' wagons have come up frequently in our outdoors coverage before, and Weston told us she's also a big fan of the brand's wagons for beach outings. Her personal favorite is this All Terrain Beach Wagon. Features Weston likes about this model are that it folds completely flat and that it can carry a lot of weight (150 pounds, to be precise). To help get all that cargo to your preferred spot, the wagon has large wheels, including two "big wheels in the center, which make it much easier to pull in sand," she notes. Amazon reviewers also have good things to say about this "workhorse" of a beach wagon. One reviewer says that it's "durable, easily folded, and comes with a cover," pointing out that it "also has cupholders on the side and a retractable handle for pulling."
Strategist Readers' Choice: The best (less-expensive) beach wagon
Photo: retailer
Lots of Strategist readers — 159, to be exact — have bought this more affordable MacSports wagon. While not specifically designed for the beach, according to reviewers it's perfectly suitable on sand. While combing the more than 5,000 reviews for this beach wagon, we noticed that two consistent points of praise are its durability and convenience. Other things to like, according to those reviewers, include an easy-to-steer handle, the wagon's foldable construction, and its generous size. One grandparent (of 14 kids and grandkids) who actually used this wagon on the sand writes, "The wagon was a godsend for carrying beach bags, toys, towels, water, umbrellas, plus babies up and down the steep hill from the beach to the lodge."
Ask a Cool Person: The status wagon at one New Jersey beach
Photo: retailer
Strategist newsletter editor Mia Leimkuhler's aunt and uncle, Fran and Mary Gramkowski, spend their summers by the beach in Brigantine, New Jersey. They told us they've used this beach wagon "for almost 20 years, and it's still working as good as new." According to the Gramkowskis, the one-wheeled wagon is a bit of a status item in Brigantine. "A lot of people use them here because they move well through soft sand with a full load," Fran says. "Once you get good at balancing the load, you can push or pull it using one hand."
Snooping: A two-tiered beach wagon
Photo: retailer
After learning that experts and our readers rely on MacSports wagons to transport their beach kits, we wanted to take a closer look at the brand's offerings. Among its many wagons, this particular model stood out as unlike any we'd seen before. The "double-decker" wagon has a two-tiered build; its lower level is designed to accommodate bodyboards, umbrellas, and beach chairs, while its upper crate is ideal for storing bags, towels, and other smaller bits and bobs. While we haven't touched it, some 469 Amazon reviewers have, giving it a 4.7-star rating. In the words of one happy customer, it's "weird but pretty good." This one also isn't specifically designed for the beach, but its wheels are larger than those on the MacSports wagon our readers love, suggesting it will handle sand just as well.
People's Choice: The best beach wagon for kids, according to Amazon reviewers (and Strategist moms)
The Radio Flyer Ultimate EZ Folding Wagon is a favorite beach wagon among Amazon reviewers with kids. One parent writes, "We needed something sturdy that would fit our 40-pound toddler and random beach stuff without falling over. This fit the bill. I also like that the side folds down for bench seating, which is great for outdoor movies and concerts." This wagon has several other convenient features that many reviewers love. "It folds so easily and doesn't take much more space than a regular stroller," says a second parent, with a third noting that "it is extremely easy to maneuver and turn." Yet another reviewer writes that the wheels, crucially, can handle "hard-packed or soft wet sand." In addition to this model's great reviews, Radio Flyer wagons also received the stamp of approval from no less than three Strategist moms — editor Alexis Swerdloff, contributing editor Jessica Silvester, and writer Lauren Ro — all of whom personally use them with their own kiddos.
Strategist Pick: A beach wagon that converts into an actual beach chair
Photo: retailer
As readers of this site know, we're always looking for ingeniously designed products — especially ones that are made so thoughtfully that they can be used in multiple ways. So, in trawling the internet while researching beach wagons, it shouldn't be too surprising to hear this one, that becomes an actual beach chair, stopped us in our tracks. While some of the wagons on this list can be converted to become more like chairs, this one is designed to transform into the exact style of lounger you'd otherwise tote with you. Another wagon from MacSports, the brand says that this one, when locked into its wagon shape, "easily rolls over grass, pavement, or sand" thanks to its rugged wheels that can hold up to 100 pounds. Once you've found your spot, the cart can be folded out into a lounger that has a built-in pillow headrest for added comfort and can support even more weight (as a chair, it can hold up to 225 pounds).
Snooping: A garden cart that also works on the beach
In taking a closer look at our list of the best garden carts on Amazon, according to hyperenthusiastic reviewers, we were reminded that this one, from Gorilla Carts, didn't just receive praise for how it performs on dirt. One owner of it says that while they primarily use the cart to haul "plants, garden tools, etc.," they also have used the cart to "haul items to and from the beach" because it rolls very well across sand. Impressively, the cart can hold a lot of weight (up to 1,400 pounds — or the weight of 51 average-size toddlers). But it doesn't collapse, so you'll need to set aside a bit more space in your garage, car, or other storage area for it. Still, while the whole cart doesn't collapse, its sides do — meaning you can easily convert it into a bench or dining table on the sand.
People's Choice: The best beach wagon, according to Walmart reviewers
Photo: retailer
With ten-inch rubber wheels that allow it to handle sand and other terrain, this cart is the best-rated beach wagon at Walmart, according to reviewers. According to one, it's "perfect for beach chairs and umbrellas," in part because its steel frame can hold up to 400 pounds. Like the cart above, this one also has collapsible sides that make it even more versatile. And, if you ask us, the forest-green color and contrasting brass hardware make it look a touch more sophisticated than similar carts on this list.
Quick Pick: Best beach wagon (you can push) found after a Strategist writer's hour of research
Photo: retailer
While we saw a lot of longer, lower beach wagons as we poured over the many options available, we also found some less common ones that are taller and higher (and remind us a little bit of our favorite grocery cart). The key difference between the two styles is the former are better pulled, while taller carts like this are better pushed. This affordable beach cart is well rated by Bed Bath & Beyond reviewers, 94 percent of whom say they'd recommend it to a friend. It has large wheels, a space to hold two boogie boards, and a built-in cooler that one user says makes it a "lifesaver on the beach." Importantly, another reviewer calls it a "well-made, durable cart that moves easily through the sand." But a third notes that because it's a pushcart, it can become harder to push the more you pack inside it.
People's Choice: Best beach wagon, according to Wayfair reviewers
Photo: retailer
Hyperenthusistic Wayfair reviewers seem to love this "well-engineered" beach wagon for features that aren't necessarily visible by just looking at it. Despite its steel construction, the wagon can be folded up to make it easier to store. Its main compartment includes an extra-secure pocket with a zipper to protect any smaller essentials. And its ridged rubber wheels provide ample traction on sand, with one reviewer saying it "moves easily across the beach" thanks to those "wide wheels" that help it support up to 225 pounds of stuff. Perhaps the most nifty feature of all, according to another reviewer: It "even has a place on the bottom where you can empty out sand or water or anything you don't want to take into your room or car."
The Strategist is designed to surface the most useful, expert recommendations for things to buy across the vast e-commerce landscape. Some of our latest conquests include the best acne treatments, rolling luggage, pillows for side sleepers, natural anxiety remedies, and bath towels. We update links when possible, but note that deals can expire and all prices are subject to change.