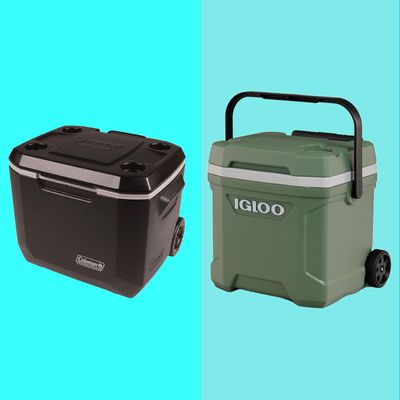 Photo-Illustration: Courtesy of Retailer
Whether you're hosting a backyard barbecue, spending the day at the beach, or heading out on a camping trip, a good cooler is an essential piece of summer gear. And a wheeled one with a telescoping handle is ideal for carting around your beers and snacks while keeping one hand free for carrying everything else. I've consulted caterers, professional picnic planners, and outdoor-gear enthusiasts about their favorite wheeled coolers for all sorts of activities, from multiday trips to casual afternoons in the sun. While you're here, we've also done the research to find the best ice-cube trays, insulated water bottles, and even a custom thermos for keeping ice cream cold outdoors. If you like the idea of pulling along your picnic supplies, here's a guide to the best beach wagons and carts.
Coolers with a strong seal and advanced insulation will keep your ice frozen for longer — sometimes even days at a time. Dr. Rebecca Webb, an instructor of energy systems engineering at the University of Southern Oregon, explains that coolers become heavier as insulation gets thicker, while also losing storage capacity: "So it's a bit of a game for cooler manufacturers — they're striving for something that's light and has plenty of volume but also keeps food cold." High-end brands have nailed this balance well: "They've used a more expensive insulation and have a thinner wall, but it has the same effect as having really thick walls."
Common sense will enhance the ice retention of any cooler, even a Yeti. "Don't open it a lot," says Webb. "And if you leave the cooler in the sun, it's going to absorb more heat than in the shade." To boost performance, fill your cooler with more ice than food, and double-insulate where you can by wrapping items in individual insulated bags, suggests Lauren Kimmons, the owner of Pop Up Picnic Co. "And use ice packs in food containers to keep things extra cold."
When purchasing a cooler, it's also important to consider "what exactly you will be keeping cool, for how long, and for how many people," advises Annie Seddington, the president and coordinator of PikNYC Luxury Events. A large cooler isn't always appropriate or necessary, which is why there are some more compact options on this list.
Their storage and cooling powers aside, great coolers should be built practically and with outdoor activities in mind. So I looked for coolers with well-designed drainage, leakproof construction, solid handles, and sturdy wheels, and have taken note of such features to help you decide which to buy.
Best overall wheeled cooler
Ice retention: Multiple day | Capacity: 48 cans (without ice) | Extra features: Fun colorways, removable drink tank, puncture-resistant wheels
Carla Ruben, president of Creative Edge Parties, "absolutely loves" this big Brumate, which has chunky, sand-friendly wheels designed to handle beach days. She especially emphasizes its huge capacity and clever compartmental design, which includes an in-built cold-drink tank. "It stays cold all day, the wheels are amazing, and it holds a lot," she says. "And it's a little more affordable than Yeti." As well as food ("You can put a whole meal for eight to ten people in there"), she and her team use this cooler and its handy spigot to keep batches of ice-cold cocktails on tap. Her catering business opened a Miami branch during the pandemic, and "coolers are always a big conversation down here." This one has proved perfect for warmer climes and is also extremely durable: "The handle is really solid and doesn't break or bend — and we're throwing them on trucks all the time."
Best less-expensive wheeled cooler
Ice retention: Multiple day | Capacity: 84 cans (without ice) | Extra features: Cupholders, side handles
Kimmons is a professional picnic planner, and she's no-nonsense about why her business uses Coleman coolers: "That Yeti price tag." Fair enough; there's certainly nothing wrong with a Coleman, especially if you take extra care in packing it. I have always used Coleman coolers myself, and the brand's insulated-cooler camping chair is currently ranked as our best in class. You won't get the same ice retention as the Brumate, above (and certainly not the Yeti, below), but for day or weekend trips, this is a solid and much more affordable choice. I also like the deep side handles, which means you can pick this cooler up rather easily to load into your trunk.
Best wheeled cooler for long trips
Ice retention: Up to a week | Capacity: 82 cans (without ice) | Extra features: Drainage spigot, freezer-style seal, tie-down points
While I'd love to tell you that Yeti's infamously expensive coolers are overpriced, many experts I spoke with admitted otherwise. Webb says the brand's pressure-injected polyurethane insulation is its main draw, because this is simply a much more advanced insulator than you'll find in cheaper coolers. Cookbook author Dan Pelosi says he's tried other brands but continues to be blown away by how Yeti's seamless, one-piece roto-molded construction enhances ice retention. "As a cook and entertainer, you keep a Yeti in your garage, so if you're having a big party you can use it as your refrigerator for the weekend," he says. "They're really great for keeping food cold if you don't have food in your refrigerator." LCD Soundsystem's James Murphy, owner of the restaurant and wine bar Four Horsemen in Williamsburg, is also a Yeti fan. "Nothing ever gets warm in there," he says. "It's bonkers." This, the wheeled version of the legendary Yeti Tundra, features the same bearproof roto-molded design, strong seal, and thick insulation that can keep ice solid for four to five days — and even longer if you're smart about how you pack it. The brand also sells optional baskets and dividers for the Tundra Haul, but just note that they're not the same as those compatible with the original Tundra.
Best less-expensive wheeled cooler for long trips
Ice retention: Up to a week | Capacity: 78 cans (without ice) | Extra features: Drainage spigot, freezer-style seal, tie-down points
As you can see simply by comparing the product photos, RTIC's coolers are similar enough to Yeti's that there have been, uh, lawsuits. While this hard-sided wheeled cooler isn't exactly cheap, it's about $100 less than the very obvious competitor above. It even offers a few extra design features that Yeti doesn't, like the fun addition of a bottle opener. RTIC's cooler is also only three quarts lower in capacity, yet eight pounds lighter than a Yeti Tundra Haul. But do note that this might indicate a difference in durability: Yeti coolers have a five-year warranty, compared to one year on RTICs.
Best compact wheeled cooler
Ice retention: Multiple day | Capacity: 40 cans (without ice) | Extra features: Stackable design, bottle opener, cup holders, bungee straps
Outdoorswoman Brittany Alexandria Parks purchased one of Canyon's stackable, boxy coolers for primitive car camping, because they're nice to look at and easier to pack into a trunk than coolers with rounded edges. This cube-shaped wheeled cooler has a similar seamless construction to the Yeti and RTIC options, above, but is a little more compact, being designed specifically for cars. The colors are appealing, as is this thing's insulating power: "It's perfect for long weekends at campsites with no facilities — ice lasts two to four days with no issue, if you're responsible and don't leave it in the sun or a hot car." While she hasn't had to take advantage of it, Parks also likes the cooler's lifetime warranty, which is an even better guarantee than Yeti offers. "From what I've read, they'll replace it with no questions asked," she says. For a cooler that costs in the hundreds of dollars, "that's the warranty I want."
Best less-expensive compact cooler
Ice retention: Weekend | Capacity: 23 cans (without ice) | Extra features: Tall height, cup holders, drainage spigot
We've been recommending Igloo's economical coolers for years, and this vintage-style one's an aesthetically pleasing option if the Canyon, above, is out of your budget. A little taller than it is wide, this boxy cooler accommodates taller bottles and other unwieldy items, and its exterior is made (in the U.S.) from recycled plastic. Being only 16 quarts, it's best for a small crew, but the brand also makes a similarly compact 60-quart version for larger families. The company promises several days of ice retention, but again, that all depends on how you pack it.
Best thermal bags and ice packs
While it's worth investing in a Yeti cooler if you can, there's no need to throw away money on expensive ice packs from big-name brands. Seddington likes lining her coolers with these affordable and reusable ones. She also recommends investing in some simple black insulated grocery bags, which can be used on their own or to wrap food before placing it within a larger cooler.
• Lauren Kimmons, owner, Pop Up Picnic Co.
• James Murphy, owner, Four Horsemen
• Brittany Alexandria Parks, outdoorswoman
• Dan Pelosi, cookbook author
• Carla Ruben, president, Creative Edge Parties
• Annie Seddington, president and coordinator, PikNYC Luxury Events
• Dr. Rebecca Webb, instructor, energy systems engineering, University of Southern Oregon
The Strategist is designed to surface the most useful, expert recommendations for things to buy across the vast e-commerce landscape. Some of our latest conquests include the best acne treatments, rolling luggage, pillows for side sleepers, natural anxiety remedies, and bath towels. We update links when possible, but note that deals can expire and all prices are subject to change.