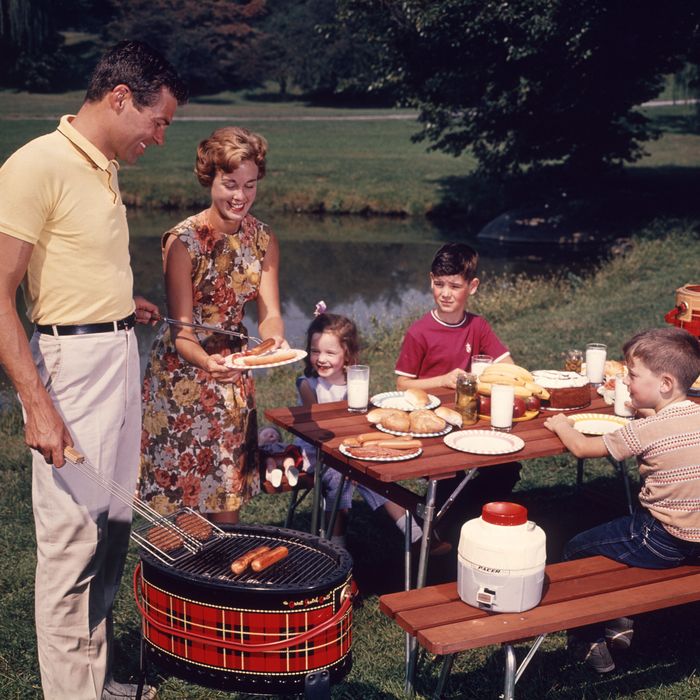 Here at the Strategist, we like to think of ourselves as crazy (in the good way) about the stuff we buy, but as much as we'd like to, we can't try everything. Which is why we have People's Choice, in which we find the best-reviewed products and single out the most convincing ones. (You can learn more about our rating system and how we pick each item here.)
And while we've written about lots of grills before  — including the best pellet grills, the best smoking grill, and the best grilling accessories — here we've rounded up the best barbecue grills, as praised by the most enthusiastic reviewers on Amazon.
Best-rated barbecue grill
Many reviewers use this electric grill on apartment balconies," because it's compact and electric, not gas or charcoal, which, as one reviwer notes, is great for apartment complexes "where gas and charcoal grills are prohibited." A few reviewers admitted they were initially worried their food wouldn't taste authentically grilled, but as one explains, "When the food is cooking, it smells so good. Smells like a real barbecue to me, even though there's no charcoal smoke." One reviewer loves that he can move it indoors for year-round grilling, noting, "There is virtually no smoke created and I've left the cover on each time I've used it. There's a vent at the top you can open or close depending on how steamy you want the inside to get." Another grilling beginner found this easy to build and use, writing, "I am notorious for being afraid to try to put new things together and make my husband build everything. It was so easy to build, a clueless grill builder like me put it together in about two minutes. Oh, and I never grill, but this grill is so easy to use that now I cook on it. Another miracle."
Best-rated (less expensive) barbecue grill
Portability is a word that's often used by Amazon reviewers to describe this Weber charcoal grill, which we've written about on the Strategist before, in our roundup of everything you need for grilling when you live in the city. And many find that charcoal is a surprisingly easy option, especially for camping trips. "I was going to get a Weber portable gas grill for much more than this goes for but my grilling enthusiast buddies told me to get a charcoal grill. I'm happy I did, as I've used this camping a few times already and it's actually kinda of fun going through the process of cooking with charcoal," writes one reviwer, noting, "Sure gas is more convenient but unless your cooking all the time on it and really need that, this will produce great results." Another frequent camper writes, "I love cooking on charcoal over gas and these grills make it super easy. I bought this one for a camping trip so I didn't have to bring anything big and this was up to the task. Still big enough to cook tons of food on at once and kept me and my friends well fed over our trip."
And now for some micro-picks of every type of barbecue grill you might be looking for.
Best charcoal barbecue grill
"This Weber grill has impressed me and my guests every time I've used it," writes one reviewer, adding, "I considered going with a gas grill, but I'm glad I didn't. The flavors you can get from this are well worth sticking with the classic." They note, in an update to their original review, "After many, many barbecues, this grill is still tops. I've actually had three different guests at my barbecues who have gone home and purchased the same one." And many other reviewers speak to both the quality of the grill itself and the ease of using charcoal. "If you're old school and still using charcoal this is the best choice, you can control the air and even add charcoal through the little doors in the grill," says one, adding, "The ash can eliminates the ashes from blowing all over your patio furniture. Plastic handle won't rot like my wood did." A beginner dipped her toe into grilling admits, "I was never interested in grilling until I bought a house two years ago and built a deck in the backyard. With all that outdoor space to enjoy, I just knew I needed a grill for entertaining (and feeding) family and friends. I thought I might buy a grill and just let my dad or brother handle the grilling, but much to my surprise I really got into it and loved grilling hamburgers and hot dogs on this Weber kettle grill for my first backyard party just yesterday."
Best pellet grill
"This is the right choice for anyone that likes smoky flavors and cooking slow at home.," writes one grilling enthusiast who says his "brisket is better than many famous BBQ restaurants," thanks to this pellet grill. Another experienced griller looked switch from gas to charcoal grills, writing, "We wanted the convenience of a gas smoker but did not want to sacrifice flavor. It has been completely worth what we paid for it. I enjoy the fact that you can easily change out the kind of wood you're using." Many consider the cleanup "extremely easy" and fawn over how large the hopper is. One long-time griller explains, "It has a large hopper that holds enough pellets to allow me to smoke on high and for over 5 hours without worrying I'll run out of pellets."
Best kamado-style ceramic grill
Dozens of reviewers, from seasoned grillers to absolute beginners, commented on how functional and easy this grill is, like one who writes, "If you want an inexpensive, entry level o