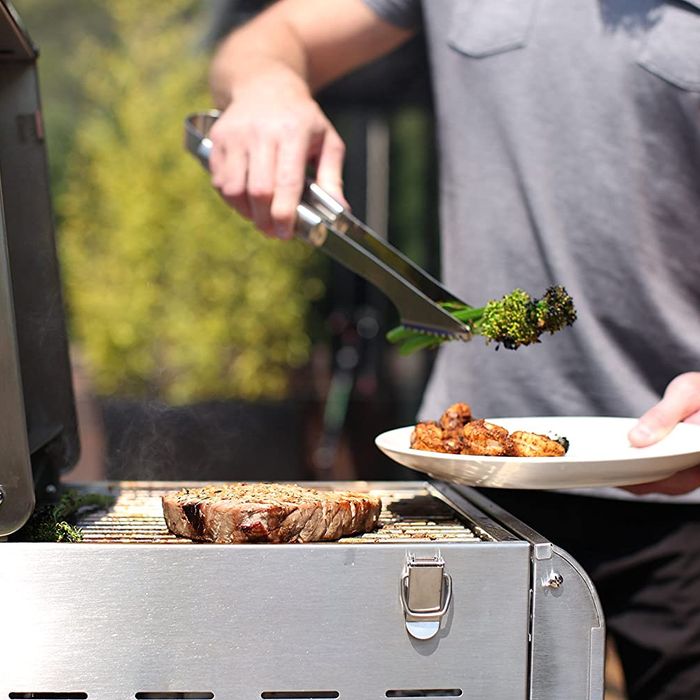 Whether you're flipping burgers in your backyard or cooking vegetables on your terrace, a good grill can make all the difference. But with so many choices out there — from compact and electric to larger charcoal or gas options — it can be difficult to pick the best grill for you and your needs. To help you out, we've rounded up the best of the best, as praised by the most enthusiastic reviewers on Amazon. And if you're looking for more grills and accessories, we have roundups of the best gifts for grilling enthusiasts and even a guide to grilling when you live in an apartment.
Related Articles: A Super-Hot Grill for Restaurant-Quality Steaks | One Grill Expert's Favorite Outdoor Griddle | Gifts for Grilling Enthusiasts
Best-rated barbecue grill
Many of this electric grill's more than 9,500 five-star reviewers say it's especially great for apartment balconies because it's compact and electric, not gas or charcoal, which, as one reviewer notes, is great for complexes "where gas and charcoal grills are prohibited." A few reviewers admitted they were initially worried their food wouldn't taste authentically grilled, but as one explains, "When the food is cooking, it smells so good. Smells like a real barbecue to me, even though there's no charcoal smoke." One reviewer loves that he can move it indoors for year-round grilling, noting, "There is virtually no smoke created and I've left the cover on each time I've used it. There's a vent at the top you can open or close depending on how steamy you want the inside to get." Another grilling beginner found this easy to build and use, writing, "I am notorious for being afraid to try to put new things together and make my husband build everything. It was so easy to build, a clueless grill builder like me put it together in about two minutes. Oh, and I never grill, but this grill is so easy to use that now I cook on it. Another miracle."
Best-rated (less expensive) barbecue grill
Portability is a word that's often used by Amazon reviewers to describe this Weber charcoal grill, which we've previously written about on the Strategist in our roundup of everything you need for grilling when you live in the city. And many find that charcoal is a surprisingly easy option, especially for camping trips. "I was going to get a Weber portable gas grill for much more than this goes for but my grilling enthusiast buddies told me to get a charcoal grill. I'm happy I did, as I've used this camping a few times already and it's actually kinda of fun going through the process of cooking with charcoal," writes one reviewer, noting, "Sure gas is more convenient but unless your cooking all the time on it and really need that, this will produce great results." Another frequent camper writes, "I love cooking on charcoal over gas and these grills make it super easy. I bought this one for a camping trip so I didn't have to bring anything big and this was up to the task. Still big enough to cook tons of food on at once and kept me and my friends well fed over our trip."
Best charcoal barbecue grill
"This grill has impressed me and my guests every time I've used it," writes one reviewer of this larger Weber charcoal grill, adding, "I considered going with a gas grill, but I'm glad I didn't. The flavors you can get from this are well worth sticking with the classic." They note, in an update to their original review, "After many, many barbecues, this grill is still tops. I've actually had three different guests at my barbecues who have gone home and purchased the same one." And many other reviewers speak to both the quality of the grill itself and the ease of using charcoal. "If you're old school and still using charcoal this is the best choice, you can control the air and even add charcoal through the little doors in the grill," says one, adding, "The ash can eliminates the ashes from blowing all over your patio furniture. Plastic handle won't rot like my wood did." A beginner who dipped her toe into grilling admits, "I was never interested in grilling until I bought a house two years ago and built a deck in the backyard. With all that outdoor space to enjoy, I just knew I needed a grill for entertaining (and feeding) family and friends. I thought I might buy a grill and just let my dad or brother handle the grilling, but much to my surprise I really got into it and loved grilling hamburgers and hot dogs on this Weber kettle grill for my first backyard party just yesterday."
Best pellet grill
"This is the right choice for anyone that likes smoky flavors and cooking slow at home," writes one grilling enthusiast who says his "brisket is better than many famous BBQ restaurants" thanks to this pellet grill. Another experienced griller who switched to this from a gas grill writes, "We wanted the convenience of a gas smoker but did not want to sacrifice flavor. It has been completely worth what we paid for it. I enjoy the fact that you can easily change out the kind of wood you're using." Many consider the cleanup "extremely easy" and fawn over how large the hopper is. One long-time griller explains, "It has a large hopper that holds enough pellets to allow me to smoke on high and for over 5 hours without worrying I'll run out of pellets."
Best kamado-style grill
Nearly 2,000 people, from seasoned grillers to beginners, give this Char-Griller kamado-style grill five stars. A self-proclaimed "avid grill nut" who appreciates the grill's "perfect temperature control" writes, "You will deliver the best meat you have ever grilled/smoked in your life with this thing. You would have to be an idiot for it not to be amazing." Another prefers this metal grill over ceramic ones because "it's much lighter and less fragile than ceramic units, and provides great control over temperatures." And a third dubs it the "perfect 'budget' and introduction smoker for the beginner … Once you figure out how to best light the fire, use the vents and control the heat, it does a great job for quick or long and slow smokes. Setting up is pretty simple as well. For those considering this smoker, you won't be disappointed in its potential to smoke meat."
Best slow-cooking smoker grill
With well over 3,000 five-star reviews, this smoker grill has at least one reviewer calling it, "the holy grail of smokers." Reviewers love how slow they can cook with this grill, with one writing, "The 18.5-inch WSM let's me start a low and slow cooking before going to bed and will maintain temperature all night long on a single ring of charcoal." A self-described novice writes, "I decided to go with the charcoal smoker instead of the electric one because I believed the flavors would be better with charcoal and I'm glad I did. So far I have smoked ribs, chicken lollipops, chicken wings and beer can chicken. I use apple wood chips and the flavor is amazing. I will never cook my meat any other way." Another reviewer uses his smoker in BBQ competitions, writing, "My BBQ team Slap Yo Daddy BBQ from Diamond Bar, California, has been competing using these smokers. They work flawlessly and are easy to use and clean up. They regularly allow us to win Grand Championships even when we go up against other smokers costing over $15,000." One reviewer does warn that the 18-inch cooker might be too big for everyday cooking: "The 18-inch seems like the right size for someone who entertains for 40-plus people regularly, but overkill for someone wanting to cook for his own family. To put it in perspective, you can fit two pork butts on the 14 and four butts on the 18."
[Editor's note: You can purchase this smoker grill now, but it typically ships within two to five weeks.]
Best outdoor charcoal barbecue grill with island
Customers rave about the large island attached to this grill, like one who says, "The huge work surface is my favorite feature. It is no longer plastic, but a texture painted metal and very sturdy. Plenty of room to have plates laid out ready to receive burgers, franks, etc. You can have your foil laid out, plop your pork butt, ribs, brisket onto it, juice it, wrap it up, and back on the grill in moments. No walking to a work surface, it's right there." Another reviewer loves that she can multitask because of the extra work space, writing, "Moms, this is the grill for you. With this grill, I can cook with one hand while holding a baby in my other arm because I can work everything on here one handed." Dozens also love its heat control function, with one writing, "I've had other kinds of grills and charcoal runs out very quickly; on this one it does not because it keeps air out and you control it. So easy to control the heat."
Best outdoor gas barbecue grill
"I cannot say enough good things about this grill; it's beautiful, well-constructed, starts easily and consistently, and reaches the highest temperature in less than 15 minutes," writes one reviewer. Dozens were more impressed by how durable the grill is, like one who writes, "I used to buy whatever gas grill was on sale, avoiding the more expensive Weber grills, but got tired of them either rusting out around the grill housing, bolts rusting, and burners wearing out and having to buy replacements. This grill is really well made. Heavy and solid, well thought out construction and stainless steel components." Another selling point is the extra workspace area. Tens wrote about how convenient it is, like one who writes, "It heats quickly, the grease management system is easy to care for and clean, and the side tables are helpful for staying organized."
Best portable gas barbecue grill
"My partner and I live in a motorhome full time and have very little room for gadgets," begins one reviewer of this portable gas grill that many reviewers also use as their permanent home grill. "We wanted a propane grill because dealing with charcoal is just too much for me to bear with my instant gratification issues, but were worried that a smaller option wouldn't have enough oomph," writes one reviewer, "Well, this bad boy gets up to 500 degrees in no time flat and performs like its much bigger cousins with a significantly smaller footprint. Grilled a med-rare ribeye to perfection, no problemo." Others agree that although this grill is small, it's mighty and still practical for daily use."This portable gas grill is perfect for apartment balconies or patios and compact enough to travel with on road trips and camping trip," another reviewer notes, adding, "I've grilled more food on our little grill that could and more in the one and a half month of ownership than I've ever grilled on our charcoal barrel grill/smoker by Master Forge that we've had for the past 5 years." Many reviewers use it for camping and travel, but some also get all-year round usage out of it, like one who writes, "Why oh why have I been using a giant clunky and incredibly difficult to move grill for so long? This grill is a total winner. I bought it for our family campout. I've been using the usual 'camp stove' for years but really wanted something that I could use camping and at home for cooking and for grilling all in one item."
Best (less expensive) portable gas barbecue grill
This ultra-compact Cuisinart grill is about half the price — and half the size — of the Weber portable grill. Despite its smaller footprint, one five-star reviewer describes it as "heavy duty" and "well made" and says that "two nice size steaks can fit on there perfectly." Others appreciate that it's small enough to pack, including a reviewer who has "used it camping, out at the lake, and all over." (They note that its "clamps are strong and it can be carried like a briefcase.") Another reviewer who has since recommended it to six friends says that this grill is the "perfect size, easy to clean and easy to use. [It] fits easily on a table but doesn't get hot around itself … only on the inside where you want it to. WE LOVE OURS!"
Best flat top barbecue grill
Plenty of five-star reviewers say this flat-top Cuisinart grill is more versatile and easier to use than grate grills. "No burning, easy to clean, well made. The person who designed this thought of everything … like Steve Jobs and Apple products," writes one. Another says they "hardly ever use [their] stove anymore" because with this they can grill "kabobs, steaks, burgers," cook for as many as six people, and even "bake pizza." And a third reviewer cooks with it throughout the entire day: "Pancakes, bacon, eggs in the morning, burgers & brats in the afternoon, and steak & lobster with vegetables in the evening."
The Strategist is designed to surface the most useful, expert recommendations for things to buy across the vast e-commerce landscape. Some of our latest conquests include the best women's jeans, rolling luggage, pillows for side sleepers, ultraflattering pants, and bath towels. We update links when possible, but note that deals can expire and all prices are subject to change.
Every editorial product is independently selected. If you buy something through our links, New York may earn an affiliate commission.