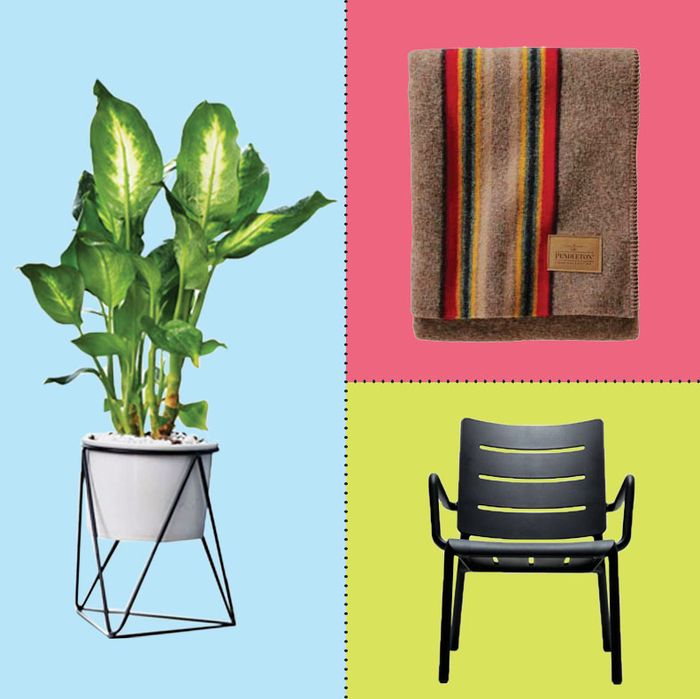 Photo: Courtesy of retailers
It's getting warmer, and you're lucky enough to have outdoor space. Congratulations! No matter if it's a patch of grass behind your apartment or a tiny rooftop "terrace," people are going to come over and chill (or grill) on it. So to help you trick it out with a few nice touches, we've reached out to some experts in the furniture and design fields to help us pick the best pieces to maximize your outdoor space.
Best outdoor chairs
"This petite outdoor dining set from Novogratz is a perfectly functional space-saving set. The colors are a dream — especially love the retro yellow." — Kroesser + Strat, Homepolish design team
A classic wood folding chair not only saves space — it gives any living area a timeless outdoorsy vibe. This one is from our best stacking and folding chairs roundup.
"When furnishing a limited outdoor space, it's important to keep in mind the size of the furniture. Obviously, an Adirondack chair isn't going to work. I like the Huron small lounge chair from West Elm. The interwoven colors on the backrest are clean and refreshing — a lighter take on the colors outdoor seating is generally available in. And depending on how small your space is, the chair's neutral palette allows you to add fun pops of color with planters or pots (like West Elm's Sketchbook planters)." —Ajay Chopra, founding principal, ​Echo Design + Architecture
"Design Within Reach has a great selection of high-quality, smaller-scale seating in classic designs that never go out of style. The Eos Collection by Matthew Hilton for Case is a great start. Using raised seating will also help you save some space." — Mia Jung, director of interiors, Ike Kligerman Barkley
"This has clean lines, like the Wishbone chair, and is just as durable as Kartell furniture but at a fraction of the price. There's a sculptural quality to it, and I love all the negative space — the chair is not visually intrusive when you want to admire your view." — Ana Claudia Schultz, Homepolish designer
"These chairs are attractive, durable, and stackable — perfect for off-season storage. They're also an affordable interpretation of the famous green Luxembourg chairs found in the public gardens of Paris." — Jenny Norris, Jenny J Norris Interiors
Best outdoor stools and poufs
"In a small space, dual-use pieces are key. This pair of pedestals is a multifunctional option — each doubles as an end table and a stool. They're also very durable. Made from solid fiber-reinforced concrete, they will develop a patina over time, adding to their industrial look." —Sari Ross, founder, ​Spaces Studio
We've written about these stools before: They're portable, lightweight, durable, and they also stack, giving you five chairs that require the storage space of only one. In other words, perfect balcony or terrace furniture.
"It's technically a footstool, but it can be adapted for anything — from holding trays to extra seating. We carry this entire line in our store." —Sabrina Schilcher, Property Furniture
If you're looking to spend the bare minimum to maximize use of your small outdoor space, consider this three-piece set. The two seating poufs and matching table are suitable for all weather (so you never have to store them indoors if you don't want to), and the table's top opens (so you can stash stuff inside). Plus, the seating poufs are hollow underneath, making all three pieces easy to store when it comes time to pack the set up for the season (just flip one pouf over, place the table in its opening, and cover it with the second pouf).
Best outdoor planters
"I absolutely love the basket look of these cement outdoor planters. Plants can really tie a space together and help it feel more like a suburban backyard (especially in the city)." — Kroesser + Strat, Homepolish design team
"Stylish storage trick: Use decorative planters. When not holding a plant, they can serve as an unexpected cooler for wine while entertaining, or as storage for less-than-lovely items such as a hose." —Whitney van der Does, designer, One Kings Lane
This durable ceramic-and-iron planter would also look right at home on your balcony. (Its open design makes it feel like it takes up less space.)
"With more and more of us living in smaller spaces with limited outdoor areas, it's no surprise that vertical gardens have shot up in popularity. This Vertical Garden Kit from Ferry Morse comes with a cool Scandi-chic frame and with pots, compost, and plantlings, so there's no need to schlep to and from a garden center." — Joanna Thornhill, interior stylist and author of My Bedroom Is an Office
Best outdoor pillows
"Pillows are an obvious way to add comfort to an outdoor space, but upholstered accessories for the outdoors can often look plain. This pillow, with its subtle embroidered details, is anything but — it looks like it could have come straight from your living-room sofa." —Jenny Norris, Jenny J Norris Interiors