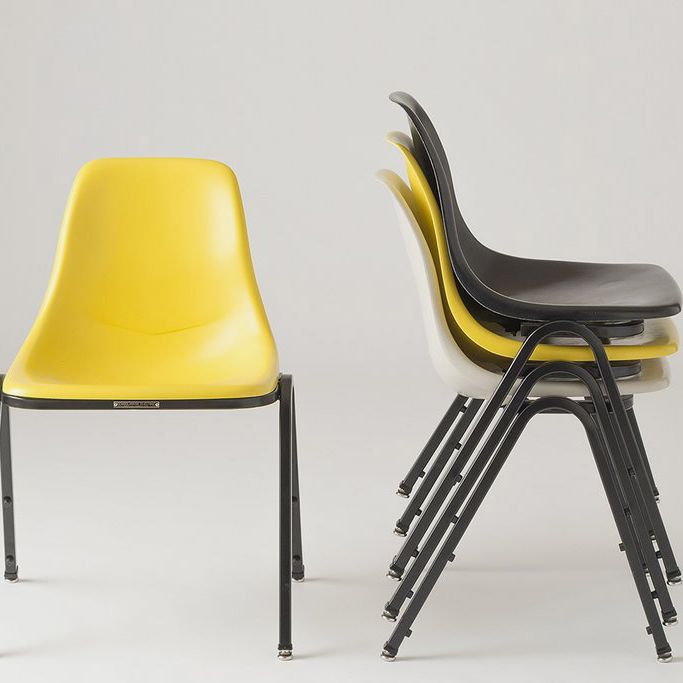 Photo: Courtesy Schoolhouse
You might think city living is incompatible with being a good host. How are you supposed to have a dinner party if your coffee table doubles as your dining table? And what about seating a big group if your sofa takes up most of your living room? One solution is to invest in a set of space-saving stacking and folding chairs that you can easily bring out when you have company — and stow away when you don't.
Which ones to get? "Look for chairs that are as beautiful as they are durable, so that they fit in with your décor instead of working against it," says Jade Joyner, co-founder and principal designer at Metal + Petal. Below, six designers and decorating experts share their flexible-seating favorites, which we've padded out with a few more similar-looking (and better-priced) seats.
Best stacking chairs
According to interior designer Raili Clasen, lots of pieces from mid-century modern designers are ideal for stacking and space-saving. "They seemed to have paid lots of attention to that aspect back then," she says, "so, of course, I would always try to get vintage." She likes these classic plastic Eames chairs, especially because of the thin metal legs, which, she says, makes them stack more compactly than wooden-legged chairs. She adds, "I think they're a little bit more precious for the small spaces."
Here's another molded plastic chair with metal legs, at a fraction of the price.
Interior designer Natasha Baradaran doesn't just love the Kartell Masters chairs for her clients; she also uses them at her own breakfast table. She likes that the chair has arms, which isn't always the case with stacking styles. "It has a very refined look even though it's plastic," she says, "and you can clean it easily." A contemporary take on a mid-century silhouette, the chair comes in a range of unique colors.
If you want something more affordable, try this Masters look-alike, which is also available in shades like lime green and matte black.
For more casual spaces, Baradaran often uses stacking chairs from Hay — the Danish-designed line we at the Strategist already know and love. "It's very durable and has some fun colors," says Baradaran. "We've used this in game rooms and playrooms." She likes the chair's clean lines, and how much of a versatile fit it can be for different rooms.
A similar stacking option, this fiberglass and steel chair is one of Clasen's favorites. "It almost looks [like a classroom chair] but then they powder-coat the legs," she says.
Like the Hay and Schoolhouse chairs, these have an industrial-meets-vintage-classroom look to them.
"I especially like these because of their luxe upholstery," says Caitlin Murray, founder and interior designer at Black Lacquer Design, who looks to Industry West for their delicate-looking yet durable stacking chairs. She advises, "When you don't have a lot of space in general, the most important thing is to choose chairs that are versatile and multipurpose," noting that these fit the bill because they're both stylish and comfortable.
Interestingly enough, another one of Clasen's picks is the metal Tolix, which we recently discovered is Anna Wintour's office chair (and apparently the status restaurant chair of the moment). "What I like about those," Clasen says, "is that you can do them in a ton of different colors." Strategist writer Dominique Pariso found this mint-green set and a cherry-red one, too.
While it may seem that your home needs to have a straight-out-of-Mad-Men mid-century vibe to accommodate stacking chairs, there are options for different decorating styles. "Pairing a mid-century chair in a traditional home could create a design dilemma," says interior designer Raena Albers. "Instead, opt for something with clean lines, or a bistro-style chair, which will feel less off-putting." She recommends these more traditional wood chairs for a different look.
For something a little different, try these colorful stools recommended by Albers. "Stools are a great option for the most challenging storage situations," she says. "There are plenty of compact, chic stools that even your most stylish guests wouldn't mind sitting on." Plus, they look pretty neat stacked up in a spiral.