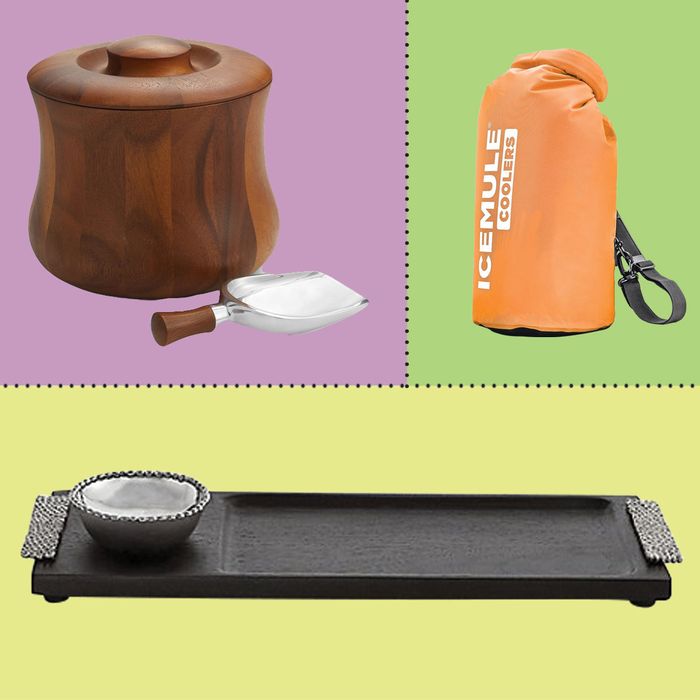 Did you recently score a weekend out in the country, or at the beach, thanks to some generous vacation-home-owning friends of yours? Congratulations! Now it's time to thank your hosts. Besides a (handwritten) note, flowers, wine, candles, and chocolates are and probably always will be standby tokens of appreciation. But we thought there are surely gifts that can eclipse those in thoughtfulness, so we asked some people who would know best: the hosts themselves.
Ahead, 14 people who own a vacation home or go in on long-term rentals told us about the most memorable, unusual, and surprisingly useful host gifts they've ever received from guests. We went out and found similar items and surrogates for each of those gifts, and feel confident that we've got you covered for every weekender situation — and that you'll get invited back again.
Instead of — or in addition to — a bottle of wine, an attractive double-walled wine cooler makes for a great and lasting gift. "My wife and I received this Vinglacé wine-bottle chiller from a friend, and we love it because it's hard to find really effective bottles for chilling rosé by the pool," says Yann de Rochefort, founder of Boqueria restaurant, whose vacation house is in Elizaville, New York. "This holder is not only effective at keeping a bottle cool, but also protective of it, so it's really portable and safe."
Here's a significantly cheaper but still attractive option.
Bigger and more versatile than a wine cooler, a beverage party tub is a good call for frequent entertainers. "A very useful gift for hosting, and wasn't top on my list to buy myself," says Michele M., who vacations in Water Mill, New York. And if you're staying a long time: Go ahead and add some bottles. "It came filled with wine, which made it not only over the top, but that much more thoughtful."
Or, for an indoor ice bucket, a curvaceous wood option for a warmer, richer feel.
Yet another approach: make sure your hosts always have frosty drinks on the go, with this IceMule cooler backpack. "It's the best! Essentially, it's a streamlined, cinched cooler sack that you can throw over your shoulder to keep everything nice and chilled — it makes it a breeze to tote our favorite bottles to the park or the beach for a boozy picnic," says Annie Bystryn, founder of Cider in Love, who takes vacations in Darien, Connecticut. "Plus, it keeps the bottles hidden well, perfect for when you're listening to the Philharmonic in the park."
Or, for toting around cans of beer in style, there's this boxier option, with a useful small zippered pocket in front.
"One clever gift we received were sets of funky margarita glasses with tequila, limes, and mixer," Lissa H., who vacations in Bridgehampton, New York; another guest brought "colorful cosmopolitan glasses, complete with vodka, and cranberry juice."
Or, get some personalized backyard and and kid-friendly drinkware. "One of the most creative and useful presents I've been given is a stack of 100 sturdy frosted plastic cups, printed with a black deco design that my friend created out of my husband's and my initials," says Missy Dewing, who vacations in Sag Harbor, New York. "They're perfect for the pool area and big family picnics." This monogrammable set doesn't quite count out at 100, but the colorful plastic reminds us of all the new colored glass we love so much — only the polycarbonate plastic means these will make for more durable poolside drinking.
"A great gift once was a very special bottle of olive oil — the kind you've always wondered about but would never buy for yourself," says Helen C., who has a vacation house in East Hampton, New York. She suggests pouring some oil into a shallow plate, seasoning with coarse salt and cracked pepper, and surrounding with an assortment of crusty breads and a few raw vegetables, like fennel.
And here's a suitable accessory for all that fancy olive oil, the kind of thing your gracious host will use but probably (read: definitely) not buy for themselves.
Posh condiments go over quite well, too. "My mother always brings me decadent little gourmet jars of treats you would never buy for yourself but are so lovely to have in the house, like white truffle cream, dried porcini mushrooms, or lemon curd," says Bystryn. "Sometimes you can feel so uninspired looking in the pantry — we all get into the habit of buying the same things again and again. But then I lay my eyes on one of these little gems, and suddenly dinner becomes an indulgent treat."
The label on this jar of rosy-hued Himalayan salt is so cool (that typography!), it'll earn some prime countertop real estate instead of being relegated to the depths of the pantry.
Or go all out with a gorgeously packaged caviar set, tricked out with its own mother-of-pearl spoon and logo-ed opener key.
If you do bring something sweet, make sure it's ultraluxurious: "Friends came to visit my home and brought this extraordinary, small box of extra-special homemade chocolate truffles," recalls Amy K., who vacations in Southampton, New York.
Consider waiting until after your visit, and then snag a really lovely version of a cooking or serving item that your host could really use. "My friend Sabrina does it best: She does not come with a gift, but during her stay, she sees what we need or are missing, and last time she came, we were serving salad and I had no serving spoons," recounts Debra I., who spends most weekends in Carmel, New York. "So she went out and bought her favorite ones for us."
Yet another handsome option.
Something a bit funkier: These have some unusual wood inlays on the handles.
For a versatile gift that can be used in basically any room in the house, these mod lacquer trays are an excellent option that Vanessa von Bismarck, partner and co-founder of BPCM, received from a house guest that visited her abode in Marbella, Spain. "I love them because the colors are so beautiful, one can always use a tray, and it's something I will have forever," she raves.
And here's a substantially cheaper, nude, muted option.
"Our lake house is tribal — a holiday destination for many too many relatives (and friends of relatives) of all shapes and sizes at Thanksgiving, Memorial Day, etc," says Chris C. of family's vacation home in Carmel, New York. One of the best, most useful gifts over the years: a big pasta bowl from Pottery Barn. "It's nothing fancy, but handy for hordes at the table," she says of the massive carb vessel that's perfect for feeding a sprawling group of guests.
A bold lipstick-red version to coordinate with the rest of their Le Creuset collection.
You can never have enough plates for noshing on, especially when there's a steady stream of summertime guests. "One of my favorite gifts was a set of eight pottery fish plates handcrafted by an artisan for our beach house," says Donna R., whose vacation abode is in San Destin, Florida. If you don't want to go the custom route, here are a few worthy options.
Take some cues from the location of the vacation pad when brainstorming a gift: "We once received a beautiful old nautical map of our area, showing the coastline and the water," says Bystryn. "I love old maps and prints, so I naturally adored it, but what made it special was getting to see the history of our special little place in the world."
"My friends who are very into contemporary art gave me a lamp that looks like a book and when you open it, the pages light up," says Bismarck. "It's a lovely idea, and it makes me think of them every time I use it; it's also wireless, so you can have it anywhere in the house." (Editor's note: we recently posted about this excellent on-sale item — it's gone down a few more dollars since.)
And a significantly cheaper dupe.
Or, some candle holders that jibe with the setting of the pad you're crashing at. Kim B. loved these six sea-glass-esque votive holders. "The first time a good friend of mine visited me in Florida, she got me sea-glass votives; the color was so ideal for my large outdoor dining table, I could not believe it. Not only was this gift unusual, but it was so useful and something I am still using several years later."
When visiting Jewish friends or family, consider giving a mezuzah. "I received a mezuzah from a dear family friend, and it's always a personal and thoughtful gift," says Michele M.. This sophisticated, subtle version is a nice alternative to the sometimes-tacky, '80s-ish, hard-core Judaica versions that appear to dominate the mezuzah market.
A mod, angular Pepto-Bismol pink choice, handmade in Israel.