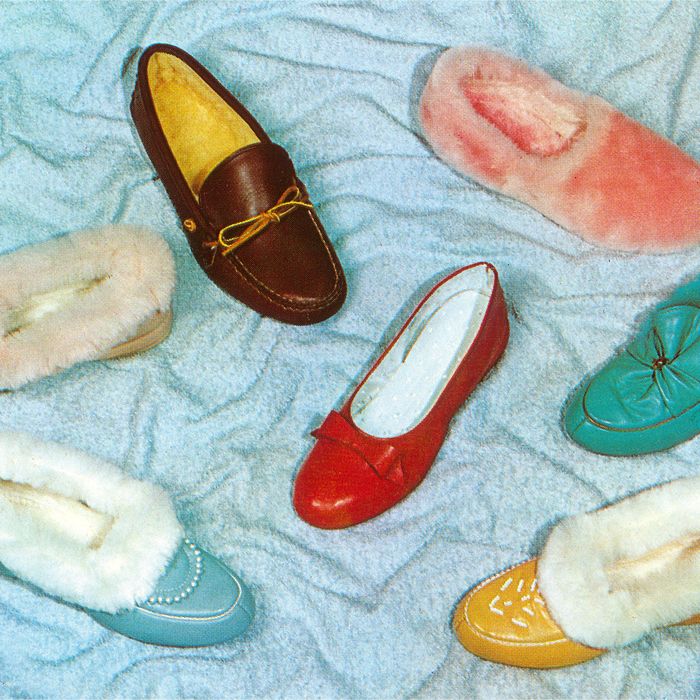 Photo: Found Image Holdings Inc/Found Image Holdings
While we've written about lots of ways to keep your feet warm — including the best UGGs and the best men's slippers — here, we've rounded up the best women's slippers, as praised by the most enthusiastic reviewers on Amazon. 
Related Article: Slippers Stylish People Are Wearing
Best-rated women's slipper
"FREAKING AMAZEBALLS," is how one reviewer describes these slippers, and they're one of many who are impressed with how well these wear both indoors and out. "I'm almost hard pressed to call them slippers, more of a shoe/slipper hybrid, but they are incredible," another reviewer writes. "You could easily wear these around the house, outside, or even down the street to the store or to run a quick errand." That's likely because of the thick, rubber sole, which one reviewer describes as "super sturdy on the outside but very soft on the inside to walk on so I wear them everywhere when I don't feel like putting on regular shoes." As for the feel inside, nearly 40 percent of reviewers use the word "comfortable," though a handful describe it as firm. "They are much firmer than most slippers which is what I was looking for," one explains. "I have hardwood and tile floors and wanted something that gave me more support and these will be perfect."
Best-rated (less expensive) women's slipper
"They're ugly but I knew that when I bought them," writes one reviewer, who still gives these slippers five stars for being "comfortable, cozy warm, waterproof, great for walking my dog, getting mail, and keeping your feet off a cold floor." Other reviewers appreciate that these sleeping bag-like slippers are cozy and fleecy on the inside but have a waterproof outer layer. "I'm able to get the mail with a wet sidewalk and no wet feet," one writes. "They fit my feet perfectly, are VERY warm (it's winter), and the cushioning is more than adequate when walking," another reviewer says, adding that the inside is so springy, "I kind of 'bounce' a bit when I have them on." One word of caution: These slippers are so warm that one common complaint, even among five-star reviewers, is that these are sometimes too warm, with no ventilation, and that makes their feet sweat. "But for those of us who don't like cold feet they're great," says one reviewer.
Best women's slippers for wide feet
"These slippers are like walking on a cloud," one reviewer with wide feet says. "I wanted a nonslip warm slipper to wear on hardwood floors, and these are perfect. I usually have a hard time finding any kind of footwear wide enough for my feet, but these fit just right." Another says these are "adequate for wide feet, and in fact, felt pretty comfy." Another reviewer thinks they're so comfortable, "I reordered them by looking them up under previous orders. I wear these all day for most of the day and they are comfortable from day one until it's time for another pair!"
Best nonslip women's slipper
"The Sorel slippers are the best slippers I have ever owned and they last twice as long as others too," one reviewer writes, adding, "I work from home so I wear them all day, every day, and they have lasted well over a year." And dozens of reviewers specifically call out the nonslip sole. "The soles are very sturdy and nonslip. You could actually walk outdoors with them if you so desired (although I will not since I don't wear outside shoes in my house)," one writes. However, several do note that these aren't exactly slip-on slippers. As one user points out, "These have a bit of a lip behind the heel so your feet are secure, but it's not like an ankle boot." But according to another satisfied customer, that construction means "They stay on without 'flapping' or making me hold on with my toes."
Best year-round women's slipper
These slippers have quite a cult following, with some reviewers saying they've worn these for decades. One customer, who's been wearing them for 25 years, writes, "This is a product that is consistently a good fit, holds up extremely well, and is so wonderful for relaxing your feet after a long day." Reviewers particularly appreciate the leather sole, including one who writes that though they're not technically nonslip, "They are grippy enough to help me run up and down the wood stairs without slipping." Mostly, reviewers like how lightweight these are, making them suitable for year-round use. "I like to have my feet covered but hate traditional slippers because they're always too bulky and make my feet hot," one explains, adding, "These are breathable and have a lightweight material."
Best cooling women's slippers
"I don't like a slipper that makes my feet HOT, and I'm happy to say these keep them warm without overheating," one writes, and dozens of reviewers say that these slippers are warm but not too warm. Another chalks this cooling feature up to the slip-on design of the slipper. They write, "I don't typically like slippers without a back, but the very low back on these is enough to keep your feet inside the slipper and still give your feet room to breathe so they don't get hot." Reviewers also like that these slippers have a hard sole. "The plush inside feels nice, with a hard sole, so I can wear them to take out the trash," says one wearer. And if you do wear them outside they add it easy to just "put them through the washer/dryer with a load of laundry." As for the fit, many reviewers agree with this one who says, "They're quite small at first, but after a day or two, they'll adapt to the shape of your feet and fit perfectly."
Best moccasin slippers
"I have had many brands of moccasins and these by far are made the best," writes one reviewer who owns so many slippers they "could almost open a store." Dozens of other reviewers also comment on the quality. "I have had another pair of UGG slippers for years and I am still wearing them, so I feel you get what you pay for," one reviewer writes. They explain, "Since these are a slipper, I didn't expect a good arch support, but the sole on these slippers is something that you can step outside and pick up the newspaper, or even take a short walk on the sidewalk in the morning and not slip and fall down." Another customer appreciates that these UGG moccasins are, "Fleece lined so it feels like your arches are supported and are wider moccasin than Minnetonka, and extremely comfortable." And while many agree with this user who says, "The only con is that these do run a bit snug," another reviewer recommends that you "wear them a few times to loosen up."
Best (less expensive) moccasin slippers