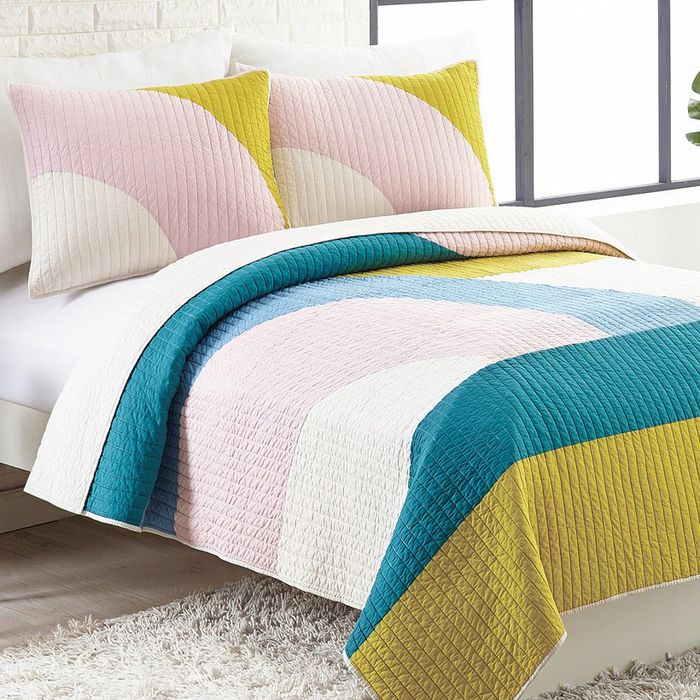 You might have noticed that decorative quilts have gone from dusty family heirloom to something of a coveted item. Take A.P.C.'s updated takes on the traditional textile, for instance: While the French brand has been releasing them for years now, its most recent collection, which launched last weekend, is already nearly all sold out. But, according to design editor Kelsey Keith, the rise of the quilt as an objet — whether displayed on your wall or bed or couch — perhaps has less to do with popular apparel brands releasing their own versions as it does with an overall newfound consideration of and respect for the history of Black quilting that she says has emerged in the art world over the last decade and a half. Per Keith, this trend is "typified by artists in Gee's Bend, Alabama, and someone like Rosie Lee Tompkins." In the contemporary quilts-as-art space, Keith notes that artists like Meg Callahan have received attention for producing "minimalist and geometric" styles, while Nasozi Kakembo, the founder of xN Studio, points to fiber artists like Bisa Butler and Stephen Towns as others who are making their mark. Sofi Seck, the founder of handmade-décor retailer Expedition Subsahara, adds that cartographic-art quilter Valerie S. Goodwin "uses her love of architecture, aerial views, and maps to create breathtaking pieces."
An offshoot of this quilts-as-modern-art movement, according to Keith, is vintage quilts' return to the forefront as "people are recognizing (and recycling) the craft of traditional quilts." Some of these people, she notes, are white-mom influencers like Julie D. O'Rourke (a.k.a. Rudy Jude) who display quilts as an extension of their "wholesome, pioneer, Ma-and-Pa vibe." But it's not just the homesteading-cosplay set that's casually infusing popular culture with heritage quilts; high-fashion designers like Bode and "freak-folk" DIYers like Psychic Outlaw have also caught on and are upcycling them into apparel.
All of which is to say, quilts seem to be here to stay. In their most basic form, quilts are made of multiple layers of cotton and stitched lines; they can be decorative and incorporate traditional patchwork design, or truly minimal quilted coverlets (often in solid colors) that have uniform stitched lines. While there's a booming market for vintage handpicked quilts on Etsy and Instagram — self-proclaimed quilt obsessive Sarah Willis calls it "very sustainable and community-oriented," noting some of her go-to sellers include Stitched and Found, Cindy's Antique Quilts, Whippoorwill Quilts, and Cats on Quilt — you can also buy new quilts, a lot of which are still handmade or hand-finished. To find some of the best quilts at different price points, we reached out to people with exceptional taste for their favorites. Below, 27 quilts that keep the spirit of the traditional craft alive — most of which feature some type of pattern or print, with a handful of minimal solid coverlets for those looking for something more understated.
Best
under-$100
patterned
quilts
A handmade quilt takes a very long time to make, which means they are generally expensive. But you can also find commercially produced ones that look just as nice, like this style from Ballard Designs that designer Rochelle Porter recommends. The geometric star pattern, which Porter calls "stark and striking," is inspired by classic Amish patchwork, according to the brand.
For something a bit fresher, consider this three-piece set that includes a quilt and two standard sham covers. Porter loves the "soft pastel" colors of the abstract design, saying that they "bring instant serenity." Those not sure if they want statement-making or subdued will appreciate that this quilt is reversible (the back side is solid white). With a list price of $99.99, this technically falls within this price range by a whole penny.
Kantha quilts come from Bangladesh and the Bengal region of the Indian subcontinent. While not technically a part of the Black quilting history Keith and other experts reference above, their fabrication and stitched lines make them quilts nonetheless (and covetable quilts at that), so we've included styles recommended to us on this list. Many kantha quilts are handmade from vintage saris and have the characteristic running (or straight) stitch in their design. They can also be quite expensive, but there are more affordable options if you know where to look. Etsy sells a bunch, like this indigo handblock-printed quilt with a floral design that Curbed's architecture critic Alexandra Lange recommends. "I love indigo for bedding because it is graphic but not too harsh," she says.
Here's another vibrant kantha quilt that Lange also recommends. She likes how the rainbow stitching contrasts with the solid colors (it's available in five primary colors), calling out this turquoise (listed as "light blue") as a "fun unisex choice."
Iva Dixit, a staff editor at the New York Times Magazine who calls herself "a cotton snob," pointed us to this razai — the Hindi word for quilt. Made in Jaipur from handblock-printed cotton voile, Dixit says this razai reminds her of the "thin cotton razai I brought with me from India" and still uses today.
Best
under-$200
patterned
quilts
Pendleton, the heritage brand primarily known for its wool blankets, "also has a surprisingly good collection of quilts," according to Diana Budds, a senior story producer at Curbed. Lange agrees, saying, "I like what Pendleton is doing with modernizing traditional designs and tweaking the colors." Budds is a fan of the Zion National Park quilt, whose rich color scheme is inspired by its namesake park's red-rock formations and the afternoon sky. Lange, on the other hand, digs the pastels of the Serrado quilt (which is shown in a twin size, but you can get in a queen size for a bit more money).
As their turn in the modern art world suggests, quilts also make great wall hangings that can cover large swathes of space. The Sill founder Eliza Bank told us she's in the market for a quilt to hang on her wall, and has her eye on a few from Laura Preston's Vacilando Quilting Co., including this one with a bright-yellow abstract design inspired by the work of artist Clyfford Still. It's made from linen and cotton and comes with a wooden dowl that makes it even easier to hang. Vacilando's quilts also come suggested by Willis, who hopes to get one for her home one day. We should note that while any quilts can be hung on a wall, quilts designed as artworks are probably best used as intended (and not for bedding).
We've written a lot about Marimekko's iconic floral bedspreads, and it turns out the Finnish textile maker offers its vibrant patterns in quilt form. Porter is "obsessed" with this quilt, which features parallel channel stitching and reverses to a bold black-and-white print on the back. Bonus: The quilt comes with two matching shams.
Best
under-$300
patterned
quilts
Hana Getachew, the founder of Bolé Road Textiles, loves the quilts made by her friends at Anchal. "They're so modern but the hand stitching really gives their pieces a cozy, inviting appeal," she says. While she's a big fan of the brand's collection of "one-of-a-kind" kantha quilts that she says "are really special," her favorite Anchal quilt is the "dynamic and supercool" Prism Quilt, which has a geometric stitchwork pattern inspired, appropriately enough, by prisms. The bone-colored quilt has delicate charcoal stitching that keeps it visually interesting without overpowering it.
Perhaps on the more "freak folk" end of the spectrum, this hippie-inspired quilt from Degen is one that Strategist writer Liza Corsillo is itching to own because of its "'70s psychedelic vibe" and the fact that "it is happy." Artist and designer Lindsay Degen began her quilting business as something of a private label, making pieces as wedding gifts for friends but not selling them. According to Corsillo, "these are replicas of those quilts, so it feels like a very personal work of art at a very affordable price."
Photo: Retailer
For kids, photographer Tory Williams recommends quilts from Willa Baby, like this one made from eight layers of cotton gauze and panels of subdued stripes. She says that the quilts are "supersoft and easy to wash," adding that "they even seem to get softer over time."
Here's another, more graphic option for a little one. "I've been a huge fan of Amelie Mancini's succulent- and cacti-themed prints for years, so when I saw this beautiful alphabet quilt I had to buy it for our son's nursery," says Alisa Richter, a publicist for The Sill. She likes that the linen quilt is handmade in Brooklyn and "beautifully detailed." While you can put it in a crib, Richter says she "hung it above our son's crib so he has a menagerie of animals to look at before bedtime."
Editor's note: Currently available for preorder, the quilt will ship in three to four weeks, according to the retailer.