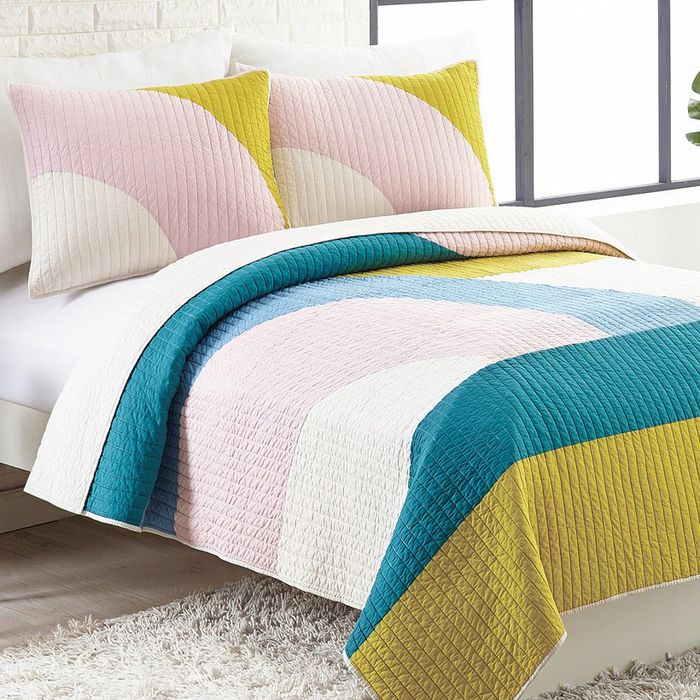 You may have noticed that decorative quilts have gone from dusty family heirlooms to coveted items akin to modern art in the past few years. In their most basic form, quilts are made of multiple layers of cotton and stitched lines; they can be decorative and incorporate traditional patchwork designs or be truly minimal (often in solid colors). Many quilts come with a rich backstory that honors the cultural history behind them, while others inject some modernity into the traditional bedding. Today, there's a booming market for vintage handpicked quilts on Etsy and Instagram, but you can also buy them new, many of which are still handmade or hand-finished. To find the best quilts at different price points, we spoke to interior designers, tasteful people, and textile experts.
Best overall | Best less-expensive overall | Best colorblock | Best pebbled | Best lightweight | Best Kantha | Best reversible | Best less-expensive reversible | Best organic cotton | Best deadstock | Best velvet | Best Egyptian-cotton 
What We're Looking For
Handmade: Many quilters proudly represent their expertise and culture through their designs, which makes the handmade ones particularly special — and means that two handmade quilts will also never be exactly alike. However, we won't fault you for buying a manufactured quilt, especially considering how expensive the hand-sewn versions can be because of the time and skill required. Below, we've noted whether a pick is handmade or not so you know exactly what you're getting.
Material: With quilts, there isn't one material that's better than another — it all comes down to personal preference. Since a quilt can either be used for decoration or as an extra layer for colder nights, Sherica Maynard of Interior Design by S&S suggests choosing one that complements the rest of your bedding and feels nice against the skin.
Pattern: One of the most charming qualities of quilts is the pattern created by the sewn-together pieces, whether it be geometric, color-blocked, or abstract. However, we have also included some plain options for those less interested in a funky design statement.
Best overall quilt
Not handmade | Linen | None
While this Hawkins quilt might seem like an odd best-overall choice because it lacks that quintessential pattern, we like how universally appealing it is. It will complement most styles and bedding, plus it comes in 15 colors, including many neutrals. It was also the most-mentioned quilt among our experts. Although writer Alexis Cheung first bristled at the price, she now says that it brings her genuine joy with its comfy linen fabric that's "still weighty enough to induce a gravity-blanket-like calming effect," and the soft-wash light-gray color doesn't overwhelm a room. Cheung recommends buying the quilt in a size larger than your mattress so "the fabric will waterfall over the entire bed and allow you to really cocoon inside." Jenny Kaplan, founder of design studio An Aesthetic Pursuit, also owns this quilt in light gray and agrees with Cheung that it's the "perfect weight year-round." Interior designer Lauren Ashley Allan is a third fan, calling it "warm, welcoming, and elevated without being too obvious."
Best (less-expensive) overall quilt
Not handmade | Cotton | Geometric
Here's another crowd-pleasing quilt, but this time with a subtle black-and-cream geometric pattern and a more digestible price tag. "It's modern yet keeps in line with what I feel a quilt should represent: something interesting that creates a fun, cool pattern," says Linda Hayslett of LH.Designs. On top of the zippy triangular print, it also has a comfortable cotton makeup that's easier to maintain than the linen option above, which comes with lengthy washing instructions. And while it isn't handmade, Hayslett says this blanket will still be an excellent layer for chilly fall days or on top of your comforter in the winter.
Best colorblock quilt
Not handmade | Cotton | colorblock
Because of the time and labor involved, handmade quilts are generally more expensive. But you can also find commercially produced ones that look just as nice, like this three-piece set that includes a quilt and two standard sham covers that designer Rochelle Porter recommends. She loves the soft pastel colors of the abstract, color-blocked design, saying that they "bring instant serenity." While it is even less expensive than the Lemieux Et Cie, the sweeter colors of this one ruled it out as a best-overall pick given that it might not work with as many design aesthetics.
Best pebbled quilt
Hand-stitched | Cotton | None
Thanks to intricate pebble-stitched details, this Coyuchi quilt has a unique wavy texture that aligns with the coveted handmade look. Though subtle, the contrasting thread sticks out against the rather subdued quilt color. "It's simple and can go with any look, style, and environment," Hayslett says. And because it's made from organic cotton, this quilt will be breathable in the summer and a not-too-heavy extra layer for chilly winter nights.
Best lightweight quilt
Hand-stitched | Cotton | None
Hayslett recommends Brooklinen's quilts to anyone more interested in function over design. While this blanket may not be as exciting as other options on this list, Hayslett says its "summer weight" construction means you'll stay comfortable while you sleep, even in hot or humid temperatures. And just like the brand's Strategist-approved sheets, the cotton here feels remarkably soft. It's even hand-sewn — Brooklinen says each one takes about six days to make — and comes in neutral colors that will match everything.
Best Kantha quilt
Handmade | Cotton | Floral
With origins in Bangladesh and the Bengal region of the Indian subcontinent, Kantha quilts are usually handmade from vintage saris with a characteristic running (or straight) stitch in their design. They can also be quite expensive, but there are more affordable options if you know where to look. Etsy sells a bunch, like this indigo hand block-printed quilt with a floral design that Curbed's architecture critic Alexandra Lange recommends. "I love indigo for bedding because it is graphic but not too harsh," she says.
Best reversible quilt
Handmade | Linen | None
"A lot of amazing linen comes from Eastern Europe," says Shannon Retseck, founder of textile and home-goods line Cuttalossa. "On Etsy, you can find a ton of woman-owned Eastern European businesses that are making amazing linen quilts, sheet sets, and duvets for less than larger brands cost." One such quilt that she recommends is this double-sided linen style from a maker in Odesa, Ukraine. "I love the subtle hues of this quilt, and you can see it's made with care." Retseck adds that you can even customize it by choosing your own colorways. Because the quilt is filled with polyester batting, it will be heavier, and therefore warmer, than some of the other options on this list.
Best (less-expensive) reversible quilt
Not handmade | Cotton | Floral
We've written a lot about Marimekko's iconic floral patterns, and it turns out the Finnish textile maker offers its vibrant patterns in quilt form, too. Porter is "obsessed" with this quilt, which features parallel channel stitching and reverses to a bold black-and-white print. But if flowers aren't your thing, Marimekko offers a complete black-and-white-patterned quilt, too, made with the same details and materials. Bonus: Both come with two matching shams.
Best organic-cotton quilt
Handmade | Cotton | Geometric
Hana Getachew, founder of Bolé Road Textiles, loves the quilts made by her friends at Anchal. "They're so modern but the hand-stitching really gives their pieces a cozy, inviting appeal," she says. While she's a big fan of the brand's collection of "one-of-a-kind" kantha quilts that she says "are really special," her favorite Anchal quilt is the "dynamic and supercool" Prism quilt, which has a geometric stitchwork pattern inspired, appropriately enough, by prisms. The bone-colored quilt has delicate charcoal stitching that keeps it visually interesting without overpowering it.
Best deadstock quilt
Handmade | Deadstock linen | Geometric
For something that feels more like a traditional quilt, consider Suay's line of deadstock mini-quilts (called "quiltlets") that Strategist senior writer Liza Corsillo is itching to get her hands on. "In my opinion, the best quilts feel like an heirloom, whether they were made by someone you actually know or not," she says. "That is why I love Suay's quiltlets so much. A lot of thought and love, both for design and for the planet, goes into each one." Handmade in a variety of "Bauhaus-ish patterns" from the deadstock fabric scraps leftover from making Suay's other products, the quilts help keep fabric waste out of landfills, according to Corsillo. "Plus, no two quiltlets are the same, and the colors are pleasingly acidic and faded, like a treasure found in a great aunt's attic or a church rummage sale." Her favorite pattern is this colorful patchwork of concentric squares.
Best velvet quilt
Not handmade | Cotton velvet | None
Maynard suggests looking for velvet quilts because they tend to "look and feel the most luxurious and expensive." Of course, that's all subjective, but if you'd like to follow Maynard's recommendation, decorator Carrie Carrollo recommends this quilt from Target's in-house brand Threshold. She likes the clean lines of the channel stitching, which she says is stylish but easy to incorporate into any décor. In addition to the cream color shown, it's available in more shades, including mint, mauve, and a berry Carrollo calls "gorgeous."
Best Egyptian-cotton quilt
Not handmade | Egyptian cotton | Chevron
This sateen option from Matouk comes recommended by Achuziam Maha-Sanchez, a co-owner of the Brooklyn boutique Peace & Riot, who described it using a word we had never associated with quilts: sexy. The appeal, she says, comes from its paneled chevron rows, which help the quilt give a "modern finish" to a bedroom. You can get it in several alluring colorways, including celadon, Champagne, and coral, in addition to the silver shown. Each has a silky-soft touch, just like the brand's Egyptian-cotton sheets, which we named our best overall choice.
Some more bedding essentials we've written about
Our experts
• Lauren Ashley Allan, interior designer
• Alexis Cheung, writer
• Carrie Carrollo, decorator
• Liza Corsillo, Strategist senior writer
• Hana Getachew, founder of Bolé Road Textiles
• Linda Hayslett of LH.Designs
• Jenny Kaplan, founder of design studio An Aesthetic Pursuit
• Alexandra Lange, Curbed's architecture critic
• Achuziam Maha-Sanchez, a co-owner of the Brooklyn boutique Peace & Riot
• Sherica Maynard of Interior Design by S&S
• Rochelle Porter, designer
• Shannon Retseck, founder of textile and home-goods line Cuttalossa
• Elizabeth Strianese, owner of Elizabeth Strianese Interiors
The Strategist is designed to surface the most useful, expert recommendations for things to buy across the vast e-commerce landscape. Some of our latest conquests include the best acne treatments, rolling luggage, pillows for side sleepers, natural anxiety remedies, and bath towels. We update links when possible, but note that deals can expire and all prices are subject to change.