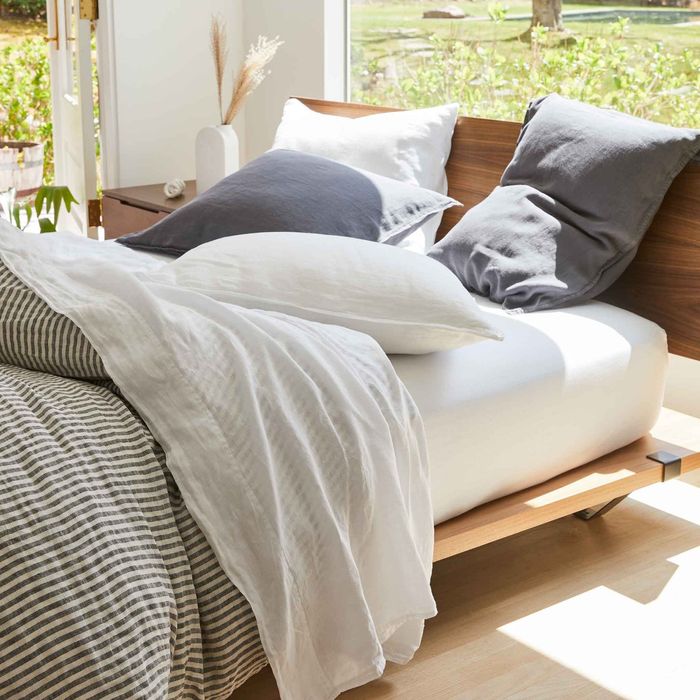 Excellent sheets, by Cultiver.
Photo: Retailer
Over the past couple of years, Strategist editors and readers alike have developed a fixation on linen sheets. New and must-try brands keep coming to our attention, especially in the direct-to-consumer and artisanal space, like the Australia-based Bed Threads, which offers mix-and-match bedding in tonal nonwhite options. While linen, on the whole, tends to be a bigger, longer-term investment than, say, your typical percale cotton, its universal draw is its inherent temperature regulation, keeping you sweat-free in the summer and cocooned when it's cooler. But beyond this general quality, we also gained an appreciation for how nuanced the material, which is traditionally derived from the flax plant, can be. Some iterations stand out for their softness, others for their heirloom-quality heft, others for simply coming in a unique range of colors rather than just the traditional shabby-chic neutrals. We've now had the chance to collectively test more than 20 versions of this old-world bedding, and we've narrowed down some of our favorites to help you decide which set might be right for you.
As mentioned above, linen sheets are traditionally made from flax and are more textured and rougher to the touch than cotton. And unlike cotton and other common sheets, the standards of thread count don't apply, so you're really judging based on handfeel. The flax lends linen sheets that signature rumpled, lived-in look, though some can be crisper or coarser, depending on their weave and where the raw material originated. (The highest-quality linen comes from western Europe, specifically from the Flanders region of Belgium, making Belgian linen the gold standard. But in order for a product to be considered authentic "Belgian linen," the flax not only has to be grown in Europe but woven there, too, and not sent elsewhere for processing.) They're also much sturdier than your typical cotton sheets and can withstand more weathering, and they typically get softer over time. And while they're known to be temperature regulating and fast-drying, certain linen sheets can feel more cozy than crisp, as several of our reviewers have noted, making them a great option for yearlong use.
Depending on how they're manufactured, some linen sheets can feel airy and crisp, while others feel more hefty and substantial.
Part of the allure of linen sheets is the fact that many of them come in a gorgeous array of colors, from subtle neutrals to jewel tones that make them stand out from the rest of the bedding market. While you can never go wrong with white sheets, linen lets you experiment with unusual colors in a way that most cotton sheets don't. And even if you prefer to stay within the grays and ivories, there are plenty of choice therein.
As far as cost goes, you'll see that most prices listed are for a queen-size set that includes a fitted sheet, a flat sheet, and two pillowcases, with most bundles falling in the $250-to-$300 range. A few brands only sell by the piece, while others will give you the option to add a top sheet (or not) to a basic starter set. But if buying à la carte seems strange when it comes to sheets, I think it has its own merits. Not only does it allow you to mix and match colors by component, it lets you experiment with one piece — a fitted sheet, for example — before committing to swathing your entire bed in the stuff, because sometimes just a single layer of linen atop or below your body is all you need to transform your night.
Best overall linen sheets
Feel: Medium soft | Weight: Hefty | Color: 12 colors | Price: $$
Parachute makes our all-around favorite linen sheets, which several Strategist staffers tested. According to former senior writer Lauren Levy, "Parachute, in my opinion, is the best all-around option, factoring in the middle-of-the-road price, the substantial feel of the linen, and the cool-placid-hazy bed environment you can create with the color options," of which there are 12. (She bought the sheets in coal and the duvet in fog.) As Levy puts it, "There is a tactility to good linen," and that's part of the reason she loves these sheets, which are made of European flax in Portugal. Plus, she says, the price is right. Senior editor Jen Trolio owns two sets of the Parachute linen sheets (she ditched all her other sheets) and uses them year-round. "In the summer, the duvet comes off the bed entirely and we use the linen top sheet as the blanket," she says. In colder weather, she adds a duvet with a West Elm linen cover, so her bedding is all linen. "The sheets feel nice, soft, and cozy and have washed just fine," she adds. The queen set comes with a fitted sheet and two pillowcases with the option to add a top sheet, which is reflected in the price above. (Without the top sheet, the set costs $209.)
Best (less expensive) overall linen sheets
Feel: Textured | Weight: Lightweight | Color: 8 colors | Price: $$
Quince, a direct-to-consumer brand that is arguably best known for its $50 cashmere sweater, recently expanded into home goods with a new line of bedding, including linen sheets. As its cashmere suggests, the brand tries to set itself apart as a far more affordable option for fancier items than its more established competitors. Its queen-size linen-sheet set — which includes a fitted and a flat sheet along with two pillowcases — costs $160, which is less than the price of Parachute's set without the top sheet. Strategist writer Dominique Pariso has slept on both Quince's and Parachute's linen sheets, and while she says the latter are definitely more substantial, "if you're a toe-dipper who is looking for superlight linen sheets with a slightly textured weave," these are for you. "The best way I can describe the sheets' feel is: Imagine a worn-in, gauzy linen button-down that you'd throw on in the height of July heat." She sleeps hot — "like window-open-in-the-middle-of-January hot" — but they've kept her cool and cozy even when the heat (in winter) is cranked up to what she considers "a balmy" 72 degrees. And you can't beat the value of a four-piece queen set (also made of European flax) for under $200.
Best starter linen sheets
Feel: Soft | Weight: Lightweight | Colors: 11 colors | Price: $$
If you're looking for linen sheets that are soft and airy (and slightly more affordable), consider Brooklinen's linen sheets; Levy says they "made me fall in love with linen sheets." As she describes them, "They're so light, it's almost like you don't feel them. They just brush against you when you sleep. If you've only used cotton or whatever, you can't even compare it to the feel of these linen sheets; it's like an angel's kiss." Like Parachute's sheets, these are made in Portugal of European flax and come in a range of neutrals and earth tones including a petal pink and navy chambray. "As long as you're not looking for a bright color, buy these," says Levy.
Best linen sheets for buying piece by piece
Feel: Soft | Weight: Hefty | Colors: 9 colors | Price: $$ | Sold separately
As mentioned above, some brands, like the Company Store, known for its long-lasting bedding basics, sell their linen sheets by the piece. That means you can start with a fitted sheet, as Pariso did, and go from there. She discovered that they were heftier than any of the other brands she tried, including Quince and Parachute. "The Company Store's sheets feel significantly more substantial (and are more cozy than crisp)," she writes. And after the first wash, she says, they felt "even more lived-in, and I have yet to notice any pilling or loose threads." While they're soft (they're made of European linen), "they're not baggy, as some other brands tend to be, which was another plus for my own personal taste — I ordered a queen size and they fit snug on my 16-inch mattress." If you like jewel tones, you'll want to check out the eight other colors the brand offers in addition to white, including deep blue and marigold yellow, which you can mix and match because, again, these sheets are sold by the piece rather than in sets.
Best lightweight linen sheets
Feel: Crisp | Weight: Lightweight | Colors: 19 colors | Price: $$
For former Strategist senior editor Margaret Rhodes, these European flax sheets from West Elm "felt a little crisper than the other linen sheets I tried — just enough that they had a bit more of that just-washed-sheets effect." She says that they were even softer than the regular cotton-percale Casper sheets she'd been sleeping on "but definitely had a cleaner feeling as far as linen goes." In other words, "this is dip-your-toe-in linen," especially if you're looking for something closer to cotton. She also notes that the elastic on the fitted sheet was a lot tighter than other linen sheets she tried, "so it snapped under my mattress in this very satisfying, at-attention way." If you're interested in getting the matching duvet cover, Trolio has had one in navy for over five years and says it still feels smooth to the touch and the color has not faded.
Best cooling linen sheets
Feel: Medium soft | Weight: Hefty | Colors: 3 colors | Price: $$$
Saatva, the eco-focused mattress start-up, launched its linen sheets in 2020. They're made with Belgian flax, putting them on the higher end of the price spectrum. When Strategist senior editor Crystal Martin first opened the "delightful packaging," she immediately noticed how "thick, in a luxurious way," the sheets felt, which she says "as someone who has never before owned linen sheets, but who does know how flimsy the material can feel against your skin thanks to my experience with inexpensive linen dresses." While she says the texture seemed "somewhat rough at first," once she washed them, "they came out airy and markedly softer than before." She's now had the gray sheets for 18 months and uses them all year long, noting that they're especially comfortable during hot and humid New York City summers. "In the heat, they're light enough and feel cool to my body," she says, adding that in the winter, "they still feel cozy." They're going on two years now, and "they've held up beautifully and wash well," even though she doesn't follow the washing instructions to a T. "I couldn't be happier," she adds. She loves them so much that she recently bought another set, this time in white.
Best (less expensive) cooling linen sheets
Feel: Crisp | Weight: Medium | Colors: 12 colors | Price: $$
Launched by the global-artisan-centric brand the Citizenry in 2018, these sheets are made from stonewashed French flax linen and woven at an old family-run mill in Portugal. "Out of their matching linen sack, they're soft but lean more on the sturdy side," says Strategist associate editor Jenna Milliner-Waddell. "They also have that classic baggy look — the fitted sheet is designed for an up-to-15-inch-deep mattress, which mine is not." The first few nights she tried them, they didn't feel particularly luxurious to her, but her appreciation built over time. "They are the coolest sheets I've ever slept on," says Milliner-Waddell. "This was made even more clear when I went back to my old sweat-inducing sheets while these were in the wash." Speaking of which: The description warns that they might shed after the first few launderings, which is expected with natural fibers, but she hasn't experienced that. Neither has there been any pilling, she notes, and the eyelet stitching around the top sheet and pillowcase "have remained perfectly intact, as has the color (a rich olive)." There are 11 other hues to choose from, if olive is not your preference.
Best Belgian-linen sheets
Feel: Soft | Weight: Medium | Color: 27 colors | Price: $$
These sheets from Pottery Barn are made from Belgian flax, which, as mentioned above, is considered the best raw material for the fabric. (Saatva's and Linoto's sheets are made from Belgian flax as well, though Linoto sources from both Italian and Belgian mills. These are also slightly cheaper than Saatva's sheets.) I've been sleeping on a set that Pottery Barn sent me for the past couple of months, and the sheets have a nice medium weight to them that feels quite soft and smooth (much softer than my Bed Threads sheets). They wash well and get softer each time, and they keep me perfectly comfortable during winter nights — not too cool and not too warm. One detail I love about them is the hemstitch on the flat sheet and pillowcases, which makes them feel slightly more classic in look. I have the sheets in white, but Pottery Barn offers 26 additional muted colors like toffee, smoky quartz, and mineral blue if you're looking for something more subdued. (It comes in second after Linoto, which offers the most color options at 29.)
Best colorful linen sheets
Feel: Medium soft | Weight: Medium weight | Colors: 18 colors | Price: $$$ | Sold separately
Strategist writer Tembe Denton-Hurst hadn't considered linen sheets until she saw ones from Hawkins New York on interior designer Tiffany Thompson's Instagram story. "Made from European linen and then stonewashed in Portugal, they have this automatically lived-in look, soft and rumpled and ultraluxurious (this shows up in the price; $225 for the flat sheet alone). They got even softer once washed," Denton-Hurst says. But what she likes best about this set is that there's so much material to work with. "I have a 12-inch-thick Allswell Luxe mattress, which means I normally spend a lot of time making and remaking my bed to keep from naked bits of mattress getting exposed, but not here; the generous amounts of fabric are easily tucked in." Denton-Hurst got the sheets in basic white, but they also come in a range of 16 other rich color options. "They still managed to elevate the look of my existing, mostly white bedding, which was somewhat sterile before, but not anymore."
Best (less expensive) colorful linen sheets
Feel: Soft | Weight: Lightweight | Colors: 15 colors | Price: $$$
Cultiver is an Australian brand that's sort of a peer to Parachute and Brooklinen but is further along in terms of the breadth of home products it offers, according to Rhodes. While they're on the pricier end (but still less expensive than the Hawkins above since Cultiver sells bedding as a set as opposed to individually), Rhodes found the Oeko-Tex certified European flax sheets to be "lovely — with a softness and bagginess akin to that of Morrow (they do not run on the hearty-textured side, like Linoto and Parachute)." What stands out for her, though, is its range of colors, "and for mixing those hues so carefully. It's one thing to sell purple linen sheets and another thing entirely to sell a berry-stained color that could somehow pass as a very interesting neutral."
Best colorful linen sheets for mixing and matching
Feel: Medium soft | Weight: Hefty | Colors: 25 colors |Price: $$ | Sold in sets with option to mix and match
I prefer to keep things like sheets and towels simple, so I almost always opt for white. But last fall, I got the sudden urge to replace my white sheets with linen ones in a very specific color scheme I'll call "desert rose." I didn't want to buy a monochromatic set. Instead, I loved the idea of the duvet cover, sheets, and pillowcases all being different tones. So I embarked on a rather thorough investigation, consulting this list and comparing the cost of sheet sets versus buying things piecemeal from various brands. In researching, I came across Bed Threads, a relatively new direct-to-consumer company based in Australia that makes its sheets with 100 percent French-flax linen in a range of delicious colors (19, to be exact). Aside from those colors, what drew me to the brand is that you can buy basic bedding — a fitted sheet, a flat sheet, and two pillowcases — separately for the same total price the company charges for a set of those same items. While these static prices mean you aren't getting a discount if you buy a bundle, they also mean you don't have to sacrifice saving money to get the exact color combination of sheets you might want. To achieve my desert rose-inspired bed, I bought two pillowcases in turmeric, a duvet cover in rust, and sheets in pink clay. Everything took a bit to arrive — it's all coming from Australia, but shipping is free to the U.S. — and although the Bed Thread linen sheets are not as soft and luxurious-feeling as the sample set I got from Snowe, they are perfectly comfortable and have kept me cozy all winter. More importantly: My bed has never looked better, or more colorful.
Best organic linen sheets
Feel: Soft | Weight: Hefty | Colors: 7 colors | Price: $$$
Coyuchi is a California company that started in the '90s and is focused on sustainability. Its sheets are made of organic French flax linen, which is reflected in the steep price tag and, according to Rhodes, "felt great." She calls them "sturdy, substantial, and soft enough out of the box that I'm sure they'll get even better. Just as good as Parachute and West Elm." Moon Juice founder Amanda Chantal Bacon also recommends this line because they hold up well over time. When the time does come for a new set, you can return your old set to Coyuchi for 15 percent off your next purchase. The company upcycles the sheets and then "refreshes" the fabrics. Coyuchi then resells the upcycled sheets (at a nice discount) on its sister website 2nd Home Renewed, which is a great way to try out Coyuchi products for less. The sheets come in seven colors, and, as Rhodes notes, "the top sheet also has a really subtle but really nice stitching detail on it: tiny contrast stitches across the top."
Most durable linen sheets
Feel: Soft | Weight: Hefty | Colors: 15 colors | Price: $$
Piglet launched in the U.K. in 2017 with a line of stonewashed, all-French flax-linen bedding that hit the United States in 2019. For Strategist editor Maxine Builder, what stands out is the sheets' durability. "It's remarkable how well my Piglet sheets have held up since I started sleeping on them back in September — gauzier than ever but not at all worn down," she says. Regarding aesthetics, there are no eye-catching embellishments or exceptional stitching details, Builder notes, but they come in 15 colors and are quite drapey. "Though the fitted sheet cinches over my mattress perfectly, the top sheet hangs down to the floor," she says. Piglet gives you the option to mix and match colors and add extra pillowcases and a duvet cover through its bundler should you want to get everything in one go. Pariso, who has also tried Piglet's linen, notes that while it has the same heft as Parachute, Piglet's sheets are a bit softer.
Softest linen sheets
Feel: Soft | Weight: Medium weight | Colors: 12 colors | Price: $$
Morrow's sheets are made in Portugal from Oeko-Tex-certified French Linen, and as Rhode puts it, "are phenomenal, soft in a downy way." As Goop beauty director Jean Godfrey-June told us, "I've never felt anything so comfortable in my life." The sheets also come in 12 subdued but beautiful colors; the brand even sells them in curated color pairings and bundles that give you an instant tonal look without any effort on your part. Rhodes got them in greige, which she says "was so much nicer than other regular cream-colored sheets I've slept on in the past. I like that flaxen, undyed look." Morrow also sells pillowcases (and duvet covers) separately, so if you wanted to try the linen without investing in an entire set, you could. I bought a set of pillowcases in fawn, a lovely peach tone, to go with a more affordable sheet set from Bed Threads. But if you're ready to go all-in, Rhodes gives "props to Morrow for selling one sack of linens — exquisite linens — one and done."
Smoothest linen sheets
Color: Soft | Weight: Lightweight | Colors: 5 colors | Price: $$
If you're someone who doesn't like the look or concept of linen sheets but is still curious about trying them, consider these. As former Strategist senior writer Karen Adelson puts it, "You're getting a prewashed, non-scratchy, non-wrinkly take on the fabric." While she admits they might put off true linen aficionados, they were an ideal compromise for her: "In the past, I've been disappointed by the look of other linen sets — more sloppy than tastefully lived-in. These drape smoothly as percale cotton over the bed." Made of European flax, "they had the crispness of hotel bedding," according to Karen. And they didn't look wrinkled, either, even after several nights.
Best blended linen sheets
Feel: Soft | Weight: Medium weight | Colors: 4 colors | Price: $$
For those wary of the coarser nature of linen, consider sheets blended with another material, like these from Kassatex that are 40 percent bamboo rayon. As former Strategist senior editor Peter Martin puts it, "The bamboo in the Kassatex sheets offsets the slight crispness of linen, adding a smooth softness and making them drape over you like a gentle swaddle." Even his toddler was smitten with them: "When I first put them on the bed, my toddler climbed up and said, "Ooooh soft," and started rubbing her hands on them." According to Martin, they have a wrinkly look, which he doesn't mind, but for him, "what matters most is that the fitted sheet wraps around our 14-inch-thick mattress with enough spare fabric to make making the bed easy, but not so much as to look sloppy." The pillowcases are also big enough to contain his pillows, "even after multiple washings." He notes that while the sheets pilled the first couple of times in the laundry, that hasn't been a problem since.
Best hand-dyed-to-order linen sheets
Feel: Soft | Weight: Medium weight | Colors: 19 colors | Price: $$$ | Sold separately
Bella Notte's sheets have been sewn and hand-dyed to order by local makers in Northern California since 1996, which makes them quite pricey. Each piece is sold separately, and a queen flat sheet will run you over $300, but for good reason. "I knew that linen sheets were supposed to be breathable and durable, but I did not expect them to feel so sumptuous. These were like dozing off in silk but not at all flimsy," says Casey Lewis, former Strategist senior editor. They're really dyed to order, too, as Lewis learned. "My first pair of sheets were delivered to our abruptly closed office back in March 2020 and trapped in our mailroom. Before the company could send another set to my apartment, where I was sheltering in place, they first had to dye them for me." While they're expensive, Lewis "expects them to, as the brand claims, 'stand the test of time.'"
Best (less expensive) made-to-order linen sheets
Feel: Medium soft | Weight: Hefty | Colors: 11 Colors | Price: $$ | Sold separately
For a third of the price, Sea Me is another brand making hand-sewn-to-order European linen sheets in gorgeous colors. (The sheets are not hand-dyed.) Based in Ukraine, Sea Me produces its wares on demand, which, according to the company, allows it to offer custom sizes for nonstandard beds and mattresses, a model it's been perfecting for years. Rhodes was drawn to Sea Me for its "absolutely beautiful colors" and the fact that "the price point is a smidge lower than some other start-ups, and accessibility matters." While she wasn't able to test the actual fitted and top sheets, she was able to check out the duvet cover and shams. "I can comfortably, assuredly say that the hand (and body) feel of their linen is nice: sturdy, which is now the way I prefer linen. No scratchiness. I'd compare this to the other hefty sheet-makers like Linoto and Parachute." In addition to the "teal waves" colors shown here, Sea Me offers ten others including a vibrant emerald green that Rhodes tried, a deep "Pacific" blue, and a smoky pink, all of which can be purchased piece-by-piece for mixing and matching. Sea Me offers free international shipping.
Best hemp linen sheets
Feel: Soft | Weight: Medium weight | Colors: 3 colors | Price: $$
Bedding brand Buffy has been on the Strategist's radar for a while now: We're fans of both its signature comforter (which we compared to "sleeping under cotton candy") and its lightweight Breeze comforter, a cooler option for summer. And happily, its new line of linen sheets doesn't disappoint. Unlike most linen, which is made from flax, these sheets are woven from hemp, which Buffy claims is more environmentally friendly and durable. According to former Strategist senior writer Adelson, "They certainly feel luxurious, with a comforting — but not too hefty — weight that's reminiscent of sturdy hotel cotton sheets." As for breathability and temperature regulation, she says they perform just as well as high-end flax linen sheets. "I tried them during a few weeks in New York's unpredictable springtime (where it can be 30 degrees one day and 65 the next), and I never felt too hot or cold. I also didn't get sweaty at night, which tends to happen to me with less breathable sheets," says Adelson. And while they were soft to the touch even before washing, Adelson noticed that after one wash, "they had an even smoother texture with minimal creases and wrinkles." Her conclusion: "You'll likely prefer these if you're going for a more put-together bedding look rather than the rumpled style that other linen sheets tend to give off."
Best heirloomlike linen sheets
Feel: Rough | Weight: Hefty | Colors: 29 Colors | Price: $$$
For sheets you'll want to pass down to the next generation, Linoto's bedding is made without chemicals in upstate New York out of Italian and Belgian linen. "Upon unboxing these, they immediately felt heavier and more like the idea of an heirloom sheet than any other I've encountered," says Rhodes. "A lot of other brands do an enzyme prewash to give sheets a lived-in feel before that's actually true — Linoto doesn't." Rhodes actually got to talk to the founder about the best ways to break in the sheets, and besides just regular washing and time, he recommends adding a little hair conditioner to the wash in lieu of fabric softener. They're available in 29 vibrant colors, but you'll have to wait a few weeks for them to arrive. As Rhodes concludes, "These have the right ratio of soothing to crisp qualities, and the sheets hold their shape. It's hard to imagine they won't last for ages."
Some more bedsheets we've written about
The Strategist is designed to surface the most useful, expert recommendations for things to buy across the vast e-commerce landscape. Some of our latest conquests include the best women's jeans, rolling luggage, pillows for side sleepers, ultraflattering pants, and bath towels. We update links when possible, but note that deals can expire and all prices are subject to change.
Every editorial product is independently selected. If you buy something through our links, New York may earn an affiliate commission.