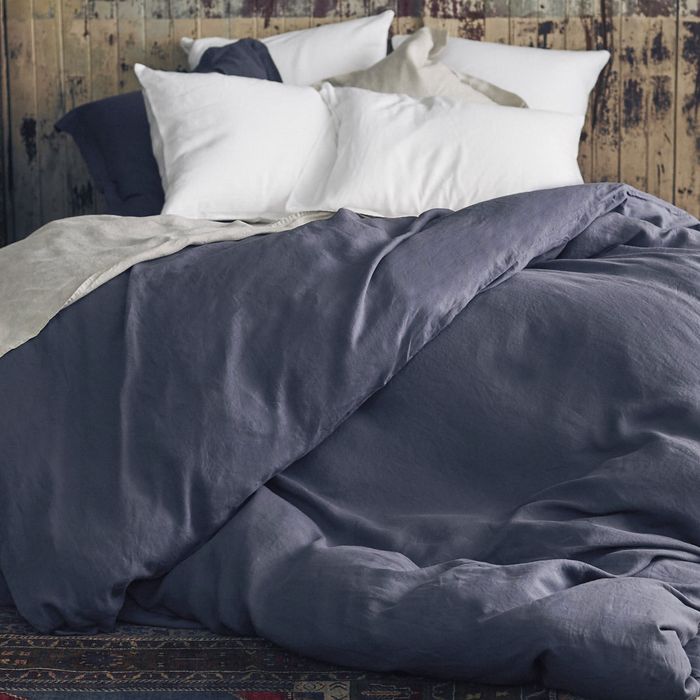 Photo: Courtesy of the retailer
While the right mattress might make for a painless night's sleep, and the best sheets will keep you perfectly comfortable during that sleep, a duvet cover does double duty — it protects your comforter and adds a design element to your bed. But because a duvet cover isn't typically what you're sleeping directly on or under, choosing one is often more about aesthetics and style than fabrication. But those after a very specific feel can of course get duvet covers in a range of materials including cotton, linen, and alternative fibers like bamboo.
To find the best duvet covers, we talked to 22 interior designers about the styles they recommend. Each of them are the kind of people who've touched and tested a lot more duvets than we have and also happen to know a thing or two about creating inviting, stylish-looking beds. That said, we do have some opinions on the topic, which is why you'll find a few picks from bedding-obsessed Strategist staffers and even some notable folks we've interviewed, like author Rumaan Alam. The options on the list range include luxurious hotel-style duvet covers, brightly patterned statement pieces, and plenty of linen options.
To help you find the right duvet, we sorted them by price: under $100, under $200, under $300, under $400, and splurge-worthy. If you know your budget, you can click on any of the links in the previous sentence to jump straight to that section. A note that the prices shown are for queen-size duvet covers unless otherwise noted.
Best
under-$100
duvet
covers
According to Courtney McLeod, the founder and principal designer of New York City–based Right Meets Left Interior Design, "the Miranda Haus line is a great budget-friendly option for bedding." Her duvet cover of choice from that line is the Lorenz, which she likes for "its soft hand and nice detailing." With an embroidered figaro-link pattern in gray against crisp white cotton, it's the sort of thing that would make any bedroom look a bit more like a room in an upscale hotel. A bonus: The set comes with two matching sham covers.
"I love cabana stripes," says former Strategist writer (and stripe chronicler) Hilary Reid, who has this striped duvet cover in light blue. While cabana stripes are inherently bolder due to their thicker width, Reid says that "for a bedspread, I prefer them to be a bit subdued," like they are on this style from Hay. She also likes that the duvet cover's white stripes aren't pure white — "more like a very light, almost-blue-safe green" — and that the blue is a "lovely shade of periwinkle, which looks equally elegant and subdued as it does beachy." Reid adds that the duvet cover's cotton material is "soft and cool" and doesn't get too wrinkly, either. It also comes in a striped yellow version.
Decorilla designer Devin Shaffer calls this duvet cover his "go-to bedding for the past few years." Made with a soft microfiber, it uses oversize ties for fastening — Shaffer calls them no-fuss — that give the duvet cover a more casual, bohemian feel. He prefers the khaki color shown, which he says "creates a backdrop for a variety of throws and pillows."
Best
under-$200
duvet
covers
If you're looking for a duvet cover to complete a quintessential all-white bedding look, it's hard to beat this one from Brooklinen, the maker of some of our favorite bedding, including (affordable) linen and sateen sheets. The cotton-percale duvet cover comes recommended by interior designer Ghislaine Viñas, who says it will give a bed that crisp hotel look and feel. "We use a lot of white bedding only, so this is a great, easy, and comfy staple we suggest to clients," she says. (If you're looking for a twist on the classic, go with this subtly striped version.)
To those who prefer brighter, bolder patterns, Decorist designer Audrey Margarite suggests a floral duvet cover like this one from Marimekko. She says it has a "whimsical painterly quality" that'll cheer up any space and add a "quick pattern pop" to a bedroom.
If this duvet cover looks familiar to you, it's because you've seen it on the beds of not one, not two, but three celebrities: singer-songwriter Phoebe Bridgers, actor Diana Silvers, and singer-songwriter Gracie Abrams. Strategist deals writer Leah Muncy noticed the "decidedly tasteful" duvet on their Instagram accounts and, after some intense sleuthing, found it came from Garnet Hill and has a surprisingly affordable price. The cotton flannel cover's design, complete with glow-in-the-dark stars, is kitschy in a good way. If it's too playful for an adult, we think it's a, well, stellar option for kids.
Unlike the cotton or linen duvet covers on this list, this one from Ettitude is made from organic bamboo lyocell fabric, which has natural thermoregulating (a.k.a. cooling) abilities, making it a great option for folks who sleep hot. It comes recommended by Jess Blumberg of Dale Blumberg Interiors. "It's modern, minimal, and supersoft," she says of the silky-smooth duvet cover available in summery shades like mint and sky blue. "And it doesn't hurt that it's sustainable, hypoallergenic, and relatively affordable, too."
A textured duvet cover, like this one that Havenly staff designer Madison Shoemaker recommends, can add a bit more visual interest to your bed without the statement-making look of a louder pattern. Shoemaker says this style is "subtle and luxurious" thanks to its 100 percent waffle-weave cotton material, which gives it a natural woven look that she calls cozy, comfortable, and sophisticated. Available in white, gray, and midnight blue, the duvet cover is also reversible (its other side has a smoother cotton-percale weave).
Shoemaker also recommends this slightly cheaper textured duvet cover with a "raised geometric pattern" that gives it a slightly different aesthetic than the woven look of the above style. While unique enough to catch the eye, she assures the pattern is subtle enough to not overwhelm a bedroom. The duvet cover is made of 100 percent organic cotton (and is available in a slightly darker gray in addition to the white shown).
Atlanta-based interior designer Leah Alexander says that the "Estela duvet cover is bold and graphic but simple and versatile." After buying it for her own bed, strategist writer Chloe Anello says she couldn't agree more: "I like patterns and prints and color," she says, "while my boyfriend likes black, white, and occasionally navy blue," adding that the duvet cover checks all their boxes. If you want a punchier look, it pairs well with colorful sheets. But the duvet cover will look just as nice with simple white ones, too.
If you followed along with our obsessive linen-sheet testing, you know we're big fans of the natural, breathable fabric. Still, as we've noted, it can get pricey. Emmanuelle Bernard, the founder of Hoem, recommends this linen duvet cover as a relatively budget-friendly option. One thing she likes about it is that it comes in a range of colors. (She particularly likes the baby-pink shade and suggests pairing it with contrasting pillows to achieve a Scandinavian look.) "Linen duvet covers in pastel hues are my favorite because they give a boho sort of look to my bedroom," says Bernard, who notes this is stonewashed, which gives it "a vintage look, makes it very comfortable," and even makes it more natural-looking because it "comes with some wrinkles."
This velvet duvet cover comes recommended by Shaffer, who calls its crushed (not smooth) fabrication "avant-garde." The crushed finish, he explains, gives the duvet cover added texture that makes it a bit more luxe and glamorous. Made from a viscose blend with cotton backing, the duvet cover is available in blush, stone, and blue, in addition to the platinum shown.
Best
under-$300
duvet
covers
We've written before about how sweaty sleepers love Parachute's linen sheets for keeping cool, so it's not too surprising to hear that the brand's linen duvet cover comes highly recommended by four of our experts (plus Strategist writer Dominique Pariso): Shoemaker, Vanessa Alexander of Alexander Design, designer Tina Rich, and Sean Juneja, the founder and CEO of Décor Aid. "I almost always choose linen because I love the laid-back look," Rich told us. Juneja adds, "Parachute products boast timeless design and terrific quality." Plus, you can branch out from basic white or flax-colored linen with Parachute's saturated shades that include indigo and smoky-gray. Shoemaker calls the duvet cover "casual and comfortable," especially for those who sleep either hot, "as the linen is breathable and provides more insulation than cotton." She also notes that the brand uses 100 percent European flax, "which starts out soft and only gets softer over time." Another feature that she likes is that the duvet cover is great for pets: "It's an easy-to-clean material that resists dog hair," Shoemaker says.