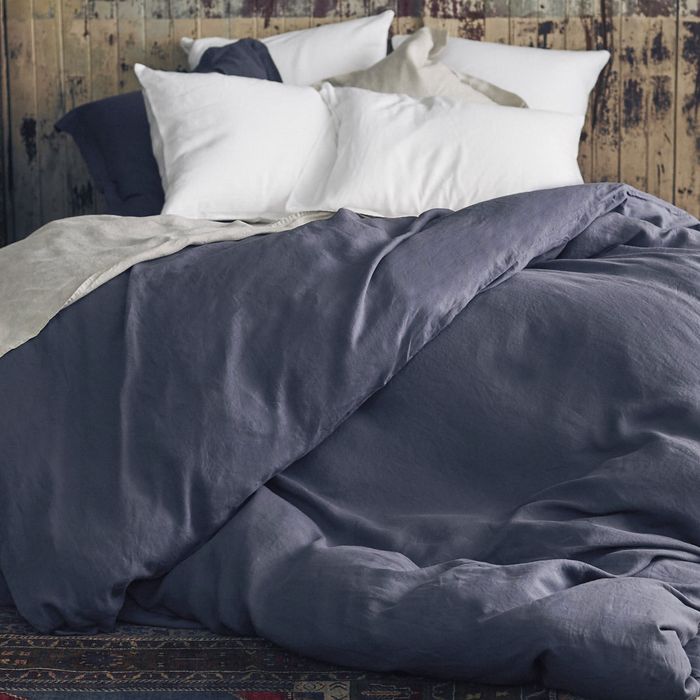 Photo: Courtesy of the retailer
While the right mattress might make for a painless night's sleep, and the best sheets will keep you perfectly comfortable during that sleep, a duvet cover does double duty — it protects your comforter and adds a design element to your bed. But because a duvet cover isn't typically what you're sleeping directly on or under, choosing one is often more about aesthetics and style than fabrication (even though duvet covers, like sheets, can come in a range of materials including cotton, linen, and alternative fibers like bamboo).
To find the best duvet covers, we consulted 20 interior designers — or people who've touched and tested more duvets than we ever could and also happen to know a thing or two about creating inviting, stylish bedscapes — and a few other stylish folks (namely ourselves) about their favorites. Read on for their 26 picks, which include both affordable and luxurious hotel-style duvet covers, brightly patterned or colored ones that'll make even more of a statement, and plenty of linen styles for those who want their duvet cover to match their preferred type of sheets. A note that the prices shown are for queen-size duvet covers unless otherwise noted.
Best
under-$100
duvet
covers
According to Courtney McLeod, the founder and principal designer of New York City–based Right Meets Left Interior Design, "the Miranda Haus line is a great budget-friendly option for bedding." Her duvet cover of choice from that line is the Lorenz, which she likes for "its soft hand and nice detailing." With an embroidered figaro-link pattern in gray against crisp white cotton, it's the sort of thing that would make any bedroom look a bit more like a room in an upscale hotel. A bonus: The set comes with two matching sham covers.
If brighter, bolder patterns are more your speed, Decorist designer Audrey Margarite suggests trying a floral duvet cover, like this one from Marimekko. She says it has a "whimsical painterly quality" that'll cheer up any space and add a "quick pattern pop" to a bedroom.
"I love cabana stripes," says Strategist writer (and stripe chronicler) Hilary Reid, who has this striped duvet cover in light blue and calls it one of her favorite things she owns. While cabana stripes are inherently bolder due to their thicker width, Reid says that, "for a bedspread, I prefer them to be a bit subdued," like they are on this style from Hay. She likes that Hay's white stripes aren't pure white — "more like a very light, almost-blue-safe green" — and that the blue is a "lovely shade of periwinkle, which looks equally elegant and subdued as it does beachy/summery." Made of cotton, the material is "soft and cool" and doesn't get too wrinkly either, according to Reid. It also comes in a yellow striped version.
Best
under-$200
duvet
covers
If you're looking for a duvet cover to complete a quintessential all-white bedding look, it's hard to beat this one from Brooklinen, the maker of some of our favorite bedding, including (affordable) linen and sateen sheets. The cotton-percale duvet cover comes recommended by interior designer Ghislaine Viñas, who says it will give a bed that crisp hotel look and feel. "We use a lot of white bedding only, so this is a great, easy, and comfy staple we suggest to clients," she says. (And If you're looking for a twist on the classic, go with this subtly striped version.)
Unlike the cotton or linen duvet covers on this list, this one from Ettitude is made from organic bamboo lyocell fabric, which has natural thermoregulating (a.k.a. cooling) abilities, making it a great option for folks who sleep hot. It comes recommended by Jess Blumberg of Dale Blumberg Interiors. "It's modern, minimal, and supersoft," she says of the silky-smooth duvet cover that comes in summery shades like mint and sky blue. "And it doesn't hurt that it's sustainable, hypoallergenic, and relatively affordable too."
A textured duvet cover, like this one that Havenly staff designer Madison Shoemaker recommends, can add a bit more visual interest to your bed without the statement-making look of a louder pattern. Shoemaker says this style is "subtle and luxurious" thanks to its 100 percent waffle-weave cotton material, which gives it a natural woven look that she calls cozy, comfortable, and sophisticated. Available in white, gray, and midnight blue, the duvet cover is also reversible (its other side has a smoother cotton-percale weave).
Shoemaker also recommends this similarly priced textured duvet cover with a geometric pattern that gives it a slightly different aesthetic than the woven look of the above style. She says that the "raised geometric pattern" makes the otherwise simple, solid-colored cover "unique," noting that this pattern is also subtle enough that it will stand out in, but not overwhelm, a bedroom. It also happens to be made of 100 percent organic cotton (and is available in a slightly darker gray in addition to the white shown).
Those looking for a duvet cover that's slightly bolder than the patterned styles above should consider this floral-print option that Tavia Forbes and Monet Masters of Atlanta-based interior-design studio Forbes+Masters recommend. While eye-catching, they say the print is still relatively subdued for a floral pattern. "What I love about this duvet are its bold lines and neutral tropical-inspired scheme," says Masters. The front of the two-tone cover features a gray-and-white botanical pattern printed on linen, while the back is made of cotton.
Like Forbes and Masters, Atlanta-based interior designer Leah Alexander is "consistently" impressed with CB2's sophisticated pieces. "The Estela duvet cover is bold and graphic but simple and versatile," she says. It will pair well with colorful sheets if you want a punchier look, or stick with crisp white if you prefer your bedding sleek.