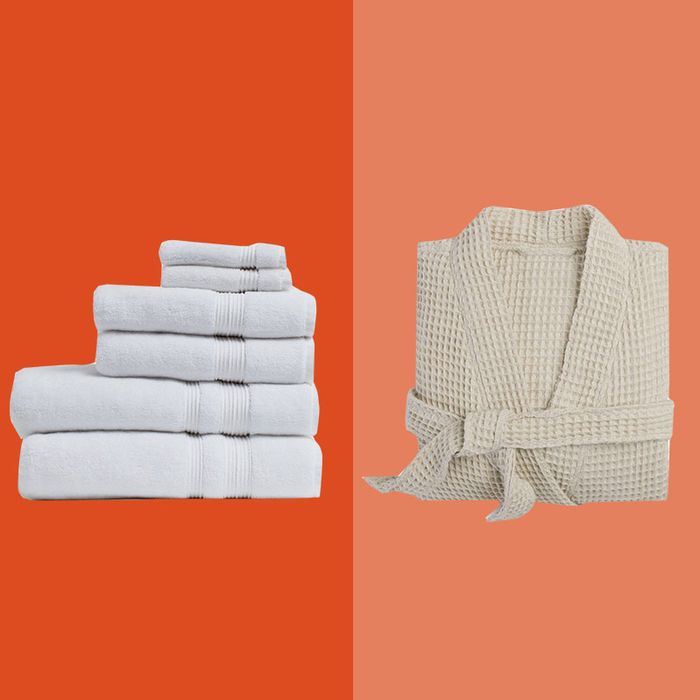 Photo-Illustration: retailer
Anyone who has shopped at a retailer with few physical storefronts knows it can be hard to figure out where to begin. There are lots of options that all seem as worthy as the next, but the reality is that products from any given brand are not all created equal. When you shop as regularly as we do, you learn that many brands just do some things better than they do other things. Parachute, with its ever-growing line of spa-ready towels and crisp bedsheets, is one of those brands: Its inventory of linens and other home staples needs to be carefully picked through to find gems like robes that double as loungewear; plush, down-alternative mattress toppers; or quick-drying waffle towels. Here, we've compiled all of the products from Parachute that our writers and editors — as well as sleep experts, interior designers, hotel-robe connoisseurs, yoga instructors, and other cool people — have recommended on the Strategist.
When it debuted back in 2017, Parachute's plush Classic Bathrobe garnered a 1,900-person waitlist — and has since become one of the most recommended bathrobes on the Strategist to date. Favored by yoga instructors, entrepreneurs, and our readers alike, the Turkish-cotton robe is "not the thickest I've ever tried, but it's somehow the warmest," according to Heather Pearson, a co-founder of Portland-based vegan-apparel company Dande and the Lion. She says that the sleeve length and below-the-knee fit make the robe seem "custom-made," with yoga instructor Kate Posch adding that she "loves" the bathrobe's cozy, supersoft material.
Thanks to its waffle weave, this Parachute robe is more lightweight than the one above. New mom–slash-publicist Sonya Li Casino says it makes her feel like she's "heading to the spa every time I wear it," and Posch, who also uses this robe, told us she wears it "most of the time when I'm at home," including while just lounging around. As we've pointed out, this robe (along with the others on this list) also makes for a very good gift, in part because it's sleeker than those "overly fluffy, chintzy-looking" options you see everywhere. In addition to the soft beige shown, it's available in white and gray.
The Goldilocks of Parachute's bathrobe offerings, this is cozier than the Waffle Robe but lighter than the Classic Robe. Condé Nast Traveler's senior lifestyle editor, Lale Arikoglu, told us that the robe's fluffy, two-ply Turkish-cotton gauze fabric is "supersoft" and light enough to wear even during the warmer months. It comes in a range of cool colorways, too, she adds, "meaning that I don't need to feel particularly ashamed if I'm still wearing it at, say, 3 p.m. on a Tuesday."
Parachute's linen sheets have long been a Strategist favorite for their breathable, soft-to-the-touch material and reasonable (for linen) price tag. "Parachute, in my opinion, is the best all-around option, factoring the middle-of-the-road price, the substantial feel of the linen, and the cool-placid-hazy bed environment you can create with the color options," says former Strategist senior writer Lauren Levy. Top Chef's Gail Simmons also "loves" her Parachute linen sheets, again noting how they "won't cost you a crazy amount." They're also a great option for those who tend to overheat while sleeping, according to Sleep Sherpa founder Ben Trapskin, who notes that choosing the inherently cooling linen sheets in a lighter color, such as white or bone, can help reflect even more light and heat away from your body. This sheet set, which includes one pillowcase set and a fitted sheet, is available in neutral colors as well as seasonal hues and is sized to fit everything from twins to California kings. If you want to add a linen top sheet to the set, the price jumps to $279. (Parachute's linen duvet cover, below, is sold separately, as is its linen top sheet; both come in the same colors and sizes as the sheet sets.)
This 100 percent cotton duvet cover from Parachute "doesn't add any heaviness to my comforter, keeping me cool," writes Chris Black, who adds that it is "affordable enough that I can replace it with some regularity to ensure it always feels crisp." The cover comes in a range of sizes and neutral tones — like white, slate, cream, and blush — and has twill ties in all four corners to keep your duvet secure.
Parachute's percale sheets are made from long-staple Egyptian cotton and are crafted in Portugal. They're interior designer Kate Lester's favorite sheets because they're both "lightweight and durable," and they actually get softer and softer the more she washes them. While she says she's a "stickler for a crisp and classic high-quality white cotton sheet," she loves the brand's "really chic range of other hues," including this on-trend clay color.
Parachute's mattress is made with an all-springs interior and zero foam (loosely inspired by the exuberantly priced Swedish mattress brand Hästens). Former Strategist senior editor Margaret Rhodes says, "It's positioned as a luxury, hotel-style mattress, and it really feels like one." Rhodes was pleasantly surprised that, unlike other mattresses she has tried, Parachute's didn't leach a plasticky smell. She also liked the bed's luxurious, handsome tufted cover and the lack of heat-retaining foam, but she pointed out that the springs-only design may be a little too firm for some. If you need something softer, Parachute recommends adding one of its mattress toppers for extra comfort.