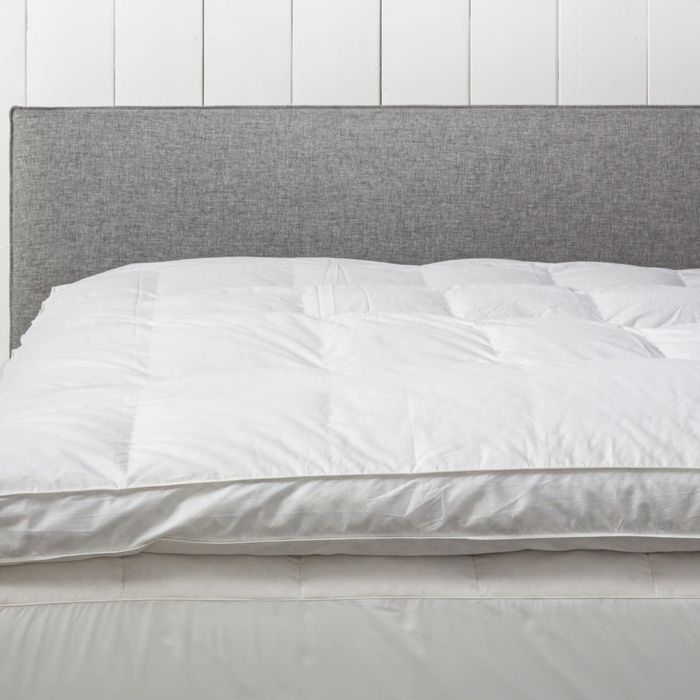 Photo: Courtesy Parachute
Sometimes even the softest of mattresses doesn't deliver that sleeping-on-a-cloud feeling. A plush mattress topper is a quick fix, like the icing on a mattress cake, but it can't "radically change the overall feel" of your mattress, explains Zoë Ettinger, editor at Sleepopolis. Several of the experts we spoke to tipped us to what makes a mattress topper plush: the very best are thick (around three-to-five inches), heavier, and give you that "gently sinking" feeling — hence, the cloud metaphor. You don't want them too soft, so that they'll still support achy bodies and tired joints. The very best are also durable and breathable, handling potential overheating and sweat-wicking in summer as well as keeping you snug in winter.
To find the plushiest of plush toppers, we turned to ten experts, searched our archives, and tried out some products ourselves. Unless you see otherwise, all prices are for a queen-size topper.
Best overall | Best down-alternative | Best (less expensive) down-alternative | Best for side sleepers | Best memory foam | Best (less expensive) memory foam | Best (even less expensive) memory foam | Best latex | Best (less expensive) latex | Best cooling | Best wool | Best organic | Best micro-coil
What we're looking for
Material: While many toppers on the market are branded as plush nowadays, what each one's made of will impact whether it's right for you. Down toppers are renowned for their luxurious, hotel-like feel according to experts including Logan Foley, the managing editor at Sleep Foundation. Ettinger, though, prefers down-alternative toppers because she doesn't have to worry about feathers poking her. Also, if you're concerned about allergies, feather-free down alternatives could be a better option for you. Both Robert Pagano, a co-founder of Sleepline and Foley point out that memory foam cushions the body's pressure points much better than down and down alternatives do, making them great options for side sleepers and people who want to feel really cradled. Durability and breathability, meanwhile, may lead you towards latex and cooling toppers, respectively.
Trial period and warranty: It might take several nights to know if your plush mattress topper will work for you (and anyone you share your bed with) in the long-term. Since many companies now welcome trying after you buy, we've noted the length of each trial period and any warranty details that we could find. Be sure to read the fine print, though: Return policies may vary if you buy the topper from a third-party retailer like Amazon, and toppers may have different trial periods to mattresses sold by the same companies.
Best overall plush mattress topper
Down | Free returns within 60 days, 3-year warranty
Foley and Pagano both pointed us to this topper from Strategist-favorite bedding brand Parachute. "It gives you that traditional hotel-bed feel," says Foley, while Pagano finds that the down envelops the sleeper. A possible downside is improper care, like not giving the feathers a regular fluff, can lead to clumping and the loss of that cloudlike effect, Pagano adds. But we still think that this will please most of those looking for the most plush bedding possible.
Best plush down-alternative topper
Microfiber | Free returns within 60 days, 3-year warranty
The Parachute down-alternative is the personal favorite of Alex Savy, founder of SleepingOcean, and one of the most popular toppers on the market right now — for good reason. Down alternative is lighter and less restricting than memory foam and latex, Savy says. And compared with down, the alternative is hypoallergenic and more affordable. Specifically, this topper is "generously stuffed," making it supersoft, durable, and able to easily change the feel of even a firm mattress. "All you can feel is a softness around you," Savy says.
Former Strategist writer Lauren Schwartzberg tried out this topper, having learned about it from an informal survey of her interior-designer friends and bedding experts. The topper acted like memory foam — it shaped to her body and "followed her every move" throughout the night. As another bonus, the fiber filling stays put, so you don't have to worry about its clumping over time.
Best (less-expensive) plush down-alternative mattress topper
Microfiber | Nonreturnable, no warranty available
At about one-third of the price of the Parachute down-alternative comes this gel-fiber topper. It offers that "soft, squishy feeling of down without using actual feathers," Ettinger says. She also points out that the corner straps on this topper help it stay in place on the mattress. "There's nothing worse than investing in a topper just to have it slipping and sliding all over."
Best plush mattress topper for side sleepers


Microfiber | Nonreturnable, no warranty available
Generally, side sleepers need more support, and toppers like the one above allow for a truly plush sleeping surface, Savy explains. "Side sleepers need a soft feel that will cushion pressure points at the hips and shoulders, and this topper does just that," says Ettinger. It's extra thick and makes a mattress feel considerably softer. If you're a hot sleeper, this topper also has a cooling touch because it's made of cotton, one of the most breathable bedding materials.
Best plush memory-foam mattress toppers
Gel memory foam | Nonreturnable, 5-year warranty
Foam creates space around your body so you can sleep in different positions without feeling stuck in one, Pagano says. He recommends this topper for its construction: It has five different targeted zones. "Each zone responds differently to the sections of one's body," Savy told us. "Heavier parts sink in, while the rest is supported in a relatively straight line." That's the position you want to be in. The zones are meant to maintain airflow as well, so you don't run hot in the middle of the night. This topper has an old-fashioned egg-crate design (you'll see it on some ergonomic office cushions, too), which Pagano says works "for those who find themselves nodding off during the day or waking up throughout the night."
Best (less-expensive) plush memory-foam mattress topper
Memory Foam | Nonreturnable, 10-year warranty
Ettinger's colleague Sarah Riccio, a senior writer at Sleepopolis, previously told us this topper is ideal for fans of memory foam, explaining that it's "exceptionally moldable." Ettinger has high praise for it too: "The material contours around your body, almost as if it's hugging you." And unlike other memory-foam toppers, this one is dense, which "tells me that it's going to last longer than a lighter material," Ettinger adds.
Best (even less-expensive) plush memory-foam mattress topper
Memory foam | 3-year warranty, returns very based on retailer
At under $100, this is the most affordable plush memory-foam topper on our list that we've written about before. This Lucid topper is infused with a lavender fragrance to keep it smelling fresh — some memory foam smells off for a while after you open the packaging. "This topper has five body zones that provide extra pressure relief in certain areas to help level you out across the mattress and maximize comfort," Ben Trapskin, founder of the Sleep Sherpa, explained to us.
Best plush latex mattress toppers
Latex | Nonreturnable, 5-year warranty
Savy, Cushner, and fellow Tuck co-founder Bill Fish are fans of this topper. Savy describes latex as more resilient than memory foam, meaning it will bounce back to its original shape quite quickly after you get up. This topper comes in various firmness levels, on a scale of soft to extra-firm, and two thicknesses, two and three inches; for that extra-plush feel, Savy recommends the three-inch soft version. He also appreciates this topper's small air holes, which provide improved circulation for hot sleepers. Even though this topper is pricier, as latex usually is, Savy points out that it's well made, for a longer-lasting investment.
Best (less expensive) latex mattress topper


Hypoallergenic latex | 180-day trial period, 1-year limited warranty
Foley recommends Saatva's latex topper because it "conforms to your body without letting you sink in too deeply." This makes for a medium level of softness and the topper is made from the same latex the brand uses for its mattresses, she says. Riccio previously praised this topper for its springy support and quick response to pressure, but that's not all: This model is particularly cooling since its organic-cotton cover wicks away moisture.
Best cooling plush mattress topper