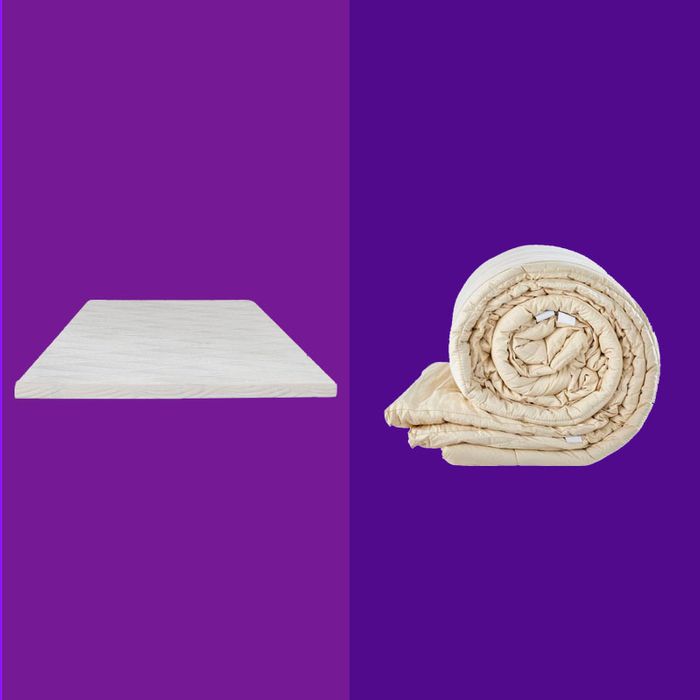 Photo-Illustration: ViscoSoft
From blocking out sound and light to optimizing your spinal alignment, many factors contribute to getting a solid night's sleep. If you've ever woken up feeling hot and sweaty, you know that temperature regulation is a big part of the equation. While products like cooling sheets and pajamas can help, you don't want to cancel them out by sleeping on a surface that locks in heat. If your current mattress is making you sweat and you don't want to invest in a new one that is designed to help regulate temperature, a more affordable solution to consider would be a cooling mattress topper.
Often the best cooling mattress toppers come down to personal preference, but to give you an idea of the different materials and types of toppers out there, we've rounded up a selection of expert-recommended styles that should appeal to a variety of sleepers. (And though all of these toppers are available in other sizes, we're focusing on the queen size for ease of comparison.)
Best overall | Best less expensive | Best even less expensive | Best fiber | Best latex | Best graphite-infused | Best copper | Best wool | Best hydro-powered
What we're looking for
Material: While many brands tout the cooling benefits of their mattress toppers, Michael Grandner, the director of the sleep-and-health research program at the University of Arizona, says to keep in mind that there are few scientific studies proving any one material or technology is superior for keeping cool. While foam mattresses have climbed in popularity — in reporting this story, we heard about foam toppers more than any other kind — they are known for sleeping hot and not promoting airflow. Fortunately, there are foam mattress toppers infused with cooling materials that allow you to enjoy the comfort of memory foam without overheating. Alternatively, a fiber mattress topper filled with cotton or polyester can also add softness to a firm bed, while counteracting the heat retention of a foam mattress.
Cooling components: Whether you're shopping for mattress toppers, sheets, or pillows, you will inevitably encounter all kinds of promises about how a product will help to regulate your temperature. More of an umbrella term that can refer to a variety of components, or even to how a mattress topper is assembled, "cooling" can come from moisture-wicking materials like wool and poly-fiber; heat-absorbing materials like gel, copper, or graphite; tangible features like ventilation holes and layering; or a combination of all three. Some materials will make the mattress topper feel cooler to the touch while others will work to regulate your temperature while you sleep. Keith Cushner, a product expert at sleepfoundation.org explains that "each material has pros and cons, so it's important to research what you're investing in before purchase."
Thickness: Think of your mattress topper as an extension of your actual mattress. Mattress toppers range in thickness, usually between one and five inches, and can add extra height and comfort. Thinner toppers, under two inches, will add less noticeable comfort while thicker toppers, three inches and up, can totally transform a thin or overly firm or low-profile mattress.
Cleaning: A mattress topper doesn't need to be washed as frequently as your sheets and pillowcases, but it's still a good idea to clean it every couple of months. Most foam mattress toppers, cooling or otherwise, will require spot cleaning on the actual foam, but many have machine washable covers — a big advantage if you sweat a lot while you sleep. We've listed the basic cleaning details for each topper below.
Trial period and warranty: Grandner advises looking for a mattress topper that has a good return policy so you can sleep on it a few nights and see if it works for you. We've noted the length of the trial period and any warranty details for each topper below, but be sure to read the fine print; companies that offer 100-night trials on mattresses don't always offer the same terms on toppers, and return policies may vary depending on whether you buy the topper directly from the brand or from a third-party retailer like Amazon.
Best overall cooling mattress topper
Copper-infused memory foam | 4-inch thickness | Machine washable cover | 60-day money-back guarantee, five-year warranty
"People love memory foam because it's so comfortable and relieves pressure so well," says Joe Auer, the founder of the review site Mattress Clarity. And this ViscoSoft topper, recommended by both Annie Schlecht, an occupational therapist and certified sleep consultant, and Sarah Riccio, a senior writer at Sleepopolis, is surprisingly cool despite being made of notoriously hot foam. First, it's infused with copper, which Schlecht explains "draws heat away from the body and dissipates into the environment." Riccio says it "offers a classic memory-foam feel, but the copper infusion serves to dissipate body heat and prevent the foam from warming up."
Second, its exterior is made from phase-change material, something Joshua Tal, a psychologist who specializes in sleep disorders, says to look for in cooling mattress toppers. "What it does," he says, "is that when you're hot, the material liquifies and becomes really nice and cool, and when you're cool, the material then solidifies, trapping in the heat." Schlecht says this material keeps the ViscoSoft topper "cool to the touch." With so many expert recommendations, and a nice balance between comfort and cooling — plus a 60-day return policy, one of the most generous in this roundup — it's our pick for the best overall cooling mattress topper.
Best (less expensive) cooling mattress topper
Temperature responsive foam | 2-inch thickness | Spot clean | 30-night trial, two-year warranty
Bill Fish, a certified sleep-science coach and co-founder of sleep-product review site Tuck, says this cushy topper from Nest Bedding is one of his favorites because "it is constructed with a gel-infused memory-foam core that helps to pull that heat away from the body to keep you cool." It's the same memory foam that tops Nest's mattresses, which our kitchen-and-dining writer Emma Wartzman says relieved her of the "back and neck pain that I was waking up with every morning."
Best (even less expensive) cooling mattress topper
Gel-infused foam | 2-inch, 3-inch, or 4-inch thickness | Machine washable cover | Ten-year warranty
For something even more affordable, Brandon Lee, an Airbnb host, recommends this gel-infused memory-foam mattress topper that is wrapped in a soft cover made of bamboo-rayon fabric. Not only does the cover "feel very soft against the skin," according to Lee, but it also "aids in the overall cooling process" — something other experts have said about bamboo in recommending the best cooling sheets. Importantly, it's very comfortable. "This topper is both dense and well ventilated, offering a cloudlike sleeping experience," Lee says. "Its airy-yet-firm design allows it to contour to your body." While this particular version is three inches high, it's available in (slightly cheaper) two- and (slightly more expensive) four-inch thicknesses as well. Though the details about returns are sparse, the topper also comes with a ten-year warranty, leading Lee to conclude, "It's a great budget option without sacrificing quality or durability."
Best fiber cooling mattress topper