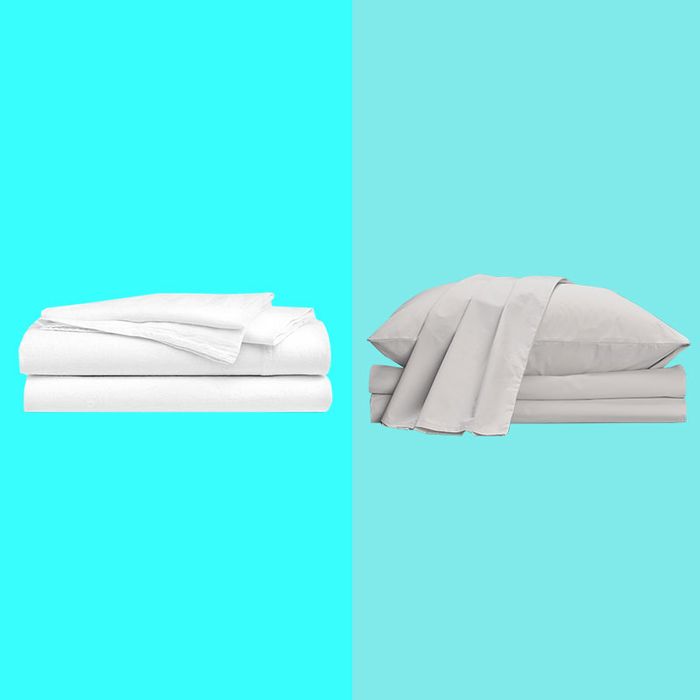 Photo-Illustration: Getty Images/SuperStock
Sixty-five degrees: That's the ideal temperature for a good night's sleep, according to clinical sleep educator Terry Cralle. But cracking the window or kicking a leg out from under the comforter sometimes isn't enough, especially if you're someone who runs hot. Which is why swapping in cooling sheets — whether they're made of a looser-weave fabric that lets air released by your body flow through them more easily or from material that's known to effectively wick away moisture from sweaty sleepers — can be an effective way to combat overheating and lead to more restful nights. We talked to 13 sleep doctors and experts to hear their recommendations about the crispest, coolest sheets out there.
Best cotton | Best linen | Best lyocell | Best Tencel | Best Tencel-cotton-blend | Best bamboo | Best (less expensive) bamboo | Best bamboo infused with silver
What we're looking for
Material: Most of the sleep experts we spoke to agreed that sheets made of natural fibers, like cotton and linen, are your best bet for sweaty sleepers because they're the most breathable (and therefore cooling). When it comes to cotton, the weave of a fabric matters, too. Percale sheets, with their tight one-over, one-under weave, will be cooler and more lightweight than sateen options, which have a looser three-over-one weave, which can feel more dense.
Sheets made from naturally derived fibers can also be cooling. Lyocell, which also goes by brand name Tencel, is a type of rayon made from eucalyptus trees and is considered a semi-synthetic fiber because of how it's processed (generally speaking, the wood is broken down then dissolved using a chemical process to create a wood pulp, or cellulose, that's then spun into fibers). The resulting fabric is soft and lightweight, and it's known to have good temperature- and moisture-regulating properties. Bamboo is another type of rayon as it's made from bamboo wood and goes through a similar process as lyocell; it is also considered to be soft to the touch and cooling.
Moisture wicking: While all these sheets are breathable, if you're a sweaty sleeper, you'll want to look for bedding that not only promotes airflow but absorbs moisture and draws it away from your body. However, as Keith Cushner, the founder of sleep-product-review site Tuck, points out, some sheets that claim to be cooling can be deceiving. "Calling sheets moisture wicking doesn't necessarily mean that they will be breathable," he explains, which is why he says you should take careful note of the material of any sheets that promise to cool you down before investing in a pair. (All the options shown below, no matter what material they're made of, are queen size, unless noted otherwise.)
Best cooling cotton sheets
Best cooling linen sheets
Best cooling lyocell sheets
Best cooling Tencel sheets
Best cooling Tencel-cotton-blend sheets
Best cooling bamboo sheets
Best (less expensive) cooling bamboo sheets
Best cooling bamboo sheets infused with silver
Our experts
• Anishka Clarke, co-owner of Ishka Designs
• Terry Cralle, clinical sleep educator
• Keith Cushner, founder of Tuck
• Dr. Michael Gelb, sleep specialist
• Dr. Michael Grandner