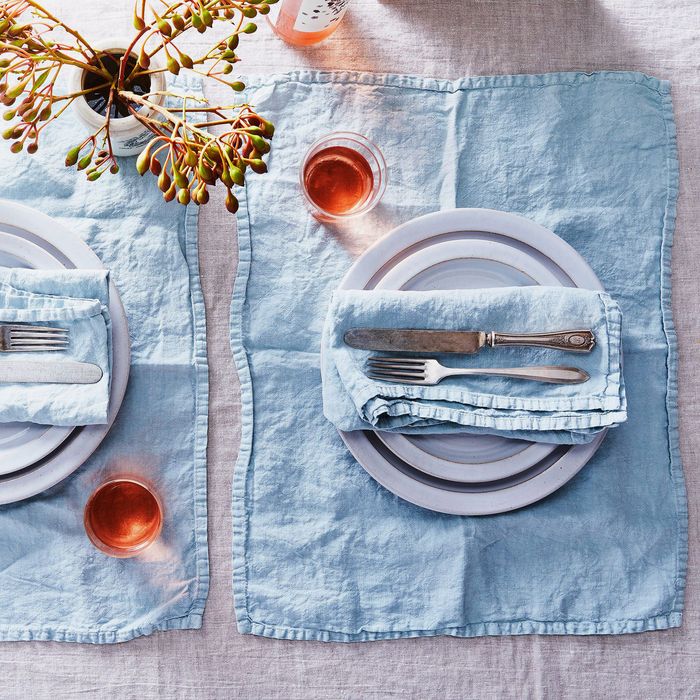 Including tablescapes from Hawkins New York.
Photo: Hawkins New York
It's mid-July, making it peak linen season. Linen, the best of which currently comes from the Flanders region of Belgium or from Egypt, where it was born, usually gets associated with age and leisure — for a lot of us it belongs in a gauzy, postmenopausal future filled with caftans and curtains made of it. Until recently, anyway. "It is having a redefining moment," says costume designer Olga Mill. "There's definitely a stereotype that I have in my head — very Out of Africa-slash-Diane Keaton. But it's being redefined in a way that makes sense with being younger, being in the city." Mill, who recently dressed Toni Collette in lots of linen in Hereditary, says part of what feels so current is simply how people are wearing linen. Instead of billowing head-to-toe outfits, linen is being made into button-downs and backless dresses, and paired with other non-linen garments. Plus it dovetails with the ongoing trend toward modest fashion: "Linen doesn't lend itself to super-fitted clothing. Culturally, that's speaking to women: an oversized easiness that's not about presenting your body."
You've probably heard the pitch on linen: it breathes easier and dries more quickly than cotton, so it keeps you cool when it's hot. It's like nature's technical apparel. And it's being used by a crop of young companies and designers, like Parachute and Brooklinen, both of which are introducing lots of shoppers to their first-ever linen bed sheets. Or Alex Crane, a Brooklyn menswear designer selling linen "jeans" and suits out of his apartment, or Blluemade, a husband-and-wife team making linen jumpsuits and high-waisted pants in New York, or Rachel Craven, whose caftans alone will make you want to quit your day job and take up a booth at the Echo Park Craft Fair. At the same time, some old-school linen brands are doing just fine by sticking steadfastly to the ultra-breezy stereotype of earthy or European linen — like Flax, an upstate New York line of loose garments, and Merci, the French brand thought by some to have kicked off the whole linen bedding trend in the first place.
So without further ado, in no particular order, where to get your linen right now.
Blluemade
A few years ago, on a trip through Southeast Asia, Alex Robins and Lilly Lampe found themselves struggling under the weight of even their most lightweight cotton clothes. "They felt like 1,000 pounds in the Vietnamese humidity," Lampe says. On the next trip, the husband and wife traveled with clothes Lampe had sewn out of linen, and shortly thereafter Blluemade launched. They make crisp, classic, unisex clothes, kind of like the ones everyone wore in the movie Her. All are spun from long staple fibers, which Lampe says make for softer linen. Short staple fibers have more breaks in the stalks, and those ridges are what "give it that paper-bag look, and make it more itchy," she says.
In a color called "leaf."
Like the two shirts above, these pants are remarkably good-looking on both this male model and the woman who demos them, too.
For 80 degrees and up: Linen and it's short and loose.
Alex Crane
A linen shirt from the 1980s inspired Alex Crane to launch his eponymous linen apparel line a few years ago. It belonged to his father, and "it had this life to it. Linen kind of conforms to you and becomes personalized," he says. His idea was to create a modern-looking clothing line that could have that type of heft to it. "Linen, as a material for bedding and stuff for the home — in Europe it's a family heirloom," he says. "There's something really incredible about a material that has that kind of longevity."
Crane's line of super simple button-downs, shorts, and caps — which he also sells by appointment out of his Brooklyn apartment — is also made from long-staple fibers from Belgium, and goes through an enzyme wash to soften up.
Crane's tip for choosing high-quality linen: "Test the hand feel to see if it's drape-y and feels kind of moist. But most people hate that word. Lotion-y, maybe. Or dewy."