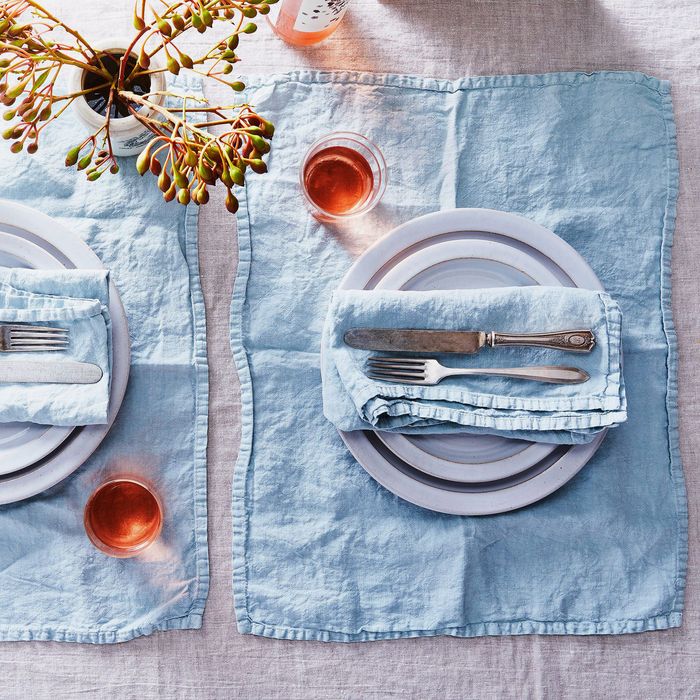 Including tablescapes from Hawkins New York.
Photo: Hawkins New York
It's mid-July, making it peak linen season. Linen, the best of which currently comes from the Flanders region of Belgium or from Egypt, where it was born, usually gets associated with age and leisure — for a lot of us it belongs in a gauzy, postmenopausal future filled with caftans and curtains made of it. Until recently, anyway. "It is having a redefining moment," says costume designer Olga Mill. "There's definitely a stereotype that I have in my head — very Out of Africa-slash-Diane Keaton. But it's being redefined in a way that makes sense with being younger, being in the city." Mill, who recently dressed Toni Collette in lots of linen in Hereditary, says part of what feels so current is simply how people are wearing linen. Instead of billowing head-to-toe outfits, linen is being made into button-downs and backless dresses, and paired with other non-linen garments. Plus it dovetails with the ongoing trend toward modest fashion: "Linen doesn't lend itself to super-fitted clothing. Culturally, that's speaking to women: an oversized easiness that's not about presenting your body."
You've probably heard the pitch on linen: it breathes easier and dries more quickly than cotton, so it keeps you cool when it's hot. It's like nature's technical apparel. And it's being used by a crop of young companies and designers, like Parachute and Brooklinen, both of which are introducing lots of shoppers to their first-ever linen bed sheets. Or Alex Crane, a Brooklyn menswear designer selling linen "jeans" and suits out of his apartment, or Blluemade, a husband-and-wife team making linen jumpsuits and high-waisted pants in New York, or Rachel Craven, whose caftans alone will make you want to quit your day job and take up a booth at the Echo Park Craft Fair. At the same time, some old-school linen brands are doing just fine by sticking steadfastly to the ultra-breezy stereotype of earthy or European linen — like Flax, an upstate New York line of loose garments, and Merci, the French brand thought by some to have kicked off the whole linen bedding trend in the first place.
So without further ado, in no particular order, where to get your linen right now.
Blluemade
A few years ago, on a trip through Southeast Asia, Alex Robins and Lilly Lampe found themselves struggling under the weight of even their most lightweight cotton clothes. "They felt like 1,000 pounds in the Vietnamese humidity," Lampe says. On the next trip, the husband and wife traveled with clothes Lampe had sewn out of linen, and shortly thereafter Blluemade launched. They make crisp, classic, unisex clothes, kind of like the ones everyone wore in the movie Her. All are spun from long staple fibers, which Lampe says make for softer linen. Short staple fibers have more breaks in the stalks, and those ridges are what "give it that paper-bag look, and make it more itchy," she says.
In a color called "leaf."
Like the two shirts above, these pants are remarkably good-looking on both this male model and the woman who demos them, too.
For 80 degrees and up: Linen and it's short and loose.
Alex Crane
A linen shirt from the 1980s inspired Alex Crane to launch his eponymous linen apparel line a few years ago. It belonged to his father, and "it had this life to it. Linen kind of conforms to you and becomes personalized," he says. His idea was to create a modern-looking clothing line that could have that type of heft to it. "Linen, as a material for bedding and stuff for the home — in Europe it's a family heirloom," he says. "There's something really incredible about a material that has that kind of longevity."
Crane's line of super simple button-downs, shorts, and caps — which he also sells by appointment out of his Brooklyn apartment — is also made from long-staple fibers from Belgium, and goes through an enzyme wash to soften up.
Crane's tip for choosing high-quality linen: "Test the hand feel to see if it's drape-y and feels kind of moist. But most people hate that word. Lotion-y, maybe. Or dewy."
Parachute
Of all the new linen bedding upstarts, Parachute and Brooklinen seem to be gaining ubiquity as the go-to for rumpled, flaxen bedsheets and duvet covers. (The Parachute mattress topper, though not a linen product, is also a Strategist favorite.) Bedding aside for right now: Parachute, founded four years ago by a Parsons grad, is expanding quickly and beyond just bedding. The company recently opened a store in Soho in New York and at the end of June announced another $30 million in funding. Parachute doesn't sell exclusively linen products, but they do have a few linen things for the home that other like-minded bedding start-ups don't.
(This is sold out online, but Parachute tells us a restock in white is coming.)
Summerill & Bishop
I challenge anyone to find linen products with a pattern — or even plural colors. It's rare, which is why the tablecloths and napkins from this London shop (founded by two friends in the 1990s) are so extraordinary: They look like an homage to Josef Albers' square series, sewn together out of Italian linen for the table. Summerill and Bishop also recently expanded into linen bedding, and that, too, comes in big splashy patterns.
In collaboration with Goop.
The napkins that go with.
Rachel Craven
Echo Park Craft Fair co-founder Rachel Craven makes clothes that are like the West Coast's answer to Eileen Fisher: in white or in desert colors, linen cocoon dresses and linen dusters worn with linen trousers and linen cropped tees.
Photo: JESSICA SAMPLE
Craven uses deadstock fabrics for everything in her line, so the fabrics change each season, but currently her linen is Italian.
These pieces will pair well with adaptogenic herb teas and BZippy ceramics (of which Craven owns several.)
Hawkins New York
The two designers who make up Hawkins live in Hudson, New York, and it shows in their line: It's a lot of muted, cozy linen napkins and pillows, alongside tumblers made from recycled glass. There's a splash of Memphis glam in there, as well, seen in some vaguely terrazzo bowls and drinkware and some new pillows upholstered in linen in one side and velvet on the other. Like a lot of other companies here, Hawkins uses Belgian linen. Theirs then gets stonewashed and prepped in Portugal.
An assorted rainbow of napkins.
Another rare linen print: This "aquarium" pattern was done in collaboration with designer Alyson Fox.
Blush colored pillows to linen-ify your sofa.
Another linen throw pillow, but this time it's half in vegetable-dyed silk velvet.
Onia
Onia launched in 2009 as a luxury swimwear line, and in the past couple years has branched out into larger collections of apparel. At the moment, a lot of that apparel is made of linen — the worn-down, washed-in kind that makes all of their clothes look like they could have been around since '70s, when your dad wore them on summer trips to a much quieter Montauk.
The chillest white T-shirt: linen and with a relaxed crew collar.
Even Onia's shoes are linen.
Loup Charmant
Loup Charmant doesn't traffic exclusively in linen, but because the womenswear linen is inspired by "the easy lifestyle of sun-soaked days on the sand and in the water," per its website, there are inevitably a lot of excellent linen pieces. Everything from Loup has a European feel, whether it's Grecian, Positano-ish, or vaguely Victorian — as is thecase with this dress.
For an extremely '70s take on a linen dress.
It also comes in this pale citrus color.
Fog Linen
There's practically been a Cambrian explosion in places to buy soft greige linen bedding, but for all other household needs, Fog Linen remains a steady go-to. Since the 1990s the Japanese line (which operates out of Cambridge, Massachusetts) has carried linen basics like table napkins, in a range of solids, stripes, and gingham, table cloths, towels, and a smattering of other things for the house.
And of course, napkins. These come in a handful of neutral variations on the stripe.
Paloma Wool
It seems like almost every new piece from this funky Barcelona clothing line is in linen. The brand made its name with chunky sweaters and flowing garments printed with abstract line drawings, but has lately branched into solid color linen pieces, like this blazer-top-trouser combination.
And this teal low-back jumpsuit.
Some trademark abstract line drawings can be found on linen pieces, too — like this brown serpentine dress.
Linen Clothing by Anny
A hot tip from Strategist colleague Lauren Ro, who recently showed up at the office wearing an excellent flowy, sleeveless baby-doll midi dress: this Etsy shop will make custom pieces for you. Lauren got her white smock a few years ago while perusing Etsy for designers who make to-order pieces. She sent Boulder, Colorado-based Clothing by Anny a photo of a design, got back some sketches, and had her new linen dress in a few weeks.
Eileen Fisher
Last, we'd be remiss if we didn't nod to Eileen Fisher. It's not that Fisher invented linen, but she did show scores of women how they could wear it to work, about town, or on a night out. Her stuff is and always has been — since she first launched at a craft fair with four linen pieces — architectural instead of flashy, and interesting while still plain.
She was the precursor to Rachel Craven, or The Row, or A Piece Apart.
And honestly, if you lined up some of those designers' pieces next to Fisher's, the untrained eye might not know the difference.
The Strategist is designed to surface the most useful, expert recommendations for things to buy across the vast e-commerce landscape. Some of our latest conquests include the best women's jeans, rolling luggage, bed sheets, coffee makers, and bath towels. We update links when possible, but note that deals can expire and all prices are subject to change.

Every editorial product is independently selected. If you buy something through our links, New York may earn an affiliate commission.