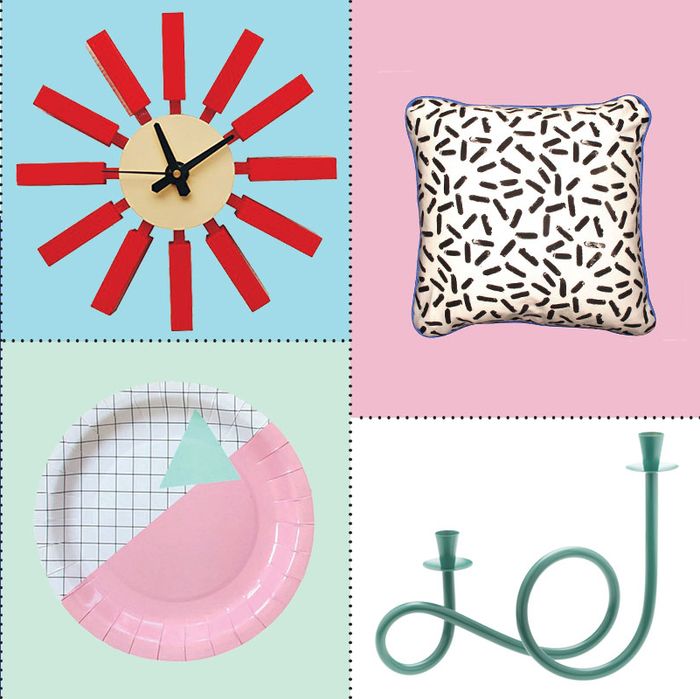 Get onboard with Memphis.
You might've heard murmurs about Memphis Milano. Maybe you read that it inspired Millennial Pink, have seen hints of its brash style on Pinterest, or you've noticed all your cool friends started following @ettoresottsass on Instagram. However you might've first come upon it, or even if you haven't learned how to classify it just yet, the clashing colors, blocky shapes, and loud patterns of Memphis Milano are back.
The movement began in 1981 in Milan with a group of designers led by Ettore Sottsass (who died in 2007 and does not run that Instagram page, although his associates have approved the 25-year-old who does). It was a reaction to what he found as the staid, structured straight lines of mid-century-modern furniture, so he and his group disregarded "good taste" in favor of the radical, funny, and outrageous. It was a philosophy more than a design imperative. For the Memphis group, form did not need to follow function.
The legend is that they're called Memphis because the group listened to Bob Dylan's "Stuck Inside of Mobile With the Memphis Blues" on repeat for their entire first meeting. They debuted their first collection at the world's premiere design show, Salone de Mobile, in 1981, using cheap materials like laminate, bright primary colors, and weird, surprising shapes like spheres for couch legs. Almost all of the pieces in that very first show were prototypes, which is common for design shows now only because of Memphis. Before, every piece of furniture presented needed to be ready for mass production, which is why manufacturers wouldn't take risks on new designers. Memphis, again, was a reaction to that. "Memphis broke everything," says Dr. Alberto Bianchi Albrici, who has owned the Memphis brand since the 1990s.
Although its wacky look subtly influenced the late-'80s (think Saved by the Bell) the furniture was for the most part commercially rejected. Instead it managed to attract a small, loyal group of obsessives before breaking up for good when Sottsass left the group, in 1986. It's the type of style you either love or find completely bewildering. Karl Lagerfeld bought Sottsass's entire first collection (and eventually sold it at auction in 1991). There's a wedding photographer in Tennessee who will only decorate his home with original 1980s Memphis.
But it mostly disappeared from attention until 2007, when Sottsass died and Memphis began creeping back into the mainstream design world. By 2014, American Apparel had asked Nathalie du Pasquier, an original Memphis artist, to design a collection. That same year, Sofia Coppola wrote in W about how she's been obsessed with Memphis since she was a young girl. Last November, David Bowie's estate auctioned his art collection at Sotheby's where it was revealed that he had collected more than 400 pieces since he first met Sottsass in the '80s.
Now the Met Breuer is planning an Sottsass show for July and museums in Amsterdam, Pittsburgh, and Minneapolis are all working on Memphis-related exhibitions for next year. "I think we keep reexamining it because there's a part of it that's still very irreverent and jarring," says Lorry Dudley, president of the Modern Archive. "It still has that shock value that it did so many years ago."
Lots of young designers, sick of mid-century-modern everything, are riffing on Memphis designs these days. But while they're using a lot of the same patterns and shapes, the colors are generally a little less intense; whites and grays instead of primary reds, yellows, and blues. And though original Memphis designs are still available for purchase, we've collected some more affordable and surprising takes below.
In 2013, the London design store Darkroom launched a Memphis-inspired collection called "So Sottsass." This colorful plate is so Sottsass.
Another Darkroom piece. Still so Sottsass.
This swooping design lives in the Memphis spirit, as does this other option from the design team called Menu that takes inspiration from Memphis's love of big round spheres.
Note: This candelabrum is sold out, but here is another swooping option by De Vecchi.
Curvaceous and kind of alien, but in a good way.
Note: This is sold out, but a similar candleholder set is available here.
A light Memphis touch for parties to teach everyone where Millennial Pink comes from.
Photo: Daniella Rodriguez
Opening Ceremony's collaboration with '80s cool-kid brand Esprit is full of Memphis pops of color. They also have this dress that's a lot like Sottsass's bacteria print.
Brooklyn designer Dusen Dusen's entire collection gleefully nods to Memphis. West Elm paired her squiggly cushion on top of designer Eric Trine's mint-green base, and although it's meant for outdoors, I can easily see this in the living room.
Note: This is no longer available, but the outdoor sofa version is.
Add Memphis to any outfit.
A starter piece for the couch.
This one from Darkroom London stays quiet on the color side, but goes full pattern.
This one reminds me of The Rugrats, which I'm now realizing was probably Memphis-inspired too.
Memphis for the neckline.
Note: This bib pendant is sold out, but the same maker has a porcelain pendant in "Memphis Peach."
My favorite of them all, a standing work of art from French mobile designers VOLTA Paris.
New York City jewelry designer Susan Alexandra adds Memphis squiggles and shapes to her brass cuff.
Note: Unfortunately this is sold out, but here's another fun painted cuff with squiggles and dots.
A colorful hair piece by Dream Collective, whose entire brand is pretty much inspired by Memphis.
Note: This particular barrette is sold out, but there are a few left in another color, plus here is a great wavy barrette and another perfectly Memphis version.
Another Dream Collective original.
This Japanese "face bank" is just the right amount of weird.
A bright blue that's very Memphis.
The confetti design (mixed into recycled plastic) is similar to Sottsass's bacteria print.
Note: The entire bowl set is sold out, but there is still a singular bowl available here.
Those black-and-white lines are perfect to lay out on.
Note: This is no longer available, but here is a round towel with varying black-and-white stripes.
The copper is very current, the circle is very Memphis.
A pop of color for the coats and bags.
Note: This is sold out, but here is another more primary-colored wall hook.
Can't you just imagine these all over 1980s Milan?
Studs with a little something extra.
Memphis was wavy before everyone else.
Note: This is no longer available, but this Annie Costello Brown necklace is full of loops and shapes.
It's time to embrace soft curves.
Stick on these nail wraps because it's easier than getting a tattoo.
This shape is just so '80s.
Hang this one on a white wall to add some life to any room.
Land of Nod's Lo-Res rug is technically for a kid's room, but can add a colorful Memphis touch anywhere around the house.
Note: This style is sold out, but Land of Nod has some other great patterns here and here.
Memphis is perhaps most known for the Carlton bookshelf, and this one is slanted too.
There's that pattern again.
Photo: Balarama Heller/BALARAMA HELLER bala@balaramaheller.com
Even if we leave alone that stripe, just the idea of a stool specifically for milking is very Memphis.
Photo: MICHAEL D WILSON 2016
It's a chair, but it's also a domino.
Photo: MICHAEL D WILSON 2016
This one's supposed to feel like you're grabbing onto an industrial door handle.
This Kartell stool was first released in 2015 as a tribute to Ettore Sottsass and Memphis.
And this Kartell table lamp was part of the same collection.
The Strategist is designed to surface the most useful, expert recommendations for things to buy across the vast e-commerce landscape. Some of our latest conquests include the best women's jeans, rolling luggage, bed sheets, coffee makers, and bath towels. We update links when possible, but note that deals can expire and all prices are subject to change.

Every editorial product is independently selected. If you buy something through our links, New York may earn an affiliate commission.