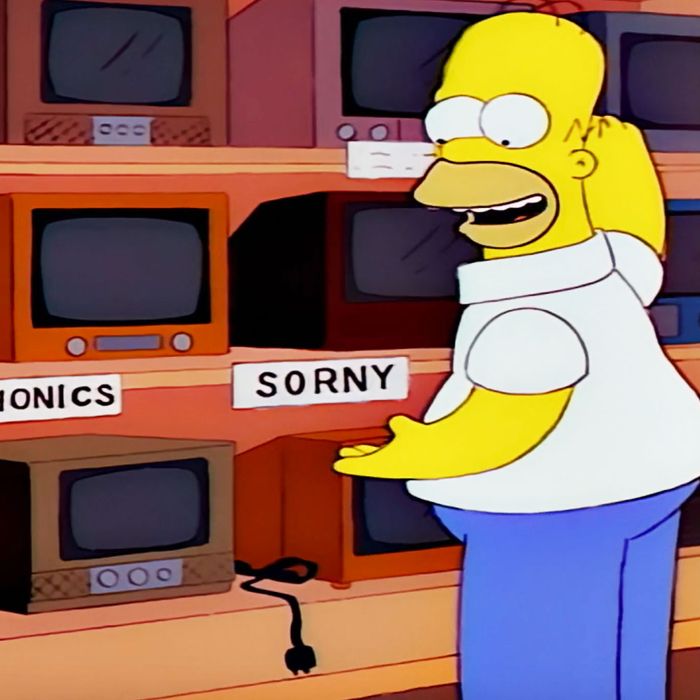 Editor's note: Since we first published this post, some new models have popped up as others have gone out of stock or been discontinued, so we've noted those changes throughout. However, many of our recommendations — and our experts' advice — remains the same.
If you're still using that TV you inherited from your parents when you moved into your first place, or have spent the past several weeks streaming Schitt's Creek and Lovecraft Country on your laptop or iPad, we understand if you're craving an upgrade by now (especially given that we're all likely to be in our homes much more than usual this fall and winter).
While top-of-the-line televisions can cost upwards of $2,000, folks in the TV business say recent developments have made the present moment a particularly good one for buying slightly older (i.e., 2018 or 2019) models with solid technology at previously unheard of prices. "Just three years ago, we wouldn't have been able to even have a discussion about 4K or high-definition TVs under $500," says Mark Steinberg, a senior technologist at B&H Photo Video. "I've been in the business more than 20 years, and I am truly amazed by what you can get now." Brian Westover, a Tom's Guide editor who covers the television industry, agrees: "You can essentially get last year's top models for Black Friday prices." But as we found out in talking to our experts, you can also get newly released TVs from reputable (if not top-of-the-line) brands within the same low price range, too.
A big reason for today's good deals, according to Westover, is that 4K TVs (which show images at four times the resolution of standard HD models) have come down in price "faster than any other consumer technology" over the past decade, making what was once a splurgeworthy feature far more accessible. "In 2010, a 4K television would set you back $5,000," he explains. "Now you can get them for as little as $300." At the same time, more and more productions are being filmed in 4K, leading more and more streaming services to offer the option of watching a show or movie in the format it is meant to be watched in, explains Cameron Faulker, a writer at our sister website The Verge. "Netflix, Vudu — they all have the option to watch in 4K if your TV can handle it."
Fittingly, all of the under-$500 TVs our experts recommended below come with 4K technology (at the very least). The models are also all smart televisions, meaning they have built-in access to YouTube, Netflix, Hulu, and more (some are also compatible with Google Chromecast or Amazon Fire TV; we've noted which in the descriptions). Since they all share the same modern features, your choice will likely come down mostly to the size of your space. With that in mind, we've organized the experts' picks by the most popular sizes on the market today.
Best
65-inch
4K
TVs
under
$500
While shoppers' first inclination may be to look for a name brand like Samsung or Sony, Westover told us that, in the under-$500 price point, those brands' options are limited. (If you're a Samsung loyalist, however, there are a couple of TVs from that brand further down on this list.) For good-quality TVs under $500, all our experts say TCL is the market leader. According to Westover, "as a manufacturer, they own the whole vertical — from the components to their design — so their quality control is very good, which is something you'd otherwise give up with budget brands." On top of offering affordable 4K sets in more sizes than any other brand, TCL makes models that are also high-dynamic-range TVs (HDR), meaning they have a richer, brighter color palette. "The combination of 4K and HDR adds up to just amazing picture quality," says Steve Koenig, vice-president of research at the Consumer Technology Association. The sets also pair with Alexa and Google Home, but Westover says their main selling point when it comes to software is their partnership with streaming service Roku. "TCL has consistently been the best in the price range mainly because of its partnership with Roku," he explains. According to Steinberg, this giant TCL (that came out in 2018) is both the best and the biggest TV you can get for under $500. "You usually get what you pay for with electronics, but with something like this, you get a whole lot more than you'd expect — especially if you haven't bought a TV in four or five years," Steinberg says. "There's almost nothing that compares at this size and price."
[Editor's note: This TV is out of stock, but there is a newer version of this model that has many of the same technical specs, including Roku streaming. It's available for $470 at Amazon and Best Buy.]
Photo: Retailers
The only 65-inch, under-$500 TV that our experts say compares to the above TCL model is this slightly pricier one from Vizio, "the other leading brand in this space," according to Westover. One reason for its higher price is that, unlike the above TCL TV, this is a new model (the brand says its year is 2021). "In the last couple of years, Vizio has really stepped up its game with improved displays and better features, not least having Google Chromecast built in," Westover adds. To those who've never used it, Chromecast, like Roku, allows you to access online streaming services, but unlike Roku, it allows you to access any app from the Android or iOS app store and broadcast it on your screen. Steinberg is another fan of this TV, which he says has "4K, HDR — all the bells and whistles. I'd recommend it based on Vizio's track record; they've been very consistent."
Best
55-inch
4K
TVs
under
$500
Photo: Retailers
Shoppers who need (or want) to go smaller can take advantage of even more state-of-the-art TV technology without breaking the bank. Faulkner says this 55-inch TV from TCL has a QLED display as well as 4K resolution, which means you get "the kind of image quality that's only equaled or bested by OLED" — the cutting-edge technology you'll typically pay more than $1,000 dollars for. QLED, Faulkner explains, "rivals the visual quality of OLED TVs at a fraction of the cost. There's a more cinematic, color-accurate picture with pin-sharp displays for the brightest colors and the deepest blacks." Like Westover and Steinberg, Faulkner is also a fan of TCL as a whole. "If you just want a cheap TV that can do the most, TCL is the most popular today because of the built-in Roku system that reduces the cost and clutter space of an additional box or plug-in device."
Photo: Retailers
If you're not the type to geek out over features like QLED display, you may prefer to save some money and go for this less expensive 55-inch 4K smart TV from Toshiba, which Faulkner also recommends. This set, he adds, may also be a better choice for users who prefer Amazon Fire TV, because the model has that streaming system built in (as opposed to Roku or Chromecast).
Photo: Retailers
If you're looking to spend even less for a 55-inch TV, Steinberg tells us he can vouch for this model from TCL's 4K LED series. The brand, he says, "brings the same quality, all the way down through their smaller range." There's not much more to say about this 55-inch TCL set, other than it has all the same features as the 65-inch TCL 4K LED at the top of this list, making it a solid choice for anyone shopping on a tighter budget who doesn't need that big a screen or QLED technology.
Best
50-inch
4K
TVs
under
$500
Photo: Retailers
TCL also offers a QLED display in this 50-inch model (the smallest size of TV the brand makes with this technology). It boasts the same tech as the 55-inch TCL 4K QLED TV set — including a built-in Roku system — but with a more attractive price (and a slightly smaller screen, of course).
If you want a smaller screen and don't care about paying for QLED, Steinberg says you can spend even less (under $300!) on this 50-inch TCL 4K model, which he also vouches for.
[Editor's note: This exact model is out of stock at Best Buy, but it has the newer model in stock for the same price.]
Being willing to size down means you'll gain entry to premium brands' offerings — like Samsung's latest 50-inch 4K smart TV (it has a model year of 2020), which may be more attractive to Apple people because it has AirPlay built in, allowing the TV to instantly connect with MacBooks and iPhones. "For those who want a top-tier brand, this is Samsung's more entry-level product," Steinberg says, adding that it has become "one of the most popular models we sell." And Westover assures that entry level doesn't mean cheap: "The top brands offer high quality even on their lower-end stuff because that's part of what keeps them in that first-class category."
Photo: Retailers
Echoing our experts' general wisdom, Koenig says this slightly less new 50-inch Samsung Series 7 4K TV is an "incredible value." While it also has a model year of 2020, as Steinberg pointed out above, Samsung has already released the Series 8 version of this TV. But Koenig says the differences are minimal — the technology in Samsung's 7 Series TVs, he says, "is in many respects very similar to its current generation," including built-in AirPlay.
Best
43-inch
4K
TV
under
$500
Photo: Retailers
Should your space require something smaller than a 50-inch screen (or if you're buying a second TV that doesn't need to be as big as your main one), the next size down is a 43-inch screen, according to our experts, all of whom recommend this TCL TV as one of the best options for its size in this price range. It has all the same features as the TCL 4K LED TVs above, and, Steinberg says, "no one but TCL is getting you 4K at this size and price."
[Editor's note: If you'd prefer the newer model of this TV, it's available at Amazon for $218 (less than the model shown here).]
Best
32-inch
4K
TV
under
$500
If you're the type to sacrifice screen size for brand name and bells and whistles, Steinberg notes that Samsung's QLED 4K TVs start at just under $500 for a 32-inch screen. While he admits this TV may be expensive for its size, "the picture is just surreal," he promises. "It's got to be the best-looking 32-inch TV out there."
And
an
affordable
accessory
the
pros
recommend
adding
to
your
setup
While you really don't sacrifice that much in picture quality if you spend $500 or less on a TV, our experts did say that a difference in audio quality may be more apparent in affordable sets. "Sound is where you see the huge difference with the cheaper sets," says Westover. To significantly improve any of these TVs' audio without spending hundreds on models with better built-in systems, Westover says adding a sound bar like this one from TCL — which is compatible with the all the TVs on this list — will help you "gain an excellent sound system that's perfect for this situation."
[Editor's note: Though you can buy this soundbar now, it won't ship until early March.]