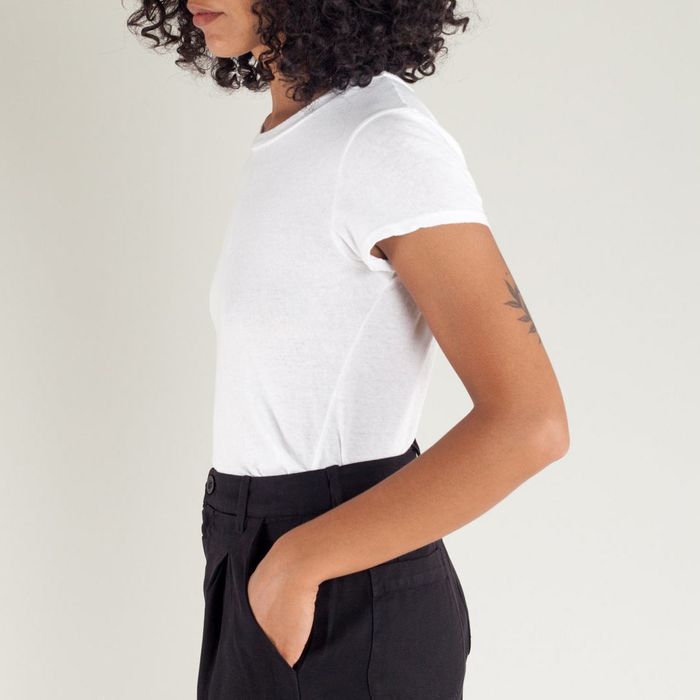 Photo: Courtesy of the Retailer
If you follow our monthly Strategist haul, then you're familiar with the idiosyncrasies of our editors' and writers' shopping habits. While we think of those as the highlights, there are plenty of other, less glamorous things that we buy — and love — on the regular, too. So whether you've wondered about the lip balm we hoard or the SPF moisturizers we slather on our faces, this is the Stuff We Buy Ourselves. In this edition: the white t-shirts we wear again and again.
Katy Schneider turned me onto this brand Liana (the designer is a friend of hers), and she really makes an excellent slightly cropped but not-too-boxy white tee that looks excellent with high-waisted pants.
I have a savage relationship with my T-shirts, and usually take a pair of scissors to the neck or the hem on most of them. My favorite of this bunch is probably the Lacausa Frank tee, which has the downy texture of angel food cake and (now, thanks to my own handiwork) the ideal crop.
That said, a couple of years ago Reformation branched out into more regular daytime-wear and started making these really soft, really reasonably priced ($28!) T-shirts. This cropped crew has all the right dimensions, with no at-home hack jobs required.
These are technically guys' T-shirts, but I like the​​ basic white crewneck in XS.​ The rounded hem is nice, but ​I like to cut it so it hits right about above my mostly high-waisted jeans, which gives it a more boxy fit. I think the slub cotton feels so substantial, and it has held up quite nicely after tons of washes.
As of late, I've purchased two different brands of white T-shirt. The first is Hanes Comfort Blend, and if I'm going to be honest with everyone here I bought the Supreme version. I'm not super proud of that, but it was deep in my hypebeast days (I've since gone cold turkey on Supreme purchases) and, if I'm being honest again, they're actually really comfortable. I like something a little loose-fitting, so a men's small or medium fits the bill. I'm a crewneck-only kinda girl and the neckline on these scoops just below my collarbone in a way that I find attractive, and maybe slightly sexy (?), for wearing a men's shirt at least. And the comfort blend is key because they're way softer than a regular Hanes, kind of like if you spent some time wearing in a typical Hanes or just put it in the wash five to seven times.
For a more "business casual" white tee look I'm a big fan of Everybody World's Tailored Trash Tee. This California basics brand makes three styles of basic, solid T-shirts, but I prefer the tailored version because I find it slimmer down the torso and I prefer that look to a boxier cut. It's much stiffer and thicker than the Hanes, but that's the point here, and it's also the perfect weight to roll up the sleeves. I give them two rolls right along the seam and they actually, no lies, stay up like that all day by themselves. A small miracle.
I am extremely particular about my white T-shirts: I like them boxy, very (very) slightly cropped, and a bit short at the arm. My friend Lili has a company called Liana which makes a tee (see Alexis's pick, above) that fits those criteria exactly, so I wear that in various colors almost every day. Re/Done does a brilliant little boxy white tee in collaboration with Hanes, and I'm a fan of Lacausa's as well, because it's extremely soft (see Margaret's pick, also above).