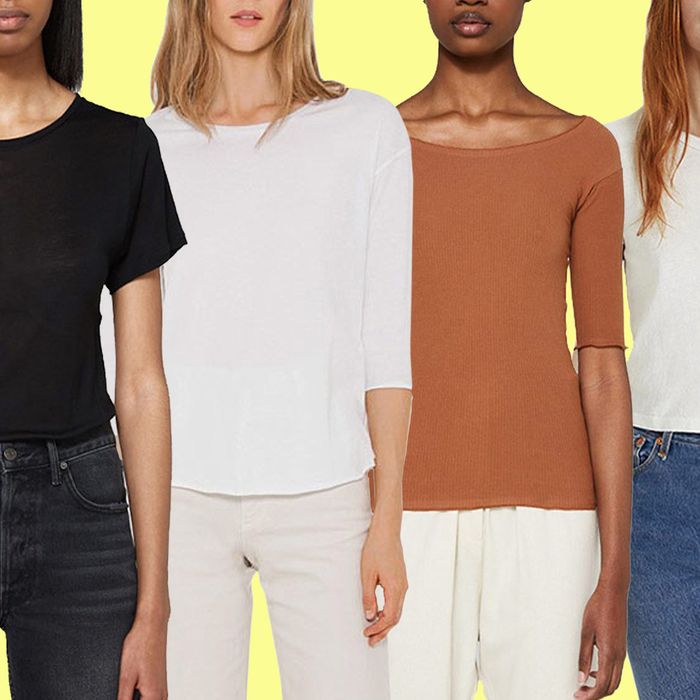 Welcome to our new recurring feature, I Can't Stop Buying, where we talk to people who can't stop buying very particular things. Strategist associate editor Katy Schneider tells us about her favorite T-shirts.
There is generally not much intention behind a T-shirt collection — like snack and sock drawers, they tend to dwindle and build, dwindle and build, seemingly of their own accord. In mine: a Worcester Fire Department tee, a freebie from a New Haven–based production of Grease the Musical, and a threadbare beer shirt that reads, "The Best You Can Get If You Can Get It."
But having an intentional, out-of-the-house T-shirt collection is an investment worth making — a nice, more-than-$15, didn't-just-appear-in-your-drawer T-shirt has the ability to flatter your body without dragging attention away from the rest of your outfit. The T-shirts I like — and the ones I think generally do the best job of fulfilling the above — are a sort of baby tee/crop top/undershirt hybrid: small and boxy, crewnecked, lightly structured, and subtly cropped at the waist and the arms. A warning, before we delve into links: Some of these shirts may seem expensive. It's absurd, you'll probably say to yourself, to spend $80 on a simple tee. But hear me out: These T-shirts are the retail equivalent of no-makeup makeup. These are T-shirts that will pull together an entire outfit handily, no matter what you are wearing — they'll elevate jeans, and even out skirts and fancy pants. And most importantly, these are T-shirts you can wear almost every day — for days in a row, without anyone so much as noticing.
Sidenote: If you are T-shirt or boxy-fit adverse, try a more fitted tee with a three-quarters-length sleeve. These are equally versatile, with the added benefit of being almost bafflingly flattering on the arm. And they're really, really great tucked into a wide-legged pant — which might be why they're a thing all of a sudden.
This is the tee you imagine you could find at a vintage store for $15 dollars, but will not. You'll never regret owning this.
A perfect, subtle crop on the arm without being too Coachella at the waist. And available in several pretty pastels, too.
To be transparent: This shirt is made by my friend Lili, who started a clothing company based around her idea of the perfect tee — relaxed in the stomach, flattering on the arms. Also to be transparent: I wore this shirt for four days last week.
Not exactly a three-quarters shirt — the sleeve is above the elbow, after all — but still bound to be extremely flattering on the arm, especially in black.