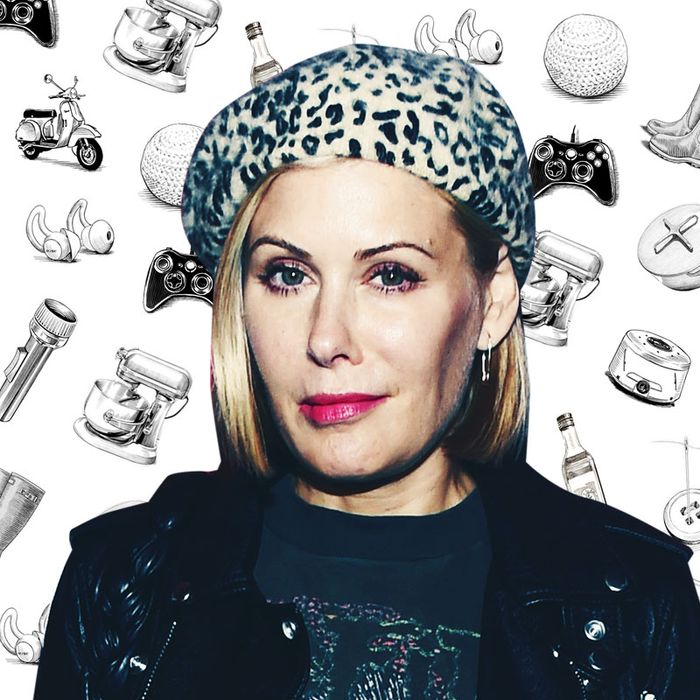 Photo-Illustration: Getty
If you're like us, you've probably wondered what famous people add to their carts. Not the JAR brooch and Louis XV chair but the hair spray and the electric toothbrush. We asked Imitation of Christ designer Tara Subkoff — who recently debuted a collection on the RealReal that benefits the climate-change organization Fridays for Future — about the rosewater, essential oil, and sleep supplement she can't live without.
I'm the kind of person who has so much energy that I have trouble sleeping. The Dream Dust really calms me down and lulls me asleep. It's a powder that's got a lot of herbs that make you relax. I put it in tea or a smoothie, or you can mix it into warm almond or oat milk. I have a 4-year-old, so I need a lot of sleep.
This is what I use after I cleanse at night. I like Tata Harper a lot and that its products are in glass bottles instead of plastic. It's pretty consciously made. A friend of mine gave me this serum — she has really great taste and loves skin care and perfume and all of that, so I get advice from her.
Photo: reatiler
My daughter loves roses and all things flowers. We had been buying rosewater in plastic bottles, but I wanted to stop using plastic, so I researched rose concentrate and we started making our own rosewater. This is a good-quality concentrated rose supplement. It somehow relaxes you, and it smells really good. You just put a couple drops in water. It's a very beautiful way to enhance water and drink more of it, as opposed to a soda or something sugary. Kids need things that are exciting, that feel a little different — and this is something that my daughter loves. She thinks it's very glamorous.
I use this mist all the time — I swear by it and give it to my daughter. When I'm feeling tense, like if I'm watching the news or having a pandemic-anxiety acid-reflux moment, I spray it in my mouth. Doing that reminds me to take a deep breath and that we're not alone in this and we'll figure it out together.
Photo: retailer
Enfleurage is a real New York spot. They have the absolute best essential oils I've ever discovered. They're the highest quality, and they don't harm the environment. Sandalwood is a little bit scarce in India, so they import it from Australia, which is great. I use this as a perfume, or I'll put it in a diffuser. I'm Buddhist and I meditate, so I like having some kind of relaxing smell for that.