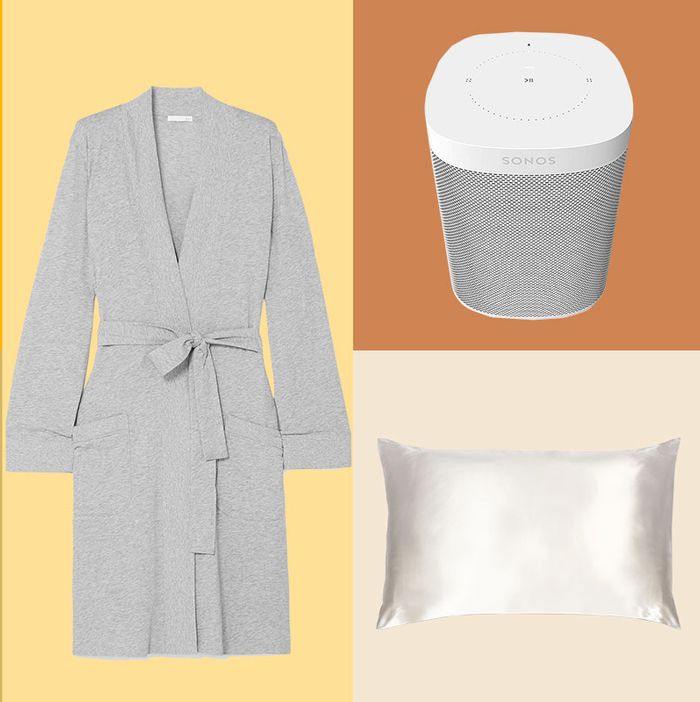 Photo: Courtesy Retailers
Here at the Strategist, we're no strangers to sleep or the many products associated with it. We're constantly looking for the best new mattress, scouring the internet for the best pillows (including cooling pillows and body pillows), testing fancy sheets and dupes for fancy sheets, and talking to in-the-know people about the best bed frames, eye masks for sleep, and pillowcases you can buy. That's why, when presented with the opportunity to talk with Sleep Number's president and CEO, Shelly Ibach, our minds immediately wondered about the things a person who runs a company with sleep in its name uses to, well, get a better night's sleep. While some of the 11 things Ibach recommends are admittedly more personal, all of them play a part in the routine that she says gives her "the best sleep ever," and show how getting a good night's rest can require more than mattress and pillow.
"Sleeping well really starts with getting up in the morning. My alarm is the sunrise and I wake up like clockwork. I actually shift my wake up times throughout the year to accommodate the sunrise. But obviously there are times when you have to get up earlier, like to catch a plane or for an early morning meeting. For those instances, I wake up to music — specifically, Hello by Adele. It's almost like she's greeting me. Hello is the alarm on my phone, but I also listen to it on a set of three of these Sonos speakers; I like how easy the Sonos system is to use. The speakers' sound is really excellent too — it ensures I wake up peacefully. This personal time in the morning is so grounding for my day. Having this extra time where I can sit, meditate, and listen to the calming music as I get ready really makes a difference in my mindset, which then translates to my sleep when it's time to go to bed."
"There's a level of comfort with this pillowcase — but I also think about reducing wrinkles and my hair. Using it, I've noticed a difference in those regards. I'm a big believer in blowouts; sleeping on this, I can get up in the morning and my hair will still look blown-out. I don't get bedhead with the silk pillowcase. I think I sleep better on them too. You have to have a great pillow that gives the right support and comfort, then adding the Slip silk pillowcase completes it. I got my first about a year ago, and have gifted them to five people so far. When Arianna Huffington had hip-replacement surgery, I sent her one as a recovery gift because it makes you feel special right away, and when you're recovering, you need great sleep."
"I prefer cotton pajamas and like the style of these. They're just comfy. I own five pairs, in basically every color, and keep them at both of my homes. I'm a big believer that you should love everything in your home, everything you wear — and why should that stop when it comes to what you sleep in? I think choosing what you're going to sleep in, and feeling good about that choice, contributes to getting a great night's sleep. If you love your pajamas, and you love your bed and your yummy comforter and pillowcase, all of those factors contribute to falling asleep and really giving yourself that opportunity to rejuvenate your mind, body, and soul."
"I love my robe. I wake up with the sun, put my robe on, and meditate. I actually bought this before my pajamas. I own three and I also keep them in both houses. It's comfortable and soft and makes me feel good when I put it on, which as I mentioned, really contributes to a good night's sleep."
"I like going to bed knowing my skin is clean. Cleaning off the day is part of the transition — if I fall asleep on the sofa, which I very seldom do because I'm not really one of those people, waking up with makeup still on is the worst feeling. So the cleansing step is very important for my sleep. This is very light; it has a little bit of foam, not a lot, and will take your eye makeup off as well as any of your other makeup. And it smells good. I've been using it for about seven years, and absolutely noticed a difference in my skin — it's smoother and looks healthier. I think it helps me look young and firm, too."
"Someone gave this to my late husband and me a few years before he became ill and we read it every day as part of our morning routine. And then, at my husband's funeral, I personalized thousands of these books with a passage he wrote and a drawing. The book gives perspective: starting my day with it actually helps me sleep better, because it helps me be more present in everything that's going on at the time, rather than worry about something I can't do anything about. And that ultimately helps me sleep better."
"I've had a great deal of loss these past few years: in addition to losing my husband, I lost my nephew, mom, and brother-in-law. It definitely has been hard. This was a gift from a friend shortly after I lost my husband. I don't read it every day, but I pick it up after Jesus Calling on some of those harder days that I just need a little extra something. Grief is about moving forward and finding graces. Getting high-quality sleep has moved me along that grief journey, and passages from this have been little additions that, again, ultimately help me sleep better and get through that journey."
"I use these right before bed — I keep the hand cream by my bedside — because I love going to sleep feeling like my skin is nourished. It can feel dry by the end of the day, so these feel good to put on. The Eminence night cream is anti-aging; I've been using it for about six years now. It's organic and has a lot of ingredients that smell really good. The hand cream is made in France, where all goodness comes from. It's not greasy and smells fresh — not offensive, which many fragranced hand creams can be."
"Once I get in bed, I'll generally do a little bit of reading on my iPad — business articles, or catching up on Katie Couric's newsletter. But the blue light from devices like iPads is disruptive for falling asleep because it squashes your melatonin. The blue-light blocking glasses stop that process from happening, so you are still building your melatonin and can fall asleep. I started using these earlier this year; now, I definitely can't sleep without them. They really make a difference."
"The bed has been life-changing. What's so innovative about the Sleep Number bed is that the firmness is adjustable on each side, so it provides each person with individualized comfort and support. When you buy a typical mattress, the firmness is not adjustable. You go into the store, or you order it online, and it is what it is. But the chances of two people wanting and needing the same level of comfort and support are next to zero. The smart bed will adjust to the individual, dissipating any pressure points and giving support where you need it. Within probably ten days of sleeping on the smart bed, I no longer had back pain, which I've had for many, many years. My sleep number setting is a 40, and my average sleep IQ score — an evaluation of how well you sleep throughout the night based on different metrics — is 82 out of 100. So I have a really great score; sometimes it's even higher than that. You get your score every single day and it averages over time. Getting the score every day, you start to learn things, too: one of the things I've learned is that I have a higher score when I work out at night. Most people work out in the morning, but I actually do better if I work out at night. And on the days where I stray from my routine, even the morning routine I mentioned before, I have a lower score. That's why I say a great night of sleep starts with the morning."
The Strategist is designed to surface the most useful, expert recommendations for things to buy across the vast e-commerce landscape. Some of our latest conquests include the best acne treatments, rolling luggage, pillows for side sleepers, natural anxiety remedies, and bath towels. We update links when possible, but note that deals can expire and all prices are subject to change.