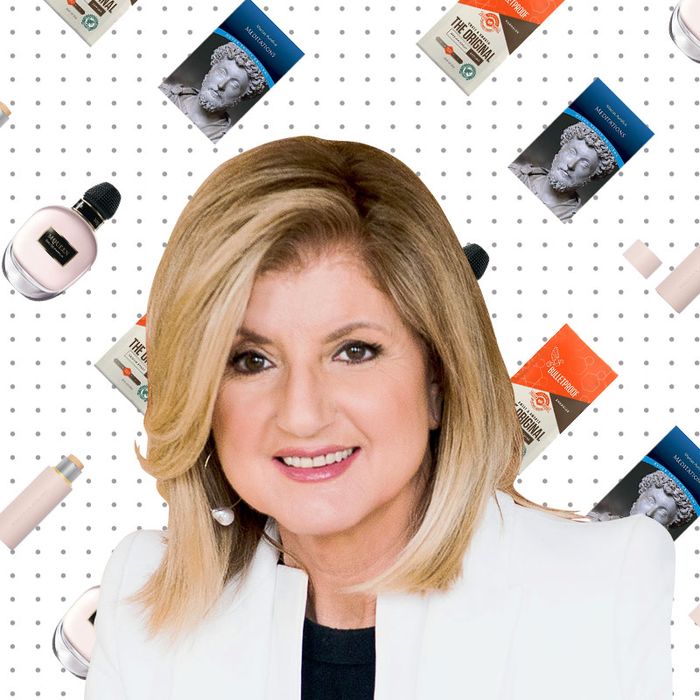 Photo: Courtesy of Arianna Huffington
If you're like us, you've probably wondered what famous people add to their carts. Not the JAR brooch and Louis XV chair, but the hand sanitizer and the electric toothbrush. We asked Thrive Global founder and CEO Arianna Huffington about the coffee beans, alarm clock, and perfume she can't live without.
Coffee is one of life's great joys. And I love Bulletproof coffee. It's not only delicious but, because the Bulletproof coffee recipe contains grass-fed butter in it, also filling. I have it for breakfast in my Bulletproof thermos and I nurse it for hours until lunch! Sometimes I'll have another during the day, but in accordance with what the sleep experts recommend, I try to cut off my caffeine by around 2 p.m.
I was introduced to this foundation stick by my daughter Christina, and I love how natural it feels and looks, and that it uses all safe, nontoxic skin-care ingredients.
One of my all-time favorite books that's always by my nightstand. I regularly read a few pages of it before going to sleep. Marcus Aurelius was the emperor of Rome for 19 years and a Stoic philosopher who can teach us all how to find the eye of the hurricane in the middle of our hectic and stressful lives. There's so much wisdom on every page, you can just let the book fall open — he was an emperor, after all, so let him choose — and find something that will be meaningful for whatever you're facing that day.
I love Blue Mountain's organic sprouted Brazil nuts and hazelnuts and its "European truly raw almonds." Because they're sprouted, which involves soaking them first to allow them to germinate, they're easier to digest. They're my favorite snack and we have them on tap, in little nut-dispenser machines, at Thrive Global. Turn the crank, and you get a little handful of satisfaction.