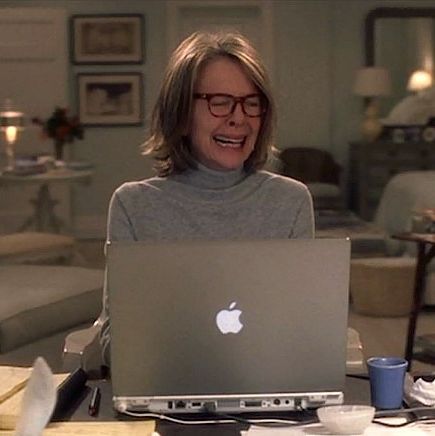 There's no need to hide in turtlenecks.
Photo: Columbia Pictures
"You can shoot collagen and Botox and Restylane into your wrinkles and creases, but short of surgery, there's not a damn thing you can do about a neck," Nora Ephron once said, in her book of musings on beauty and aging, I Feel Bad About My Neck.
If you're feeling bad about your neck these days, you're certainly not alone. After a year spent slouched over computers and scrolling through Instagram on our phones with our heads tilted at that slightly uncomfortable 45-degree angle, we've been noticing some early-onset signs of "tech neck," that dreaded combination of tight neck muscles and horizontal wrinkles. According to dermatologist Michele Green, the human skulls weighs about ten pounds, and having your head bent forward for too long can cause pressure where the spine connects to your skull. "The compression on the nerves can cause a slew of issues such as neck stiffness, premature lines and wrinkles, shoulder pain and headaches," she says.
It's made us think a lot about the "neck-enhancing" and tension-reducing products out there that promise to lift and sculpt this area of the body that's already notoriously difficult to reverse age. Can you just apply a cheaper anti-aging face cream to the rest of your body?
Joshua Zeichner, the director of cosmetic and clinical research in dermatology at Mount Sinai Hospital, and Debra Jaliman, an assistant professor of dermatology at Mount Sinai's Icahn School of Medicine, are actually both pro-neck cream. "Any moisturizer you apply on your face can be applied on your neck," Jaliman says. "However, a dedicated neck cream is preferred if you really want to target the neck area. The skin on your neck is thinner than the skin on your face, and the muscles on the neck weaker, so a face cream might not be rich enough." Fair enough, but what should a person even look for in a neck cream?
We've talked about retinol (and retinol alternatives) plenty here at Strategist, and both Zeichner and Jaliman say that anything that's promoting cellular turnover like a retinol is going to be a helpful ingredient for sagging skin and fine lines. Zeichner adds that many products for the neck area contain antioxidants, niacinamide, and peptides because they support healthy collagen production, while "some even contain polymers that form a 'scaffold of sorts' on top of the skin to help support and firm it temporarily." Below, we asked for specifics on which products they think make good on their neck firming promises.
Here's one that you could easily find in a drugstore: RoC's Multi-Correxion 5-in-1 Cream (that tells you by its name that it's not prescriptive for any one part of the body). Zeichner points out that it contains hexinol, an antioxidant which helps prevent free-radical damage in the skin, and that the product has been clinically tested to improve the appearance of lines and wrinkles in the neck. It also includes SPF, which helps with counteracting photo-aging over time.
If you're a purist that insists on using skin-care products that aren't packaged in a jar, you could try an intensely moisturizing cream like this one with a pump from La Roche-Posay. "You have fewer oil glands in your neck and the more moisturizing the cream the better," Jaliman says. "This one is good for both face and neck, and contains hyaluronic acid to help your skin retain moisture, while reducing the neck's crepe-y appearance."
Photo: retailer/2018
"For tightening the neck, I always look for a product with a high concentration of peptides," says Jaliman. Peptides are often found in anti-aging products, and for good reason: They are chains of amino acids that also make up some proteins in the skin. Collagen is made of peptides, and so by adding more peptides to your routine you can help boost your skin's protein- and collagen-building capability. Jaliman recommends this formula from Colorescience (which also, conveniently, comes in a pump). "It's a great moisturizer," she says.
Another product packed with peptides is StriVectin's Tightening Neck Serum Roller. The product is delivered via a cooling roller applicator, which Jalliman says a lot of her patients are fans of.