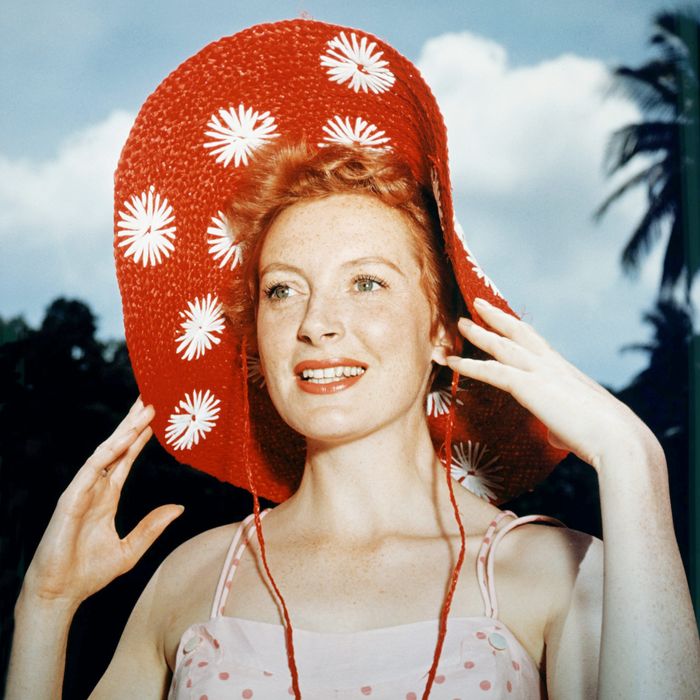 Photo: Silver Screen Collection/Getty Images
We've written about lots of ways to keep your skin quenched and protected from the sun — including the best moisturizers for dry skin and the best natural sunscreens — here, we've rounded up the best moisturizers with SPF, as praised by the most enthusiastic reviewers on Amazon.
Related Articles: Best Sunscreens for Dark Skin | Best Moisturizers for Oily Skin
Best-rated moisturizer with SPF
In addition to being "not too greasy yet very moisturizing," this moisturizer has also reduced the appearance of dark spots for dozens of reviewers. "In just a couple weeks time I've noticed that any brown/sunspots on my face have lightened!" one excited reviewer writes, along with having no "reaction to it; no redness, irritation or pain, or drying or peeling skin." This moisturizer even worked its magic on one reviewer who has had large brown patches around their face and ears for years so bad that "my husband always thinks I have dirt on my face." The results? "No visible age spots or sun damage. I can't believe it. I completely forgot about them." Many reviewers note it also helped reduce redness and blotchy skin. "It has a way of calming the redness and blotches on my face, and I don't think I'll ever stop using it."
Best-rated (less expensive) moisturizer with SPF
"Oh my goodness, this is the stuff right here," writes one reviewer who is very impressed by this do-it-all moisturizer. And many reviewers love that it's both a sunscreen and a moisturizer. "I'm a man who's lazy to put on both lotion and sunscreen when I go to work, so I sometimes just apply lotion only," one says, adding, "Other times I forget to apply the sunscreen. I think this product is helpful as it's two-in-one (lotion and sunscreen). It's odorless, and easy to apply." Reviewers also describe it as lightweight, and many even wear it under makeup, like one reviewer who writes, "It has never left a greasy feeling on my skin." As for its anti-aging benefits, reviewers say they saw some improvements in that category. "Eucerin is excellent at moisturizing without heavy oils and it did diminish some areas that were looking 'wrinkly and aged,'" one says, while another reports, "The few wrinkles I had under my eyes and on top of my forehead just disappeared." The only gripe some reviewers have with this product is that the actual sunscreen part of this all-in-one product is a little low, at just SPF 15, but ultimately, it's a "nice weight, smooth and perfect for face, neck and anywhere on your body."
Best lightweight moisturizer with SPF
More than 10 percent of reviewers describe this moisturizer as lightweight. "I have been trying to find a good moisturizer with SPF that isn't greasy and oily for a while now and I finally found it," one writes, calling it lightweight, "NOT GREASY OR OILY, no smell, and is a very effective moisturizer." Another says, "It has a rich, creamy feel when applying it but it dries in without feeling greasy or heavy." Reviewers also think it is good for sensitive skin. One user, who has experienced breakouts even when using "the best products," writes, "Since I've been using this product my face has had a glow with no bumps, spots, blackheads, or anything." One thing a few reviewers warn is that it's the original formula that works so well, not the "new formula." In fact, for one user, "The new formula cause my skin to burn and it smell like sunscreen," even causing breakouts. But that's not the case with the original formula: "I love the classic Olay sensitive moisturizer simply because it gives my skin a healthy glow and makes my skin so soft and supple and firm."
Best moisturizer with SPF for oily skin
Some reviewers refer to this as a tinted moisturizer, and others just an SPF, but no matter what you call it, about a quarter of all five-star reviewers report that it works well for oily skin. "It's not oily at all and it absorbs really fast," writes one satisfied reviewer. "I even apply regular moisturizer underneath from time to time during the winter, and it still won't let my skin get greasy or shiny. I have very oily, acne-prone skin, and when using this product, my skin's oil production slows down. My face doesn't get shiny fast at all, it takes almost half a day before I have to whip away the oil." Others appreciate the subtle tint that "won't make you look darker, it just won't look like you're wearing regular white sunscreen," explains one reviewer. Another notes, "If I took a picture of before and after applying it, it almost looks like I've photoshopped the after pic with a skin filter."
Best natural moisturizer with SPF
This Andalou sunscreen is "GMO-free, gluten free, naturally derived, sustainably sourced, and cruelty-free," according to one reviewer, and dozens more rave about the natural ingredients. "Not only am I protecting my skin from the sun's harmful effects with the SPF, but I also feel I'm nourishing my skin at the same time," one reviewer writes. The all-natural product is also a hit with reviewers who have sensitive skin and is so gentle that it has even converted non-sunscreen users into SPF faithfuls. One reviewer says, "I've never been a faithful sunscreen wearer because many contain toxic chemicals or they are just too thick, don't blend, or they leave a white cast on your face," which they no longer have to worry about. Another reviewer claims, "This product continues to calm my rosacea." While one more writes, "After trying many topical medicines and creams — including high-quality aesthetician facial lines, 'calming' lotion from big-name companies, and prescription topical antibiotics — this seems to be the best daily moisturizer with sun protection for my skin."
Best moisturizer with SPF that doubles as primer
"I purchased this for my boyfriend who refuses to put on anything sticky on his skin … and he loves this lotion!" one reviewer claims. That reviewer's boyfriend, like many others, described the formula as "light, absorbs quickly, nongreasy, and moisturizes well with a pleasant scent." The formula also makes it a smooth base for makeup, a feature that many reviewers point out. "Nongreasy, just the right amount of sunscreen protection and my makeup goes on flawlessly," one reviewer writes. Another says, "It softens my skin as I prepare my skin for my light makeup." With consistent use however many have noticed its anti-aging abilities. "It's not an anti-wrinkle cream, but it does feel like my face is tightened and my pores basically vanish," one user writes. Some are even able to cut makeup entirely out of their routine. "Best moisturizer I have ever used," one reviewer writes. "I am told by many people that I have absolutely beautiful skin and I am 69 years old. I never have to wear makeup."
Best moisturizer with SPF for acne
More than 15 percent of reviewers say this moisturizer has worked well with their acne-prone skin. One reviewer battling adult acne says, "I tried this and the face wash and my face has cleared up significantly." Another with an extensive anti-acne routine says, "This was seamlessly incorporated into my skincare routine as my morning moisturizer and I have had no breakouts." Another reviewer who claims to have "tried at least 10 different moisturizers + SPF 30(+)" says this is the only one that meets her list of criteria, which includes being non-irritating. "I highly recommend it if you are looking for sun protection that moisturizes without stinging," they say. On top of everything, a few reviewers say this CeraVe moisturizing lotion absorbs well and doesn't leave a chalky residue.
Best moisturizer with SPF for dark spots
Simply put by one reviewer, this moisturizer, "Works very well, fades sun spots, and moisturizes with UV protection." Almost immediately, reviewers are impressed with the results. "I have only used this twice and I can tell you it is fantastic," writes one. "I love the way it goes on, spreads very easily and absorbs into the skin very quickly. My skin is extremely soft, touchable and smooth. No residue, greasy feel, sticky or draggy feeling." Reviewers also report seeing a more even skin tone over time. "My skin suffers from hyperpigmentation," explains one customer. "If I get acne or blemishes, I'm left with scars that take six months to fade. With this face cream, the dark spots fade in weeks. The SPF in the product also helps prevent additional sun damage from 'tanning' my dark spots." It works for redness, as well. That's according to one reviewer who says, "It really does seem to evoke some kind of nice change in my skin that makes the perpetually slightly red cheek areas of my keratosis pilaris calm down and even out."
Best moisturizers with SPF for anti-aging
"I'm 71 and have been told I look like I'm 40," writes one reviewer. "I think they are being nice but I think the product helps." And many other reviewers with mature skin thinks this moisturizer helps their skin. One reviewer who is almost 50 says, "In four weeks' time, I'm impressed with the texture of my skin … I find myself patting my face, it feels velvety soft and smooth." Another writes that this moisturizer has helped to "smooth out the wrinkles under my eyes and even my forehead." A few mention that the formula is thicker than most other moisturizers — and more than 10 percent even call it a cream — but that's a selling point for many. "I was very happy to see they started making moisturizing 'creams' again," one writes. "I am 58 years old and find I am ready for some additional 'umph' in my regime to maintain my skin." Another describes it as having a, "Wonderful creamy consistency" while feeling "nourishing and makes my skin look healthy, elastic and dewy but not greasy."
Best moisturizer with SPF for glowing skin
One reviewer was "cynical but I started using it and in one week I already saw the effect." They continue, "It really brightens your skin." Many noted the "subtle glow" the moisturizer gives their skin, but it doesn't leave it feeling greasy or looking oily. And several note that it helps to clear up adult acne scars, like one reviewer who says, "It's very effective at managing my acne scars from recent pimples. Skin definitely looks brighter and firmer." Plus, one reviewer found out the hard way what happens to your skin when you stop using this product: "Left it out of my routine after I got another product as a gift and came running back after realizing how dull my skin was without it."
Best matte moisturizer with SPF
One reviewer was tired of their face "looking like a glazed Krispy Kreme doughnut," and found sanctuary in this moisturizer that "leaves you almost completely matte!" Another reviewer explains, "Other brands of matte finish sunscreens were too drying and ended up making my skin peel more or balled up … This one doesn't do that at all; the ceramides and [hyaluronic acid] give just enough moisture without making me look shiny AF." In addition to the matte finish, dozens of reviewers note that it doesn't leave a white residue from the sunscreen, making it suitable for darker skin tones. "I have brown African-American skin and there is no trace of a grayish film from the SPF."
Best French moisturizer with SPF
Reviewers, like the one who compared their fair skin to that of a vampire, were happy to find that this French moisturizer included Mexoryl SX for maximum sun protection. "I was looking for a moisturizer with Mexoryl as it is known to be give the best protection from both UVA and UVB rays besides zinc oxide, which leaves a film," one reviewer writes. "Gives good hydration for the skin without being sticky, shiny, and is invisible on the face, plus it doesn't sting on the face like some sunscreens, good basic for every day." Many also note that it's relatively chemical-free, with one reviewer explaining that it "doesn't have the chemical sunscreen soup that most American sunscreens have." It's lack of smell also makes it popular for year-round use. "Though I actually like the smell of sunblock and all the summer connotations I associate with it, I don't appreciate reeking of it every day — especially in the dead of winter when it seems really out of place," says one daily user.