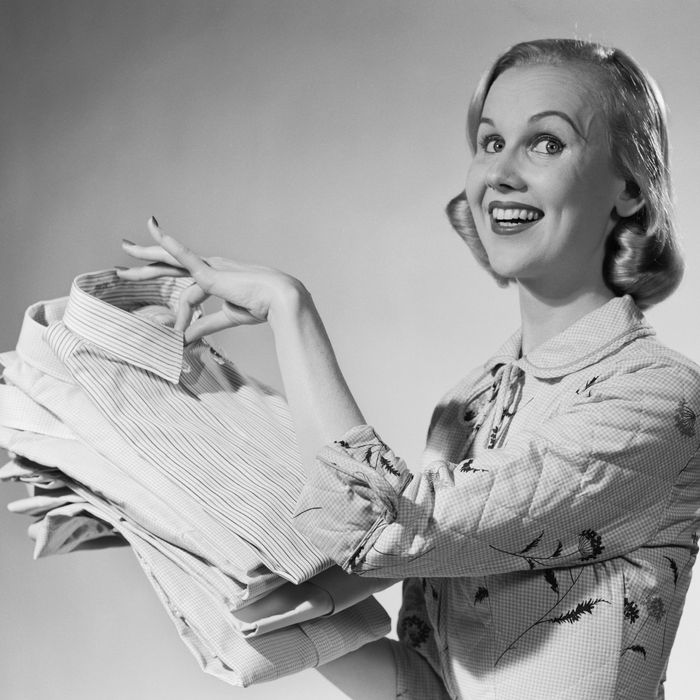 Photo: Debrocke/ClassicStock/Getty Images
We've boiled down basic and elaborate irons before, and featured a stylist's favorite travel garment steamer, but here, we've rounded up the best clothes steamers, as praised by the most enthusiastic reviewers on Amazon.
Related Articles: Best Ironing Boards | How To Iron A Sheet
Best-rated clothes steamer
According to over 2,000 five-star reviewers, this handheld steamer might be small, but it's certainly mighty. One reviewer, who is a "TV wardrobe stylist," considers herself an expert on steamers. "I do A LOT of steaming," she explains. And for her, this one is "hands down, the best steamer" she's ever used. "It doesn't spit water out, warms up very quickly, and will steam multiple garments before it needs a refill." She even appreciates that because it is a handheld steamer, she can easily carry and travel with it. Another customer "recommends this product to anyone who is looking for a decent handheld streamer" because she "can steam three pairs of jeans and two long skirts without running out of water." And a third customer ponders, "How did I ever live without this thing? It is amazing." For a handheld steamer, she says this one has a lot of power, specifically noting, "The 1,200 watts is more power than most of these other handhelds." She "recently pressed a heavy denim shirt using this" and is so impressed that this did the job better than bigger models she's owned in the past.
Best-rated (less-expensive) clothes steamer
Photo: retailer
"Small but mighty which is exactly what I wanted," writes one reviewer, who like the other 1,100 five star reviewers, thinks this handheld steamer from Pax is pretty powerful. One used it on a shirt and khakis suffering from "major wrinkles" and says, "I was able to de-wrinkle the shirt and pants in less than a minute." Another user writes, "My wife and I were able to steam all the wrinkles out of her wedding dress in 49 minutes." This steamer is also easy to use: "All you do is take off the top, fill the container with water, wait a minute for it to heat up (you can see it boiling), and as soon as some steam comes out of the opening you're good to go." Many reviewers also refer to this steamer as compact, which is why more than one fifth of reviewers also think it is great for travel. As one concludes, "It's great for traveling, small and heats up very quickly."
Best standing steamer


Jiffy's semi-pro steamer has racked up nearly 2,000 reviews — almost all positive — thanks to its sturdy construction, swift warm-up time, and high-quality metal head. "Who needs an iron with this!" writes one effusive reviewer, who put the J-2000 to the ultimate test during her wedding. "It steamed my veil beautifully," she explains, "and took the hard lines in the silk robes I picked up for my bridal party out so quickly. Excellent product, great brand." Another big fan, a full-time stylist, adds, "I have three in rotation: one that I take to shoots, one that I have at home, and one that gets shipped around the world when I have to travel to a shoot. I am a customer for life."
Best full-size clothes steamer
"My wife likes to take our clothes out of the dryer and then leave them jammed in a clothes basket for a day or so. My clothes were so horribly wrinkled all the time my mother thought my wife wife was plotting to make me unattractive to other females by making me wear wrinkled clothes all the time," writes one disgruntled spouse. "So I ordered this steamer and now it is impossible to tell that my wife leaves clean clothes jammed in a basket for extended periods of time." And many other reviewers agree that this Conair clothes steamer is easy to use. "It heats up quickly (has a pause switch), is height adjustable, and has a large water tank so you will be able to steam several items without having to refill. I steamed slacks and a dress. The wrinkles were removed easily," writes one satisfied customer, who notes, "I would recommend as this is not an expensive unit and does the job."
Best clothes steamer with garment hanger
Productivity is a big selling point of the PurSteam Full-Size Steamer. "WOW, what a lifesaver," says a boutique owner who tackles "approximately 15 garments per hour" without "having to refill it every four garments." Another reviewer calls it "a game changer, so light and easy to use and blows steam like crazy." Part of the ease of use, according to at least one reviewer, is the garment hanger that comes with the steamer. "I REALLY love the hanger it comes with. The fact that I can take it off and turn it around without having to remove the garment instead is nice. One tank lasts quite awhile for me, steams so efficiently, and has the additional USEFUL accessories," they write.
Best professional-grade clothes steamer
"If it's good enough for Gucci, then it's good enough for me," says one reviewer who saw this steamer being used in a Gucci store. And unsurprisingly, this Rowenta steamer delivers professional results. It's so good, reviewers anticipate saving money (and time) on going to the dry cleaners. "This is a very efficient product that basically pays for itself if you use it instead of sending all your shirts to dry cleaning over a long period of time," one writes, while another says "Cuts way down on dry cleaning and clothes last longer." One thing that reviewers think gives it that professional touch is the retractable screen, which comes down to help them steam items flat. "The press and roll feature provides support so you can actually 'press' the wrinkles and put a crease into your pants," one explains. It also heats up fast and is easy to use: "I turn it on in the morning while I'm brushing my teeth and it's ready to go after about a minute. My clothes are wrinkle free within a minute or two."
Best handheld clothes steamer
While praising its 30-second warm-up time, a reviewer declares the iSteam "AHMAAAZING! This tiny but powerful steamer is out of the space age!" Another emphasizes its eight-in-one capabilities, saying, "Not only is it powerful, durable, [and] easy to travel with, but I use it for my facials and I am hooked! I put a little of my facial seeds, leaves, etc. in with the water and violaaaa." A photographer also uses it for smoothing cloth backdrops. "Like magic, the wrinkles were gone after passing over [them] a few times … It's wonderful for clothes too, of course! Don't think about it, just get one. You'll love it."
Best handheld clothes steamer with attachments