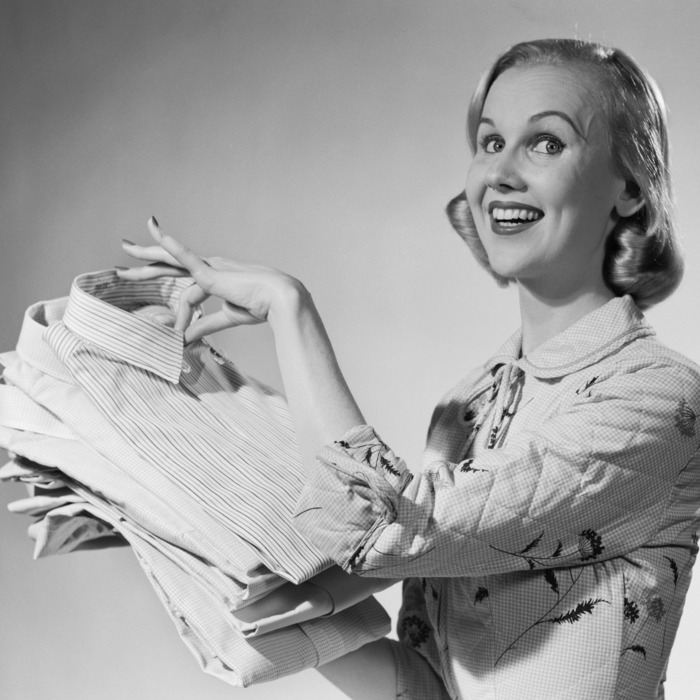 Photo: Debrocke/ClassicStock/Getty Images
Here at the Strategist, we like to think of ourselves as crazy (in the good way) about the stuff we buy, but as much as we'd like to, we can't try everything. Which is why we have People's Choice, in which we find the best-reviewed products and single out the most convincing ones. (You can learn more about our rating system and how we pick each item here.)
And while we've boiled down basic and elaborate irons before, and featured a stylist's favorite travel garment steamer, here we've rounded up the best clothes steamers, as praised by the most enthusiastic reviewers on Amazon.
Best-rated clothes steamer
Frequent flyers love the freshly pressed look the Hilife Steamer lends to their favorite outfits during long vacations and short business trips. "I'm a flight attendant and it packs in a 22-inch roller bag easily," says one reviewer. "It took all of the wrinkles out of my dress in just a few minutes and is sooooo much better than the hotel irons." The leader of a touring dance troupe adds, "You need this in your life! We travel a lot and are hard on steamers. I've been using this one for a couple of weeks and it's been wonderful. Lightweight, easy to use, and very effective." Meanwhile a self-proclaimed "lazy person" says "I bought this little guy because I never put my clothes away … This steamer is small and compact but packs a punch for getting out wrinkles."
Best-rated (less-expensive) clothes steamer
With over 500 five-star reviews, this handheld steamer is often described as small but mighty. "Whether it's to clean upholstery, do a quick once over on my wrinkly clothes, or anything in between, this little sucker comes in handy more often than not," raves one reviewer, who adds, "I didn't even know I could clean my couches until I bought this to steam my gowns and did further research. I love that the 'just add water' approach is the only thing necessary to make this magic happen, too. If I didn't know better, I'd think this was witchcraft." Another reviewer describes this steamer as convenient, explaining, "because it's not big. Great value for the price. I've used it for extended periods of time when I'm blocking my crochet afghans, and it's worked perfectly."
And now for some micro-picks for every type of clothes steamer you might be looking for.
Best standing steamer


Jiffy's semi-pro steamer has racked up nearly 2,000 reviews — almost all positive — thanks to its sturdy construction, swift warm-up time, and high-quality metal head. "Who needs an iron with this!" writes one effusive reviewer, who put the J-2000 to the ultimate test during her wedding. "It steamed my veil beautifully," she explains, "and took the hard lines in the silk robes I picked up for my bridal party out so quickly. Excellent product, great brand." Another big fan, a full-time stylist, adds, "I have three in rotation: one that I take to shoots, one that I have at home, and one that gets shipped around the world when I have to travel to a shoot. I am a customer for life."
Best full-size clothes steamer
"My wife likes to take our clothes out of the dryer and then leave them jammed in a clothes basket for a day or so. My clothes were so horribly wrinkled all the time my mother thought my wife wife was plotting to make me unattractive to other females by making me wear wrinkled clothes all the time," writes one disgruntled spouse. "So I ordered this steamer and now it is impossible to tell that my wife leaves clean clothes jammed in a basket for extended periods of time." And many other reviewers agree that this Conair clothes steamer is easy to use. "It heats up quickly (has a pause switch), is height adjustable, and has a large water tank so you will be able to steam several items without having to refill. I steamed slacks and a dress. The wrinkles were removed easily," writes one satisfied customer, who notes, "I would recommend as this is not an expensive unit and does the job."
Best clothes steamer with garment hanger
Productivity is a big selling point of the PurSteam Full-Size Steamer. "WOW, what a lifesaver," says a boutique owner who tackles "approximately 15 garments per hour" without "having to refill it every four garments." Another reviewer calls it "a game changer, so light and easy to use and blows steam like crazy." Part of the ease of use, according to at least one reviewer, is the garment hanger that comes with the steamer. "I REALLY love the hanger it comes with. The fact that I can take it off and turn it around without having to remove the garment instead is nice. One tank lasts quite awhile for me, steams so efficiently, and has the additional USEFUL accessories," they write.
Best large-capacity clothes steamer
When one reviewer's wedding had to be "totally re-planned in 24 hours because of a major hurricane," the highly efficient Pure Enrichment XL stepped in to save the day. "I had to personally steam out like 20 tablecloths," she explains, "plus all the clothes for the wedding party and family. We managed to easily do this in one night with no problems from this steamer." The proud parent of a speech team competitor also approves, saying, "This steamer rocks. Heats quickly and does a thorough job with ease. Wrinkles disappear like MAGIC. I steam my two sons' suits and that of a friend, along with dress shirts, before every meet—so much easier than trying to deal with an iron … Wish I had splurged sooner!"
Best handheld clothes steamer