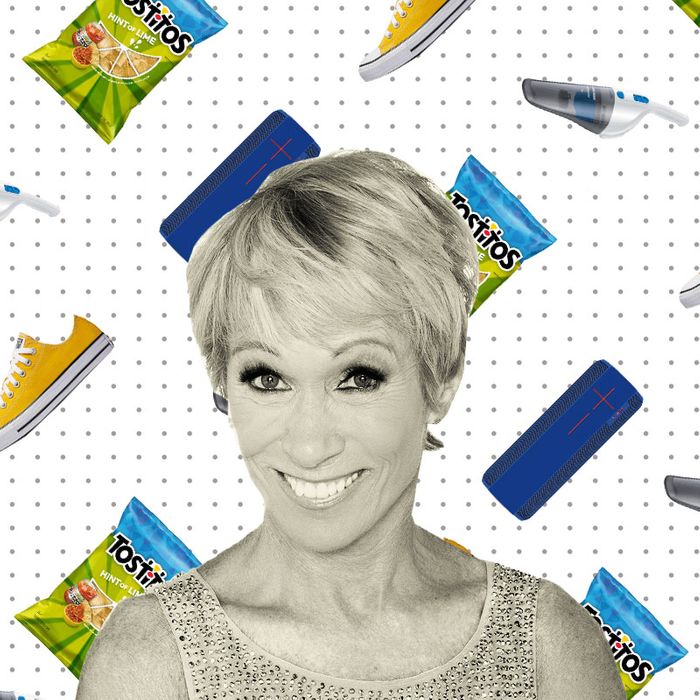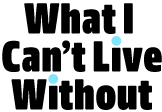 If you're like us, you've probably wondered what famous people add to their carts. Not the JAR brooch and Louis XV chair, but the hand sanitizer and the electric toothbrush. We asked Barbara Corcoran, of ABC's Shark Tank and founder of the Corcoran Group, about her love for DustBusters, silicone enhancer pads, and amaryllis bulbs.
I have three of them in my home and two in my office. I should really buy stock. Why do I like it so much? I feel powerful when I'm using it. I can have the vacuum in my hand and take crumbs off my table. It's always charged, and it holds a charge — even when it runs out of battery, it's a quick charge. They don't look bad, which is not something you can say about a lot of vacuums. I even have one in my library to suck up Scrabble letters after a game. I love a DustBuster.
My cutlets! These are the greatest, and I've tried all of them. They do a great job of giving you what nature forgot to give you. As you get older, and most women would agree, no matter how hard you work out, this is the only part that doesn't get better and only gets worse. These are great for fixing that problem though — I wear them whenever I want to look better in any kind of clothing. They really do enhance your breasts and are so much cheaper than a breast implant. Oh, and they don't sweat. A lot of them sweat. You forget you're wearing them until you take your bra off and are like, "What's that?!"
This foundation sprays on in a fine mist that's so satisfying, and it doesn't look like makeup. What it does is make you look like you've had a solid eight hours of sleep. Everyone will tell you that you look so well-rested and beautiful, but it's just the Dior. I will do a 301 shade most days, and a 400 in the summer, when I get a bit tanner.
Everyone seems to wear these. They come in every color, like 30 colors, and it's like a lace crayon box when you open your drawer. Here's what it is about them — they're inexpensive and last forever. I don't think I've ever thrown a single pair out. The stretch material never gives up on you, and they don't feel like you have underwear on. I can't say I've worn just these with a skirt (I need pantyhose), but they're just great and never, never wrinkle.
So in my home, I have a very expensive sound system — and I never use it. Why would I when I have this? It's just uncomplicated — you press the button and you have PHENOMENAL stereo sound. I don't know how they do it. I will bring this speaker upstairs and downstairs in the house, I love it so much. I will travel with it when I go on a quick trip just by throwing it in my bag — it holds a charge, so I don't even need to charge it if it's a two-day trip. I have the white one and the blue one.
I love this steamer. It's pink and is probably only 12 inches tall and, in fact, almost looks like the UE Boom speaker. You don't have to wait for the concierge to steam your clothes while you're traveling if you have this. I obviously do a lot of business travel, and I'll put a half-cup of water in this and it steams them in 30 seconds flat. I'll steam my dress, and it's like I just went to the dry cleaner. You know when you're traveling and always against the clock, and can't iron because it'll give your clothes a shine? This will save you.
I have one in black and one in navy and one in dark gray. It's a spandexlike sweater that turns into a vest or a wrap, or even something like a jacket. You get a lot of miles out of it. What I love about it is that I'll travel with two of them, and I'm good for just about any kind of weather. And it doesn't wrinkle. I hate traveling with something and having it wrinkle.
Daisy was on Shark Tank, and her cakes took away the problem of "What do I give someone as a gift?" If it's a birthday, they get a Daisy's Carrot Cake. If it's an anniversary, they get a Daisy's Carrot Cake. I always send it, and everyone always loves it. It's just decadent and has four layers, and is homemade by Daisy and her mother. When it arrives, it comes with a handwritten letter, and a tin that you can keep. Its cream-cheese frosting isn't too sweet. (I've had so many cakes where the frosting is just too sweet.) The other thing I love about it is that it has so much chopped up carrot in it. You get the little carrot pieces in your teeth, so you know it's real carrot. I spend 50 dollars on this cake, and people will think I spent a hundred.
So this is my idea of dressing something up. I'll put on stretch pants and these Converses, and suddenly it's a cool look. I'll wear them with jeans, and suddenly it's cool. I really get more compliments on my Chuck Taylor yellow sneakers than I do on my Gucci. Everyone thinks I'm cool, so I feel young and cool. I'm not either of those things, but these work for me. I actually have two pairs — one that's old that I can't bear to throw away and a new pair.
This is my problem. I'm not a fat person, but I have to restrict myself to two bags of these a week because I will eat the whole bag. I do not eat them with dip. It has this cilantro and limy tart flavor that's perfect. The chips are so light, you swear you aren't putting on any weight. I don't know how many calories are in a bag. I don't want to know. I've introduced them to so many people who adore them now. It makes a mundane potato chip feel like it should be put to rest.
I don't like to hunch over when I bike, and many bikes force you to lie low, which hurts my back, and I've got a great back. This lets me sit up straighter, so I can really ride upright. It's bright yellow, and the seat is this leather that's almost like a great horse saddle. It's just so happy. When I ride through Central Park, people wave at me, and I know it's not at me, but at the yellow bike.
Photo: Christopher Harley/© 2016 COLORBLENDS
These amaryllis bulbs are straight from Holland, and you can plant them from October through March — they need no light. It's like they have all the sunshine packed right in. You put them in pebbles or just any dirt or moss, and as long as you water them at the base of the root, they'll start exploding. And when I say exploding, I mean that you put one in a bowl the size of a cereal bowl, and it'll be so tall the first month in this green stalk, and by the second month, they'll explode into a huge bulb. They make any dull day in New York feel like you're at the flower shop. And they're just $10 apiece! And each stalk gets you three or four flowers. And then just when you think it's over, a second stalk will come in right when the first one goes. The site has all these different kinds, like a variegated lime green or a pure white or red for Christmas. It's the most satisfying gardening I do. They're my pride and joy. The flower heads will last eight days. How do you even get a bouquet for $80 that lasts eight days? A lot of them are sold out now, but I'm telling you, put down whatever you're doing, and go buy some for yourself, for your mother, and for your grandmother.
The Strategist is designed to surface the most useful, expert recommendations for things to buy across the vast e-commerce landscape. Some of our latest conquests include the favorite shopping items of Lena Dunham, Olivia Wilde, Carole Radziwill, Courtney Love, John Cameron Mitchell, Whoopi Goldberg, and Linda Rodin. We update links when possible, but note that deals can expire and all prices are subject to change.
Every editorial product is independently selected. If you buy something through our links, New York may earn an affiliate commission.