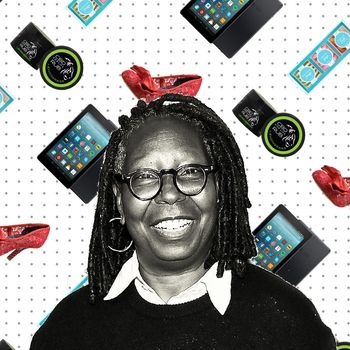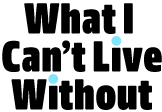 If you're like us, you've probably wondered what famous people add to their carts. Not the JAR brooch and Louis XV chair, but the hand sanitizer and the electric toothbrush. We asked Whoopi Goldberg, co-host of The View and designer of a new line of holiday sweaters, about the shoes, sour gummies, and one-piece underwear she can't live without.
Wow. Wow. I do live in mine. They're not the most attractive, but boy do they make your feet feel good. My feet even look like Birkenstocks when I'm not wearing them. I try to find unique Birks — I wore them in my 20s and 30s, and now I've come back to them in my 50s and 60s, so it's full circle. Let me tell you, they're great for your back. I have really flat feet, so if you want to know about comfort, I'm all about comfort. I'm wearing the black ones right now, but I have red ones with cats and Darth Vader ones and orange ones and silvery ones.
I've never liked two-piece underwear with a separate bra and panties. I'd rather wear a bathing suit all the time. That's what Wolford is like — it's like a one-piece that makes me feel good and slinky and comfortable. I love wearing it because I don't want to walk around naked under my clothes. What if your pants break, or your shirt lifts, and you're showing things that are like, "Oh my god, what is that?" With this, I'm covered.
Okay, so I'm not a chef, but the folks who come to my house and cook love these knives. They're gorgeous and apparently work amazingly. I talk to the folks who cook at my house, and they'll tell me that the knives don't break or dull quickly, and they make you go, "Wow." I also just like the story because it's a family-owned company — apparently, the man who started Warther started it because someone was looking for a sheath for his son's knife during World War II. He made it, and it spawned a whole business.
I love making what they used to call "ugly Christmas sweaters," but mine aren't ugly! They're just out-there and fun. They're meant to make you smile and trigger all the good stuff for the holiday season. Whatever you're celebrating — Christmas, Kwanzaa, Hanukkah, or what have you — should be joyful and fun. My favorite is the mini–black Santa. I love a baby with a beard.
These shoes make you smile because they're so bizarre and colorful. Depending on your mood, you could wear a Disney pair or a Star Wars pair. They're also not crazy-expensive — you can get great ones for $100 or so — and just so unique. I like unique.
Photo: A.L. Canterbury
I got these gummies as part of a larger gift from my daughter for Mother's Day one year, and my favorites are the green-apple frogs with the little marshmallow thing on top. I have actually fought people over my frogs. The taste is right. The consistency is right. I'll try anything green apple, and these kick butt. Most Sugarfina stuff is amazing, and I like the rest of the gummies, but the green-apple frogs I live for.
I listen to all my books, so I can take 3,000 books on the road with me. I love that, at any time, depending on how I'm feeling, I can listen to any book I love. For me, listening to books take the place of having to figure out how to relax. Listening to books through Audible is the most relaxing thing I can do. I actually just listened to Forrest Gump, which was kind of amazing because I'd never read the book, and there's such a difference between the novel and the film. I love listening to lots of Stephen King, too.
CBD for Life uses CBD (cannabidiol, a cannabis compound) to create lifestyle products that are just amazing. They have rubs for your muscles on your back and legs and feet — they're illegal, kind of, though you can buy it online, so maybe it's perfectly legal? Anything that relieves leg- and foot-ache is great for me.
It's the greatest thing ever. It's a service that you pay a yearly fee for, then you can be on someone else's charter plane for not very much money. You can go from Los Angeles to London, for instance, and I feel very stylish when I'm on it. Getting on a plane is not my favorite thing, but getting on a charter makes it better.
The Strategist is designed to surface the most useful, expert recommendations for things to buy across the vast e-commerce landscape. Some of our latest conquests include the favorite shopping items of Lena Dunham, Olivia Wilde, Carole Radziwill, Courtney Love, John Cameron Mitchell, Aubrey Plaza, and Linda Rodin. We update links when possible, but note that deals can expire and all prices are subject to change.
Every editorial product is independently selected. If you buy something through our links, New York may earn an affiliate commission.