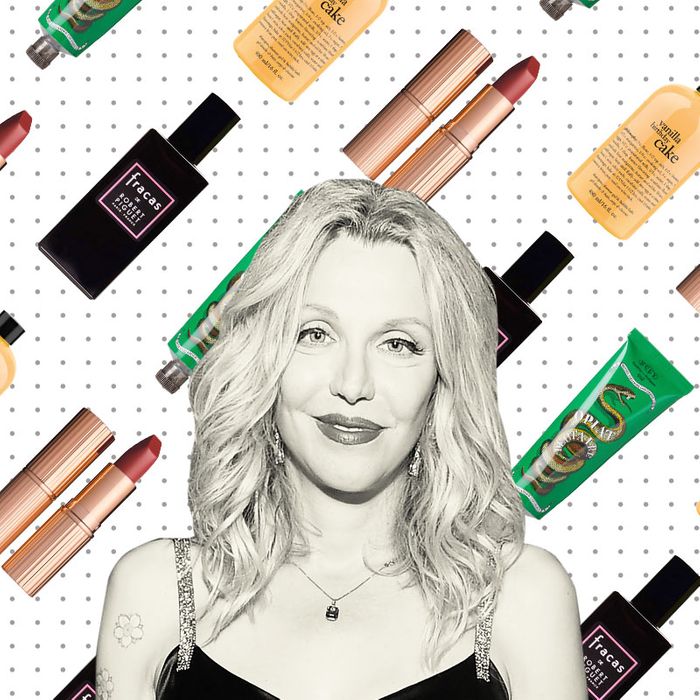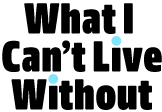 If you're like us, you've probably wondered what famous people add to their carts. Not the JAR brooch and Louis XV chair, but the hand sanitizer and the electric toothbrush. We asked musician and actress Courtney Love about the face balm, Champagne candle, and matte lipstick she can't live without.
Shiva Rose is a healer and wellness specialist with a blog called the Local Rose. She also makes the best moisturizer ever called the Glow Face Balm. It's roses mostly, with other mystery ingredients. It just makes my face feel fantastic and so soft. I take it with me everywhere. It's a staple of my kit.
Smells like it's described. And it keeps you fresh like a cake all day.
Buly is a redone apothecary in Paris that opened in New York earlier this year. The products are amazing and the packaging is just beautiful on this toothpaste.
My perfume history is checkered, but I found Fracas in 1985 via an agent I shared with Uma. It was so white-floral and heady. I collect and wear many other perfumes. The owners of Aedes de Venustas in the West Village love me. I'm a regular on the Fragrantica and Bois de Jasmin sites. I wear a lot of By Kilian, some Amouage, and Carnal Flower Frederic Malle, which is like Fracas on a lot of steroids. In Seattle, while married to Kurt, I wore a lot of Quelques Fleurs, which I can't wear again. But I always come back to Fracas. I love it the most and it's my go-to. It makes me so happy. My daughter also wears it. No one can ignore you when you're wearing it, yet it's not annoying. It smells to me like a baby's head, a field of dreamy white meadow flowers, and a touch of sex.
I love Charlotte. She's only done my face once, but it looked great. She has an army of people who do makeup in her aesthetic. And her makeup line has fantastic pigments and great texture. I love how it photographs. I especially love this lipstick, as it goes with anything. It's dark enough, but it doesn't get too matte or too glossy. It's always in my bag.
It's not the sexiest or most expensive of candles, but it's dense with lilac and lasts forever. I love most candles, but I really love this brand. It fills your home. I love the smell of lilac from this one. All the candle scents are assigned to rooms — "Penthouse" is a Champagne scent. The gardenia ("Living Room") is great, too.
I love these masks. The essence that it's soaked in is made of sake, apparently, but it never fails to get rid of the puffiness.
I first met Rick in L.A. at his studio on Hollywood and Vine through Arianne Phillips. He was such a hard worker. I loved how he worked with his hands to create such soft fabrics. I still do. I wear them daily; I sleep in them. I am lucky enough to have some early '90s Rick pieces, which I'll never give up, except to give to Frances. I don't go anywhere without a Rick Owens T-shirt. They're so soft and comfortable, and the knockoffs aren't as good. Plus, I just love Rick and Michele.