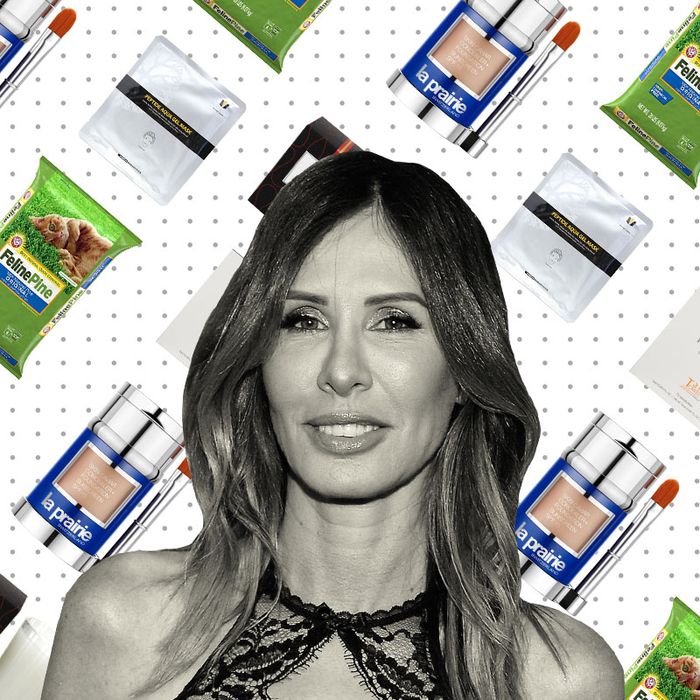 If you're like us, you've probably wondered what famous people add to their carts. Not the JAR brooch and Louis XV chair, but the hand sanitizer and the electric toothbrush. We asked Carole Radziwill, author and cast member of The Real Housewives of New York City, which items she can't live without.
It's just heaven. My boyfriend really likes it, too. So we — this sounds so hot — we lie in bed watching TV, and we both have the masks on. I'm a big cheerleader for face masks, and after having tried them all, I have to say the gel ones are the best. These are very top-of-the-line. What's great is that it's split into two halves, so you have the eye half on top and the bottom half below, so it's easier to put on. If you go out drinking at night, you can't go to sleep without putting it on. I don't do that because I don't drink that much, but if I have two or three glasses of wine, the next day my skin looks so bad. I don't think girls realize that alcohol is just the worst for the skin. I think that's partly why my skin looks so good. I promise you, I don't look like any 53-year-old I know. And when people on social media say, "Stop with the Botox!" it makes me laugh because I do less than most 30-year-olds I know. Well, I still do Botox a little bit. I mean, everyone does, but that's it.
People don't know about red light. Red light was actually discovered by NASA, which is where everything important came from, like Post-its and Velcro, but it has healing properties and restores collagen. They've used it in space to heal wounds very quickly, and now it's available for at-home use. A good dermatologist will give you a facial and put you under a red light for ten to 15 minutes — so if I'm watching TV at night, I'll put it on for an hour, just as I'm watching my favorite shows. I know it has the eye cups to protect your eyes, but I don't use those. It's safe. I don't shine it into my eyes. The vitamins are good for you. I'm a rebel. A lot of people bike without helmets. I use my red light without the eye cups.
I have a story about everything. So I got two kittens that I adopted from my good friend Beth Stern, and my apartment is very neat and not necessarily pet-friendly, but I like it to be perfect because everything's high-end. I don't like bad smells. So I tested a lot of kitty litters to find one that absorbed all the odors immediately. This is incredible because when you pour it out, it looks like pellets, like pine chips, but when the kitties pee, the urine gets absorbed into the chips and turns the pellets into dust. And the odor is absorbed immediately. I'm telling you, there's never a smell in my apartment. I even told Beth about it because she came over and was amazed. She asked me, "What kitty litter are you using?"
I've been using this for years. Other than for the show, I don't wear a lot of makeup. This is supposedly a concealer or foundation, but I feel like it's more of a tinted moisturizer. You don't use very much, and it just makes your skin glow like you've got nothing on. Even my makeup artist the other day said my skin looked so good, but I didn't have anything else on. I've tried everything from Armani to Lancôme to Estée Lauder, but nothing beats the La Prairie Skin Caviar. It's got SPF in it, too, so it's a one-stop shop.
So like I said, I don't wear makeup all the time, but sometimes I want to feel a little alive, so I started using these tanning wipes when we would go away on trips for the show. On the trips, you don't get makeup people. (Contrary to popular belief, it's not glamorous at all. We're pretty much in the car trying to put on our own eyelashes.) I'd use these Tan Towels, and the crew would go, "You look great." Now I use them all the time. I wash my face in the morning and wipe on one of these little things. You don't get that orangey thing happening on your face or hands. It goes on very light, and you just look the tiniest bit sun-kissed. It's the perfect, little, individually wrapped towelette that you then just toss.