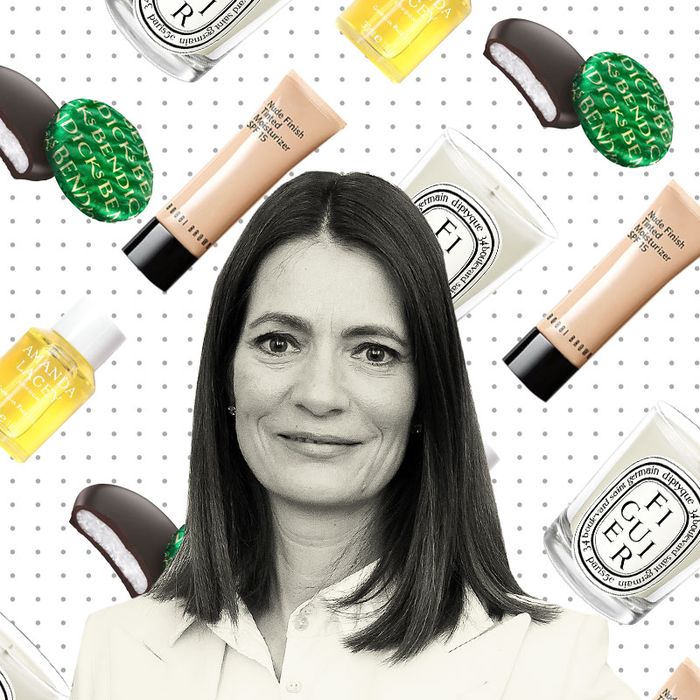 If you're like us, you've probably wondered what famous people add to their carts. Not the JAR brooch and Louis XV chair, but the hand sanitizer and the electric toothbrush. We asked author Plum Sykes, whose new book Party Girls Die in Pearls is available now, which items she can't live without.
It's a clear-plastic and chic water bottle — they're usually bright-orange rubber and look like they're from the '50s, but this one is high tech. In England, we call them "hotties," not meaning a hot boy, but something that my mother would put in bed with me at night because back then heat was so expensive, so a lot of households wouldn't turn it on at night. So you'd use one of these to stay toasty. Now, I'll take one with me everywhere, even to Dallas, where it was really hot. You fill it with hot water, wrap it in a towel, and then you can lie in bed with it on your neck or lower back or tummy, and it's very comforting. I actually left mine in Dallas and was freaking out when I landed in Chicago. This one's so great because it's German-made, so it's well-engineered and made of thermoplastic, which holds heat better than rubber.
When I first used to go to Paris with Vogue, and there was only one Diptyque shop I think in St. Germain, all the fashion editors would go and make a pilgrimage. This one's my favorite because the fig-tree candle has just a very fresh smell that smells like a leaf. It's like burning money because it's so expensive, but I travel everywhere with it. I find it comforting to have a flame in my bedroom or hotel room. I have to wrap it up so it doesn't crack in my suitcase.
I interviewed Bobbi Brown for Vogue a little while ago, and she said to me, "My tinted moisturizer will change your life, Plum Sykes." And she gave me some, and it did change my life. It's this amazing foundation that looks like you're not wearing any makeup at all, but it makes your skin flawless. It has SPF as well, which is so much better than sunscreen. It evens out your skin tone, and makes you look flawless and feel more groomed to face your day. It dries instantly, and it wouldn't go all over your clothes, either.
Madewell is owned by J.Crew. To me, it's the new J.Crew, now that Jenna Lyons left, because what I love about Madewell is that you walk in and you know what it is — it's American casual beach chic with French Left Bank. The jeans are perfect because they have a very, very high waist, and are very well-fitted, very flattering, and much cheaper than J Brand. You can wear them to the office with a blazer and look put together and professional, but just the slightest bit French.
I always make lots and lots of spaghetti Bolognese for my children, and obviously we put lots of Parmesan on it. Alessi, I think, is just an amazing Italian company because not only is everything they make functional and utilitarian — it's absolutely beautiful. It looks like something from the space age. It looks like an astronaut's grater.
Photo: Thom Watson/Copyright MANFACE 2016
Amanda Lacey is a very chic facialist in London who trained under Jo Malone, and she does facials for people that cost a fortune. It costs something like £400 a facial, but the products she uses involves these incredible oils. The bottle is expensive, but it lasts about two years. So you just put it on at night, instead of a moisturizer. It moisturizes your skin, makes your skin so soft, and gives it this lovely scent, without any awful fragrances and parabens. It's