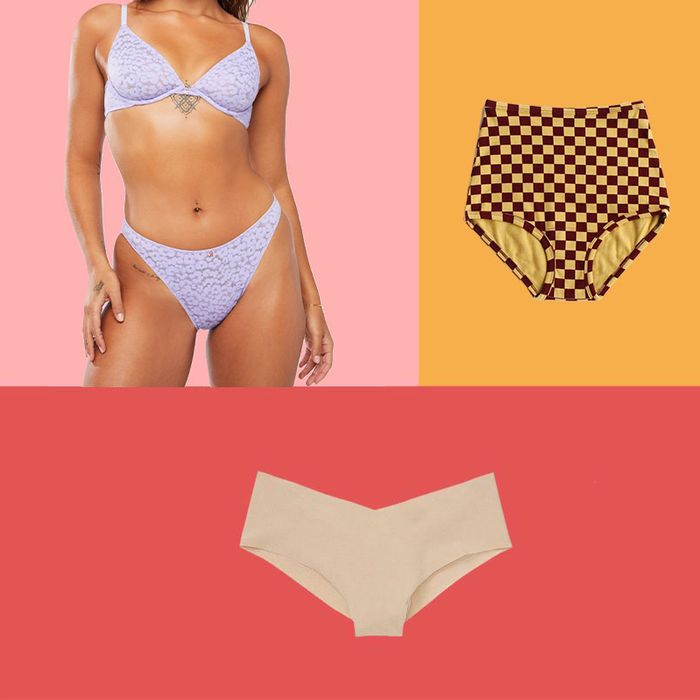 Panties for everyone.
Photo-Illustration: Courtesy of the retailers
Underwear: You wear it every day, so you better get it right (much like jeans and white tees). Whether you prefer bikinis, high-waisted briefs, or thongs, the ideal pair of underwear is one that takes you through the day without requiring much thought. To find the best kinds of women's underwear, we reached out to 34 stylish businesswomen, models, designers, and musicians to get their favorites (and to ensure we left no pairs behind, we also culled our archives for underwear recommended by other interesting people — Amber Rose and Barbara Corcoran, to name two). Read on for all of their picks, which include practical underwear that will get you through the workday without a wedgie, pairs that will be invisible under even the slinkiest dresses, and a few styles that you'll probably want to show off.
Best overall women's underwear
Three women we talked to named underwear from The KiT as their current favorite. Created by stylists Jamie Mizrahi and Simone Harouche — who, as the Cut notes, have plenty of experience working with undergarments that fit seamlessly beneath outfits — the brand offers bras, bodysuits, pasties, bandage tape, and eight kinds of underwear that come in neutral shades. Maisonette co-founder Sylvana Ward Durrett is one fan of the brand. "From the seamless briefs to the adhesive thongs, each style is like true magic where I don't have to worry about underwear lines," she says. "I also love the high-waisted styles that smooth everything out and often opt for these when I'm wearing a slim-fitting dress or skirt." On the whole, Durrett says that underwear from The KiT is lightweight and has a barely there feeling. Morgan Hutchinson, founder of clothing line BURU, says that she's become a "fast fan" of the brand since its launch as well. She particularly likes The KiT's seamless thongs. "The high-rise is awesome for mum-tum," she says. And, as the Cut reports, the fact that the underwear is designed by stylists who have to pay attention to what shows and doesn't show under a garment is a big plus. Nell Diamond, founder of Hill House Home, agrees, saying she loves that The KiT was created by stylists because it means she worries less about whether her underwear will show under a dress or if her bra is the wrong shape. "The KiT's styles have really simplified things for me," Diamond says. "Plus, their lightest shade is pale enough even for a ghost like me (my nickname in middle school was Casper.")