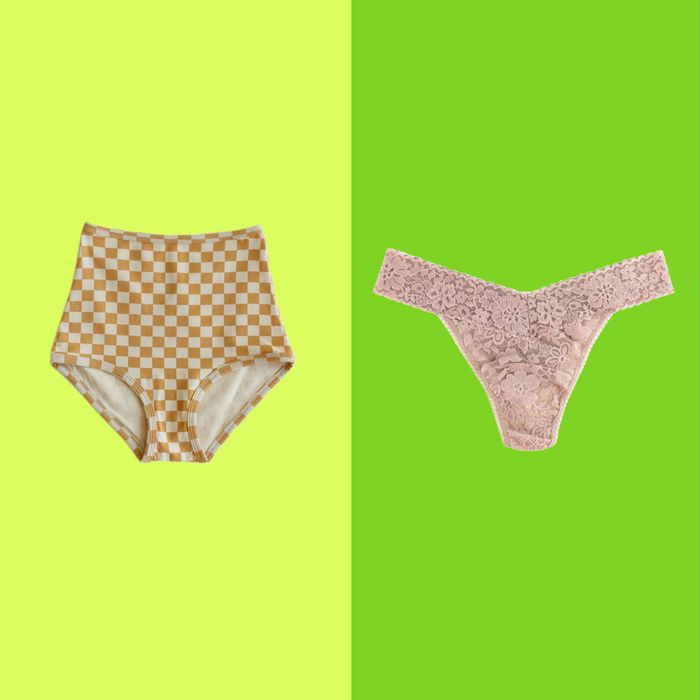 Panties for everyone.
Photo-Illustration: Courtesy of the retailers
Because it's usually unseen, your underwear should feel invisible — should being the operative word here, as anyone who's dealt with a too-tight thong, a wedgie, or visible panty line can attest to. If the contents of your undies drawer don't quite make the cut, this is a good place to start looking for upgrades. Below, we've compiled recommendations from a panel of women whose style we admire, including lingerie experts, entrepreneurs, models, and musicians. And to ensure no brief was left behind, we searched our archive for any we considered worthy of a coveted spot on this list. From comfortable boyshorts to lacy little numbers, there's probably a panty for you here.
Best overall | Best less expensive | Best high-rise brief | Best less expensive high-rise brief | Best hipster | Best hipster for plus sizes | Best boybrief | Best boyshort | Best overall thong | Best less expensive thong | Best seamless thong | Best no-show | Best cheeky | Best French-cut | Best less-expensive French-cut | Best G-string | Best maternity | Best period
Sizing: The intimates industry has a reputation of being exclusionary — though that's slowly changing. Size inclusion was a big sticking point for us, and so we tried to highlight undergarments offered in a wider range of sizes.
Cut: Whereas men's underwear comes down to three main cuts (boxers, briefs, and boxer briefs), it's the Wild West out there for women. There's the sisterhood of briefs, bikinis, and thongs from which others descend, such as the boyshort, hipster, and cheeky. Then there are the capitalized cuts, like the French cut that harks back to the Baywatch days of one-pieces, and the G-string, which is the next best thing to nothing at all. Rise is another consideration — maybe you prefer a high-rise (à la "My Calvins" ), low-rise, or something in the middle.
Material: How a pair feels will depend on what it's made from. Cotton is a favorite for its breathability. Modal is an alternative often seen in sustainable options since it's biodegradable. For its airiness, mesh (usually manufactured from nylon) works as another popular textile. To make a panty more moldable to the body, some stretch (either elastane or spandex) will generally make an appearance on tags. Since underwear is such a personal choice, there's really no right answer to which material is best — but to help you, we've detailed the materials used in every recommendation.
Price: Even though almost all of us would consider underwear an essential, it isn't always priced that way. Our focus, therefore, was on the undies that truly feel well worth it. Each of the picks is denoted as $ (under $15), $$ (under $25), or $$$ (over $25).
Best overall underwear
Photo: retailer
Sizes XS–L/XL | Bikini, seamless edges | Cotton, elastane | $$$ 
Of all the labels that are popular with our panelists (keep in mind that we heard about just shy of 60 pairs), Commando was cited the most. The label's underwear was repeatedly praised for its, well, almost-gone-commando fit. "If you've ever wondered what the stars on the red carpet were wearing underneath those sheer, unforgiving gowns, the answer is almost certainly a pair of Commandos," explains Alison Freer, costume designer and Strategist contributor.
When it came down to deciding which style to crown as our overall winner, we chose Commando's bikini because the cut was pretty popular among the obsessives we talked to. Stylist Jasmine Caccamo describes it as seamless, with a shape that works underneath both leggings and body-skimming silk dresses. Bee Stuart, personal stylist and founder of QueerYorker, is another Commando convert, describing its bikinis (her favorite is the frillier Double Take) as luxe feeling even for everyday, showing off a hint of skin while offering full (comfortable) coverage.