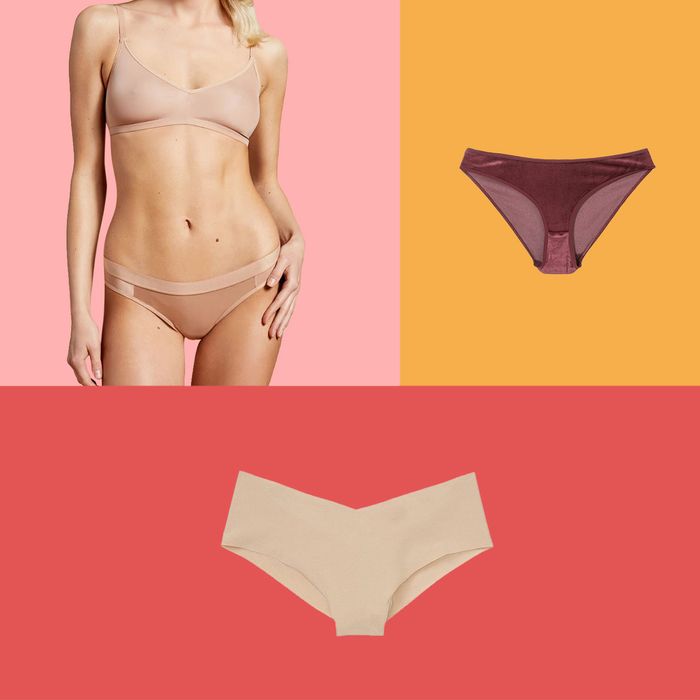 Panties for everyone.
Photo: Courtesy of the retailers
Underwear: You wear it every day, so you better get it right (much like jeans and white tees). Whether you prefer bikinis, high-waisted briefs, or thongs, the ideal pair of underwear is one that takes you through the day without requiring much thought. To find the best kinds of women's underwear, we reached out to 26 stylish businesswomen, models, designers, and musicians to get their favorites. And to ensure we left no pairs behind, we also culled our archives for underwear recommended by other interesting people (Amber Rose and Barbara Corcoran, to name two). Read on for all of their picks, which include practical underwear that will get you through the workday without a wedgie, pairs that will be invisible under even the slinkiest dresses, and a few styles that you'll probably want to show off.
Best overall women's underwear
Three women we talked to named underwear from newly launched brand The KiT as their current favorite. Created by stylists Jamie Mizrahi and Simone Harouche — who, as the Cut notes, have plenty of experience working with undergarments that fit seamlessly beneath outfits — the brand offers bras, bodysuits, pasties, bandage tape, and eight kinds of underwear that come in neutral shades. Maisonette co-founder Sylvana Ward Durrett is one fan of the brand. "From the seamless briefs to the adhesive thongs, each style is like true magic where I don't have to worry about underwear lines," she says. "I also love the high-waisted styles that smooth everything out and often opt for these when I'm wearing a slim-fitting dress or skirt." On the whole, Durrett says that underwear from The KiT is lightweight and has a barely-there feeling. Morgan Hutchinson, founder of clothing line BURU, says that she's become a "fast fan" of the brand since its launch as well. She particularly likes The KiT's seamless thongs. "The high-rise is awesome for mum-tum," she says. And, as the Cut reports, the fact that the underwear is designed by stylists who have to pay attention to what shows and doesn't show under a garment is a big plus. Nell Diamond, founder of Hill House Home, agrees, saying she loves that The KiT was created by stylists because it means she worries less about whether her underwear will show under a dress or if her bra is the wrong shape. "The KiT's styles have really simplified things for me," Diamond says. "Plus, their lightest shade is pale enough even for a ghost like me (my nickname in middle school was Casper.")
Several of the women we spoke to named Commando as a go-to underwear brand, whether it be for briefs, bikinis, or thongs. Stylist Jasmine Caccamo says that the brand's stretch-cotton bikini briefs are seamless and "create a super-flawless (a.k.a. wedgie-free) fit" whether she's wearing them under leggings or a silk cami dress. "For me, it's all about comfort and functionality," Caccamo says. "Not only do I love Commando-brand underwear for myself, but for my celebrity clients as well … I'm obsessed." Costume designer and Strategist contributor Alison Freer prefers the brand's boy shorts, which she says "are both elastic and trim-free — meaning they won't dig in, bunch up, or cause lumpy, unflattering bulges under a flattering pair of pants." The underwear never shifts, slides, twists, or reveals itself once you start moving and sweating, according to Freer, and best of all, the wide sides keep it securely in place on your body, preventing a wedgie. "If you've ever wondered what the stars on the red carpet were wearing underneath those sheer, unforgiving gowns, the answer is almost certainly a pair of Commandos," Freer says. If a thong is more your style, two of the women we talked to recommended the brand's mid- and low-rise options. "Okay, so here's the thing about these thongs," says Cupcakes and Cashmere founder Emily Schuman of the mid-rise cut. "There is nothing remotely sexy about them — they're devoid of lace, have super-thick sides, but they lie completely flat against my skin and don't show under even the tightest, lightest pieces." The absence of seams and tags "makes it feel like you've gone commando (hence the name)," says Schuman. "Best of both worlds!" Stylist Tiffany Gifford is a Commando thong fan, as well, though she prefers the low-rise over the mid-rise. "My favorite underwear are Commando's thongs," Gifford says. "They are seamless, and come in great colors and an array of sizes. The best underwear you forget are even there, and that's what these do."
If you prefer something lacy, Hanky Panky is a classic underwear brand that remains a favorite of several of the women we talked to. When we asked Barbara Corcoran, the founder of Corcoran Group, about her favorite things, Hanky Panky's Signature Thong made the list. "Everyone seems to wear these," she says. "They come in every color, like 30 colors, and it's like a lace crayon box when you open your drawer." The thing about them, according to Corcoran, is that "they're inexpensive and last forever." She says she doesn't think she's ever thrown a pair out, and that the stretch material never gives up, despite the fact that they don't feel like you're wearing underwear. "I can't say I've worn just these with a skirt (I need pantyhose), but they're just great and never, never wrinkle," Corcoran says. And if you want to stock up, Hanky Panky's three-packs are a good option. Iva Pawling, co-founder of Richer Poorer, prefers the brand's low-rise style, of which she has many. "I am equal parts proud and embarrassed that I have only been wearing Hanky Panky underwear for, oh, about 14 years," she says. "I don't have to think about them, and they just work." For something with more coverage, costume designer Leesa Evans told us, "Hanky Panky boy shorts are so soft and comfortable, and never show a panty line."
Best cotton bikinis and briefs for women
Cora Harrington (a.k.a. the Lingerie Addict), the author of In Intimate Detail: How to Choose, Wear, and Love Lingerie, says that if you want something you can easily find at your local department store, Natori's Girl Briefs are her favorite "mainstream" underwear (we heard about Harrington's more obscure picks, too, which are further down this list). "They're cute. They're comfy. The Pima cotton means they're supersoft," she explains. "Nordstrom includes them in their annual anniversary sale, and my secret tip is to buy discontinued colorways … after all, no one cares what color your underwear is!" Dolley Frearson, co-founder and creative director of High Fashion Home, is another fan of the Natori Girl Briefs. "For everyday underwear, I need it to feel comfortable and breathable," she says. "I also need it to appear smooth, and not pinch my skin in any place or ride up." For Frearson, the Natori briefs check all of those boxes. "They will eventually replace almost all of your underwear in your drawer," she promises.
Photo: Reid, Hilary
Man Repeller deputy editor Haley Nahman, who conducted her own extensive research about the best cotton underwear, told us that this pair from the Gap is her favorite. "Gap describes this underwear as 'high cut,' but I beg to differ: It's the most classic brief shape I've ever encountered," Nahman says. "I discovered them when I was on a maniacal hunt for the best cotton underwear — an endeavor that pitted these against several more expensive (and lauded) options. In the end, Gap won." She says these are "comfortable, cute, affordable, and perfectly basic," not to mention 100 percent cotton. "Asking for more would just be greedy."
Laura Schubert, co-founder of pubic-hair-oil company Fur, says ODDOBODY's underwear is "perfect" — especially the brief. "It's a classic," she says. "I love a classic brief because they are comfortable and easy to wear. The stitching and fabric ensures that they don't bunch or have weird lines." Schubert also likes that the brand's pieces are made of 100 percent cotton, and that ODDOBODY "promotes speaking comfortably about bodies, health, and identity."
"I love Pansy for underwear," says Alyssa Lau, the founder of sustainability-focused e-retailer New Classics Studios. She calls the California-based ethical underwear company's pieces "sturdy and beautifully crafted," and notes that they're made from organic cotton that's grown and milled in the U.S. "For me, wearing underwear that's comfortable, easy to care for, made to last, and crafted with natural fabrics (for the breathability!) is very important," Lau told us. "Pansy checks all those boxes."
When we asked rapper Junglepussy about her pick, she told us she's "very loyal" to Calvin Klein underwear. "Just ask my boo, he sees them every sleepover and probably assumes they sponsor me, but it's my hard-earned dollars maintaining this luxury," she says. "They give me a smooth finish under fitted clothing and their fabric keeps the coochie fresca. I have every color Calvin in these cuts."
Lena Dunham told us that she loves "a slightly baggy, but fun underpant," and called out these Joe Boxer string bikinis as ones that fit the bill. "Joe Boxer was cool and hip when I was 12, and now it's a Kmart property. Leaving aside the ethical implications of that, I fucking love the underwear," Dunham says. She told us she orders the bikinis in a large to get her preferred loose fit. "A medium might be more supportive of my butt, but this gives me a little tail," she says. "A six-pack of three solids and three patterns for me is the perfect balance."