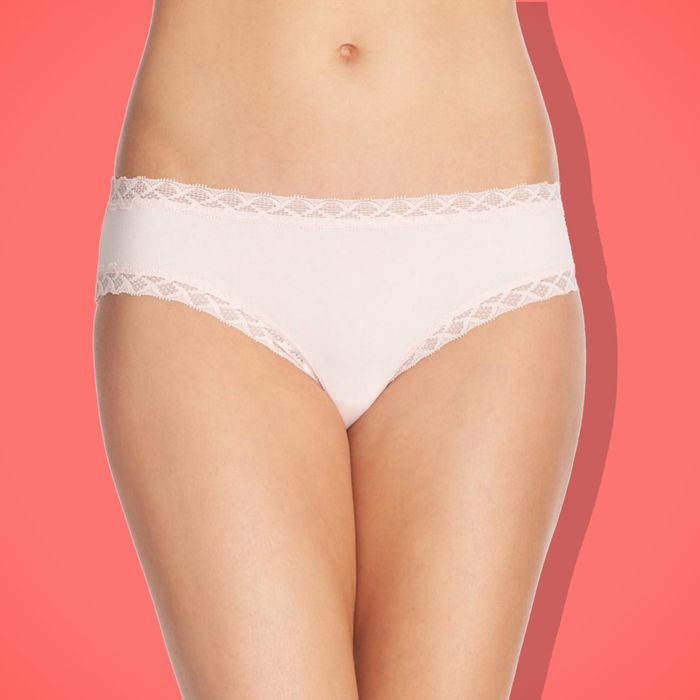 I know all about underwear, and this is what I keep buying.
Photo: Courtesy the retailer
Cora Harrington is the founder of the Lingerie Addict blog as well as the author of the new book In Intimate Detail (out August 28). Here, she tells us about the underwear she buys over and over again.
I'm picky about my underwear. It not only needs to fit well (no binding, digging, chafing, or wedgies), it also needs to be soft, comfortable, easy to care for, and – dare I say it? — pretty. As a lingerie blogger, I've tried a TON of underwear, but I only have a few favorites I turn to again and again. These are the knickers that I'm willing to pay full price for and that I brag about to all my friends. Their name? The Natori Bliss Briefs.
I can't remember what made me decide to buy these for the first time. Maybe a friend recommended them, or maybe they were just a quick purchase as I walked through Nordstrom. But I do know it was love at first try. You see, in addition to being picky on general principle, I also have a sensitivity condition — vulvodynia — that makes me exceptionally aware of things like fabric quality and seam placement. Basically, if something is comfortable enough for me to wear every day, then it's probably comfortable enough for everyone. My body simply can't tolerate anything less.
The Natori Bliss Briefs are made from plush pima cotton with a touch of spandex and edged in delicate (but not twee) lace. While, like all underwear, it's recommended that you hand-wash and air-dry these, I confess I've tossed my Natori Bliss Briefs into both the washer and dryer and they've come out just fine. They last for years (literally), and the fact that they come in over a dozen fashionable colors is a nice little bonus. Oh, and the briefs won't show under clothing and are available up to a size 20. It's why I own at least 10 to 12 pairs at any given time and just bought 6 last week — they're 17 percent cheaper when you buy 3 at a time.
More Strat-approved women's briefs
Costume designer and writer Alison Freer told us about the invisible underwear worn under tight red-carpet dresses: "They are whisper thin, lie perfectly flat like a second skin, and are absolutely invisible underneath every single pair of pants I own. If you've ever wondered what the stars on the red carpet were wearing underneath those sheer, unforgiving gowns, the answer is almost certainly a pair of Commandos. Commando's boy shorts are both elastic and trim-free — which means they won't dig in, bunch up, or cause lumpy, unflattering bulges under a flattering pair of pants. They don't ever shift around, slide, twist, or reveal themselves once you start moving and sweating."
Kim France, the founding editor of Lucky magazine, only buys this bikini underwear: "My underwear drawer is the most boring place in the world because all I have are dozens of pairs of the same thing: On Gossamer's Mesh Bikinis. It is so far and away the perfect underwear that I have a hard time understanding why anybody wears anything else: It's superlight, highly breathable, and — most importantly — hugely VPL-resistant. Seriously, it's as VPL-resistant as a thong, but without the annoyingness of a thong."