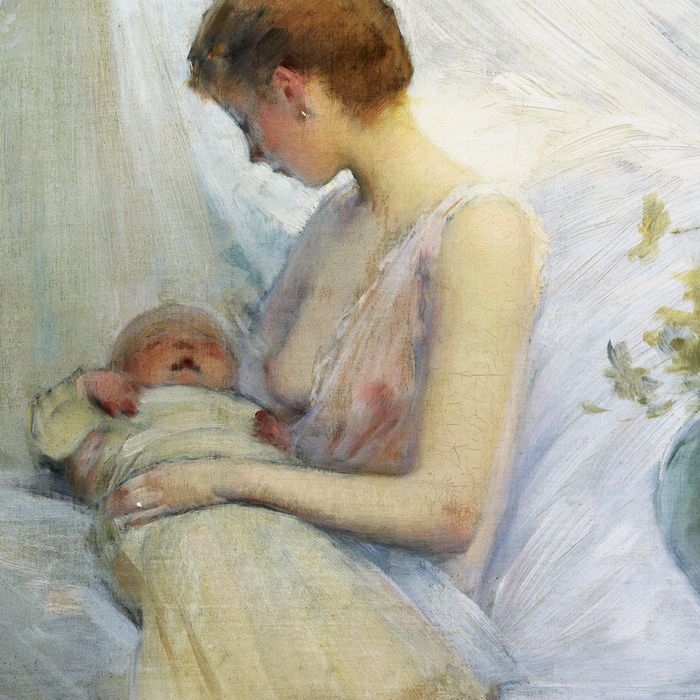 Photo: Fine Art Photographic/Corbis via Getty Images
For new mothers who choose to breastfeed their babies, wearing the right nursing bra can make a world of difference in their comfort. But what should a mom look for? To find out, we spoke to International Board–certified lactation consultants, registered nurses, and baby and breastfeeding stores about what makes a maternity and nursing bra especially useful for breastfeeding mothers (think comfort and support). Many experts we spoke to encouraged women to get fitted by a professional if possible, but if you need a helpful place to start, below are their favorites.
It can take between four to six weeks for a new mom's full supply of milk to come in, so it's difficult to buy the correct-size bra before giving birth, as breast size will increase during that time, says Dominique Weiss, a registered nurse, board-certified lactation consultant, and owner of Baby Zone NYC, a pre- and postnatal educational center that offers classes and lactation support for new parents. She's also the mother of twins. Weiss recommends a nursing tank for the early stages of breastfeeding: "Nursing tank tops are much more forgiving in sizing and have adjustable straps and an adjustable shelf bra." Her favorite is from Glamourmom, as it also offers tummy coverage and support without being restrictive. Although its price point was on the higher end of what Weiss wanted to pay for a nursing bra, it was worth the money: Not only was she able to use it for one-and-a-half years, she even passed it on to a friend when she was done with it. The Glamourmom tank is also a favorite of Yummy Mummy, a breastfeeding store and resource center based in Manhattan.
Felina Rakowski-Gallagher, the owner of the beloved Manhattan breastfeeding store Upper Breast Side, which shuttered last September, stresses the importance of being fitted properly by people who care about your breasts. Short of that, there are online resources like Birth and Baby and Levana Bratique, that Kate DiMarco Ruck, a lactation consultant who runs the Parenting Studio in Brooklyn, recommends for virtual bra-fitting services.
Another important tip? Women should avoid underwire bras at all costs. "Underwire can compress breast tissue, which can lead to milk stasis and clogged ducts," says Ruck. Instead, a bra should be "supportive but soft," according to lactation consultant Rebecca Koyf. Other features to look out for include bras that "have strong clasps or panels to allow easy access to the nipples for breastfeeding, soft cotton lining for a comfortable fit while nursing for sore nipples, and are stretchy," says Flushing, New York–based lactation consultant Betty Greenman of Breastfeeding With Love.
Amanda Cole, Yummy Mummy's founder and CEO, also recommends bras that offer built-in band extenders or additional hook panels and removable padding. And she notes, "All nursing bras should be breathable and enable mom to wear a nursing pad for leakage."
Ruck, Rakowski-Gallagher, Koyf, and Cole all chose Bravado nursing bras as a client favorite. Rakowski-Gallagher found that Bravado's Body Silk Seamless bra was the most versatile option for her clients toward the end of their pregnancies and when they began nursing. Resembling a sports bra, it features soft fabric that "molds to your changing shape," according to the brand, making it a great bra for that transitional period between giving birth and breastfeeding.
At Wild Was Mama, a baby and maternity boutique in Greenpoint, Brooklyn, Bravado's Buttercup is a mom- (and Strat-) approved favorite. According to store manager Victoria Tartaglione, the Buttercup is wire-free, which "increases the comfort factor, but still lends support and style of a bra that has underwire." She continues: "This bra comes with convertible crisscross straps, so you're never limited to tops you want to wear; easy to use one-handed B nursing clip, which drops the cup down completely for optimum skin-to-skin contact with baby." It also happens to be on sale.
Organic clothing company Blue Canoe came up as another favorite of moms that Ruck and Rakowski-Gallagher work with. Jane's Bra Top and its companion Jane's Plus Cup (for larger cup sizes) offer a crossover front design that offers easy pull-down access for nursing ("Very easy to maneuver," according to Rakowski-Gallagher) and accommodates fluctuating breast size, while the wide bottom band and straps provide comfort and support.
Here's another pullover-style bra, this time from Boob (which we've covered here), another popular choice at Wild Was Mama for its dual function as a pregnancy and nursing bra. The 24/7 bra is made from soft moisture-wicking lyocell, "which makes it incredibly cooling on the skin," according to Tartaglione, while the sports-bra style "makes it so easy for nighttime nursing while also offering enough support to be your new favorite day-out bra."