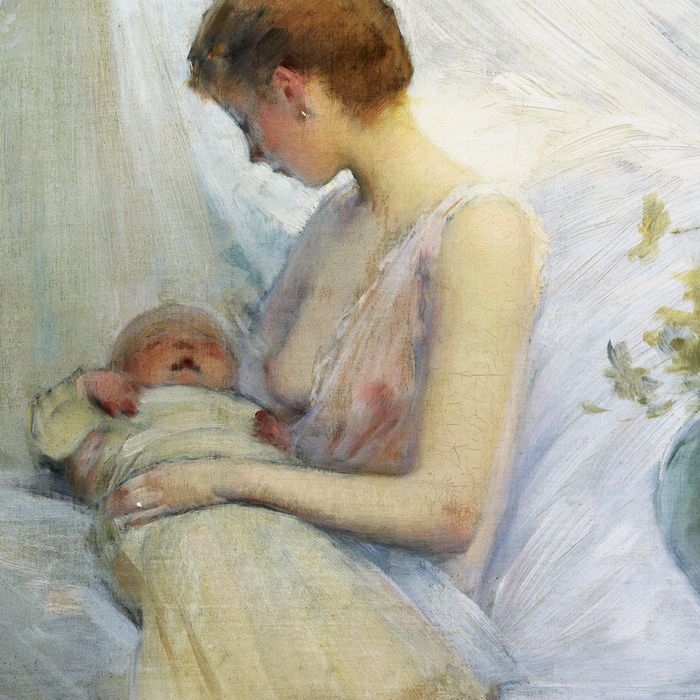 Photo: Fine Art Photographic/Corbis via Getty Images
For new mothers who choose to breastfeed their babies, wearing the right nursing bra can make a world of difference in their comfort. But what should a mom look for? To find out, we spoke to International Board–certified lactation consultants, registered nurses, and baby and breastfeeding stores about what makes a maternity and nursing bra especially useful for breastfeeding mothers (think comfort and support). Many experts we spoke to encouraged women to get fitted by a professional if possible, but if you need a helpful place to start, below are their favorites.
Felina Rakowski-Gallagher, the owner of the beloved Manhattan breastfeeding store Upper Breast Side, which shuttered last September, stresses the importance of being fitted properly by people who care about your breasts. Short of that, there are online resources like Birth and Baby and Levana Bratique, that Kate DiMarco Ruck, a lactation consultant who runs the Parenting Studio in Brooklyn, recommends for virtual bra-fitting services.
Another important tip? Women should avoid underwire bras at all costs. "Underwire can compress breast tissue, which can lead to milk stasis and clogged ducts," says Ruck. Instead, a bra should be "supportive but soft," according to lactation consultant Rebecca Koyf. Other features to look out for include bras that "have strong clasps or panels to allow easy access to the nipples for breastfeeding, soft cotton lining for a comfortable fit while nursing for sore nipples, and are stretchy," says Flushing, New York–based lactation consultant Betty Greenman of Breastfeeding With Love.
Amanda Cole, Yummy Mummy's founder and CEO, also recommends bras that offer built-in band extenders or additional hook panels and removable padding. And she notes, "All nursing bras should be breathable and enable mom to wear a nursing pad for leakage."