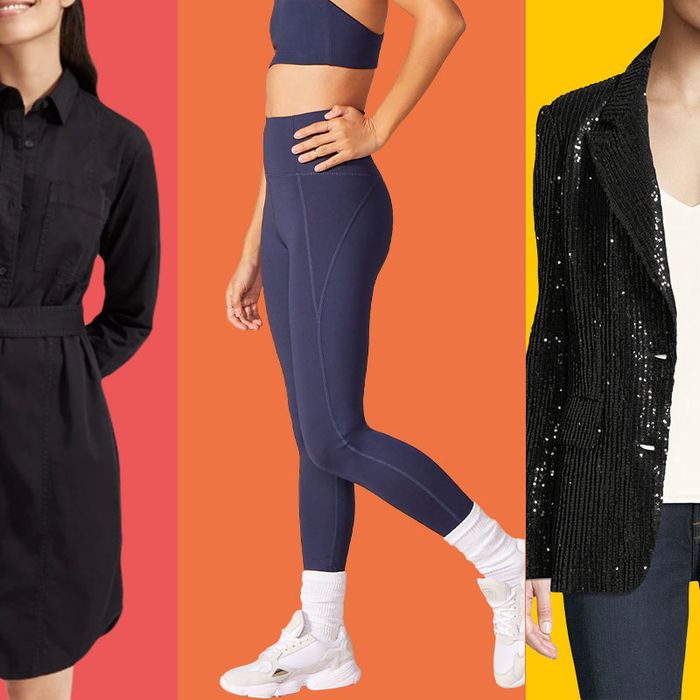 Photo: Courtesy Retailers
One of the more complicated parts of going through breast-cancer treatment is that it can feel like your body is constantly shape-shifting. It changes and fluctuates (weight gain/loss from chemo, new breast size from mastectomy/reconstruction procedures) in a way that can feel destabilizing and make getting up in the morning feel like even more of a chore — and that's not even taking into account the daily effort of putting on clothes.
As a breast-cancer survivor who has undergone rounds of chemotherapy and immunotherapy, a mastectomy, and DIEP flap reconstruction (where your breasts are rebuilt using your own tissue), I can say that fashion was certainly not a top concern of mine, nor of most patients I met. Still, I've found there are key pieces of clothing that can make what you're going through just a bit easier, and help boost your confidence during a trying time. Prior to being diagnosed, getting dressed was a fun way to express myself, but during my cancer journey it often upset me — because every time something didn't fit, I was reminded of what I was going through. For a while, I lived in sweats and barely touched most of the clothes in my closet. But then I slowly began to learn the tips and tricks of dressing my new body, and invested in some key basics that I believe every breast-cancer patient should have in their arsenal. Read on for the all the clothes that helped me navigate a difficult time for me and my body.
A shirtdress
If I could only recommend one article of clothing for someone going through breast-cancer treatment, it is a shirtdress. It checks so many boxes: It's a button-down (essential for post-surgery when you can't lift your arms above your head), adjustable (buy one that runs a bit large and you can just adapt the size using a belt), and also provides easy access for administering infusion or changing in and out of hospital gowns. Everlane is one of my go-to resources for shirtdresses, because it has a huge selection, all of which are great quality. The silhouette on this one is flattering, clean, and with the belt removed, it hangs very comfortably post-surgery (I actually wore it to and from the hospital for my last operation).
A button-down shirt
I cannot stress enough that, when you are a breast-cancer patient, button-downs are your friend. Especially after having breast surgery, because there will be a period of at least a few weeks when you cannot raise your arms above your head to pull on a shirt. I'm a big fan of Madewell's chambray and black-denim button-downs, which are both comfortable and stylish. If you're purchasing a shirt for post-op recovery, I'd keep an eye out for boyfriend or oversize cuts like this — they are going to be much more comfortable around the chest area, and leave room for things like bandages and drains.
A pair of leggings
When it comes to bottoms, leggings are the MVP during breast-cancer treatment: They can take you everywhere from lounging at home, to chemo infusions, to your first post-surgery workout. A good pair can make all the difference, and I like the leggings from Girlfriend Collective because they are not only insanely comfortable, but they are also made from recycled materials. I have multiple pairs in different colors — that's how much I love them.
A pair of high-waisted pants
My DIEP flap reconstruction left a lengthy scar that runs from hip to hip, a bit above my bikini line (from where they sourced tissue to rebuild my breasts). Even months out of surgery, it is still far more comfortable to wear high-waisted pants that don't land directly on my scar. Bonus points if they have an elastic or tie waistband as well — that can make all the difference. This pair's bow and wide-leg cut give them a dressier feel, but they're also still comfortable (my mantra during treatment was pretty much "how can I always feel, regardless of the level of dressiness, like I'm wearing pajamas?").
A comfortable pair of sneakers
Whether from hormone therapy or chemotherapy, joint pain looms large in the lives of breast-cancer patients. My knees in particular were (and still are) frequently sore from my medications, so a comfortable pair of shoes with proper support is essential. My trusty Allbirds always did the trick: I could walk around in them all day (and still do) without feeling any pain in my knees.
An equally comfortable pair of flats
Sadly, there are times when you can't get away with wearing sneakers. When my Allbirds weren't an option, I turned to my equally trusty pair of black Rothy's loafers. They are the only truly comfortable pair of flats that I've ever owned, and even after excessive wear, they still look new! It's worth noting that Rothy's has, for many years now, been an active partner of the Breast Cancer Research Foundation during Breast Cancer Awareness Month (which, for those who don't know, is every October). This month, it even has a special collection dedicated to the cause.
A beret