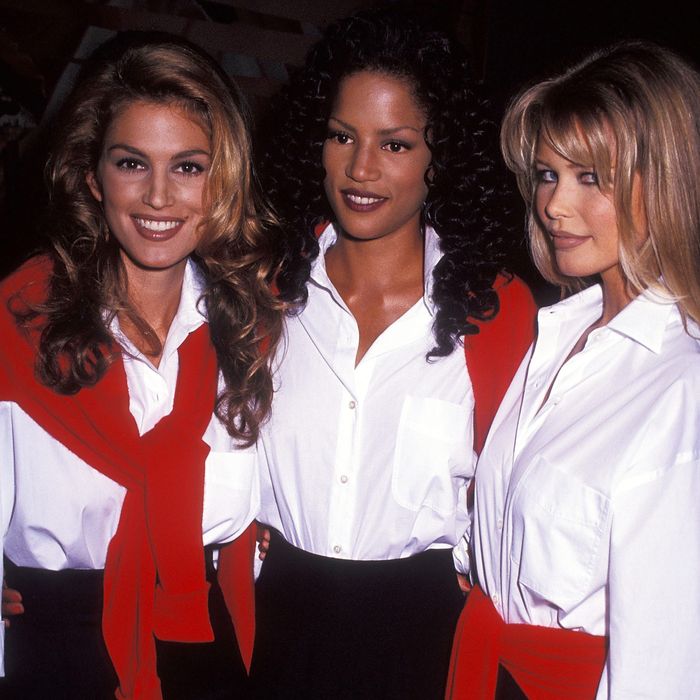 Photo: Ron Galella, Ltd./Getty/Ron Galella Collection via Getty
It doesn't get more classic than a white button-down shirt. An ideal option for 100-degree July days, formal job interviews, "creative" job interviews, your ten-day vacation to Crete, your 3 a.m. visit to the bodega — it's actually harder to think of a place where you can't wear a white button-down shirt than to name all of the places you can. But like other deceptively simple classics — such as white T-shirts, black T-shirts, and jeans — there are a bunch of options out there. We asked 14 stylish women about their favorites, and they recommend a variety, including short-sleeve linen, oversized Oxford, moisture-wicking, and more styles — a smattering of which come from the men's (or boys') section, so we recommend consulting those brands' size charts to help you find the right fit. Below, the 14 best white button-down shirts for women, according to our stylish panel.
Best white button-down shirts under $100
If a lighter fabric isn't cooling enough, you might want to consider a short-sleeved button-down. Sara Jane Emmons, associate manager of brand development at body-hair-care line Fur, recommends this short-sleeve linen number from Everlane that features a pajama-inspired collar. She owns it in blue-and-white stripes and says she wants to add an all-white version to her closet too. "I like that it naturally has a low neckline, and obviously everyone is stanning linen hard-core this summer," Emmons says. "Everlane can be a little too 'I'm scared of making fashion choices' for me, so I'd wear this with pukka shells and some linen pants (I like these ones from Ilana Kohn), and maybe some Birkenstocks with tie-dye socks for the full 'cool camp counselor/chill cult leader' vibe."
Photo: Arian Camilleri
Strategist writer Chloe Anello (who is also one of the writers of this story) just recently got this button-down from Alex Mill. Thanks to the lightweight material and flattering cut of the shirt, she thinks it gives off a great borrowed-from-the-boys vibe without looking too bulky and oversized. It's particularly good for a larger chest — the shirt manages to lie flat and doesn't gap. It also comes in four other colors.
Photo: Retailer
For a more traditional-looking linen option, try illustrator Alexandra Citrin-Safadi's favorite white button-down — a roomy linen-cotton number that she gets from the men's section at the Gap. It's one of several men's — and boys' — shirts that made this list. "The Gap men's linen-cotton shirt is my current favorite. I love an oversized cut; I keep a pristine one in my studio (to replace the dirty one I'm always working in) in case I have to suddenly look pulled together," says Citrin-Safadi.
For a similar look in a fabric you can wear year-round, this Everlane style — a slim-fit pick from the men's section — comes recommended by Biz Lindsay, director of brand marketing and communications at Harry's. "I borrow from the boys," she says. "It's big enough to be slightly oversize and have a drop in the shoulders, but tailored enough to still look neat tucked into jeans," Lindsay says. "I usually have two or three on rotation in my closet."
For a looser-fitting, more billowy option that can double as a beach shirt or a dress, COA NYC designer Amanda Lurie suggests a guayabera shirt. "A guayabera is a men's linen summer shirt that originated in Cuba and has pleats on the front and back," says Lurie, who has bought many new and secondhand ones over the years. "I like it the best because it's oversized and breathable, as well as having a decorative element with the pleat details," she explains. "It's easy to wear over bathing suits since it's a men's shirt. Some I have can even double as a dress." The shirts are generally worn loose, so if you need help figuring out how oversized or fitted to go, check Cubavera's size chart.
"I have a rule that a white shirt should always look like you pinched it from someone else," says GQ style writer Rachel Tashjian. "Think Carolyn Bessette, or Jennifer Aniston in Vanity Fair talking about Brad Pitt's missing 'sensitivity chip.'" Her white button-down of choice is the Lands' End Boys School Uniform shirt. "It's just cotton, it's made to last, it doesn't have a funky nipped waist," she says. It features a box pleat in the back that "makes it look a little lounge-lizard tucked in and Kate Hepburn–grouchy-on-set tucked out," according to Tashjian, who notes these shirts can also be monogrammed. "Bonus points if you get it monogrammed with some mystery nickname — 'Pucky' or 'Picasso' or 'Poison.'" If a kids size shirt isn't for you, Lands' End also has boyfriend fit button-downs in regular and plus-sizes, too.
Photo: Retailer
Like Tashjian, writer and editor Erin Schwartz also prefers to shop the boys' section when it comes to white button-downs. "I'm not a huge fan of the hourglass cut of women's dress shirts," she explains. "I really like my Brooks Brothers boys' cotton shirt, which I got in a size 12 but goes up to a boys' size 20. It's a solid, no-nonsense shirt, and it has a nice straight cut — when I wear it, I feel like I'm cosplaying as a private-school field-hockey player."