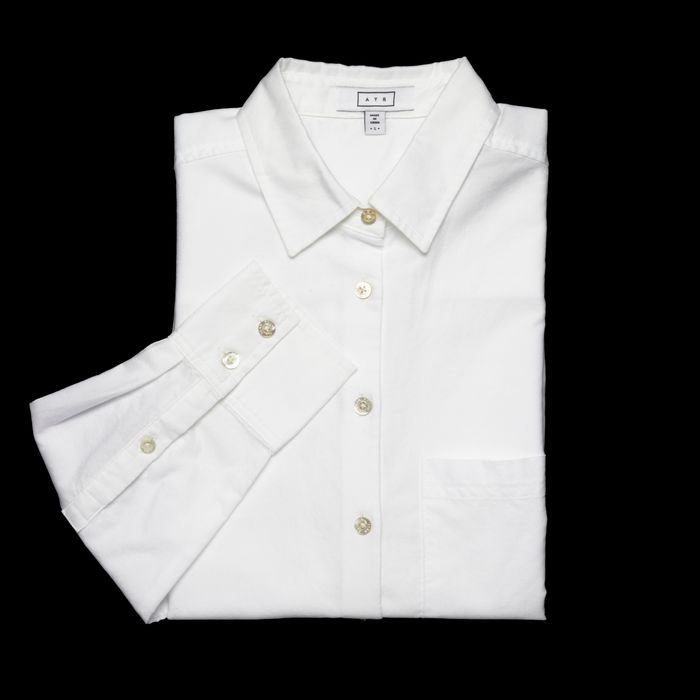 Here's some sartorial history: John E. Brooks of the Brooks Brothers dynasty copied the button-down shirt from the shirts he saw polo players wearing in England. It then became an essential for Ivy League students, as Derek Guy, editor at Put This On and blogger at Die, Workwear, previously explained to us — and from there, became a pillar of the American wardrobe. It really doesn't get more classic than a white button-down shirt, which is now just as much a fixture of womenswear as it is menswear. This most versatile of basics can be high-brow or low-brow, depending on where and when you're wearing it (a 3 a.m. bodega trip, say, versus a formal finance interview). And as with other staples — like white T-shirts, black T-shirts, and a true-blue pair of jeans — there are a bunch of options out there. To help you find the very best, we put together a panel of fashion obsessives to come to a consensus.
As always with any kind of apparel, we're focused on featuring button-downs offered in a wider selection of sizes rather than the frustratingly limited (but all-too-common) small-to-large range.
Traditionally, cotton is the material of choice for button-downs — see the classic Oxford — so that's what most of the ones on this list are made of. It's cheaper (compared to something like silk) and wears well, especially on the wrinkle-fighting front (unlike linen).
The rule that a button-down must have buttons on the collar points (similar to a men's Oxford shirt) isn't really enforced in modern womenswear. In fact, button-down and button-up are used interchangeably to refer to any shirt with a row of buttons and a collar. Beyond those foundational details, anything's really fair game, whether that's pockets, ruffle pleats, curved hems, or puffed sleeves. We've listed the details of each shirt for easy reference. A note: Our panel generally favored oversize styles (think Carrie Bradshaw's post-pond look versus Carolina Herrera's runway-ready tops), but we've also noted which of the button-downs below are more tailored.
The cost-per-wear philosophy is helpful here — it makes sense to invest in a button-down since it's pretty much dress code–proof. But our focus was on finding high-quality shirts that are actually worth what they cost, and whenever one was pricier, we tried to include a more affordable alternative. The ones that made it onto this list are categorized as either under $100 ($), under $200 ($$), or over $200 ($$$).
Best overall white button-down
Sizes: XS–XL | Fabric: Cotton | Design details: Oversize pocket, longer back hem | Price: $$
What made crowning a winner challenging was that there wasn't one button-down that ran away with the title of "most-mentioned by our panelists." Ultimately, Ayr's Deep End shirt won because it's the Platonic ideal of a button-down: You can imagine wearing it anywhere in any which way. It's exactly what Iva Pawling, founder of Richer Poorer, had in mind when her search for the perfect button-down began. Like the oversize men's shirts Pawling relied on until she found this one, Ayr's works so well because it has the "look of a starched oxford shirt" that betrays how soft it really is, making for a boxy but not-too-big silhouette. "I feel put together but not trying too hard, polished but not preppy," she says. It's so dependable that Pawling wears it with everything from formal pants to cutoffs. She wasn't the only person to praise the shirt, either. Kate Sokolov, co-founder of Social Goods, raved about it when I set out in search of big-bust-friendly button-downs. Unlike other button-downs that sometimes don't close all the way, Sokolov uttered an immediate "Oh, this is great!" once she tried it on. She sized down, which the brand recommends if you want something less loose.
Best (less expensive) white button-down
Sizes: 00–16 | Fabric: Cotton | Design details: Chest pocket, curved hem, relaxed fit | Price: $
Everlane was the brand we heard about the most, with several of our panelists explaining that for the price, the quality of its button-downs is top-tier. This shirt is more affordable and slightly more square in shape than Ayr's, with less drapey movement. (There's a reason for that: It's made from the same fabric Everlane uses for its men's oxfords.) But the menswear influence simultaneously gives it a classic feel — and fit. Christiana Greene, owner of Bum-Cake Vintage, considers it a favorite for its oversize silhouette that isn't so oversize that it gets in the way. (She suggests choosing your usual size.) Greene wears it in just about every way, including unbuttoned over lingerie and with high-waisted jeans. Lifestyle blogger Kristina Zias has also praised the shirt, because its looser fit makes it a good option for people with bigger busts. Even after doing a closet purge of old button-downs, she still kept this one around because its boxiness makes it versatile enough to look equally nice tucked in or left open. If you want a true men's shirt, consider this Everlane oxford that Biz Lindsay, director of brand marketing at Harry's, has two or three in rotation.
Best white button-down for bigger busts
Sizes: 0–24 | Fabric: Cotton | Design details: Chest pocket, crinkle fabric | Price: $
This J.Crew shirt was also recommended (along with the Everlane Relaxed Oxford) in our button-downs-for-bigger-busts story. J.Crew's button-downs were cited as especially suitable for plus sizes, earning high marks for their classic fit that's slightly longer with a little extra room throughout. Brand strategist and blogger Rachel Richardson recommends this one in particular because it's slightly less traditional thanks to its crinkled, airy fabric. It's more tailored than boxy, too, a style that Richardson sometimes has trouble finding. The longer length means she can tie the ends for a cropped shirt or do a half-tuck.
Best white button-down for plus sizes
Sizes: XS–4X (with petite and tall options) | Fabric: Cotton | Design details: Spread collar, patch pocket, curved hem | Price: $
"If you have nothing to wear, reach for this and you do," says content creator Nikki Apostolou of this Old Navy number that comes in at just under $40. "This is one of those pieces that works for any outfit." Apostolou, who happens to be one of our go-to sources for our plus-size fashion coverage, praises the oversize fit that feels comfortably loose without entering baggy territory. Plus-size cuts have definitely evolved over the years, becoming better-fitting in the process, she explains, and this button-down is one such example. It's effortless with its boyfriend design that's meant to fall mid-thigh as opposed to the very top of the hips. She relies on the shirt for more casual days, but says it doesn't take much to dress it up, and sometimes likes to wear a faux-leather bustier over it, too.
Best overall white linen button-down
Sizes: XXS–XL | Fabric: Linen | Design: Looser fit, bust-flattering button placement | Price: $$$
The Eileen from Frank & Eileen (which actually launched with the mission to "reinvent the button-up for women") is sustainably made in Mexico with linen woven in Italy. Stylist Grace Thomas points out that while the shirt is meant to have a relaxed fit, it's not so loose as to look sloppy — there's some structure in where the seams are placed. She likes "how it hangs on my body, always looks crisp, and makes me feel put together so simply." As for other features, the Eileen has what the brand describes as "bust-flattering button placement" that's a signature of its other button-downs to avoid boob gap. It's also available in denim, flannel, cotton, voile, and jersey, if you'd like something other than linen.
Best (less-expensive) white linen button-down
Sizes: 2XS–2XL | Fabric: Linen and viscose | Design: Chest pocket, raglan sleeves, rounded hem | Price: $
Staci Brinkman, founder of Sips By, had been looking specifically for a linen shirt when she discovered this one. Aritzia's Boyfriend Shirt is made from a combination of linen and viscose; Brinkman describes the fabric as lightweight, airy, and giving off "strolling-in-the-park vibes." Even though it leans casual, it's easy enough to dress up, too. When it comes to fit, "it's the perfect balance of oversize but not too oversize," Brinkman explains, though she suggests sizing down if you want it to hang a little closer to your body.
Best white beach shirt (that's also a button-down)
Sizes: XS–5X (men's) | Fabric: Linen | Design details: Camp collar, notched sleeves, pleating | Price: $
For a looser-fitting option that can double as a beach shirt for a sweltering summer day, consider this Cubavera guayabera. A guayabera is a centerpiece of Caribbean menswear — my Dominican dad plans to wear them exclusively once he retires — that is known for its distinctive pleating on the front and back. (This one features more traditional lines that make it easily discernible as a guayabera.) The decoration is what makes guayaberas such a favorite for Coming of Age designer Amanda Lurie, who has bought many new and secondhand ones over the years to layer over bathing suits (picture the breathable, laid-back linen billowing around). As Lurie suggests, the shirts are generally looser — your best bet will probably be to go down a size, but double-check Cubavera's (extensive) size chart to make sure.
Best white silk button-down
Sizes: XXS–XXL | Fabric: Silk | Design details: Two chest pockets, point collar, button cuffs | Price: $$$
If you're over oversize, this is one of the more fitted shirts on our list. Equipment's silk shirt earned rave reviews from stylist Jasmine Caccamo and Birdy Grey founder Grace Lee. (And author Jen Doll even wrote an ode dedicated to it.) Caccamo had been "scour[ing] every inch of the internet" to find the perfect white button-down, and her search led her to this slimmer-cut silk option that hangs especially nicely across the bodice. That's a sentiment that Lee and Doll, who are both bigger-busted, share. "I live in slouchy silk button-downs by Equipment," Lee says. It's neither too tailored nor too fitted on her, and she buttons it low enough for a hint of clavicle (and bra). Doll explains that the "buttons don't pull awkwardly across the chest," calling them a godsend. "There are pockets on each breast, but unlike other brands I've worn (J.Crew, Uniqlo, Banana Republic), they don't look bulky or do strange things to the cleavage." Even though it's on the pricier side, both women buy it in multiples. (Since the Equipment shirt is pricier, you could consider a satiny button-down. We heard about this on-sale Zara shirt from designer-slash-blogger Gabrielle Arruda, who likes its "glamorous texture." Though button-downs tend to have "business" associations to them, she points out that this one is decidedly for evenings out (or when you want your outfit to have some dramatic flair).
Best oversize white button-down
Sizes: XS–L | Fabric: Cotton | Design details: Oversize fit, Buttons at cuff | Price: $$$
Strategist writer Erin Schwartz describes Baserange's Ole Shirt as "lavishly oversize" — so much so that they would double-cuff it for that rolled-out-of-bed look before having the sleeves shortened. What sold Schwartz on the Ole is that it has a pajama-y feel (the brand is especially known for its underwear and loungewear), but it's still "so crisp you could crack an egg on it." Schwartz says they actually reach for it over all the other collared shirts in their closet.
[Editor's note: Baserange lists its prices in euros, so this is an approximation to American dollars.]
Best (less expensive) oversize white button-down
Sizes: 0–10 | Fabric: Cotton | Design details: Oversize fit, chest pocket, tunic-length | Price: $
Jane Birkin's button-downs are the standard that Torie de Jong-Tilley, founder of Common Era jewelry, judges hers by. Though the Mango shirt she turned us onto is now out of stock, this version is practically the same, down to the placement of the chest pocket. De Jong-Tilley says her Mango shirt has a laissez-faire vibe that makes her feel like she's channeling the French cinema star who is known for her effortless style. "It's more like wearing your boyfriend's shirt, but without the extreme length that men's shirts have," she says, adding that "it's loose through the waist and [with] enough volume in the sleeves to make rolling them [up] look wonderful." Though it's designed to be slouchy, de Jong-Tilley got the shirt in her usual size for a not-too-bulky fit. The Mango shirt's quality is even on par with her more expensive ones from Everlane, she says, with a lightness that works year-round over a swimsuit or with jeans.
Best white button-down with extra-long sleeves
Sizes: 0–14 | Fabric: Cotton | Design details: Long cuffs, side slits, French seams, grosgrain detailing, and pearl buttons | Price: $$
For a more exaggerated look, consider the Classic Six's the Donna, featuring extra-long cuffs designed to hit past the wrist, closer to the center of your palms. It's a favorite of style coach Kim Hancher, who likes her button-downs to have can't-miss cuffs (like something French) for a bit of a playful touch. "It's always fun to have an interesting detail on a basic, which a white shirt is," she says. (The Donna also has convenient buttons on the cuffs that make it easy to double them up if you want them out of your way.) Though it's a more tailored take than the more oversize options above, it's designed with dropped shoulders and a "torso [long enough] that it stays tucked in." Hancher explains that she usually has to size up to get that kind of length, but "then it's big all over, which is sometimes a look I want, sometimes not." According to Hancher, the proportions on this shirt are pretty much perfect, with a larger collar and nipped-in waist. "It's just a white shirt, but it adds so much to every outfit that I wear it with," Hancher says.
Best cropped white button-down
Sizes: XXS–XL | Fabric: Cotton | Design details: Point collar, patch pocket, cropped shape | Price: $
This boxy, cropped Everlane shirt puts a twist on the classic button-down shape (and calls for a pair of ultra-high-waisted jeans). Hailey Rizzo, founder of fashion blog Feeling Good As Hail, likes that the silhouette doesn't drown her petite frame, describing its length as "cropped but not too cropped." She also likes the way it fits around her shoulders, where there's a seam that falls right at the top of her arm. The shirt also looks just as polished and put-together whether it's buttoned completely or worn open — and Rizzo says it reminds her of Princess Diana's off-duty style.
Some more women's white button-down shirts we've written about
• Gabrielle Arruda, designer-slash-blogger
• Staci Brinkman, founder of Sips By
• Jasmine Caccamo, stylist
• Torie de Jong-Tilley, founder of Common Era jewelry
• Jen Doll, author and Strategist contributor
• Sara Jane Emmons, Fur senior brand manager
• Christiana Greene, owner of Bum-Cake Vintage
• Kim Hancher, style coach
• Grace Lee, Birdy Grey founder
• Biz Lindsay, director of brand marketing at Harry's
• Amanda Lurie, Coming of Age designer
• Iva Pawling, founder of Richer Poorer
• Rachel Richardson, brand strategist and blogger
• Hailey Rizzo, founder of fashion blog Feeling Good As Hail
• Kate Sokolov, co-founder of Social Goods
• Grace Thomas, stylist
• Kristina Zias, lifestyle blogger
The Strategist is designed to surface the most useful, expert recommendations for things to buy across the vast e-commerce landscape. Some of our latest conquests include the best women's jeans, rolling luggage, pillows for side sleepers, ultraflattering pants, and bath towels. We update links when possible, but note that deals can expire and all prices are subject to change.
Every editorial product is independently selected. If you buy something through our links, New York may earn an affiliate commission.