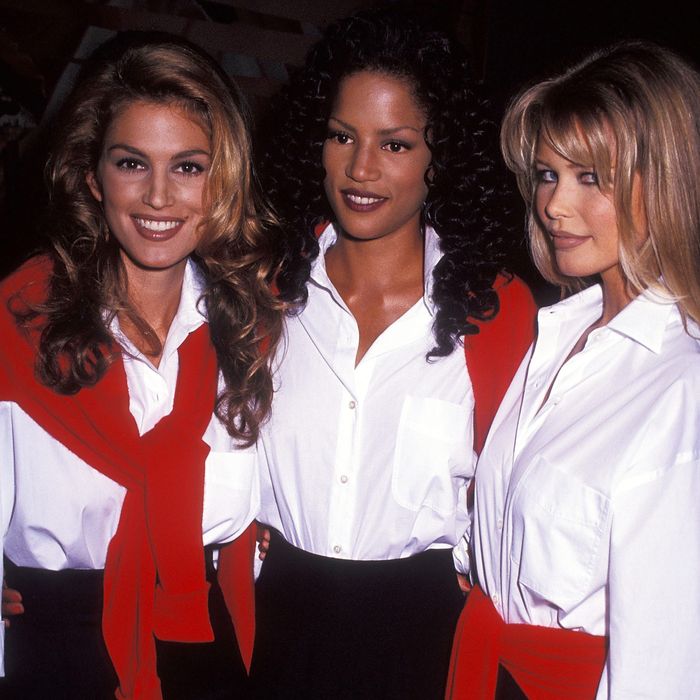 Photo: Ron Galella, Ltd./Getty/Ron Galella Collection via Getty
It doesn't get more classic than a white button-down shirt. An ideal option for 100-degree July days, formal job interviews, "creative" job interviews, your ten-day vacation to Crete, your 3 a.m. visit to the bodega — it's actually harder to think of a place where you can't wear a white button-down shirt than to name all of the places you can. But like other deceptively simple classics — such as white T-shirts, black T-shirts, and jeans — there are a bunch of options out there. We asked 14 stylish women about their favorites, and they recommend a variety, including short-sleeve linen, oversized Oxford, moisture-wicking, and more styles — a smattering of which come from the men's (or boys') section, so we recommend consulting those brands' size charts to help you find the right fit. Below, the 14 best white button-down shirts for women, according to our stylish panel.
Best white button-down shirts under $100
If a lighter fabric isn't cooling enough, you might want to consider a short-sleeved button-down. Sara Jane Emmons, associate manager of brand development at body-hair-care line Fur, recommends this short-sleeve linen number from Everlane that features a pajama-inspired collar. She owns it in blue-and-white stripes and says she wants to add an all-white version to her closet too. "I like that it naturally has a low neckline, and obviously everyone is stanning linen hard-core this summer," Emmons says. "Everlane can be a little too 'I'm scared of making fashion choices' for me, so I'd wear this with pukka shells and some linen pants (I like these ones from Ilana Kohn), and maybe some Birkenstocks with tie-dye socks for the full 'cool camp counselor/chill cult leader' vibe."
Photo: Arian Camilleri
Strategist writer Chloe Anello (who is also one of the writers of this story) just recently got this button-down from Alex Mill. Thanks to the lightweight material and flattering cut of the shirt, she thinks it gives off a great borrowed-from-the-boys vibe without looking too bulky and oversized. It's particularly good for a larger chest — the shirt manages to lie flat and doesn't gap. It also comes in four other colors.
Photo: Retailer
For a more traditional-looking linen option, try illustrator Alexandra Citrin-Safadi's favorite white button-down — a roomy linen-cotton number that she gets from the men's section at the Gap. It's one of several men's — and boys' — shirts that made this list. "The Gap men's linen-cotton shirt is my current favorite. I love an oversized cut; I keep a pristine one in my studio (to replace the dirty one I'm always working in) in case I have to suddenly look pulled together," says Citrin-Safadi.