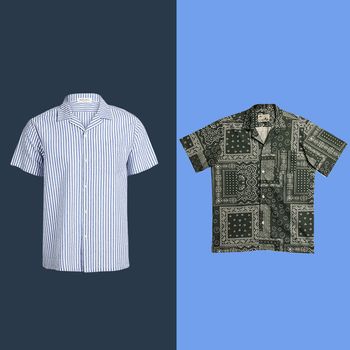 Photo-Illustration: retailers
Short-sleeve button-down shirts are admittedly a taboo garment. They were called "difficult" and "controversial" by multiple people we spoke to in reporting this story, with one even saying that short-sleeve button-downs are "cursed." Henrik Sunde Wilberg, an assistant professor of German at the University of Minnesota, says to blame "Tan France and Bonobos" for convincing "too many guys that a bold shirt with slim short sleeves adds personality to their wardrobe." ("It doesn't," he argues.) But according to folks who've found ways to wear them, a short-sleeve button-down shirt, while perhaps more casual, can be as versatile — if not more so — than its long-sleeve counterpart. While they're typically considered a summer staple, social-media manager Zach Higgins notes that short-sleeve button-downs can be worn year-round as a layer that offers more ventilation beneath sweaters or jackets. "I don't like having double long sleeves," Higgins says. "A short sleeve-button down gives me the same look without the bulkiness." (That said, because they are predominantly worn in summer, a lot of the short-sleeve button-downs on the list are starting to sell out — the upside to this is that many are now on sale.)
Many of the guys we spoke to say that when they're not shopping for vintage short-sleeve button-downs — "If you don't buy yours vintage, you're kind of a chump," says Strategist associate editor Daniel Varghese — they gravitate toward off-the-rack ones from designer brands like Jacquemus, Bode, No Man Walks Alone, and Aimé Leon Dore. But those brands don't come cheap and often have limited stock, making them less reliable for anyone looking to stock up on a few (or just one) without breaking the bank. Those in the market for a short-sleeve button-down shirt will be happy to know that the 15 folks we talked to told us about lots more styles at various price points. For the most part, they come in two styles: short-sleeve versions of your traditional collared button-down and shirts with wider camp collars that tend to fit a bit looser and feel more vintage-inspired. We've separated the shirts by price, leading each section with any we heard about the most. If, after perusing the options, you decide you'd rather a classic Oxford or a simpler T-shirt, we've got you covered, too.
Best under-$50 men's short-sleeve button-down shirts
Surprisingly, Abercrombie & Fitch came up more than most other brands we heard about — three guys mentioned it as their source for short-sleeve button-downs. As photographer and model Christopher Hart explains, it "recently revamped its style and direction and finally feels good to wear" again. Content creator and college student Cal Phillips agrees Abercrombie & Fitch is "making a comeback," noting that "the price point is significantly easier to swallow than the likes of Jacquemus or Our Legacy." This, he adds, makes the brand "a great option for building up those staples in your wardrobe." Phillips recommends this camp-collar shirt made of lightweight cotton, telling us its pattern of cabana stripes is unique among the other short-sleeve button-downs he's seen lately. The light-blue striped is shown here, but for a few bucks more, you can also get it in a pink stripe or a dark-floral print.
Two folks told us that Uniqlo is where they go for short-sleeve button-downs, because, as content creator Nehemiah Magsino puts it, the brand is another "more affordable option" for great basics. (Chazz Inniss, a marketing strategy manager for PopSugar, also cites Uniqlo as a go-to, telling us he's purchased short-sleeve button-downs from the women's and men's sections: "Clothes are fabric and don't have gender so wear what you want.") This shirt that Magsino recommends has a subtle print, looser fit, and is made with extra-fine cotton that he calls a "great summer fabric" for "brunch outings and park dates."
Another simpler-looking option is this "extremely oversized" short-sleeve button-down from ASOS that stylist Julian Davis pointed us to. He says its plain look is what makes it appealing because you can wear it with almost anything.
Grailed community specialist Nicolas Lazaro told us about this quite affordable linen button-down from Muji (that's also available in a lighter blue, but stock is low in both colors). He says the brand "does a great job of retaining only the necessary details," which makes the shirt "look more mature than other options and better integrate with classic menswear." Lazaro adds that its prewashed linen feels soft to the touch on the very first wear and only "gets softer with every wear and wash." Interested buyers might consider sizing down, though — he says "these fit a full size larger" in his experience.
Best under-$100 men's short-sleeve button-down shirts
J.Crew also came up a few times as a solid source for short-sleeve button-downs. Inniss says most of his are from the brand and Higgins relies on it even more. "All of my short-sleeve button-downs are J.Crew," he says. "They have great patterns, a variety of fabrics, and great prices when the sales are on." Of all the styles you can choose from, Inniss recommends this one made of cotton for its many options: The shirt comes in lots of different prints that he says you can "mix and match" with other items in your wardrobe. It also comes in three fits — classic, slim, and tall — and sizes from XS to XXL (some of which, though, have now sold out in certain prints).
Content creator Malcolm Walker-Hendricks calls this button-down "very versatile" because you can easily "throw it on and not have to think too much about the rest of your outfit." While its relaxed fit and lightweight-cotton fabric err on the casual side, Walker-Hendricks appreciates how simple the shirt is. Available in white or black, its solid color makes it easy to pair with most anything. That's not the only reason you'll wear it a lot: Walker-Hendricks says it's also comfortable to wear all day, even in hotter weather.
Those who like the look of a wider camp collar but prefer a tailored fit can find both in this short-sleeve button-down that Hart recommends. He says Alex Mill is a brand worth investing in, because "it never compromises quality for price." While the seersucker fabric makes this shirt best-suited for summer, it looks polished enough to wear out of season in more casual settings like working from home.
You can't talk about short-sleeve button-downs without talking about Hawaiian shirts, which are a hallmark of the genre. They typically feature a camp collar, looser fit, and some sort of island-inspired or tropical print, some of which can verge on cheesy. But Inniss says the print on this shirt from Duvin is playful without being over the top, adding that the shirt has a "classic shape" and slightly oversized fit. "The material is a bit thicker," according to him, but the brand claims that is purposeful, in order to make the shirt more durable. Inniss adds that anyone who likes patterns should shop around at Duvin, which has a bunch of vintage-inspired options.
While Wilberg blames Bonobos for men filling their closets with bad short-sleeve button-downs, Inniss says the brand is worth considering for its quality and variety. This shirt he recommends, for instance, can be purchased in one of 41 patterns, three fits, three lengths, and sizes from XS to XXL (some options are sold out, but lots remain if you click around). He calls it a "safe-but-sick option for all occasions." The shirt's cotton fabric has some stretch, too, which he says just makes it even more comfortable to wear.
Best splurge-worthy men's short-sleeve button-down shirts
Photo: Retailer
As with most wardrobe items, there are plenty of pricier short-sleeve button-downs out there that people say are worth the price if you're able to spend the money. Inniss says he's always hunting for interesting patterns and told us this one is "mesmerizing to look at." While the loose-fitting shirt seems particularly summery, he says he'll wear it year-round to channel the "feel and look of summer" in any temperature. It's made of 100 percent rayon, a fabric commonly used in athleticwear because it is more breathable.
Inniss calls the bandana print on this camp-collar button-down a "conversation starter," because "when you get closer, you see it has these cheeky smiley faces that make it fun." The shirt is made of 100 percent cotton, and those who are really feeling the print can purchase the matching swim trunks that double as shorts.
Philips says he first heard of Graziano & Gutierrez through two popular menswear resources: the Blackbird Spyplane newsletter and Throwing Fits podcast. "Their process, mission, fabrics, construction, and overall authenticity is unlike any other brand out there right now," he says. The brand repurposes Mexican textiles originally created for upholstery or tablecloths and works directly with the Mexican communities that weave the fabric. While it sources its materials from Mexico, each of the brand's unisex garments is hand-cut and sewn to order in Portland, Oregon. Philips likes how this camp-collar shirt has a vintage look even though it's newly made, noting that because the materials are repurposed, each shirt has a slightly different pattern.
Walker-Hendricks says this is the "perfect shirt for a first date." The pajama-style shirt has piped trim that makes it look more unique than a regular black shirt, but isn't too flashy that you couldn't wear it on a casual workday. The shirt is predominantly made of linen, but its material includes some lyocell, which makes it feel a bit heftier.
"If you're into technical clothing, it is the perfect shirt," Magsino says of this short-sleeve button-down. Nanamica, he explains, is known for using innovative materials. This shirt is made with a Cordura fabric that has the look of Oxford cloth but is much more lightweight because the textile also includes nylon. Like traditional Oxford shirts, this comes in two classic colors: blue and white.
As we noted, many of the people we spoke to say the short-sleeve button-downs from Bode are something of a holy grail in the category. "They're all magic," says creative director Jordan Page. Celebrities like Leon Bridges and Harry Styles are also fans of the brand, which hand tailors its garments, uses antique textiles, and incorporates techniques like quilting, mending, and appliqué. (All things that factor into the price.) If you're going to invest in a short-sleeve button-down from a capital-D designer, Page and Magsino both recommend this one. Magsino calls it "fashion-forward but still traditional in a sense" (in other words, easy to wear) and Page notes that, because the shirt is knit, it has a texture that stands out from others cut from traditional cloth. The knit construction, he adds, gives it a semi-sheer look that allows shirts worn underneath to peek through.
The Strategist is designed to surface the most useful, expert recommendations for things to buy across the vast e-commerce landscape. Some of our latest conquests include the best acne treatments, rolling luggage, pillows for side sleepers, natural anxiety remedies, and bath towels. We update links when possible, but note that deals can expire and all prices are subject to change.