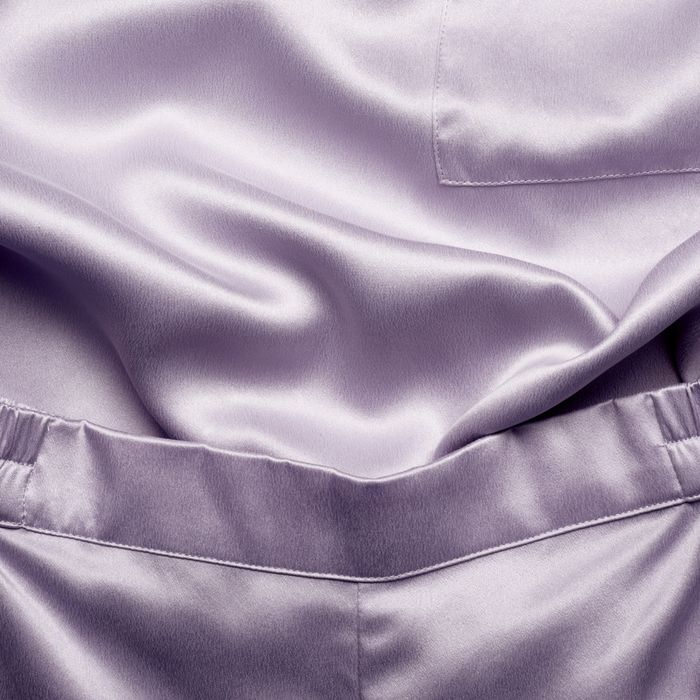 When you're tired of the old T-shirt-and-sweatpants combo, slipping into silk pajamas can be a much-needed indulgence. The problem is that the market for silk sleepwear can be intimidating — especially since a higher price tag doesn't always guarantee higher quality. "I've definitely seen silk pajamas retail for several hundred dollars that I felt should have cost about half that," explains Cora Harrington, author of In Intimate Detail: How to Choose, Wear, and Love Lingerie. To help you take the plunge into the glamorous world of silk PJs, we put together a panel of lingerie-store owners, undergarment consultants, and all-around pajama obsessives and asked about their favorites.
As best we could, we tried to feature pajamas with inclusive size ranges.
Silk quality is measured by momme weight, which represents the heft and weight of the fabric, explains Lori Kaplan, founder of Bra Tenders. The higher the number, the better the quality. However, most brands won't list this figure. So we turned our focus to finding highly recommended sleepwear that is made mostly, if not completely, from silk, noting the type whenever possible (along with whether it's washable). One thing to note is that a silky feel doesn't always mean that the pajamas are made of silk; some are made from silk-looking polyester or more affordable silk blends.
You want silk to be worth the expense — and the devil's in the details. Features like French seams, piped trim, and one-of-a-kind prints are what Harrington looks for when shopping, and that's especially true with pricier pajamas. We made sure to be meticulous about noting standout features in each pick below.
"If it seems too good to be true — for example, a 'silk' pajama set for $100 — then it probably is," Harrington says. Professional undergarment educator Kimmay Caldwell feels the same way, explaining what a production it is to manufacture silk, including the making of the material itself (shoutout to silkworms). We denoted the recommendations below as either $ (under $200), $$ ($200–$250), or $$$ (over $250).
Best overall silk pajamas
Sizes: XS–2X | Material: 100 percent washable silk | Design: Oversize top, no-twist waistband, pocket | Price: $
The Lunya Washable Silk Tee Set boasts the Strategist seal of approval, along with enough of a fandom to earn the "best overall" title. When former Strategist writer Hilary Reid put the set to the test, she described the silk as luxurious, somewhere between matte and shiny, with a weight that's thick but not heavy. "The cut felt particularly conducive to sleeping," she says, which checks out, given that these are also designed to regulate your body temperature. "If I could replace all of my pajamas with these, I would," Reid adds. She wasn't the only one who raved about them. Sarah Flint, founder of the eponymous shoe company, agrees that convenience — just throw the tee and shorts into the wash — and comfort make these pajamas a standout. Yoga instructor Kate Posch probably puts it best: "They feel like you aren't wearing anything." The design is minimalist, but Lunya also makes limited-edition prints (including this checkered number) if your taste leans maximalist.
Best (less-expensive) overall silk pajamas
Sizes: S–XL | Material: 100 percent mulberry washable silk | Design: Scoop neckline, slits on shorts | Price: $
Similar to Strat-favorite brand Everlane, Italic promises luxury manufacturing without the markups of a luxury brand. The company says it uses the same manufacturers as labels like Calvin Klein and Chanel. (To give you an idea: Italic makes a sheet set former Strategist writer Chloe Anello says is better to sleep on than one from storied Italian company Frette.) Curious, I connected with Italic, which sent me these silk pajamas to try out. Keeping in mind Harrington's advice from above — that a silk set under $100 is usually a red flag — I was worried about how the $98 tank-and-short combo would do. But the mulberry silk felt simultaneously sumptuous and smooth, and barely there, like I'm wearing next to nothing. It doesn't cling on even on the hottest of nights (though I would recommend sizing up if you like things loose).
When it was time for a wash, I tried three things: hand-washing and hang-drying, going through washer and dryer, and a combination of the washer with hang-drying. (Italic recommends machine-washing on a cold, delicate cycle and then pressing with an iron.) Out of the three techniques, the last worked the best. Sure, the set was slightly wrinkled — probably more so because I have a clothesline rather than a rack — but I didn't mind it. These are meant for sleeping, after all.
[Editor's note: Some sizes in this pajama set are out of stock, but you can subscribe by email to be notified when yours is available again.]
Best silk cami-and-shorts set
Sizes: XS–XXL | Material: 100 percent mulberry silk | Design: Adjustable shoulder straps, double-layer shorts, pleated V-neck | Price: $
Harrington says the affordability of LilySilk's pieces doesn't make them any less lavish — the brand uses mulberry silk, like Italic, in much of its sleepwear, including this camisole set. These co-ords have even more detailing than Lunya's, with pleating along the V-neck and a curved hem on the shorts that resembles petals. Our U.K.-based colleagues have also heard about the wonders of the LilySilk — the high-street label wins top marks from them for being supersoft.
Best silk-pajama pant set
Sizes: XS–XL | Material: 100 percent washable mulberry silk | Design: Cropped tee with pocket, collar, side slits on pants | Price: $
If you're in search of full-length pants, you might try this Quince set, which Strategist senior writer Liza Corsillo counts as part of her nighttime routine. Like Lilysilk, Quince uses mulberry silk in its washable offerings. Corsillo compares the texture of the set to "blueberries or grapes early in the morning that have a little frostiness to their skin." This crispness makes the pajamas not as claustrophobic-feeling as other silk she's put on — and it helps that they can hold heat well on cold nights. (The side slits would be especially breathable for a hot sleeper.) Although they're a "treat to slip into bed in," Corsillo points out that the short-sleeved, cropped, and collared shirt passes for a button-down you can wear out. After hearing her recommendation, I asked the company if they would let me try out the top and matching shorts. Both pieces are definitely on the cropped side (I'm around five-foot-two, and they were even short on me), but each has that comfortable airiness that Corsillo promised. And each is more matte (at least in the black shade I received) than expected — a feature that makes them feel less precious. And for their price tags, the pieces are made very well. I have yet to see a loose thread on them in the months since their arrival.
Best piped silk pajamas
Sizes: XXS–XXL | Material: 100 percent washable silk | Design: Oversize top, chest pocket, piping, French seams, drawstring waistband | Price: $$$
Karlie Kloss–approved Sleepy Jones makes menswear-inspired machine-washable PJs. This Marina Set appeared in an earlier version of our pajamas guide — and although splurgeworthy, it was recommended to us twice. This set convinced Casey Larkin Blond, owner of ready-to-wear label Mr. Larkin, to update her habit of wearing whatever T-shirt she finds in her husband's drawer after putting her kids to sleep. The piping along the placket and cuffs of the shirt and the pant legs are traditional sleepwear features, but Blond ended up wearing the pair out of the house. Courtney Somer, founder of fragrance line Lake & Skye, has been a longtime Sleepy Jones fan, similarly calling the Marina set an "overdue bedtime upgrade."
[Editor's note: Some sizes of the set are currently out of stock, but you can sign up to receive a notification when yours is available again.]
Best printed silk pajamas
Sizes: XS–5X | Material: 97 percent mulberry silk, 3 percent elastane | Design: Patch pocket, piping, wide-leg | Price: $$$
London-based label Karen Mabon is expensive but well worth it, as several of our experts name-checked the brand. It's known for playful patterns such as this not-too-twee botanical design. Content creator Lucy Litman describes its pajamas as "chic enough to roll out of bed and look like you put in maximum effort." Anello (who was, full disclosure, gifted a pair) seconds this, saying that since the one-of-a-kind prints can be worn outside the house, the price tag is more justifiable. This set is made from mulberry silk and elastane, which gives the pair a little extra stretch. Harrington also praises the brand for its size inclusivity, a rarity in the silk-sleepwear market.
Morgan Lane does prints very well too. In my reporting for this piece, I ordered a version of this sleep shirt from the brand to see what it was all about. It feels as fine as silk, though it's made with a blend of the material and mostly viscose. Plus, you can get its pajamas monogrammed, unlike others on this list.
[Editor's note: Karen Mabon lists all prices in pounds, so the price shown below is an approximate conversion to U.S. dollars.]
Best high-end silk pajamas
Sizes: XS–XL | Material: 100 percent silk | Design: Piping, notched collar, mother-of-pearl buttons | Price: $$$
If you're going to really invest in silk sleepwear, Olivia von Halle is your best bet. The British brand won our "most mentioned" title — it's a favorite of lingerie-industry expert Ellen Lewis, Catbird chief creative officer Leigh Plessner, and Shopbop fashion director Caroline Maguire. Harrington says the label offers an "unbeatable classic pajama" — this one features all the trimmings, including mother-of-pearl buttons. Plessner still owns a pair from when the label first launched (her daughter will inherit it), comparing the silk to "a kitten's paw" and the piping along the sleeves to "the edge of an elegant pastry." Olivia von Halle's sets often sell out, as trendcasters previously warned us, but as of press time, this version of the Lila — which features a map pattern — is still available in almost every size. It also happens to be on sale at Net-a-Porter, so it's a little less of a splurge.
Best silk camisole
Sizes: XS–L | Material: 100 percent washable silk | Design: Adjustable straps, seamless sides, satin trim | Price: $
A delightful fact I learned in the making of this list: This is the silk version of the spaghetti-strapped sheer Hanro shirt Nicole Kidman wears in Eyes Wide Shut. The Swiss lingerie label is Caldwell-approved for its "extreme dedication to quality fabrics," and this camisole is just one example of that — it's part of what Caldwell calls "surprise silk" from the line, knitted to look like a fine rib. Despite its shapewear feel — it's slightly fitted and semi-see-through — you could also wear it out. It's designed to be like thermal underwear for the coldest of days, Caldwell adds.
Best silk tank top
Sizes: 0–4 (equivalent to XS–XL) | Material: 100 percent silk charmeuse (hand-wash recommended) | Design: V-neck front and back, side slits at hem, bra-friendly | Price: $
Nileta's tank is an even more affordable alternative to Hanro's already-inexpensive (for silk) top. It's another recommendation from our archives: Reid tested out the cami along with its matching tap shorts. The shirt is made from silk charmeuse, which means it features a satin weave that's extra lustrous compared to Lunya's more matte fabric, Reid explains. An important note here: Nileta prewashes its silk (saving you a trip to the dry cleaners) and recommends laundering its products by hand. Reid missed that memo, but surprisingly, these survived the washing machine — and Reid says she'd put them through it again. "The fabric looked as shiny-silky post-machine cycle as it did before," she says.
Best silk slip
Sizes: XS–5XL | Material: 97 percent mulberry silk, 3 percent elastane | Design: Adjustable straps, midi-length, scooped neckline | Price: $$
Along with a cotton printed set that I included in our best pajamas guide, Karen Mabon sent me this silk slip to try out recently. I was impressed from the moment I unwrapped it — the slip has that shininess you expect from the fabric without being as showy as some silks can be. I really like that the neckline sits a little high, but it's easy enough to lower if you play around with the adjustable straps. It feels rich, from the detailed horoscope illustrations to the bias cut that's body-skimming. This is a very slinky garment; you could consider it an extravagant piece for a night in or a night out — if you're so inclined. But it's really nice to sleep in. I didn't feel like my legs were constricted in the slip, which flares out slightly near the bottom of the skirt. Even on the nights I tossed and turned with insomnia, it stayed relatively unrumpled. And If you're not into astrology, it also comes in a pond-themed print (featuring koi fish and flamingoes), along with a "still life" pattern complete with different floral arrangements.
[Editor's note: Karen Mabon lists all prices in pounds, so the price shown below is an approximate conversion to U.S. dollars.]
Best (less-expensive) silk slip
Sizes: S–L | Material: 100 percent silk | Design: Flowery lace on V-neck, adjustable straps | Price: $
Century-old corsetier turned lingerie label Etam makes this Milky Silk number that lingerie writer Estelle Puleston recommends "for anyone wanting decent-quality silk nightwear on a budget." Though Puleston occasionally splurges on silk, she worries that these pieces will get ruined while sleeping or if worn too often. The lower price tag on this Etam means it can be slipped into on the regular. "It's my most-worn nightdress by far," she estimates. Puleston has worn it so much that it's gotten tiny "gaps" in the fabric, but these are only really visible when the slip is held up to the light. On the plus side, the dress doubles as a daytime layer, which means you can wear it as a luxurious slip underneath too-sheer dresses.
Best silk chemise
Sizes: S–XL | Material: 100 percent silk charmeuse | Design: Chantilly lace appliques, adjustable straps | Price: $$$
Natori earned a whole host of praise from our panelists (and it's one of our favorite brands for undergarments, full stop). This chemise in particular was recommended by Caldwell as one of the brand's more accessible pieces — especially as it features charming lace appliqués and comes in unexpected shades like "mad" magenta and dragonfruit. Like Nileta's cami, it's also made from high-quality silk charmeuse. Kaplan applauds the brand for its beautiful draping. "Honestly, if you've never worn silk pajamas, it's a treat to feel something so cool and fluid against the body," she says. Another longtime champion of the label is Plessner. She has a soft spot for Natori, since it was a favorite of her mother's. One of the sets she currently has in rotation are the aptly named Decadence PJs, which she wears with her husband's ratty Radiohead tees and ballet slippers.
Best (less-expensive) silk chemise
Sizes: S–L | Material: 100 percent silk | Design: Lace-trimmed V-front, adjustable straps, low V-back | Price: $$
For a chemise that's a little less pricey, you can't go wrong with Canadian company Christine Lingerie, which comes recommended by Lewis, Harrington and lingerie consultant Holly Jackson. There's something particularly special about this lace-trimmed dress from the brand, with its dramatic scoop back and convenient adjustable straps. Plus it's eerily similar to the Natori chemise but for $125 less. Lewis likes that Christine Lingerie specializes in classic cuts that appear almost vintage, with solids (like this chemise) that are expertly finished and collectible prints that include everything from tropical flowers to tigers. Jackson says that the silks are so well-made that they'll likely last a lifetime — a fact confirmed by Harrington, who owns a couple of the label's old caftans.
Best silk robe
Sizes: XS/S–L/XL | Material: 100 percent washable mulberry silk | Design: Interior tie, pleated cuff, side pockets | Price: $$$
Robes exist in that liminal space between loungewear and pajamas — I sometimes sleep in one. So I thought it was fair to include the option here as well. This pick has been plucked out of our best bathrobes guide. It's made from the same mulberry silk seen in the Lunya tee-and-shorts set that topped this list. Immunologist Shruti Naik recommended the robe to us, saying that it was luxurious but functional, as the fabric is machine-washable. I've also tried it out after receiving it in a PR package in "otium tan," which reads more like a blush in person. I'll second the fact that it feels very lavish to throw on, especially when I'm wearing a tank top and boxers underneath. And one small feature that makes a difference: The scrunched cuffs let you push up the sleeves easily.
More Strategist-approved women's pajamas (in every material)
• Chloe Anello, former Strategist writer
• Casey Larkin Blond, owner of ready-to-wear label Mr. Larkin
• Kimmay Caldwell, professional undergarment educator
• Liza Corsillo, Strategist senior writer
• Sarah Flint, founder of the eponymous shoe company
• Cora Harrington, author of In Intimate Detail: How to Choose, Wear, and Love Lingerie
• Holly Jackson, lingerie consultant
• Lori Kaplan, founder of Bra Tenders
• Ellen Lewis, lingerie-industry expert and partner at Lingerie Briefs
• Lucy Litman, content creator
• Caroline Maguire, Shopbop fashion director
• Leigh Plessner, Catbird chief creative officer
• Kate Posch, yoga instructor
• Estelle Puleston, lingerie writer and founder of Esty Lingerie
• Hilary Reid, former Strategist writer
• Courtney Somer, founder of fragrance line Lake & Skye
The Strategist is designed to surface the most useful, expert recommendations for things to buy across the vast e-commerce landscape. Some of our latest conquests include the best acne treatments, rolling luggage, pillows for side sleepers, natural anxiety remedies, and bath towels. We update links when possible, but note that deals can expire and all prices are subject to change.
Every editorial product is independently selected. If you buy something through our links, New York may earn an affiliate commission.