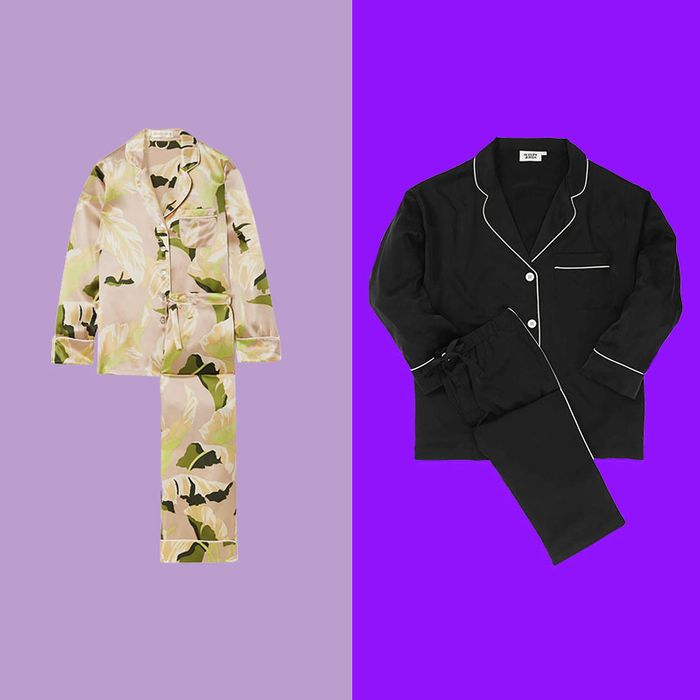 Photo-Illustration: Courtesy of the retailers
When you're tired of the old T-shirt-and-sweatpants combo, slipping into silk can act as a much-needed indulgence. The problem is that the market for it can be intimidating — especially since a higher price tag doesn't always guarantee higher quality. "I've definitely seen silk pajamas retail for several hundred dollars that I felt should have cost about half that," explains Cora Harrington (a.k.a. The Lingerie Addict), author of In Intimate Detail: How to Choose, Wear, and Love Lingerie. To help you take the plunge into the glamorous world of silk pajamas, we put together a panel of lingerie-store owners, undergarment consultants, and all-around pajama obsessives and asked about their favorites.
Best overall | Best cami and shorts set | Best pant set | Best piped | Best printed | Best high-end | Best camisole | Best tank | Best chemise | Best less-expensive chemise
Size range: As best we could, we tried to feature an inclusive selection of pajamas.
Material: A silky feel doesn't always mean made of silk. Some pajamas are made from silk-looking polyester or more affordable silk blends. But not all silk is the same. To get technical: Silk quality is measured by momme weight, which represents the heft and weight of the fabric, explains Lori Kaplan, founder of Bra Tenders. The higher the number, the better the quality. However, most brands won't list this figure. Our focus, then, was on finding highly recommended sleepwear that was made mostly, if not completely, from silk, noting the type whenever possible (along with whether it's washable).
Design details: You want silk to be worth the expense — and the devil's in the details. Features like French seams, piped trim, and one-of-a-kind prints are what Harrington looks for when shopping, and even more so with pricier pajamas. We made sure to be meticulous about noting standout features in each pick below.
Price: "If it seems too good to be true — for example, a 'silk' pajama set for $100 — then it probably is," Harrington says. Professional undergarment educator Kimmay Caldwell feels the same way, explaining what a production it is to manufacture silk, including the making of the material itself (shoutout to silkworms). We denoted the recommendations below as either $ (under $200), $$ ($200–$250), or $$$ (over $250).
Best overall silk pajamas
Sizes XS–2X | 100 percent washable silk | Oversized top, no-twist waistband, pocket | $
The Lunya Washable Silk Tee Set boasts the Strategist seal of approval, along with enough of a fandom to earn the "best overall" title. When former Strategist writer Hilary Reid put the set to the test, she described the silk as luxurious, somewhere between matte and shiny, with a weight that's thick but not heavy. "The cut felt particularly conducive to sleeping," she says, which checks out, given that these are also thermoregulating. "If I could replace all of my pajamas with these, I would," Reid adds. She wasn't the only one who raved about them. Sarah Flint, founder of the eponymous shoe company, agrees that the convenience — just throw the tee and shorts into the wash — and comfort make this a standout. Yoga instructor Kate Posch probably puts it best: These feel like you're wearing nothing. The design is minimalist, but Lunya also makes limited-edition prints (including this checkered number) if your taste leans maximalist.
Best silk cami-and-shorts set
Sizes XS–XXL | 100 percent mulberry silk | Adjustable shoulder straps, double layer shorts, pleated V-neck | $
Though Harrington reminded us that silk comes at a cost, she gives LilySilk a thumbs-up. Its affordability doesn't make it any less lavish — the brand uses mulberry silk (the same silk used in Slip's popular pillowcases and Strategist-approved sleeping masks) in much of its sleepwear, including this camisole set. These co-ords have even more detailing than Lunya's, with pleating along the V-neck and a curved hem on the shorts that resembles petals. Our Strategist U.K. colleagues have also heard about the wonders of the LilySilk — the high-street label wins top marks from them for being supersoft.
Best silk-pajama pant set