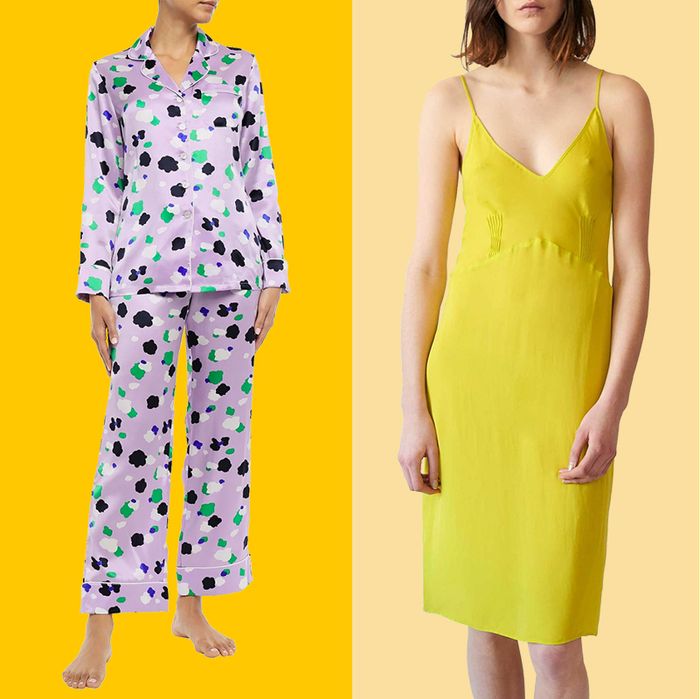 Photo: Courtesy of the retailers
There's something so glamorous — and comfortable — about the idea of slipping into silk just to go to bed. But for most people, an old T-shirt and ratty (but beloved) soft pants do the job of pajamas just fine, and venturing into the world of matching silk sets can be intimidating. To help you dip your toes into what is definitely a luxury market, we spoke to lingerie experts, boutique owners, and all-around stylish women about their favorites.
B

e

s

t

$

1

5

0

-

a

n

d

-

u

n

d

e

r

s

i

l

k

p

a

j

a

m

a

s
According to Cora Harrington of the Lingerie Addict, "U.K. luxury loungewear label Violent & Wren creates some of the best prints, and their silk is incredibly lush — plush, sumptuous, and soft to the touch — just like what you'd expect from silk PJs." This pair of silk shorts is printed with pretty white poppies and is currently on sale for $57 — a reasonable price for silk.
If you prefer silk pajama pants, Catbird creative director Leigh Plessner recommends this pair from Vince, which she says work just as well out in the world as they do for bedtime. "I love wearing black silk pajama pants under dresses or with my husband's disintegrating Radiohead T-shirts," Plessner says. "The elastic waistband was really helpful when I was pregnant, and honestly, still now. They're pretty, comfortable, nonjudgmental pants."
Lingerie industry expert Ellen Lewis of Lingerie Briefs says Skin is one of her go-to brands for silk loungewear. This camisole from the brand has some stretch, making the slightly fitted cut more comfortable. We think this one would be just as good to have on hand for layering under blouses and sweaters as it would be for wearing on its own to sleep in.
Gagosian gallery director (and recent Grub Street diet subject) Sarah Hoover told us about Hill House Home's silk teddy, which she says is "so soft — the way it glides against your skin feels so nice and clean." Hoover, who describes herself as a "constantly sweating, chronic overheater," says that buying this teddy solved that problem entirely. She also says that the piece works just as well out in the world as it does at home. "I went on a beach vacation and wore it as a beach cover-up the whole time with a pink bikini under it, and I've been wearing it all winter over jeans with a pastel sweater," she says.
Lewis also told us about Australian company Ginia, which makes pieces on the more affordable end of the silk spectrum. This chemise comes in black and white as well and, like the Skin camisole, would work as well as a layering piece, as it would a luxurious bedtime option.
B

e

s

t

u

n

d

e

r

-

$

2

5

0

s

i

l

k

p

a

j

a

m

a

s
Photo: Courtesy the vendor
When we tested machine-washable silks, Lunya's silk tee set turned out to be one of our favorites, both for its flattering cut and how well the material looked after it emerged from the wash. We're not alone in our Lunya fanship: Sarah Flint, the executive chairman and creative director of Sarah Flint shoes, says that she loves the silk tee set from Lunya as well. "The oversized tee is so comfortable," she says. "I also love that this set doesn't require hand washing and can be thrown in the machine." Sky Ting yoga instructor Kate Posch told us Lunya is her go-to for silk pajamas, as well. "Lunya makes the best silk jammies around," says Posch. "Feels like you're wearing nothing — I wish I could wear them out in the world."
If you prefer your machine-washable silk in a slip style, take note from Jennifer J. Matchett, founder and designer of Machete Jewelry, who says this silk piece is worth the investment. "It's currently in my weekly rotation, and the fact that it's washable makes it even easier to pop on over and over again," she says. The piece has pockets — a true rarity for a silk slip — and could easily be worn on its own or layered with a T-shirt (or under a cardigan) out of the house.
For silk in "classic cuts," Lewis suggests the Canadian company Christine Lingerie. "They come in beautiful prints — everything from tropical flowers to tiger print — as well as solids," she says. There's something particularly elegant about this simple black slip from the brand, which has convenient adjustable straps.
If you prefer something a bit brighter, Cindy Kahng, owner of the East Village boutique Azaleas, loves this vintage-inspired washed georgette-silk slip from Araks. Kahng says she loves to "pair it with an oversized cardigan for a night on the town." The delicate pin tucks make all the difference, and we're fond of this almost-startling chartreuse shade.
According to Lewis, British brands make some of the best silk sleepwear out there: "I think the British have an expertise in tailoring that sets them apart. And then when it comes to pattern and print, I just love that kitschy British vibe." Lewis likes Asceno in particular for its use of classic stripes and geometrics. McConnell is also a fan of Asceno's menswear-inspired pieces.
B

e

s

t

s

p

l

u

r

g

e

-

w

o

r

t

h

y

s

i

l

k

p

a

j

a

m

a

s
Gabriella Pelletier, buyer at Lisa Says Gah, loves the silk sleepwear from the Sleeper, a brand based in Kiev. "They are so whimsical and aspirational yet also extremely practical as separates to wear in daily life." says Pelletier. "You could easily pair this particular silk pajama shirt with your favorite pair of vintage Levi's and a blazer." Nothing says whimsical, we think, like a feather-adorned set of silk pajamas.
Pelletier also recommends Sleeper's nightgowns: "They can easily double as everyday casual dress if you wear them with a chunky cardigan and an ankle boot."
Another British favorite of Lewis's is Olivia von Halle for the brand's "larger- than-life chic motifs." The brand is a favorite of Plessner's as well. "I have one pair of Olivia Von Halle pajamas from when she launched in 2011," she told us. "I wear them as a full suit to work, and on the weekends I wear them to run to the bodega." Yes, the pajamas are a splurge, but Plessner says that nine years on, they're stilling looking fresh: "They hold up beautifully, and I plan on keeping them for my daughter to wear when she's grown. She's 2."