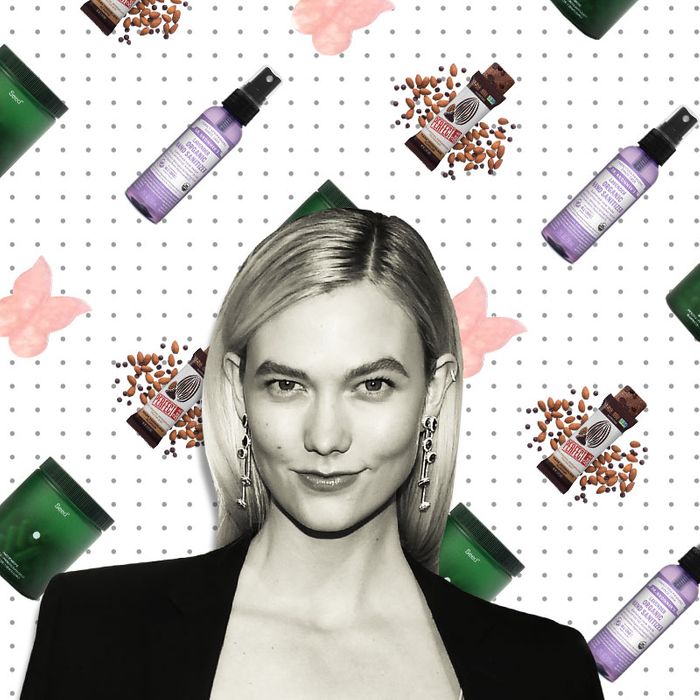 If you're like us, you've probably wondered what famous people add to their carts. Not the JAR brooch and Louis XV chair, but the hand sanitizer and the electric toothbrush. We asked recently-engaged model and entrepreneur Karlie Kloss about the protein bar, probiotic, and liquid melatonin she can't live without.
I am the snack queen when it comes to traveling. I always pack nuts, almond butter, and fruit to sustain my appetite, but my favorite thing to bring is Perfect Bars, especially in the dark-chocolate almond flavor. I've tried other bars but these keep me fuller longer — because they're packed with protein — while still satisfying my sweet tooth.
After putting on a face mask during a flight (my favorites are the ones I can get from City Pharma in Paris, which has the widest selection), I love using my butterfly stone to do a lymphatic drainage massage on my face and neck. It really does help to de-puff the skin and stimulate circulation. Compared to other face massagers, it actually makes a dramatic difference because of the shape of the stone (especially the tips of the wings). It gets into every angle of your face. It comes in handy when you get off a red eye and have to go straight into a busy day having to look your best.
I am a germaphobe, so this is an essential item in my bag. It smells heavenly and feels light on my hands compared to other hand sanitizers that need not be mentioned.
As soon as I get on an overnight flight, I like taking melatonin to help me fall asleep and feel well-rested, because I know the minute I land I'll be heading straight into a busy day. I prefer liquid melatonin to the tablets — I'm convinced it works faster.