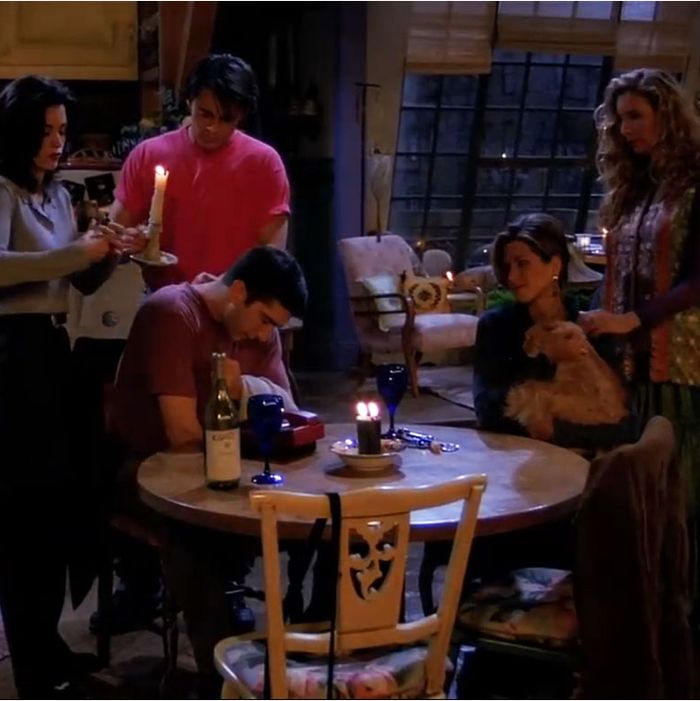 Don't rely on just a few candles.
Photo: Courtesy of Warner Brothers
When the power goes out, what you'll need is a blackout kit (also called an emergency supply kit) containing all the things that'll get you through an outage at home safely. Herman Schaffer, assistant commissioner for community outreach at the NYC Emergency Management Office, says that even though "a kit should be personalized to the needs of the specific individual," there are essential items — your flashlights, headlamps, chargers, and first-aid kits — that every single person should have on hand. Because a power outage can be caused by any number of things, we talked to a range of experts, from city officials to apocalypse preppers, about what they would recommend stocking in a blackout kit to stay safe (and sane). For those who would prefer to handle the preparedness in one fell swoop, there are pre-stocked kits for that, too.
Premade emergency-preparedness kits
Buying a premade emergency-preparedness kit is an option that can help you prepare for blackouts, as well as other emergency situations like extreme weather events and evacuations. According to Strategist editor Maxine Builder, "These kits will help you and your family prepare for just about any disaster you might encounter, without expending too much extra effort on your end." When Builder tested out several of these kits, she was impressed with this option from Ready America, which she calls "an excellent starter kit, especially given the price." The lightweight backpack includes a first aid kit, water, light sticks, as well as other survival supplies. Builder did have this tip: "To make it your own, start by throwing out the bag and moving all the gear into a larger — and, ideally, more technical — backpack," so you can add additional items that will suit the specific needs of your family.
Judy brands itself as "a new line of 'ready for anything' digitally connected emergency kits to make safety simple." According to Builder, "Judy is best for those who know they need a preparedness kit but are coming to it with minimal to no prior knowledge." The Mover, which Builder tested, is designed with enough supplies for up to four people. Inside the bag, there are three cardboard boxes broken down by category that include a range of supplies like face masks, a whistle, a first aid kit, a hand-crank radio, a multi-tool, glow sticks, hand sanitizer, and a pre-charged, single-use phone charger. The bag itself is 100 percent waterproof and "there is enough room in the bag for extra gear you might need, like a spare set of clothing, prescriptions, or a water filter — especially if you take everything out of the branded cardboard boxes — so it would be easy to customize to fit your needs," Builder notes.
Essentials
If you'd rather stock your kit from scratch, our experts have plenty of advice. But before you start stocking your kit with supplies, Schaffer stresses that it is essential to keep your items in one centralized location so you can find everything you need — from a flashlight to backup medications — in the event of an emergency. This bin is weathertight to keep contents clean and dry. Plus, it is made of clear plastic, so you can easily see what's inside.
Michael Clendenin, a (recently retired) spokesperson for Con Edison, recommends "stocking up on basic food supplies and water" for yourself and your pets, in the unlikely event that the outage lasts more than a few hours. The general rule of thumb, he says, is one gallon per person per day.
Jason Charles, president of the New York City Preppers Network, also likes this first aid kit from Thrive to treat minor injuries. However, he also recommends supplementing a standard first aid kit with your own medicine and personal products to suit your specific medical needs. On an additional health note, both Schaffer and Clendenin stressed that if you are a person who relies on assistance equipment that requires backup power, you should make sure you are registered with your utility company so that local authorities are aware of your needs.
Charles says a fire extinguisher "is a must-have, especially if you live in an apartment building that doesn't have sprinklers."
Chargers and batteries


"We advise people to make sure you've got a portable battery for your phone," says Clendenin, so that you can make emergency calls and have access to an additional flashlight and personal entertainment. Dale Goodwin, host of the Survivalist Prepper podcast, recommends this "reliable" portable charger from Anker, which we've also seen get rave reviews from beachgoers and Amazon reviewers alike.
Aaron Frankel, host of In the Rabbit Hole: Urban Survival Podcast, recommends stocking up on both AA and AAA batteries to power your flashlights, radios, and any other essentials that you'll no longer be able to charge with a wall plug.
If you live with other people and want to be prepared for a longer outage, prepper Sharon Ross (who goes by Afrovivalist) recommends this Yeti 150, which hoards enough power to quickly charge laptops as well as phones. It comes equipped with two USB ports and two regular outlets, and "you can charge it from a plug socket when your power is working fine," says Ross.
The best solar panel charger
The survivalists we spoke to cautioned that even batteries will eventually lose their power. Instead, for peace of mind, they recommended solar-panel chargers, which simply sit in a sunny place when you're not using them and then provide hours of charging power should you need them in a crisis. They'll work to recharge everything from cell phones, to external battery packs, to lanterns. Both Goodwin and Ross praised the solar chargers from Goal Zero in particular. "It's fantastic," Goodwin says, "because it comes with a solar panel, a battery bank, and a flashlight all in one."
Light sources
Everyone we spoke to said that a light is, understandably, one of the most important items to stock in your kit. Charles says that when it comes to flashlights, a Maglite is "one of the most dependable lights on the market. They are sturdy, tough, and take batteries."
While a flashlight is great for aiming your light, especially in nooks and crannies, almost all of our experts talked about the importance of keeping a headlamp nearby also. That's because it frees up your hands in the dark, which makes essential tasks (or just reading in bed) easier to complete and prevents injuries because your hands are now free to catch you should trip or fall in the dark. This headlamp came recommended to us by Bon Appetit's Brad Leone, who says it spreads enough light for multiple people to see with: "It has the brightest light, the battery lasts forever, and it's rechargeable, which I dig."
Schaffer adds that your headlamp should always be kept next to your bed so it's easily accessible should the power go out when the sun's also down.
Both Goodwin and Frankel keep glow sticks in their kits, which are a fun and effective way to light up your home, especially for kids (and the young at heart).
Coonradt and Hardy recommend this solar lighting system because it "is a great way to minimize the inconvenience" of a power outage "without spending a bunch of money on a generator." Solar-generated light systems work much like solar chargers — according to Charles, "you let the panels charge in natural light during the day, then they produce good light at night."
This affordable system includes a six-watt solar panel, three individual string lights, and three overhead lights (all with individual switches), a motion sensor, two USB device charging ports, a digital display for feedback on power availability, and a built-in FM radio and speaker. Plus, the battery holds a 20-hour charge.
Frankel also likes this rechargeable lantern that comes with a USB power hub.
If you're looking for an even more affordable lantern option that is fully solar-powered, Charles recommends this fully collapsible one, which he says lasts him "six to seven hours" in the evening after each time he charges it in daylight.
Tools
A manual can opener is an often overlooked item, according to the experts we spoke to. "To many people's surprise, when they go to enjoy their canned fruit cocktail when the power is out, they realize their electric can opener is useless. Having a manual can opener can literally save the day until power is restored," explains Coonradt and Hardy. This one by OXO has an easy-to-turn knob and nonslip handles.
Schaffer recommends also keeping a safety whistle in your kit. "It helps you to alert people if you're in trouble or need help, without having to strain your voice." It also carries further, he says, adding that many people he knows take whistles with them when they leave the house. "Say you're stuck in an elevator — you to be able to blow a whistle. It's soothing just to have on you."
This four-in-one emergency tool is also critical to have on hand, our experts say, in the event you need to turn off your gas valves or water meters (it can also be used to pry open doors or cabinets).
Two of our experts cited this emergency radio as an essential part of any blackout kit. Coby Coonradt and Cameron Hardy, hosts of The Casual Preppers podcast, explain that because the radio is "powered by battery, solar, or hand crank, it can be ready to use at any unexpected moment."
Comfort items


And while people tend to stock up on essentials like food and water, they "often forget to include things that will make themselves more comfortable," says Schaffer. He recommends adding in seasonally appropriate items that will help you manage different temperatures if your heat or air-conditioning goes out. For the winter, that means sleeping bags. This sleeping bag from Sleepingo topped our People's Choice list for best sleeping bags.
Schaffer says, "If you are a person who relies heavily on your phone for entertainment, make sure you have things on hand so you can entertain people (and especially kids) appropriately." Goodwin keeps games and playing cards stocked in his kit for this express purpose.
The Strategist is designed to surface the most useful, expert recommendations for things to buy across the vast e-commerce landscape. Some of our latest conquests include the best acne treatments, rolling luggage, pillows for side sleepers, natural anxiety remedies, and bath towels. We update links when possible, but note that deals can expire and all prices are subject to change.
Every editorial product is independently selected. If you buy something through our links, New York may earn an affiliate commission.