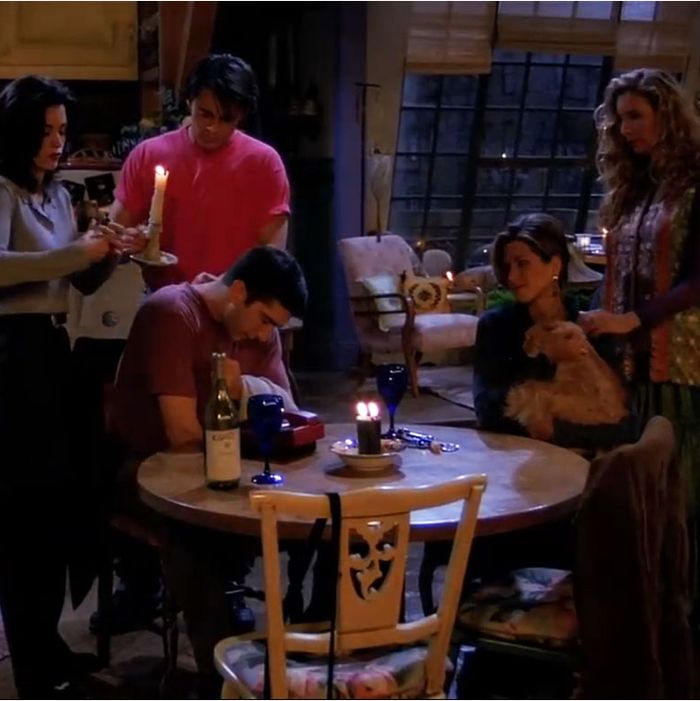 Don't rely on just a few candles.
Photo: Courtesy of Warner Brothers
When the power goes out, what you'll need is a blackout kit (also called an emergency supply kit) containing all the things that'll get you through a power outage at home safely. Herman Schaffer, assistant commissioner for community outreach at the NYC Emergency Management Office, says that even though "a kit should be personalized to the needs of the specific individual" there are essential items — your flashlights and chargers and first aid kits — that every single person should have on hand. Because a power outage can be caused by any number of things, we talked to a range of experts, from city officials to apocalypse preppers, about what they would would recommend stocking in a blackout kit to stay safe (and sane).
The best container
Before you start stocking your kit with supplies, Schaffer stresses that it is essential to keep your items in one, centralized location so you can find everything you need in the event of an emergency. It is also helpful as a way to prevent injury in the dark. This bin is weathertight to keep contents clean and dry. Plus, it is made of clear plastic, so you can easily see what's inside.
The best basic essential
Michael Clendenin, a spokesperson for Con Edison, recommends "stocking up on basic food supplies and water." The general rule of thumb is one gallon per person per day (and don't forget to include your pets!).
The best batteries
"We advise people to make sure you've got a portable battery for your phone," says Clendenin. Dale Goodwin, host of the Survivalist Prepper podcast, recommends this "reliable" portable charger from Anker.
The best solar panel charger
A solar panel is useful to recharge cell phones, external battery packs, and lanterns. Goodwin says, "The Goal Zero Switch 10 is fantastic because it comes with a solar panel, a battery bank, and a flashlight all in one."
The best emergency radio
Two of our experts cited this emergency radio as an essential part of any blackout kit. Coby Coonradt and Cameron Hardy, hosts of The Casual Preppers podcast, says that this emergency radio is "powered by battery, solar, or hand crank, and it will surely be ready to use at any unexpected moment."
The best tools
A manual can opener is an often overlooked item. "To many people's surprise, when they go to enjoy their canned fruit cocktail when the power is out, they realize their electric can opener is useless. Having a manual can opener can literally save the day until power is restored," explains Coonradt and Hardy. This one by OXO has an easy-to-turn knob and non-slip handles.
Schaffer advises keeping a safety whistle in your kit.
This four-in-one emergency tool is critical to have on hand in the event you need to turn off your gas valves or water meters. It can also be used to pry open doors or cabinets.
The best light sources
Obviously, a flashlight is probably the number-one most important item to stock in your kit. Jason Charles, president of the New York City Preppers Network, says that a Maglite is "one of the most dependable lights on the market. They are sturdy, tough, and take batteries."
Almost all of our experts recommended adding a headlamp to your kit, because it frees up your hands in the dark. The Petzl Actik headlamp is "compact, comfortable, affordable, and easily bright enough at 300 lumens for use in most situations," say Coonradt and Hardy.
Both Goodwin and Frankel keep glow sticks in their kits, which are a fun and effective way to light up your home, especially for kids (and the young-at-heart).
Coonradt and Hardy recommend this solar lighting system because it "is a great way to minimize the inconvenience" of a power outage "without spending a bunch of money on a generator." This affordable system includes a six-watt solar panel, three individual string lights, and three overhead lights (all with individual switches), a motion sensor, two USB device charging ports, a digital display for feedback on power availability, and a built-in FM radio and speaker. Plus, the battery holds a 20-hour charge.
Frankel likes this rechargeable lantern that also has a USB power hub.
And if you're looking for a lantern option that is fully solar-powered, Charles recommends this fully collapsible one.
The best first aid kit
Charles likes this first aid kit from Thrive to treat minor injuries. However, he also recommends supplementing a standard first aid kit with your own medicine and personal products to suit your specific medical needs. On an additional health note, both Schaffer and Clendenin stressed that if you are a person who relies on assistance equipment that requires back-up power, you should make sure you are registered with your utility company so that local authorities are aware of your needs.
The best sleeping bag
And while people tend to stock up on essentials like food and water, they "often forget to include things that will make themselves more comfortable," says Schaffer. He recommends adding in seasonally appropriate items that will help you manage different temperatures if your heat or air conditioning goes out. For the winter, that means sleeping bags. This sleeping bag from Outdoor Vitals topped our People's Choice list for best sleeping bags.
The best fan
And for the summer heat, having battery-powered fans on hand can make a big difference.
The best fire extinguisher
Charles says a fire extinguisher "is a must-have, especially if you live in an apartment building that doesn't have sprinklers."
The best source of entertainment
Schaffer says, "If you are a person who relies heavily on your phone for entertainment, make sure you have things on hand so you can entertain people (and especially kids) appropriately." Goodwin keeps games and playing cards stocked in his kit for this express purpose.
The best all-in-one kits
Preppi is a company that designs "California-made Emergency Kits filled with the best of everything you need in the event you find yourself in the worst." All the products are field-tested, thoughtfully curated, and packaged in a well-designed, natural canvas backpack. The Prepster Lite has a three-day supply of military-grade food and water with a five-year shelf life. The kit also includes a solar/hand turbine combination cell charger, radio, LED flashlight and emergency radio, Swiss multi-tool, deluxe emergency first aid kit, Kusmi cold brew tea, TCHO Chocolate bar, Marvis toothpaste, a toothbrush, UCO Stormproof survival matches, four-hour tea candles, an emergency Mylar Space blanket, a Field Notes Expedition waterproof notebook, a Preppi pencil, an emergency poncho, a paracord rope, a dust mask, water-resistant utility bags, and playing cards .
Preppi also makes this three-day emergency bag that comes stocked with enough supplies for two people.