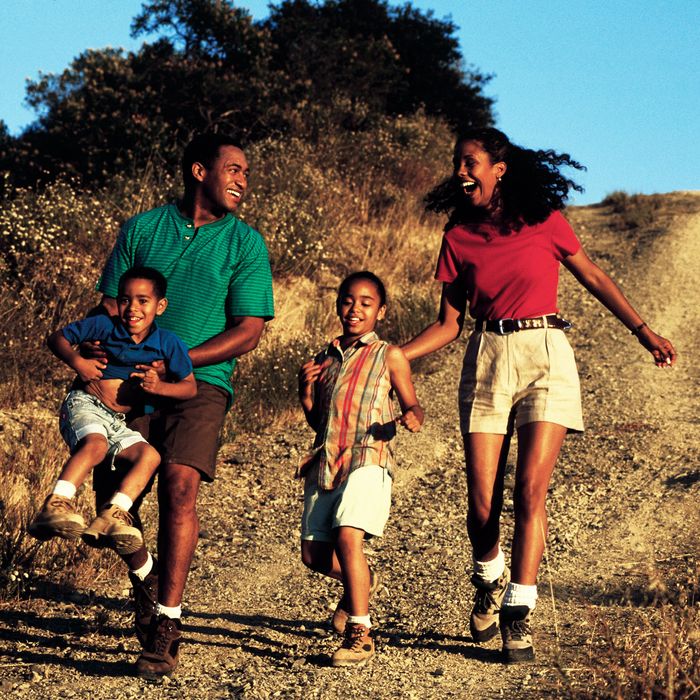 Photo: Ronnie Kaufman/Getty Images
You might not be able to give the hiker more time outdoors, but you can give them the gear they need (or want) to make any trek more enjoyable. "If you have the right gear, even if your trip goes wrong you can find value in it," says Latria Graham, nature writer and gear reviewer for magazines like Outside and Backpacker, but she warns that the "right gear" differs for everyone, based on all kinds of factors — from the location of a hike to your budget. So, whether you're gifting to a day-tripper who just got into hiking thanks to the coronavirus, or someone who's already gone up all 2,190 miles of the Appalachian Trail, we spoke to a handful of hiking experts — including trip leaders and thru-hikers — about the clothing, gear, and other hiking goods they'd actually want to receive as a gift.
Giftable Hiking Clothing
Three of the five hikers we spoke to say that outerwear is at the top of their gift wish lists. Ron Griswell, adventurer and founder of HBCUs Outside — a nonprofit dedicated to diversifying the outdoors by empowering students and alumni of historically Black colleges and universities with the resources and equipment to get outside — is amazed at the power that good rain gear can have on someone's hiking experience, especially if they're new to the outdoors. "A lot of people expect that a sweatshirt is going to protect them from the rain," he explains. (It won't.) Instead, he recommends something waterproof, with insulation, like this Arc'teryx Alpha SV, which was his first ever weatherproof jacket.
Similarly, Graham says that gifting the right gear for a hiker's body and hiking goals is more important than giving the most expensive gear on the market. "Being a person of color and thinking about the outdoors, I think a lot about the barriers, and a big part of it is the cost," she says, adding that as a fat person, gear sizing is also a big consideration for her. Among her many rain jackets, Graham says the OutDry Ex Reign Jacket from Columbia is her first pick every time it starts to drizzle, and she's gifted it to two fellow fat hiking friends who also "won't wear anything else. It is tailored for plus-sized bodies, and everything has the ability to be custom fit," she says, pointing to the adjustable hood, arm and hip drawstrings, and armpit vents, which prevent you from "boiling in a bag like potatoes," when hiking in humid, rainy conditions.
When it comes to plus-size outdoor gear, Graham says that Columbia has "done the work of understanding the fit for plus-size bodies," unlike other companies that "pink it and shrink it" — simply taking men's items and making them smaller. Ashley Manning, a thru-hiker and river manager at Adrift in Utah, who is also a plus-size outdoorswoman, agrees that Columbia's gear is among the most size-inclusive and makes her "feel comfortable on the trail."
Graham prefers hiking clothing that can double as regular streetwear, and says these size-inclusive Halle Pants from PrAna "can go from the trail to a less dressy business meeting" (once that's a thing again).
While we've written about lots of other expert-recommended plus-size activewear (most of which you could wear hiking), the size-inclusive, sustainable shorts, tanks, and open-air pants from Alder are specifically designed for outdoor recreation, and all of the apparel is available in sizes XS to 4X.
Though most hikers already have boots (or trail runners), Travis Clough, director of trip operations at the Venture Out Project (TVOP) — an LGBTQ+ outdoor organization that facilitates safe and inclusive outdoor trips for the queer and trans community (which you can purchase gift cards for) — says not to overlook the importance of a good pair of camp shoes. "After a day of hiking I need to take my boots off, and these are the most comfortable thing to slip my feet into," he says, adding that the plastic sandals are so lightweight that he brought them with him while thru-hiking the Long Trail in Vermont. They're also a Strategist favorite for everything from walking around the city to standing all day in a kitchen.
For those hiking in the coldest of climates, Griswell recommends a pair of mukluks, inspired by the designs of indigenous peoples' soft, leather boots by the same name. While working in Minnesota, and leading a winter dog-sledding trip to the Boundary Waters, Griswell wore a used pair from the Minnesota-based brand Steger, and says "they kept my feet so warm it was ridiculous. Coming from North Carolina I didn't have a lot of cold-weather stuff, but those allowed me to have a great experience out there."
Another essential for keeping your feet warm, and sweat-free, is a pair of non-synthetic socks, and Manning says she usually goes through socks "like crazy, but I've had a pair from Darn Tough for seven years that are only now showing signs of wear." The socks are also unanimously recommended by eight hiking experts as an essential piece of clothing for those who are just getting into hiking.
Giftable Hiking Gear
In a day of 13 or 14 miles of hiking, Graham says she'll go through three to four liters of water, and though she loves the idea of stainless-steel containers, in reality she says "they're heavy, and I hate them." Instead, Graham recommends gifting one of HydraPak's collapsible bottles, which hold up to 1.5 liters of water, but still "crush down to the size of an eyeglasses case that I can just shove in my pocket."
For a gift that "saves your knees and your energy, both going uphill and downhill," Graham recommends these Cor-Tec trekking poles from Leiki, which she says are sufficient for most hikers. (If you're looking for something for the hiker obsessed with going ultralight, the brand also carries a pair of carbon-fiber poles — though they are twice the price of this lightweight aluminum pair.)
Outdoorsy dad Paul Ronto of RunRepeat told us he'd like to be gifted the Black Diamond Spot Headlight, but Graham prefers the UCO Air. "The Black Diamond one has a low setting, a medium setting, and a red-light setting to see the stars. I've been in a dark sky zone so many times, clicked the wrong button on that lamp, and ruined everyone's experience," she explains, adding that the UCO Air has the same three settings, but they operate on a dial, so you just turn it to get the right light instead of "tapping the side, whispering the magical incantation, and hoping the right light comes on, which is how I feel when using the Black Diamond." Since the UCO headlamp is USB rechargeable, it lasts for about five hours (and doesn't require any batteries) so Graham recommends it for a day-hiker or weekend warrior, but not a thru-hiker who could benefit from a longer-lasting battery-operated lamp, like the Black Diamond pick.
[Editor's note: The UCO Air is no longer available from major retailers, however there are several other UCO headlamps available at Amazon for around $30, all of which operate on a dial also.]
For the low-tech hiker in your life, like Clough, who even prefers paper maps to GPS, this watch makes for a colorful and helpful gift. "There are lots of trail signs, especially on the Appalachian Trail, that indicate the distance between different spots on the trail, so I track time on my watch and self-regulate how long it should take me to hike," explains Clough, who loves the flexible, Velcro brand, and neon color of this Shark Classic watch. It's also waterproof, so he can wear it while surfing.