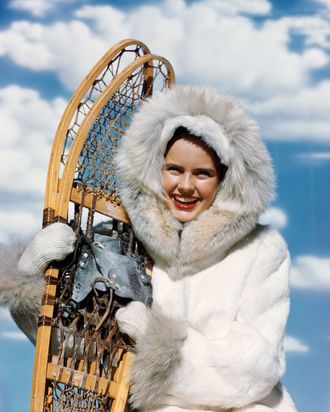 Photo: Camerique/Getty Images
With many of your favorite indoor spots still closed, you might be looking for new ways to entertain yourself outdoors. Snowshoeing is the perfect solution. It's a sport that's accessible to all ages, body types, and skill levels. And unlike a lot of winter sports, snowshoeing gear doesn't have to cost an arm and frostbitten leg: "You can go spend $1,000 on snowshoes," says Eli Simon, owner of the Atlantic Climbing School, but you can still get great gear by "prioritizing affordability over comfort." Plus, you can snowshoe nearly anywhere. Neighborhood parks and athletic fields are great options, says Mark Elmore, U.S. Snowshoe Association sports director. Or even your own backyard. "All you really need is a little bit of snow," he says. And the more snow you have, the more fun it gets: "Four inches of easily packed snow, you don't necessarily see a big advantage over a microspike," Elmore says. "But when you get four to six inches of powder, now you are going to see a big difference. And when you get in the six to 12 inch range, that is where you are going to notice significant differences in levels of exertion between snowshoes and being on foot with microspikes."
To determine which type of snowshoe is right for you, think about how much snow you'll be walking in and what you want to do. "Everything basically comes back to the surface area of the snowshoe. The deeper the snow or the heavier the load, the bigger the snowshoe surface area you'll need to keep you above as much of the snow as possible," Elmore says. If you're looking to move fast, or even run, the opposite may in fact be true: "The smaller the shoe, the easier it is, the more comfortable it is, and the less impact it has on your gait." And then there's traction. If you're on flat terrain, you don't need much. Rolling hills require a little more grip, and steep or icy terrain requires aggressive crampons.
As important as finding the right snowshoe is, finding appropriate clothing — things that will keep you warm and dry — is even more important when it comes to staying safe and having fun. To help you find the right snowshoeing gear, we asked Simon, Elmore, and five other experts to tell us about their favorite snowshoes, gloves, hats, socks, base layers, and more. Here are their picks.
Editor's note: With outdoor activities being more popular than ever this year, the equipment below is in high demand and stock changes frequently. We'll keep checking back and updating the story to reflect current stock, but if you do see something available, act quickly.
Snowshoes
If you're just getting into the sport, buying an approachable and affordable option may be the best bet. "Some inexpensive brands work really well," says Simon. "I like L.L.Bean a lot. They make a really great product across the board, and they have a terrific return policy."
Note: These snowshoes are currently sold out, but the MSR snowshoes below (that are also subject to L.L.Bean's generous return policy) are still in stock.
"MSR is a great brand. The REVO Explore is for someone who wants to elevate their game a little bit," says Stacey Timmons, director of retail at Sun Valley. "They're a combination of speed and deep snow performance."