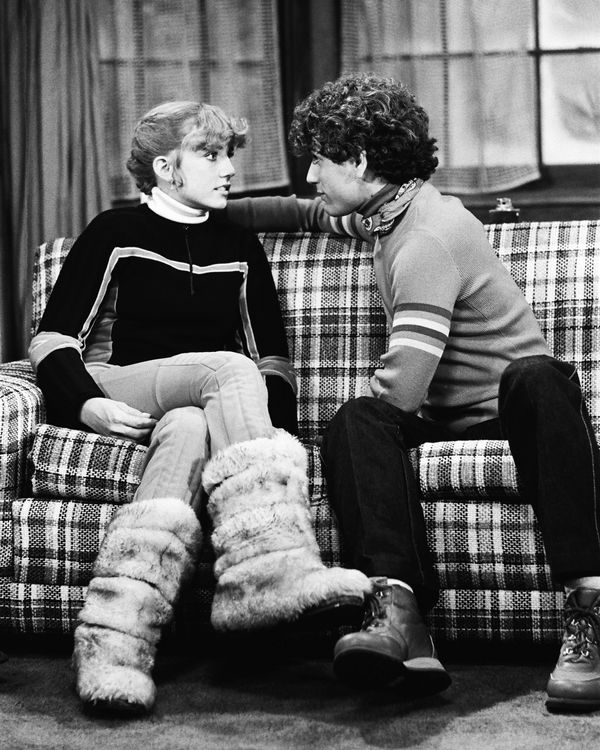 Photo: NBC/NBC via Getty Images
Here at the Strategist, we like to think of ourselves as crazy (in the good way) about the stuff we buy, but as much as we'd like to, we can't try everything. Which is why we have ​People's Choice​, in which we find the best-reviewed products and single out the most convincing ones. (You can learn more about our rating system and how we pick each item ​here​.) 
And while we've written about lots of cold-weather gear for your feet — including the best women's slippers, the best boot liners, and the best wool socks — here, we've rounded up the best winter boots for women, as praised by the most enthusiastic reviewers on Amazon.
Best-rated women's winter boot
More than 4,600 reviewers give these winter boots five stars, and hundreds love that they're waterproof. "This last month with these boots? THE BEST MONTHS OF MY TOES' LIVES," says one reviewer who works as a rural mail carrier. "Everything was kept warm, the lacing was comfortable and kept the snow out, the height was just right, I tromped (accidentally) through a foot-deep puddle of freezing water and never felt it, I don't slide on the worst ice, and they've held up to some of the most damaging metal skids/post-cons at my job." Others comment on how warm they keep their feet. "They are soft inside and have a great sole," one writes, while another customer in Alaska says they "keep my feet warm in arctic weather." Many recommend buying a half size up "for the option to wear thicker socks/leg warmers," but even without that extra layer, reviewers are pleased with the shoe. One says they would even buy them again but, "I am doubtful I will have to because after all this wear — even snowshoeing — they show no marks or tears or anything."
Best-rated (less expensive) women's winter boot
"When I opened the box, I was in shock," writes one reviewer. "I paid $30 for boots that look like they were at least $100." And not only do reviewers rave about the value of these boots, but nearly half of them mention how warm they are. "This week we have had a cold snap, and I have been wearing them in temperatures between 5 degrees and 17 degrees," writes one, adding, "I have not once felt cold." Lots of satisfied customers bring up the fuzzy lining, which, according to one reviewer, "goes all the way down to the foot part." They add, "I have worn ankle socks or no socks at all and my feet stay nice and toasty all day long." Another finds these boots so warm, "my feet didn't even feel the cold" in single digit temperatures. On the outside, one reviewer says there's "no need to waterproof them, the faux leather is waterproof." And many say that the calf fits a little wide, but reviewers appreciate the extra room and being able to stuff their pants into them.
Best tall women's winter boots
No matter how high the snow gets, more than 75 percent of reviewers say these winter boots keep their feet warm and dry. "Used it in the snow during our last snow trip, sometimes snow was knee-deep and snow did not get inside boot," one writes, while another says, "They kept my feet warm and dry through slushy puddles, wet sticky snow, and powder up to my knees." And while they're warm, one reviewer says they "don't make my feet sweat." Many also mention that sole is sturdy too. One wearer says they have "great traction," and another writes, "The tread of the bottom gives excellent grip and they are also very stylish." Many hope to get multiple winters out of these boots too, and one user attests that they have: "I purchased over 2 years ago and they still look like brand-new."
Best women's winter duck boot
"I love the look of these duck boots but have also heard that duck books while waterproof are not always warm," writes one reviewer who was pleasantly surprised to find out that was just a myth. "These are so warm. Wore all day outside in 30-degree weather and never got cold feet." And about a quarter of five-star reviewers call these warm. One even says they are "Perfect for Chicago winter" and another who wore them during trip to Switzerland writes, "I wore them in the snow and ice and they have pretty good traction." About the same amount of reviewers also comment on how comfortable these are. One even says "They are more comfortable than any of my expensive tennis shoes I own." Another writes that they wore them for more than eight hours and "my feet didn't hurt at all." Dozens of reviewers do note that these run large "so definitely size down unless you're wearing like 3 pairs of socks at once," one reviewer suggests.
Best women's winter boot with removable liner
"I live in Minnesota where temps sometimes reach a wind chill of 20 below zero. I have never had warmer boots," one reviewer writes. Another says, "I wore them when it was -56 with windchill and my feet were warm." And while almost half of five-star reviewers mention how warm these are, lots also call out the removable liner. "Boots with removable liners are hard to come by these days, but they are essential for the extreme Wyoming snow and below-zero temps," one customer writes. "We wear our boots every day of our six-month winter, and being able to pull out the liners makes these boots just what we need." Others explain that the liners make the boots even warmer so much that one writes "for an hour or so my feet stay warm even without socks," and that if they absorb any water or sweat they "come out for easy drying."
Best sheepskin-lined winter boot
This newer version of a classic pair of UGGs comes with a number of tweaks to the original design — and many reviewers point out these are more narrow than their older pairs. But many more reviewers appreciate that these are pretreated to be water-resistant, and reviewers attest to how well it works too. "I was walking to my car from the sidewalk and into the street and my entire boot was submerged in slush," one explains. "To my surprise, my boots looked completely clean and untouched. Water just rolls right off of these cute boots!" One thing that hasn't changed is how cozy these are. One even notes, "These feel like slipping my feet into heaven every day."
Best waterproof women's winter boots
More than 10 percent of reviewers talk about how dry their feet stay while wearing these boots. One user admits their feet were still cold during a trip to Big Bear Mountain, "But in terms of being waterproof/water resistant, after 4 hours of walking up and down the mountain, part was knee-deep snow, my feet were still dry." Another says "The other day, my boyfriend and I went sledding at the park, jumped around in over a foot of snow, and were generally careless, but my feet were warm the entire time, and when we got home, I was surprised to see that they were also totally dry." One who wore them in the "[freezing] cold ice, snow, and slush in Ireland during the snowpocalypse" adds, "My feet were not cold and were completely dry after walking through the city for up to two to three hours at a time."
Best waterproof fur-lined women's winter boot